Advertorial | paid collaboration
I love shopping and it doesn't matter if I shop online or offline in a boutique. Lovely Angi offers both possibilities: She is not only owner of the retro boutique Peggy Sue Frankfurt, but also of an online shop with the delicious name Fräulein Backfisch which could be translated with "Miss Fried Fish". 😉 I'm always mesmerized by women who live their dream, and therefore it's a matter close to my heart to tell you a bit more about the shop.
Fräulein Backfisch: The Clothes
At Fräulein Backfisch you will only find reproductions. It's very important for Angi to offer a huge range of sizes so that every woman finds something. Beside wonderful retro clothes for every occasion, you will even find some pretty wedding dresses. What I really love about Fräulein Backfisch is that this online shop not only stocks clothes from huge vintage labes, but also offers pieces from smaller brands. Here are just a few examples:
Collectif Clothing
Hell Bunny
Heart of Haute
The House of Foxy
Unique Vintage
Vivien of Holloway
The Seamstress of Bloomsbury
Victory Parade
You will find a list of all brands here. There is also a size chart for every item available. Another great point is that Fräulein Backfisch offers clothes in various price categories.
No outfit is perfect without accessories. So it's no wonder that Fräulein Backfisch also supplies matching retro handbags, wallets, belts, and hats.
And now, I want to show you some of the lovely pieces you will find at the shop!
---
For Bathing Beauties: The Maillot Flamingo Swimsuit
Fräulein Backfisch even offers a colourful variety of retro swimwear. I chose the pink-tourquoise swimsuit with a flamingo print by Betty Page Swimwear. Soft cups and a draped front enhance the curves. Summery accessories like flower earrings by Glitter Paradise, a pink hairflower, and matching flats finish the colourful retro beach outfit.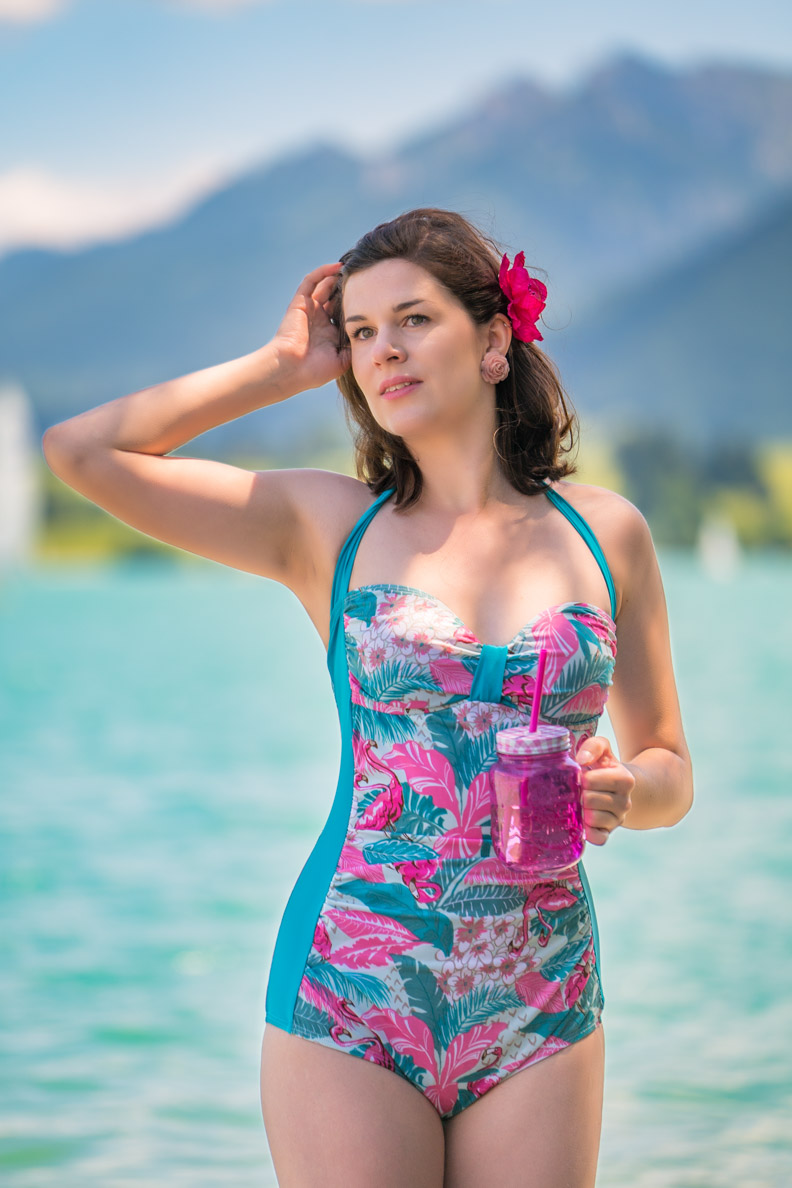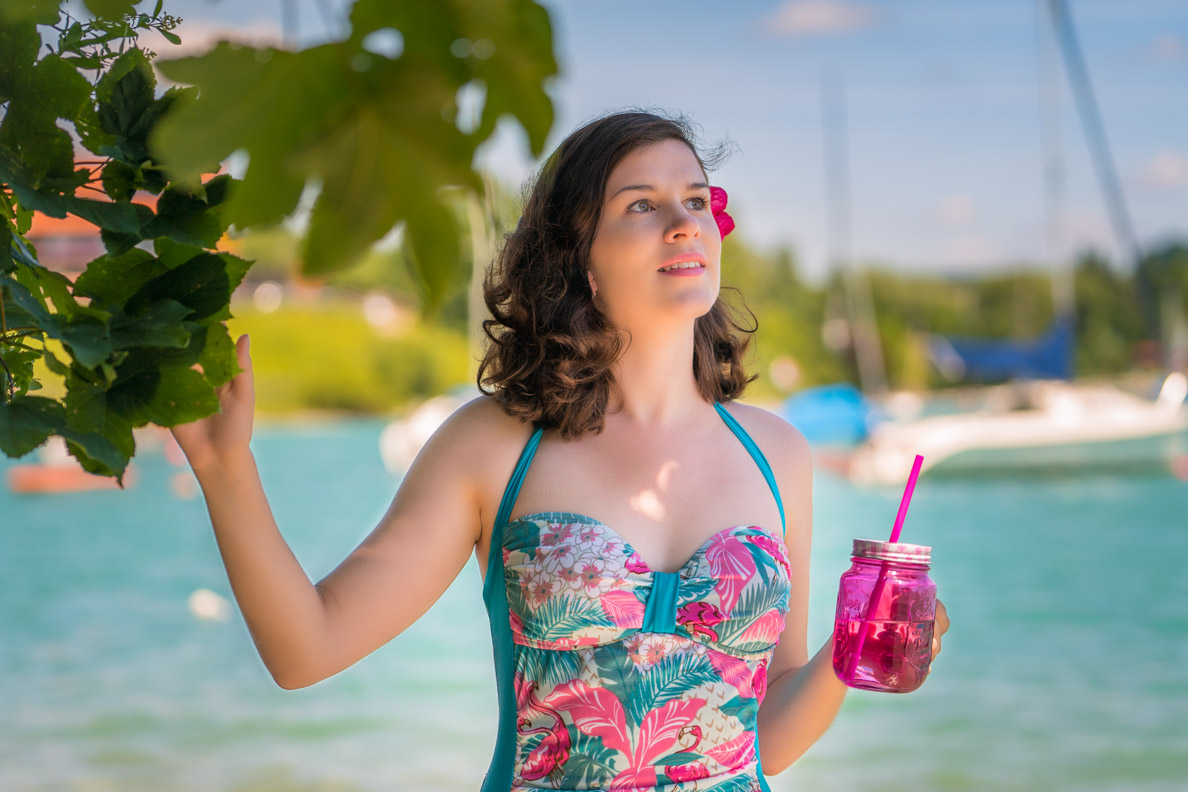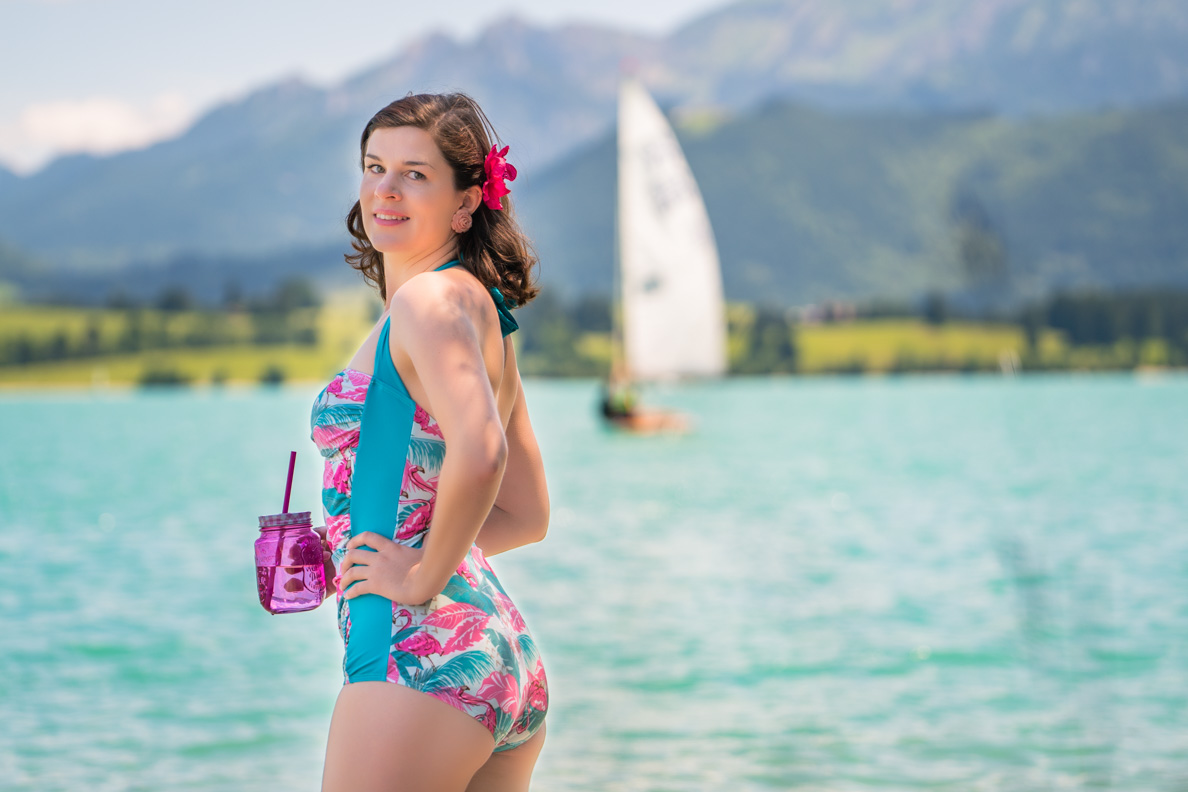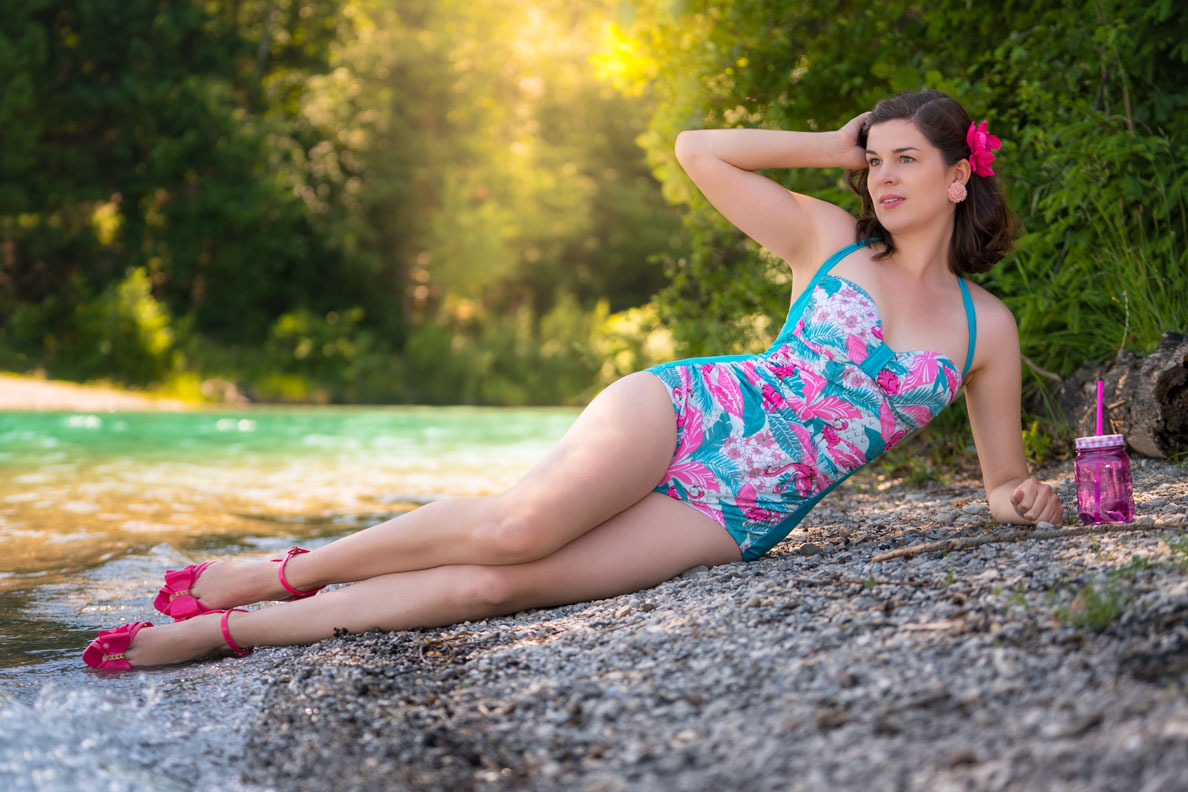 ---
Das Olson Floral Dress for Festivals and warm Summer Days
Summertime is festival time! Light swing dresses are simply perfect for this kind of occasion. But of course the Olson Floral Dress by Unique Vintage looks great on every other occasion as well. The floral print always makes me smile and some lovely details like the round collar make it a real eye-catcher. I teamed the dress with a colour matching flamingo handbag by Collectif Clothing. By the way: you will find some other lovely bags here. A parasol (available here) is always a good idea and perfect for the previously mentioned festivals. Pink shoes (similar here), white gloves, and light pink stockings by Secrets in Lace finish the summery retro outfit.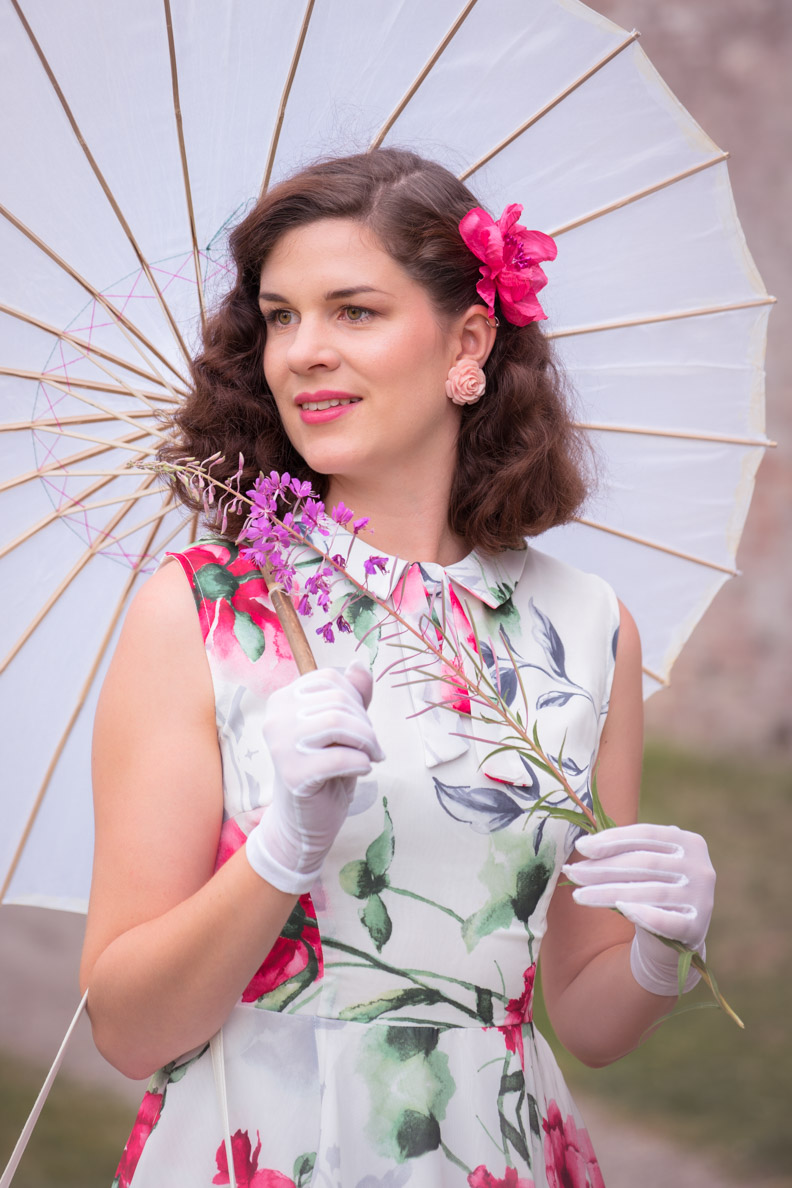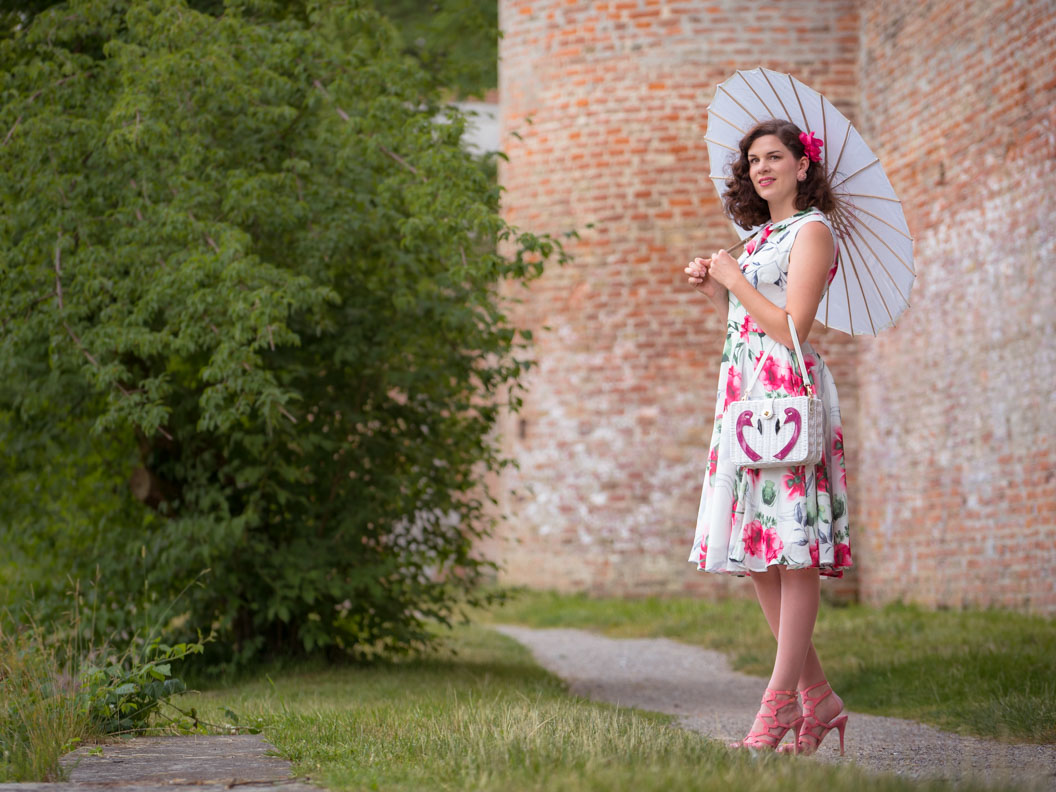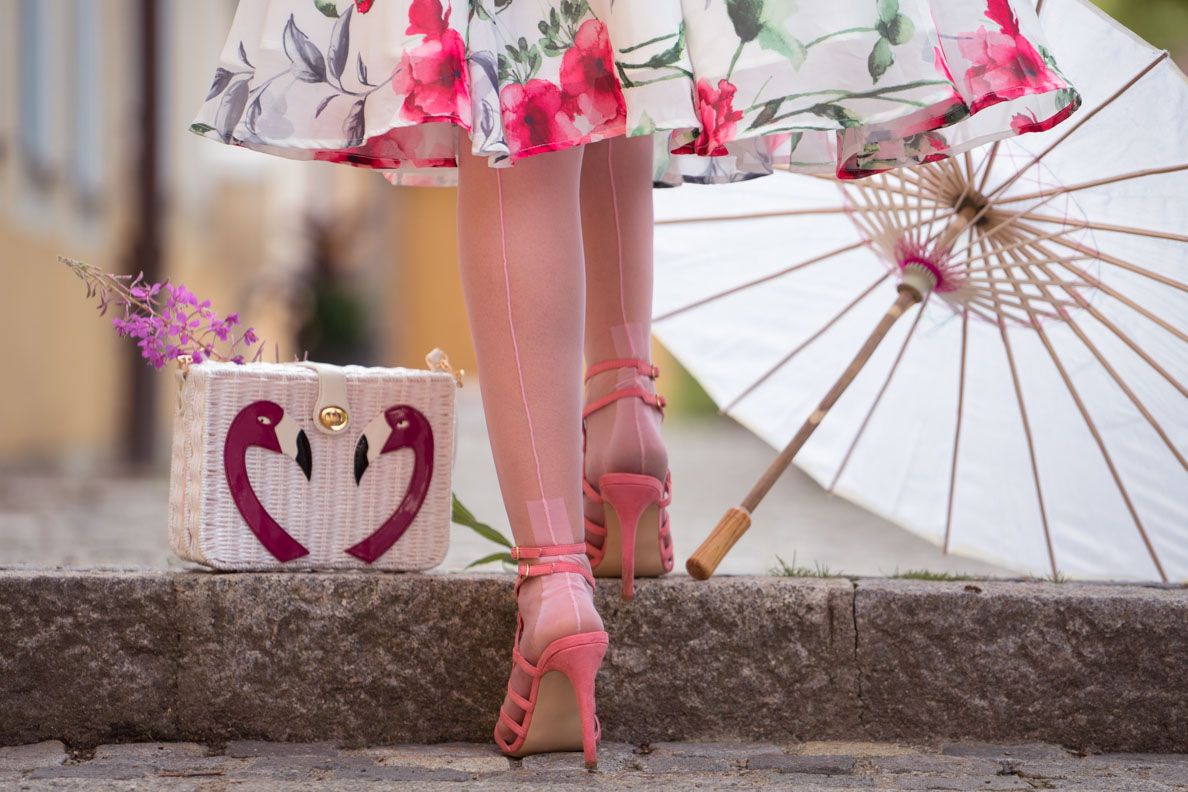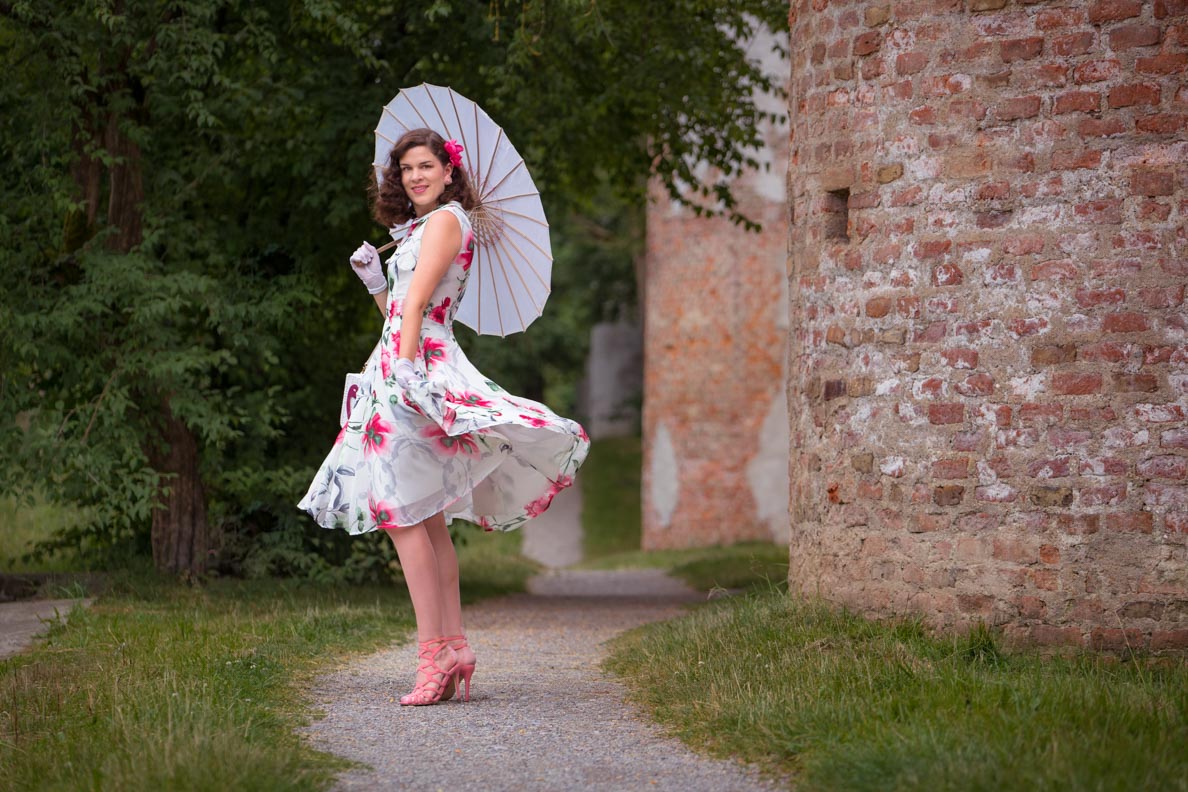 ---
The Retro Boutique Peggy Sue Frankfurt
As I already mentioned before, Angi also has her own offline boutique called Peggy Sue Frankfurt. Angi is not only a super lovely shopping aide, but even hosts private shopping parties and fashion shows. So if you should ever be in Frankfurt, make sure to check out this wonderful retro store!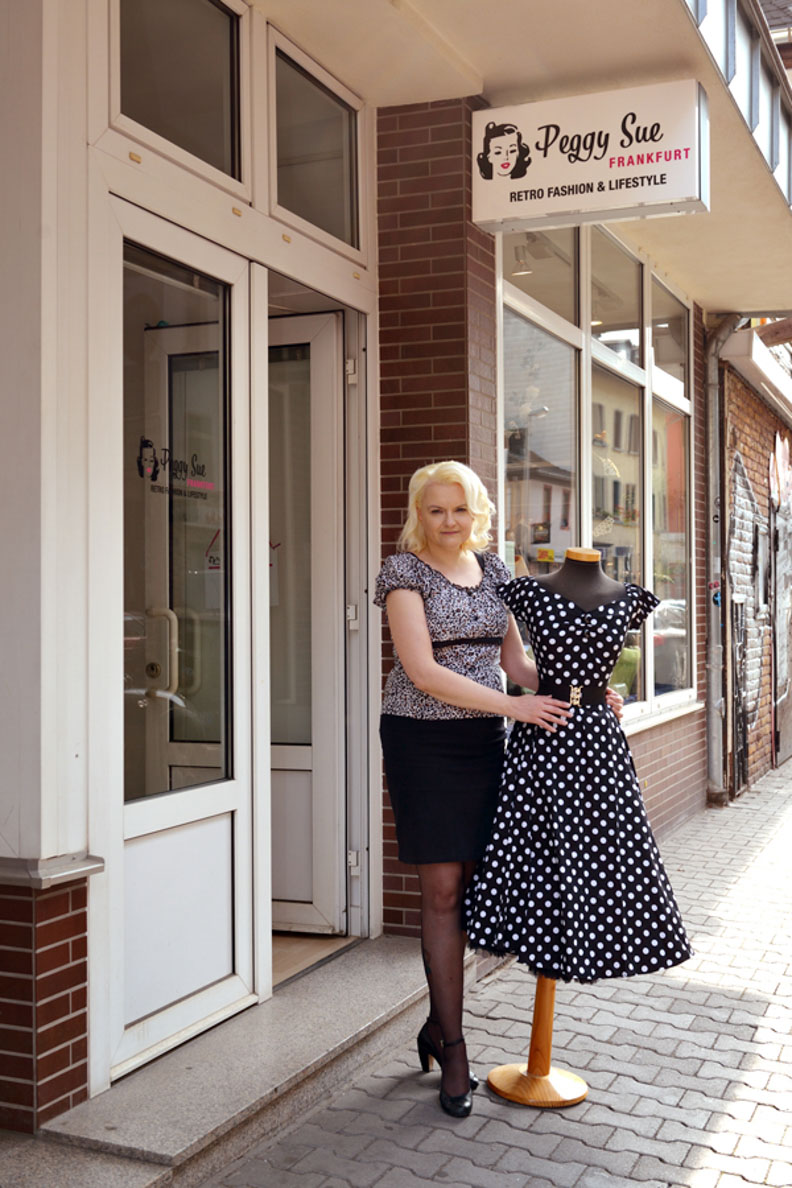 Here are all important informations:
Address:
Peggy Sue Frankfurt
Wallstr. 20
60594 Frankfurt-Saschsenhausen
Opening hours:
Tuesday-Friday: 11.00 am – 7.oo pm
Saturday: 11.00 am – 5.00 pm
Online Shop:
---
* This post is sponsored by Fräulein Backfisch