My packing list for a weekend trip to Salzburg/Austria
*This blogpost contains affiliate links (marked with *) and pr samples (marked with c/o)
A weekendtrip into the Austrian alps is always a good idea, but in autumn, it is especially beautiful. When the first leaves are getting colourful, the days are getting shorter and the nights longer, the air chilly, and the animals eat a lot to be prepared for the cold season, the alps really are magical. In this blogpost, I'm going to show you which outfits to pack for such a weekend trip to look stylish, but still be comfortable.
What to pack for a Weekend Trip to Salzburg/Austria
We went to Salzburg and the surrouding area, and although it can still be quite warm there at the end of September/beginning of October, rain showers and chilly temperatures are also not uncommon. So make sure to check the weather forecast and I personally recommend the layering look. I am also just a little bit kitschy (you could also say: very kitschy), so I packed the following:
My Outfits for our Weekend Trip: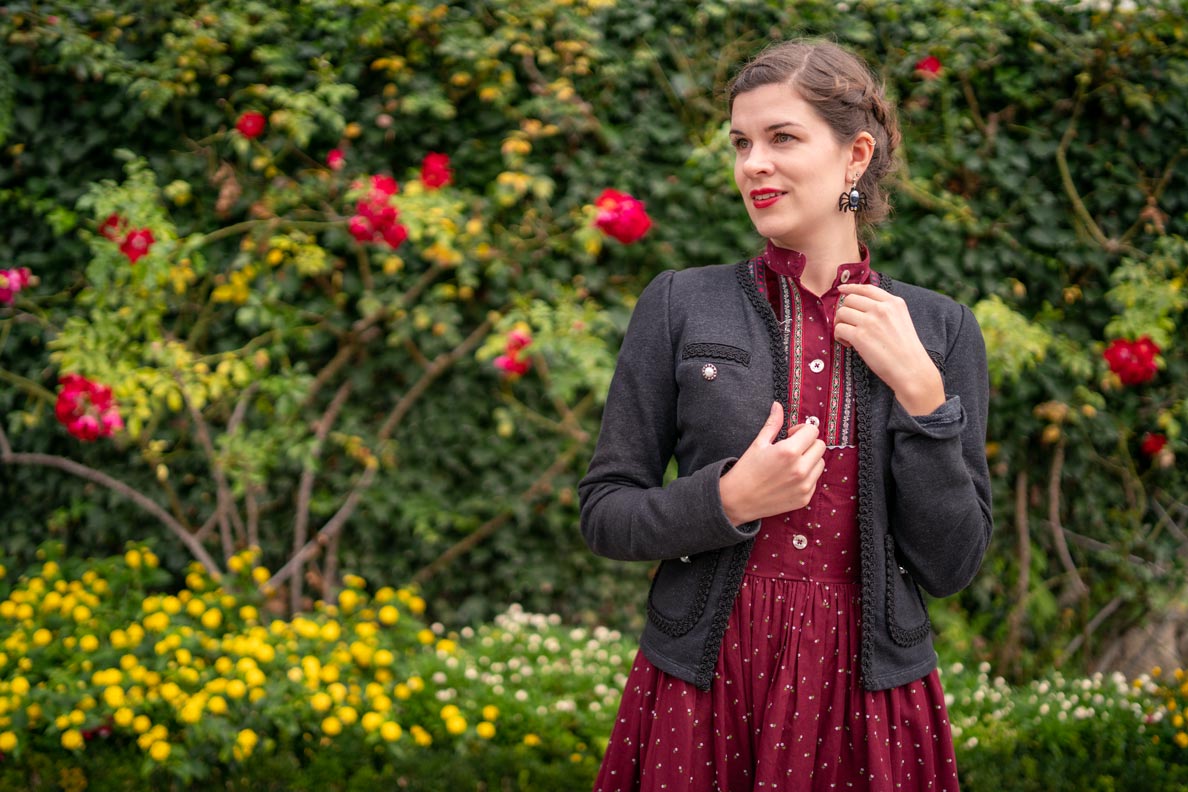 A rain coat or weatherproof jacket is a pretty good idea; I packed the one I bought for my Scotland road trip, luckily, though, I only needed it in the early morning. Afterwards, the weather got better and temperatures higher.
Knitted cardigans, inspired by the traditional Bavarian style, of course are a perfect choice for a trip to the Alps. PS: You will still find some beautiful "Trachten" jackets (janker) and cardigans nowadays; however, the high-quality ones usually are pretty expensive. So if you are in Bavaria, I definitely recommend checking out vintage and second hand shops. They often have some great ones for pretty good prices. I show you my favourite vintage shops in Munich in this blogpost, by the way.
I also packed a dark red and super pretty Dirndl inspired dress called "Gretl" by Lena Hoschek Tradition, which goes so well with my cardies.
Flared skirts also were in my suitcase. I usually always choose flared or swing skirts for travelling, as those are easier to team with flat shoes and they also offer more freedom of movement. 😉
Opaque tights,
as well as comfy flat shoes finish my Salzburg outfits. I went for a pair of black derbys for our day in Salzburg, and some black Timberlands for hiking.
*Affiliate links

---
My Jewellery for our Weekend Trip:
I believe every look requires at least a few accessories. But I also know you don't need all your accessories for a short weekend trip, so I packed just a few lovely pieces that go very well with my outfits, plus: they really didn't need a lot of space in my suitcase. And that's what I packed:
First of all, I packed some funny spider earrings by LaliBlue*, as those are a great contrast to my super romantic outfits. LaliBlue, by the way, is a Spanish shop that sells some pretty cool handmade jewellery.
Small silver earrings by Prettique*, which look kind of royal and therefore remind me, in combination with my braided hairstyle, a little bit of Empress Sisi. 😉 *By the way: If you use the code ""PRETTY-TD" you will get 10 Euros off your order from the "Prettique Royal collection".
Last but not least, I went for a deer brooch, which is just super kitschy and perfect for a trip to Austria.