Travel in style: My best advice and tips from suitcase to hairstyle
This blogpost contains affiliate links (marked with *)
Travelling is quite a big part of my private and business life. I love to discover new countries, meet people from all over the world, and learn more about other cultures. While travelling, we often have some special needs and only a limited amount of space in our suitcases. I still want to dress true to my style, though. Over the years, I found different ways on how to maintain my retro style while I'm away from home. And in this blogpost, I share all my tips on how to travel in (retro) style with you. So let's start with a very important thing: Our luggage.
Travel in Style: Vintage Suitcases & stylish Weekender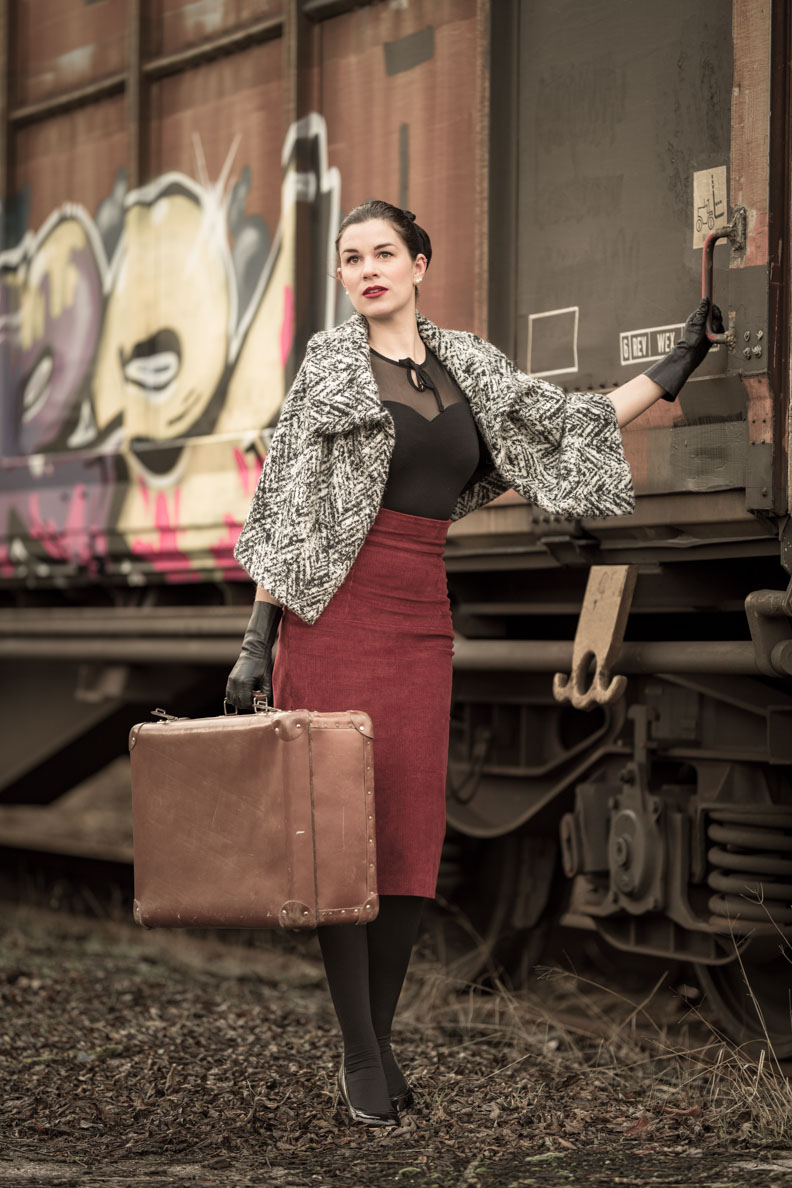 Old-school suitcases aren't known as being super practical. But they look absolutely gorgeous, in my opinion. And trolley bags can be quite tricky as well. First of all, they are pretty noisy, especially when you have to pull them behind you over cobble stones, early in the morning. Second, you can't always rely on them. Just let me tell you a short story:
It was in Paris, a few years ago. My hotel was on top of a small hill, and, I'm not completely sure, but I believe the path was paved with cobbles. Almost on top of the hill, one roll decided to break up with me and rolled down the whole hill and even futher ahead. I tried to catch the roll, headed down with my now one-rolled suitcase and somehow catched the dirty roll in the end. I tried to fix the roll, however, it wasn't the last time the roll tried to get independent. It was the last time, though, I took this specific suitcase with me. Since then, I prefer stylish vintage suitcases…
You can find them either on flea markets, online (on Etsy* for example) or in grandma's cellar (this is where I found mine ;-)). If you prefer stylish luggage with rolls, I recommend to have a look at SteamLine Luggage. They offer really beautiful and super cool suitcases in different sizes.
Woody Ellen*, on the other side, offers some very pretty weekender in hand luggage size. Those are perfect for a short weekend trip or a handy supplement to your suitcase. As I usually travel by bus, train, or car, and almost never use the plane, I normally don't have a problem with luggage size and weight, though.
And now, we are going to have a look on what to pack in your stylish suitcase. 😉
*Affiliate links

---
Travelling in Style with lovely Jersey Dresses
Jersey dresses are always an excellent choice for travelling. They are super comfy, almost don't wrinkle, and look very pretty. I personally really like the jersey dresses by Vive Maria*, Pussy Deluxe* and Atelier Belle Couture*. For the ride or flight, I usually choose a slimmer dress. At my travel destination, I also wear jersey dresses with circle skirts and even petticoats. If you want to pack a petticoat, by the way, I highly recommend a vacuum bag. PS: I usually wear swing or circle skirts when travelling, as those are easier to team with flat shoes, which directly leads us to the next point.