Advert/affiliate links. This blog contains affiliate links (marked with *). If you shop products via those links, I may get a small provision which helps me to maintain my blog. Of course the price doesn't change.
Summer hasn't even started yet, and TopVintage has already launched its first discount campaign on swimwear. Great, isn't it? So we can stock up for our long-awaited annual vacation and save some money at the same time. Up until Sunday, May 14th, 2023 you get a 15% discount on the entire swimwear range from TopVintage*. Of course, I also found some favorites that I am happy to share with you.
Buy retro Swimwear from TopVintage for less: My Favourites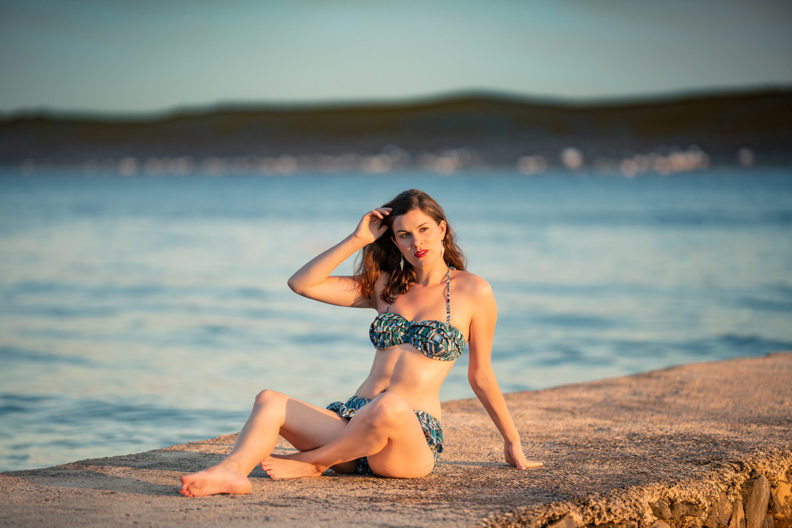 Seductive swimwear by Marlies Dekkers via TopVintage
While browsing through the TopVintage swimwear range, I immediately discovered a brand that I didn't knew before, but immeditaly fell in love with: Marlies Dekkers*. The bikinis and bathing suits look super sexy without being insanely revealing or provocative. My favourite:  The Cache Coeur Push-up-Bikini top in black* with the matching Cache Coeur high-waist pants* (also available in other cool colours). And if you prefer to wear bathing suits: no problem, there is also a super chic model here: the Cache Coeur Bathingsuit with a deep neckline in black*. Add a cool straw hat (also currently on sale at TopVintage*), stylish sunglasses, an airy skirt (e.g. via Asos*) and you're ready for a trip to the trendiest beach bar at your holiday destination.
What to wear with Marlies Dekker's Swimwear:
*Affiliate links

---
Classic Gingham Pattern for Summer
Nothing beats a classic gingham pattern in summer! I find the 50s Gigi Gingham Bikini Top* with the matching bikini pants* particularly cute. It even has a little skirt, making it extra flattering. Add a pair of funny heart-shaped retro sunglasses as well as a beach ball and the beach fun can begin!
What to wear with a retro Gingham Bikini:
*Affiliate links

---
70s Vibes with a fancy Swimsuit via TopVintage
Flower power, VW buses and tents with funny patterns: In summer, I really love those 70s vibes. Well, unfortunately I don't own a cool old VW bus, but with the Boogie Nights Badeanzug in Pink* I still get a hippie feeling. Of course, you have to wear a large straw hat, huge sunglasses (e.g. via TopVintage*) and a straw bag (also available from TopVintage*) with it, to add even more 70s vibes. 😉
What to wear with a 70s Swimsuit:
*Affiliate links

---
I'm totally in summer mood now and can't wait for the warmer weather to come! And if you haven't planned a summer vacation, don't worry, the swimwear from this blogpost also looks great at your local bathing lake and even at the paddling pool!