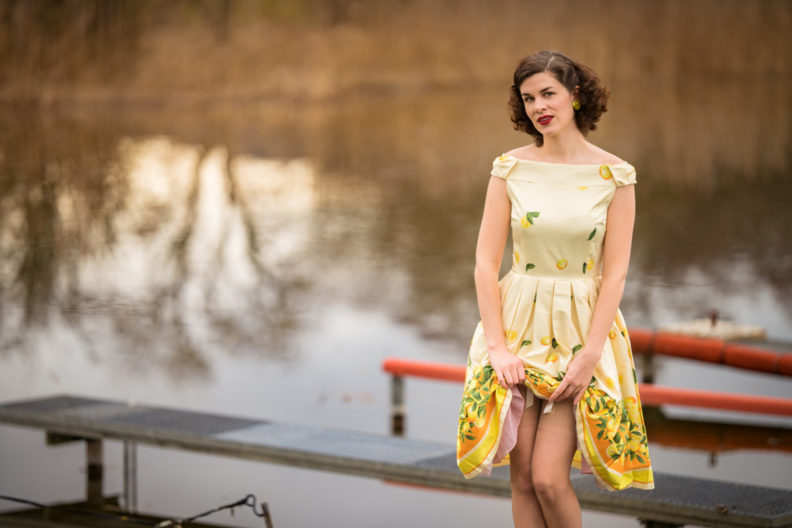 A detailed garter belt guide
There are so many different types of suspender/garter belts available that it is quite hard to find out what fits you and your needs best. But at the end, this is exactly what we need, especially if we like to wear stockings in everyday life: A perfectly fitting, secure, and discreet garter belt/suspender belt. While I already introduced some concrete garter belts to you in this blogpost, I now want to tell you more about the different types of garter belts, and reveal which of them I like most, and which I can only recommend for the boudoir. 🙂
This blogpost contains affiliate links (marked with *)
What exactly are Suspeder Belts/Garter Belts and why do we need them?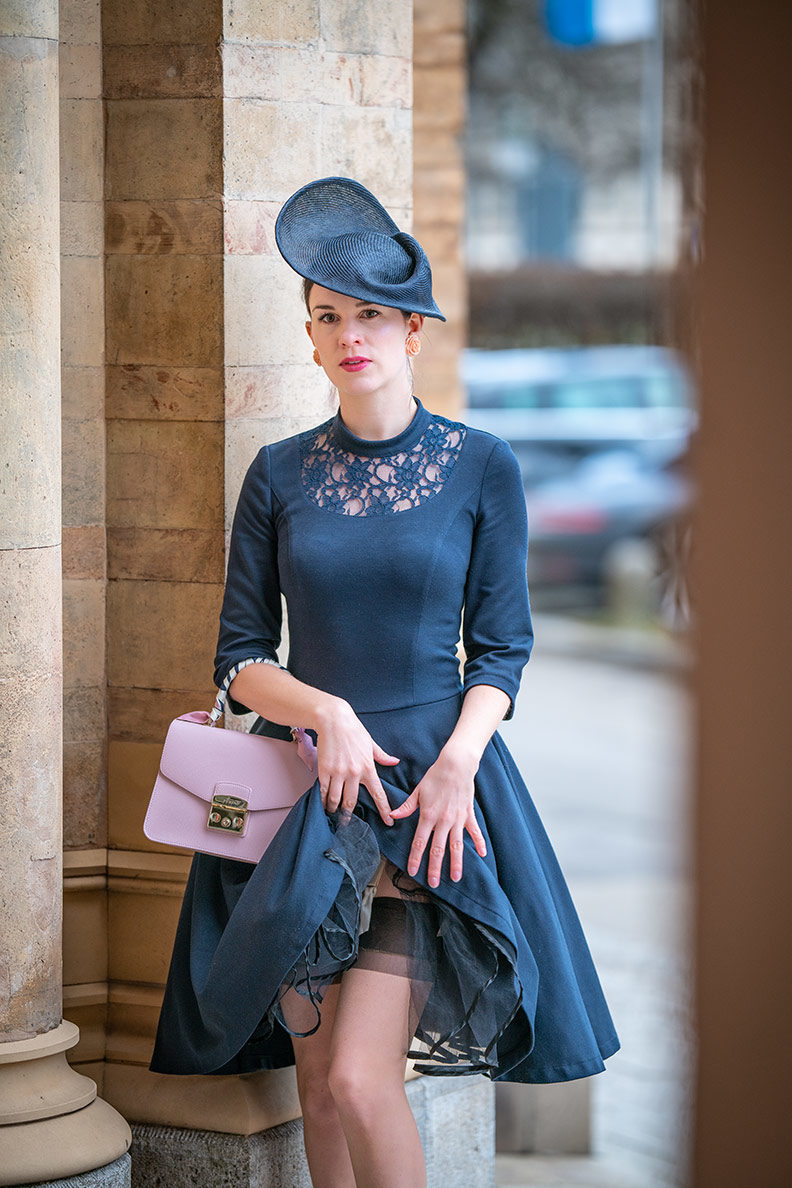 Garter belts are made to keep our stockings in place. Originally, by the way, both, men and women, wore garter belts. Only when at the end of the 18th century the long men's stockings disappeared, garter belts became and almost women exclusive type of clothing.
Before tights and thigh-highs were launched, women had no other possibility to keep their stockings in place than wearing garters or a suspender belt. We usually differentiate between a garter and a garter belt.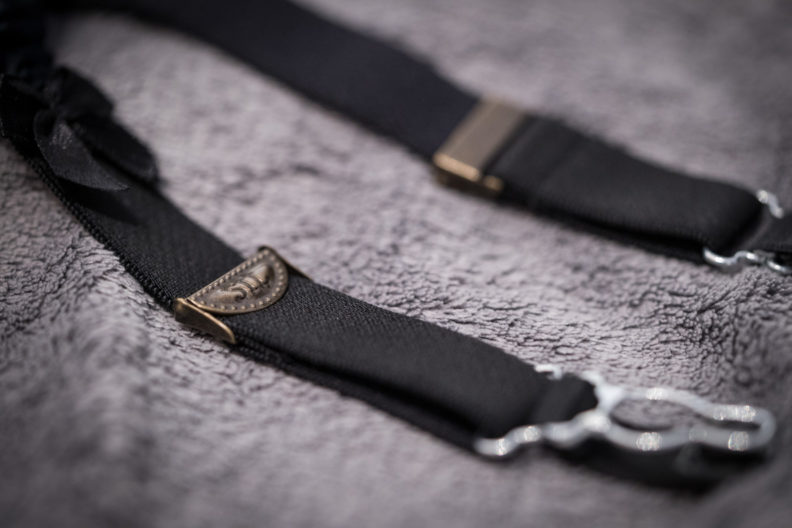 While a garter is a kind of clothing comprising a narrow band of fabric fastened about the leg to keep up the stockings, a garter belt is a kind of belt worn around the waist/hips that has straps with clips, on which the stockings are attached to hold them up. Suspender belt, by the way, is a synonym to garter belt. As far as I'm concerned, the term suspender belt is mainly used in British Englisch, while in American English, the term garter belt is more common. As I'm German, I use both terms as a synonym here on my blog, so please don't be confused. 😉
PS: In my Stockings ABC, I clarify more hosiery specific terms, so make sure to have a look.
---
What to keep in Mind when buying Garter Belts
When buying a new garter belt, we should keep a few things in mind. Of course, I'm going to tell you what exactly I mean:
Size and Fitting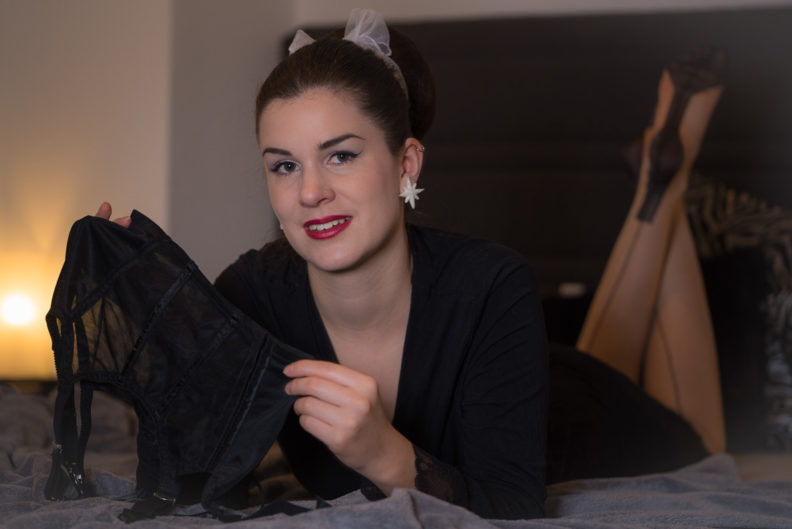 How to find the perfect kind of Garter Belt for yourself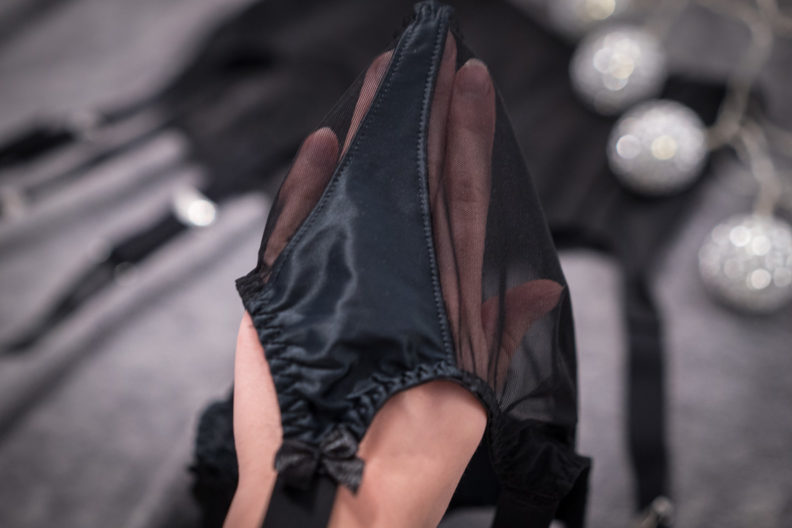 *Affiliate links

---
A detailed Guide on Garter Belts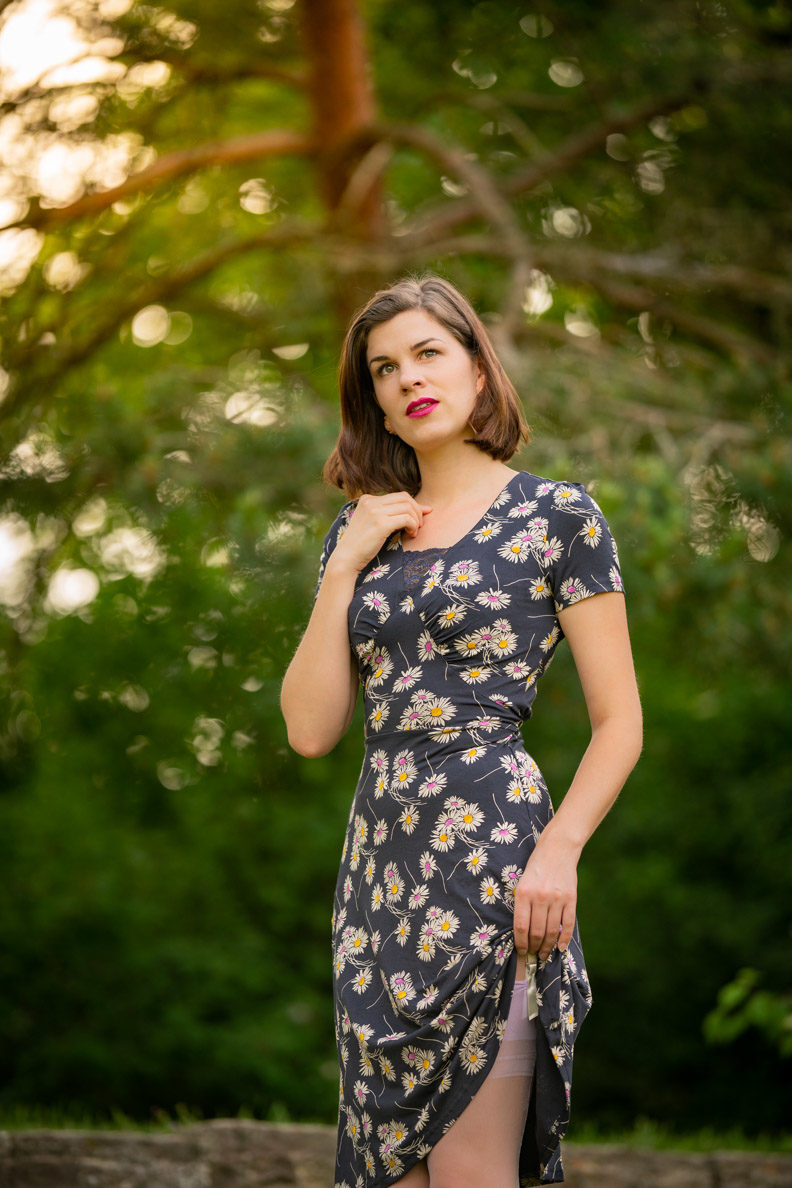 And now, let's talk about the different kinds of garter belts. Please consider that I share my personal opinion on certain garter belts with you. I've been wearing nylon stockings in everyday life for many years now, and therefore know what I'm talking about. However, everyone has their own preferences. So this guide is meant to provide some orientation when searching for an appropriate garter belt. But in the end, you have to choose your perfect garter belt for yourself.
Wide Garter Belt with 6 Straps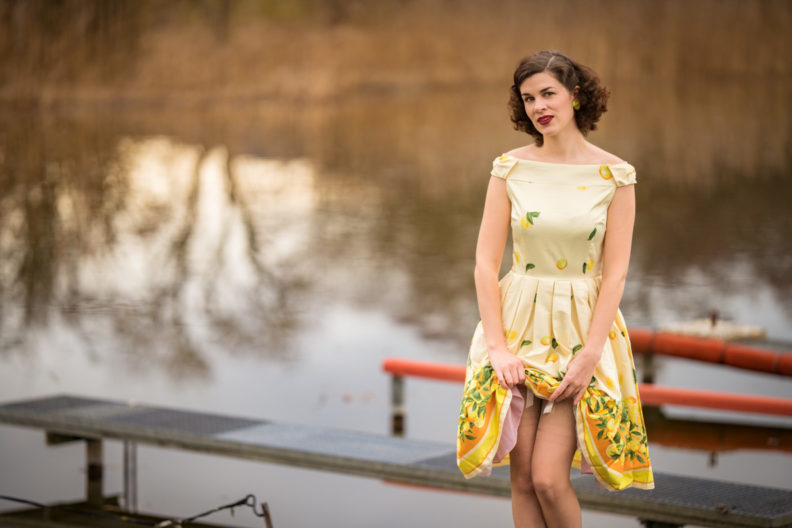 Let's start with my personal favourite kind of garter belt: A wide one with three straps on each side, so six straps in total. If you choose the right size, this garter belt provides security, prevents your stockings from twisting around your legs, and therefore reduces stress on the stockings.
Nowadays, many lingerie brands – especially those specialised in retro lingerie – offer such garter belts.
Where to buy wide Garter Belts with six Straps:
*Affiliate links

---
Wide Garter Belts with 4 Straps
Garter belts with six straps have one disadvantage: As one strap usually goes down across your bottom, it can show through fitted pencil skirts/dresses, and some women simply don't like to "sit" on the strap with its clips. So a good alternative to a wide garter belt with six straps is a wide garter belt with four straps, where one strap on each side is at the front, and one at the side. You don't want to invest in a garter belt with straps at the front and back, because in this case, you have the same "bottom problem" as mentioned before.
Even though I personally prefer garter belts with six straps, it is also possible to secure stockings with only four straps. And if you look at lingerie photos from the mid 20th century, you will see that this kind of garter belt was quite common back then.
Where to buy wide Garter Belts with four Straps (at the front and side)
It seems to be not so easy to find garter belts with four straps, while two of them are in the front and the others at the side (you will find many with two at the front and back, but that's not what we want). I found an original vintage garter belt on Etsy*, and a modern one at Agent Provocateur*. So if someone of you knows a brand that sells good garter belts with four straps, please let us know in a comment!
*Affiliate links

---
Shaping Garter Belts/Girdles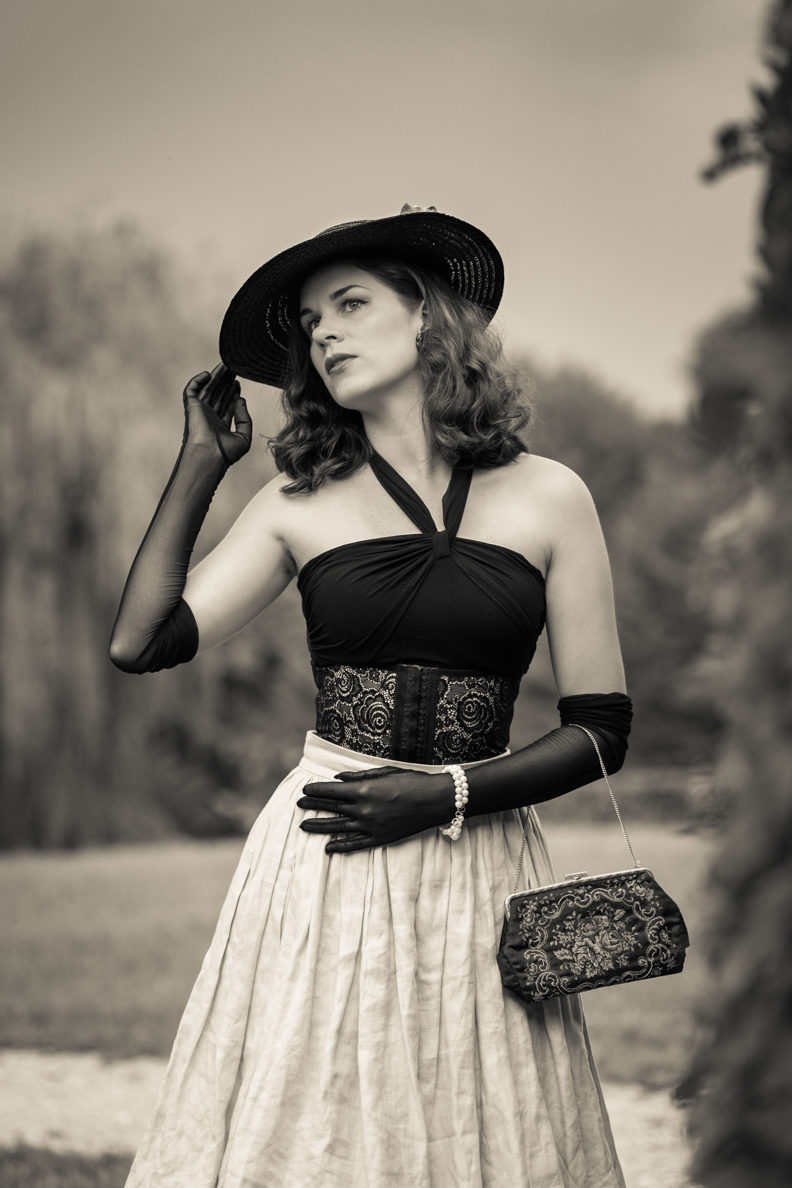 Shaping garter belts are perfect if you like to achieve a smooth silhouette underneath fitted dresses, or want to bring your body into a New Look kind of retro shape. I like to wear shaping garter belts especially on evening occasions or for photo shoots. In everyday life, I prefer more comfortable garter belts.
There are different kinds of shaping garter belts. Some are similar to a topless corsage and start directly below the breast (like the one you can see in the photo, which also is called waist cincher) – these ones shape the waist as well as the hips. Others start at the waist and therefore mainly shape the body from the natural waist line down to the hips. If you choose the latter one, I recommend to team the garter belt with a longline bra that goes down to the waist. Otherwise, it can happen that the love handles (what a wonderful term, by the way! The German word for this is actually pretty nasty ;-)) show above the line of the garter belt.
Where to buy shaping Garter Belts/Girdles:
*Affiliate links


---
Delicate, seductive and erotic Garter Belts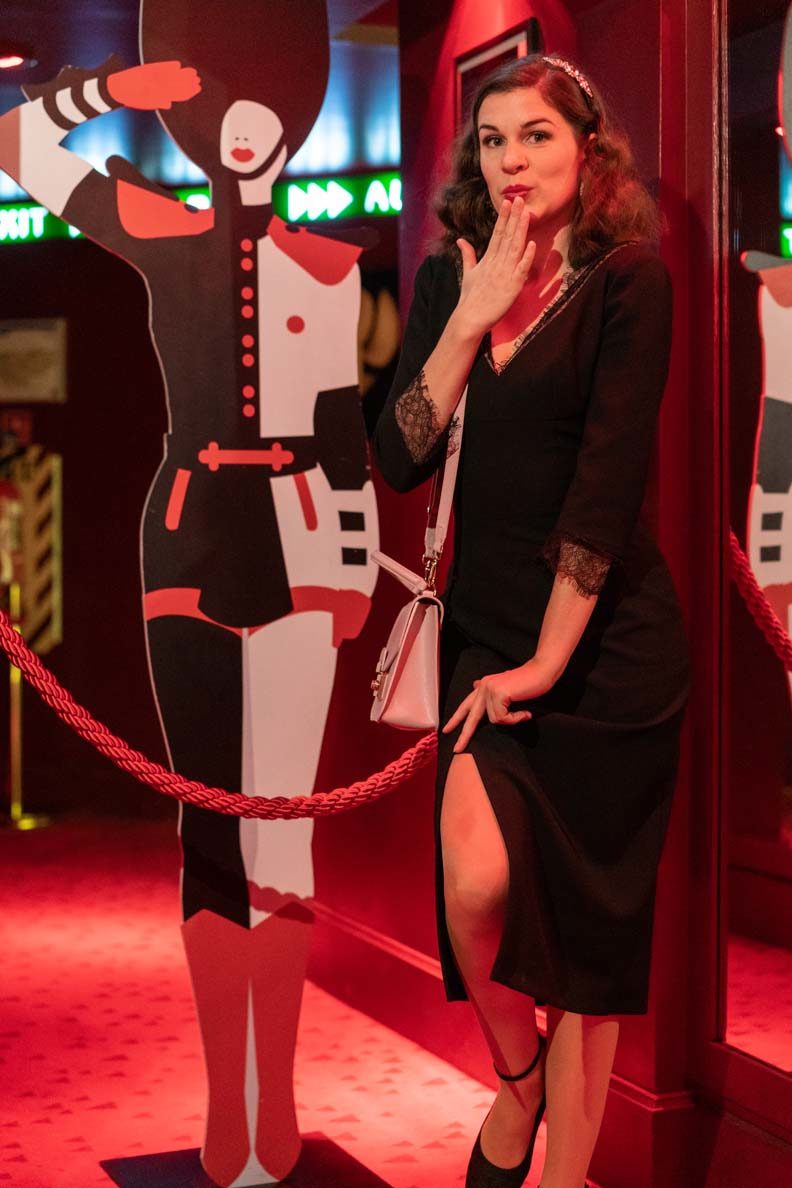 Delicate garter belts with a lot of lace or seductive details can look very beautiful. I do own quite a few of these ones, as I always buy a matching garter belt with a lingerie set. However, I don't wear this kind of garter belts in everyday life. If I decide to wear one, then only for dinner or having a drink, so somewhere where I don't have to move a lot. I figured out that (at least on me), these garter belts tend to slip down and are just not strong enough for long-term wear. Nevertheless, I do like them and think it is absolutely okay to buy them simply for the boudoir and/or your pleasure. 😉
If you want something very erotic, try garter belts with a lot of straps or other details. They aren't very suitable for everyday life either, but are definitely something fun to play with. 😉
Where to buy a seductive and/or erotic Garter Belt:
*Affiliate links


---
Corsage, Corsets and Corselette with Suspenders
To be honest, a corsage, corset, or corselette with suspenders usually also is a kind of shapewear. However, these pieces are a bit different to shaping garter belts, so I want to mention them in an extra point. A corsage, corset, or corselette with suspenders can be a good alternative to shaping garter belts and usually provides a huge amount of security. By the way: Beside the shaping corsage, corset, or corselette, there are also some very delicate ones like this one*, for example, available.
I especially like a retro corsage like this one*, to achieve an authentic silhouette that goes very well with vintage outfits.
Where to buy a Corsage, Corsets or Corselette with Suspenders:
*Affiliate links


---
Briefs with Suspenders
For the sake of completeness, I also want to add briefs with suspenders. I personally don't wear this kind of garters, as especially the "normal" briefs with suspenders tend to slip down under the wait of the stockings, which isn't really fun when you are out, especially for yourself. 😉 I also don't really know how to integrate them into the boudoir, as the stockings don't stay in place without the briefs…
Control briefs/shaping panties with straps are a bit better, as they usually do stay in place, even with attached stockings. However, I personally prefer the combination of briefs and a (shaping) garter belt. But after all, this is just a matter of taste.
Where to buy Briefs with Suspenders:
*Affiliate links

---
Garters
A classy garter is a bit different to a garter belt. It is a kind of clothing comprising a narrow band of fabric fastened about the leg to keep up the stockings. Depending on the fashion of the time, the garter was either worn below or above the knee. Nowadays, a garter often is worn by the bride on her wedding day, as a kind of wedding tradition. This garter, however, usually isn't used to support stockings. As I personally don't have any experiences with garters, I can neither recommend nor dissuade them. 😉
Where to buy Garters:
*Affiliate links
---
This might be also interesting for you: