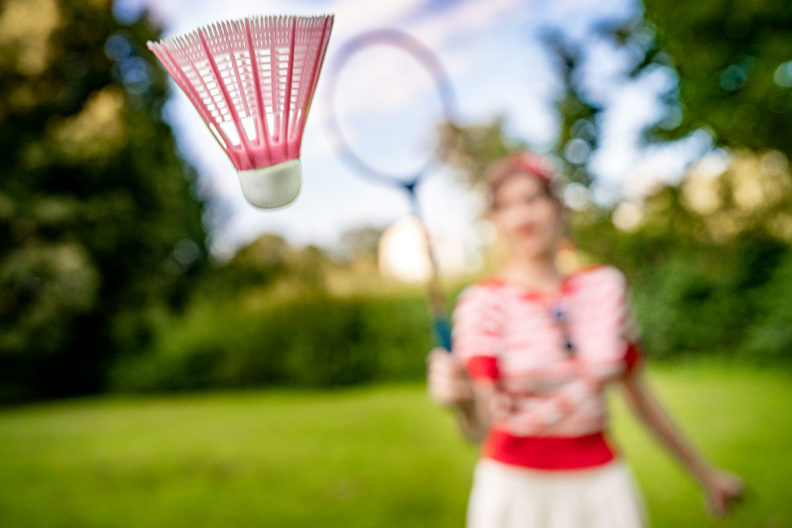 1930s sportswear for fun summer days at home
Isn't it amazing that we still have relatively long daylight (well, at least here in Germany)? So even after a long work day, we are able to enjoy the evening sun and maybe do some sports outside. To be honest, I'm not a sporting ace, but I enjoy a moderate workout and I have no objections to a fun badminton match in the park. In the following, I'm going to show you that it is absolutely possible to wear something chic for this occasion.
This blogpost contains affiliate links (marked with *)
Elegant 1930s inspired Sportswear for Summer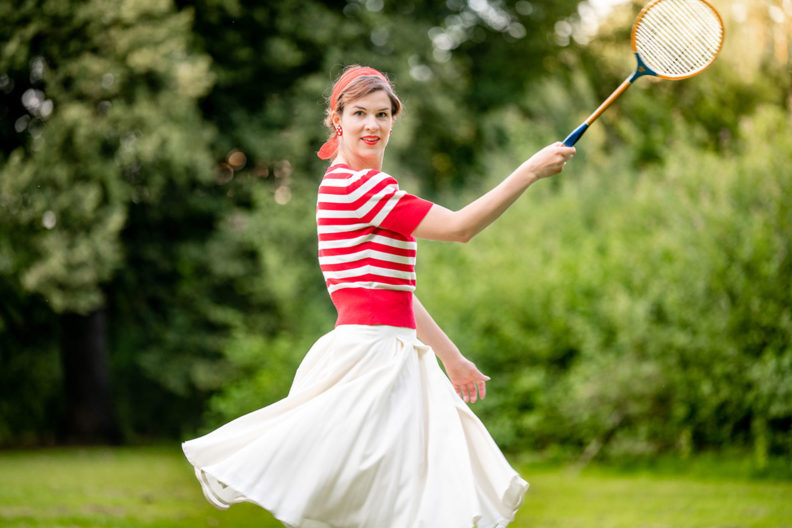 I personally don't really like functional clothing, not even when doing sports. But I must also admit that I neither do very exhausting nor endurance sports. I personally prefer long walks, cycling tours, moderate running, or sports like badminton.
By the way: The thing with functional clothing is just a personal preference. If you like this kind of garments – wonderful. But I prefer a different style, and therefore searched for some inspiration in the 20th century. In the end, the 1930s sportswear was the style I liked most.
Womens' Sportswear of the 1930s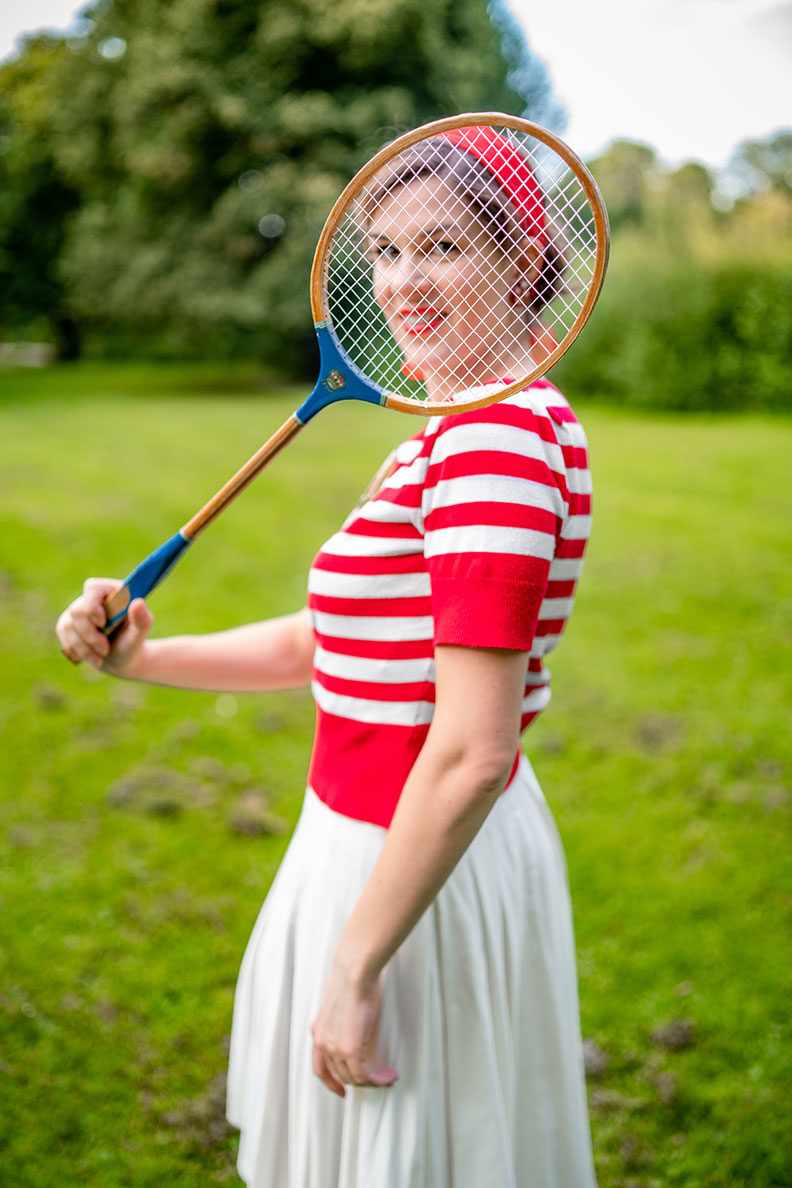 In the 1930s, sports became more and more important for women of the western world. The modern woman from back then did sports like gymnastics, swimming, sailing, riding, golf, skiing, hiking, and to the end of the century also cycling. The comfortable leisure time and sportswear for women had its roots in the 1920s, and developed further in the 1930s. But no matter what kind of sportswear a woman chose, it was important that the outfit was chic, comfortable, and easy-care, of course. So the outfit had to fit perfectly, had to offer enough freedom of movement, and needed to be easy to clean.
In the 1930s, women were able to choose from a variety of different sportswear and leisure time outfits for different activites, like sporty summer dresses and light skirts for hiking tours, chic sport suits, ski suits for the slope, and beach pyjamas. Women who liked to ride a bycicle could choose from trousers that looked like skirts, shorts, wrap skirts and culottes. So they didn't had to cope with flying skirts, anymore. The difference to modern sportswear is that it was very important back in time that the sport outfit still looked elegant. Most of the time, it wasn't even obvious the woman was wearing sportswear.
Some of the prefered fabrics that were used back then were jersey, linen, cotton, wool, and muslin. Especially in summer, it was fashionable to wear very light-coloured, all white outfits. But colours like a bright red or navy blue were fashionable as well. Beside plain outfits, patterns like floral designs, polka-dots, or stripes were trendy.
Chic 1930s Sportswear for different Occasions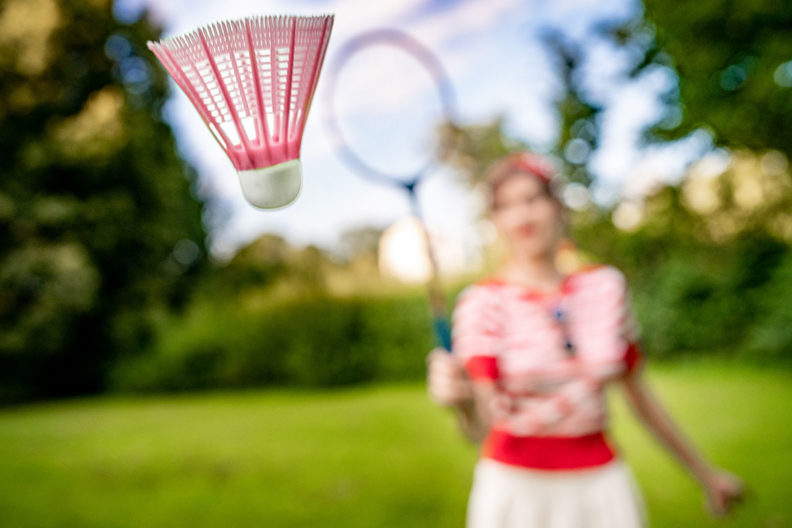 And now, let's have a closer look on my interpretations of a chic and stylish 1930s inspired sport outfit.
1930s inspired Sportswear for Leisure Time: Striped Top, wide Skirt and Sneakers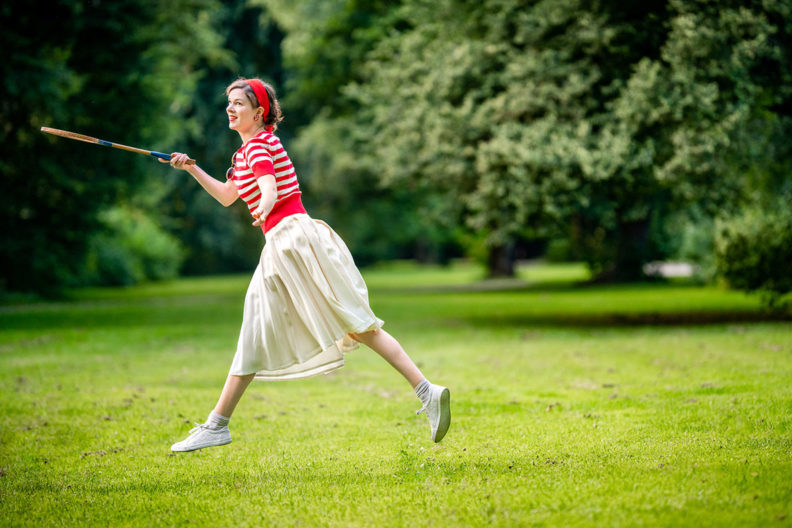 This combination of a wide, white skirt and a comfortable striped sweater is absolutely perfect for many different types of leisure time activities – even for the more active ones! One can move so freely in such a skirt, and with sneakers, this outfit is even appropriate for a badminton match.
If you team the same outfit with red ballet flats, for example, you have a wonderful look for walks and picnics in the park.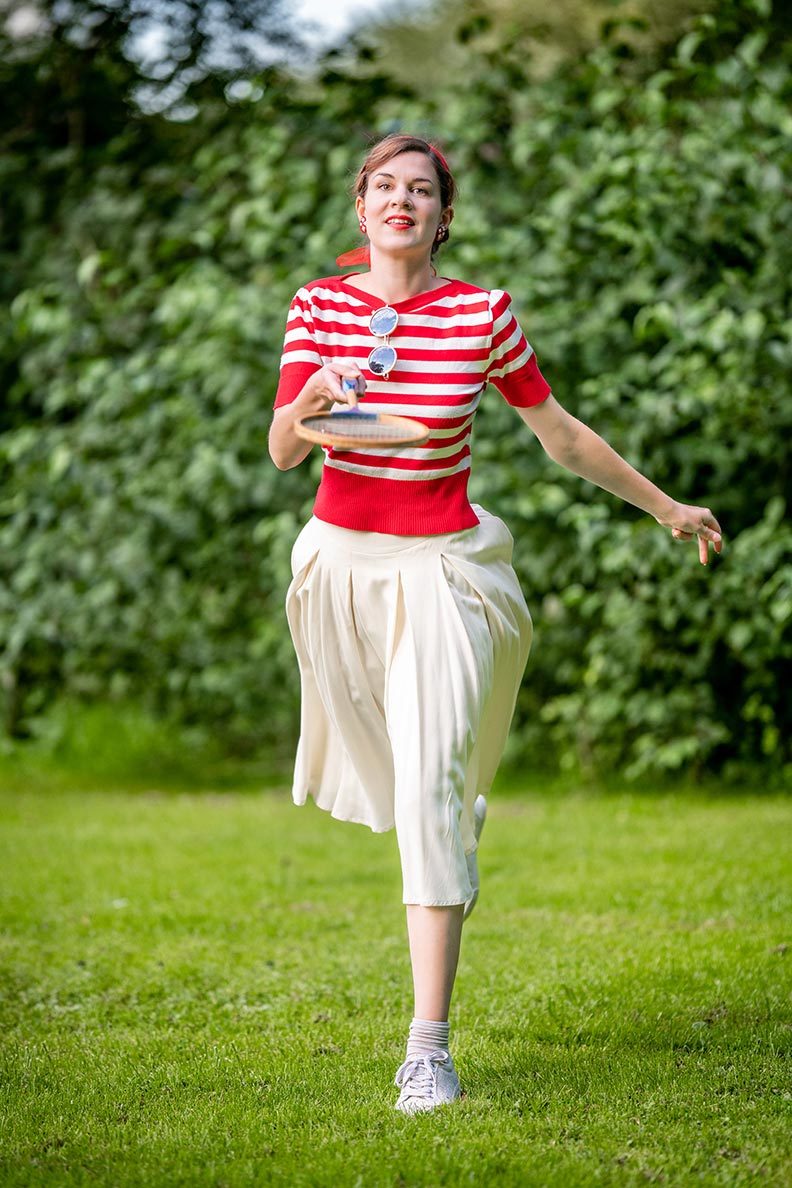 Outfit Details:
Striped top: Pretty Retro, similar here*
Skirt: Gracy Q, old but similar here*
Earrings: Glitter Paradise*
Sunglasses: similar here*
Sneakers: very similar here*
Headband: via Amazon*
*Affiliate links


More chic 1930s inspired Sportswear for Summer
Affiliate links

---
1930s inspired Sportswear for Cycling and the Beach: Shorts, Blouse and Ballet Flats
If you don't want to wear a skirt when doing sports, cheeky shorts are a great alternative! The ones you can see in the picture are especially cool, as they resemble a mini skirt, but offer all advantages of shorts – so no undewear can be seen when being active. 😉 Therefore, this look not only is perfect for the beach and ball sports, but also for cycling.
I like to team the shorts with light blouses and comfortable ballet flats, but of course lovely (white) sneakers will look good as well. If you like, you can add some more accessories and your cheeky leisure time outfit inspired by the 30s and 40s is finished.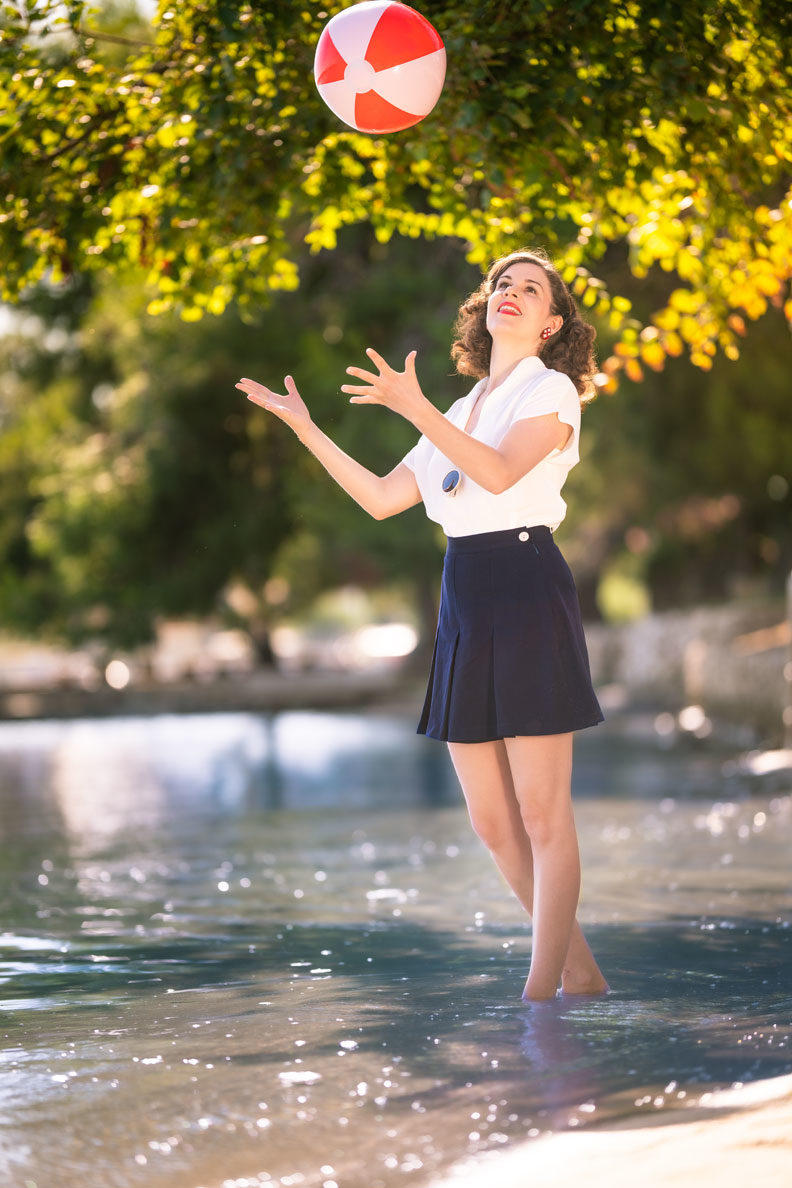 Outfit Details:
Blouse: The House of Foxy via Mondo Kaos
Shorts: The House of Foxy via Mondo Kaos
Earrings: Glitter Paradise*
Ballet flats: Melissa, similar here*
Sunglasses: similar here*
Ball: via Amazon*
*Affiliate links


More 1930s Sportswear for the Beach and Cycling
*Affiliate links

---
30s inspired Leisurewear for Walks at the Waterside and Sailing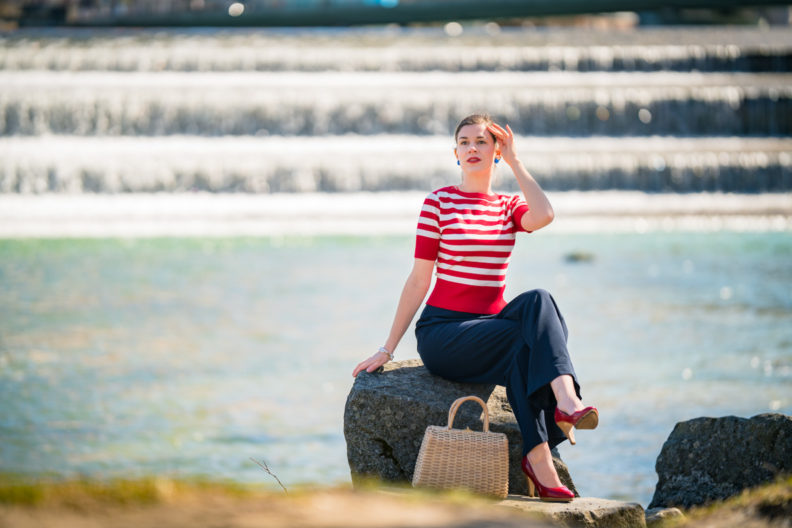 A fresh breeze is typical for the waterside, so always keep this in mind when going for walks at the sea or a sailing trip. My outfit tip for this occasion: Wear a bikini or swimsuit, swing pants, and don't forget a lovely, nautical sweater or blouse to wear on top.
PS: If you think heels are completely inappropriate for a day at the waterside, you should have a look at old fashion campaign photos from the 1930s, where you can see many women wearing pumps with their beach outfits. But of course we can choose something a bit more comfortable, nowadays, if we like. 😉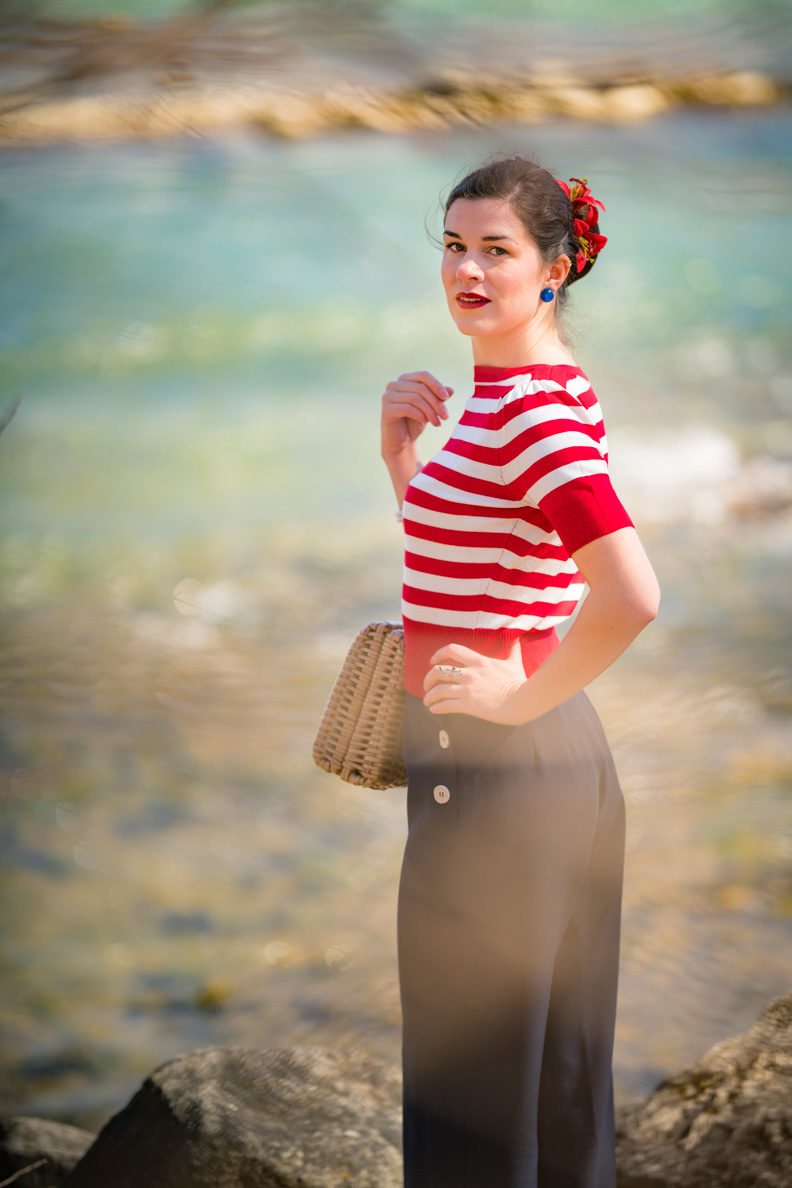 Outfit Details:
Striped top: Pretty Retro, similar here*
Swing trousers: Pretty Retro, similar here*
Earrings: Glitter Paradise*
Basket bag: Vintage, similar here*
Pumps: similar here*
Hairflower: similar here*
*Affiliate links


More 1930s inspired Leisurewear for Sailing and Walks at the Waterside
*Affiliate links

---
PS: If you are interested in 1930s fashion, definitely make sure to check out this blogpost!
What is your favourite outfit for leisure time?