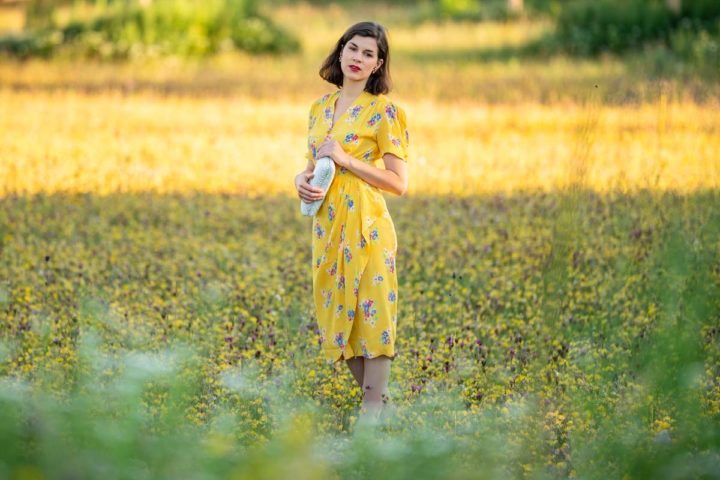 This blogpost contains affiliate links and pr samples
I've never used to be a huge fan of summer. But by now, I actually don't know why. Warm temperatures, sunshine, and the buzzing of the busy bees – isn't this just a dream? It's still getting too hot for me easily, however, this is no longer a problem for me, as I simply defer my outdoor activites to the evening. And such a walk just before sunset is especially enchanting, isn't it? The light is golden, the air is getting a bit colder, and the crickets are chirruping their evening song. Perefct to come down after a long and busy day. To match the summery mood, I'm wearing a dress in the colour of the sun: "Mabel" by The Seamstress of Bloomsbury has an amazing floral print on it and therefore not only attracs bees and butterflies.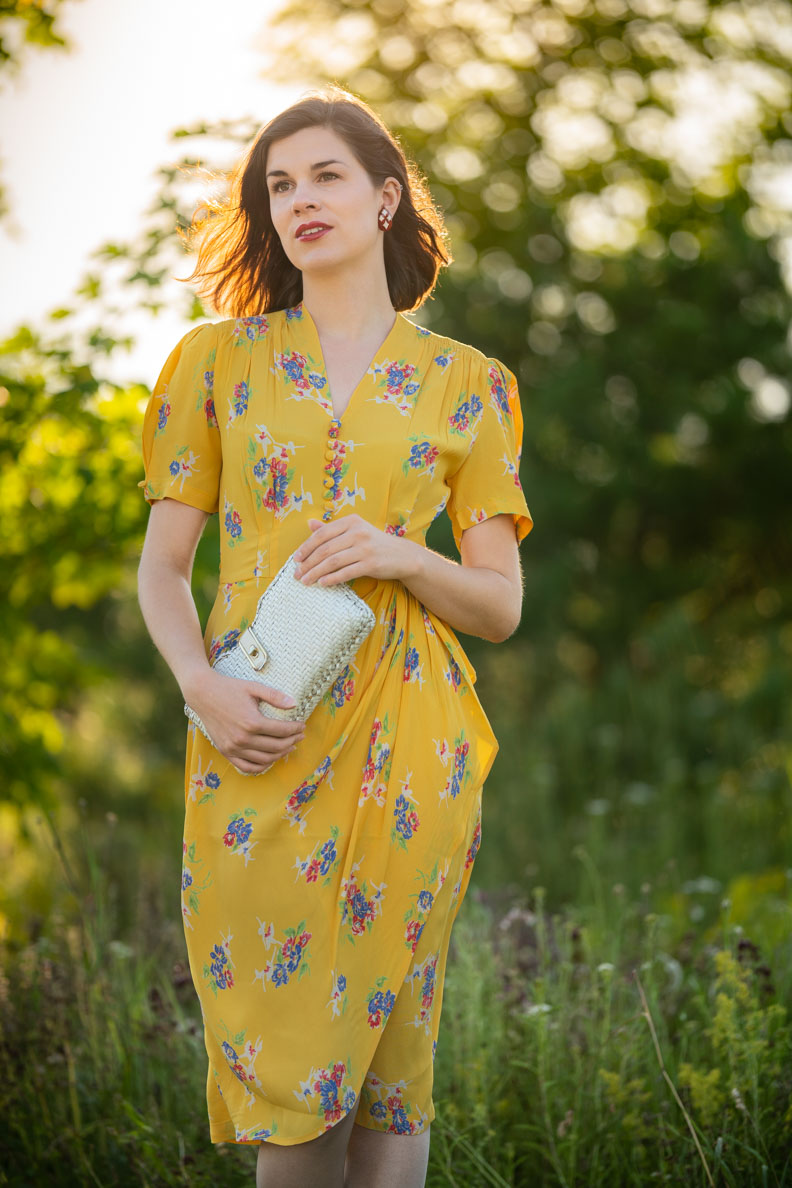 Perfect for Summer: The retro Dress "Mabel" by The Seamstress of Bloomsbury
The 40s inspired dress is made of a light Crepe de Chine fabric and flutters amazingly in the warm summer wind. Lovely details like the ruffels at the skirt or the buttons at the top make it a real head-turner. Just as the "Navy Floral Print", the print called "Mimosa" has beautiful red, white, blue, and green details.
To match the colour of the dress, I teamed it with a white vintage basket bag, red earrings by Glitter Paradise and comfortable wedges by Miss L-Fire. However, the most beautiful accessories in my opinion are the Glimmer RHT stockings by Secrets in Lace.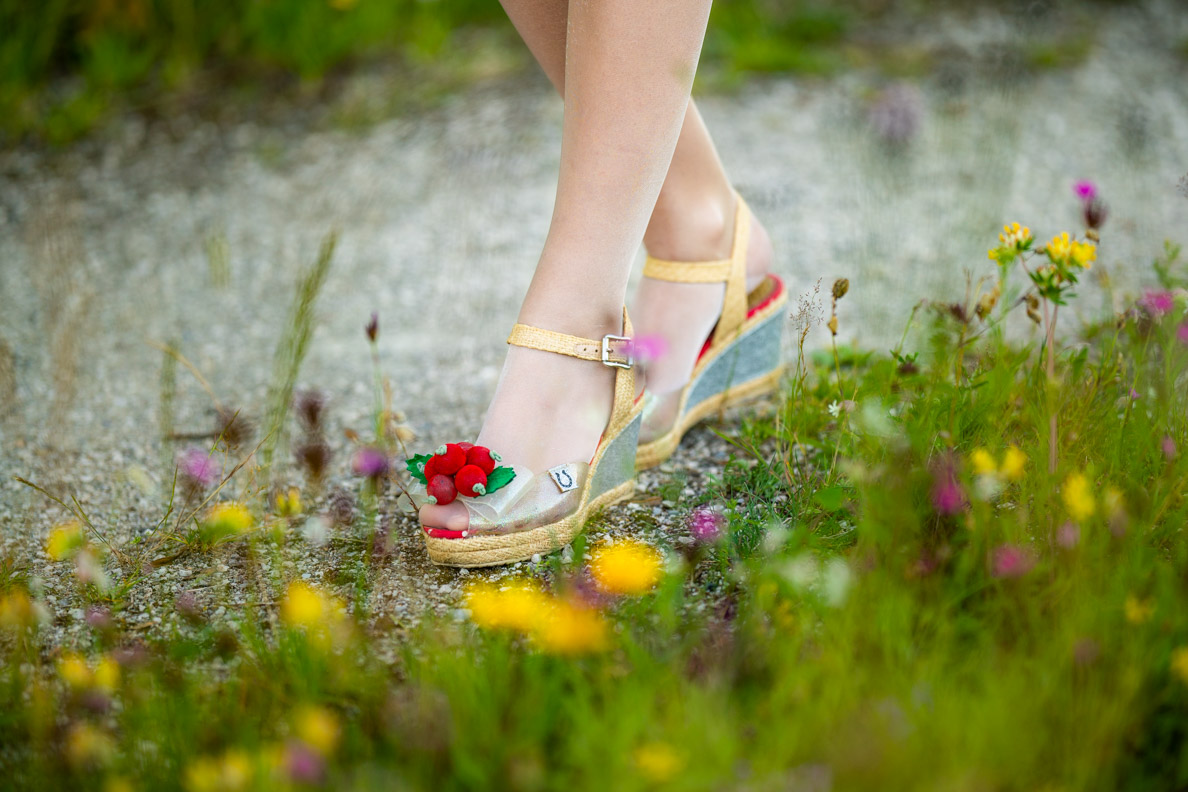 ---
For an amazing Glow: The Glimmer RHT Strümpfe by Secrets in Lace
The soft and sheer nylon stockings not only feel great on the skin, they also add a lovely glow to ones legs, as they shimmer amazingly in the light. The reinforced heel and toe stockings are so delicate that they even can be worn in open shoes. I chose the colour "Porcelain", which is perfect for my pale skin.
My suspender belt is by Secrets in Lace as well. In spring and summer, I love the wear the Speakeasy Fashion Garter Belt, which I already introduced in this blogpost. Underneath light summer dresses, it's best to wear underwear in light or nude colours to avoid that everyone can see your bra and panty. 😉 One of my favourites beside the Speakeasy Set is the Satin Intrigue Shelf Bra in "Champagne" by Secrets in Lace.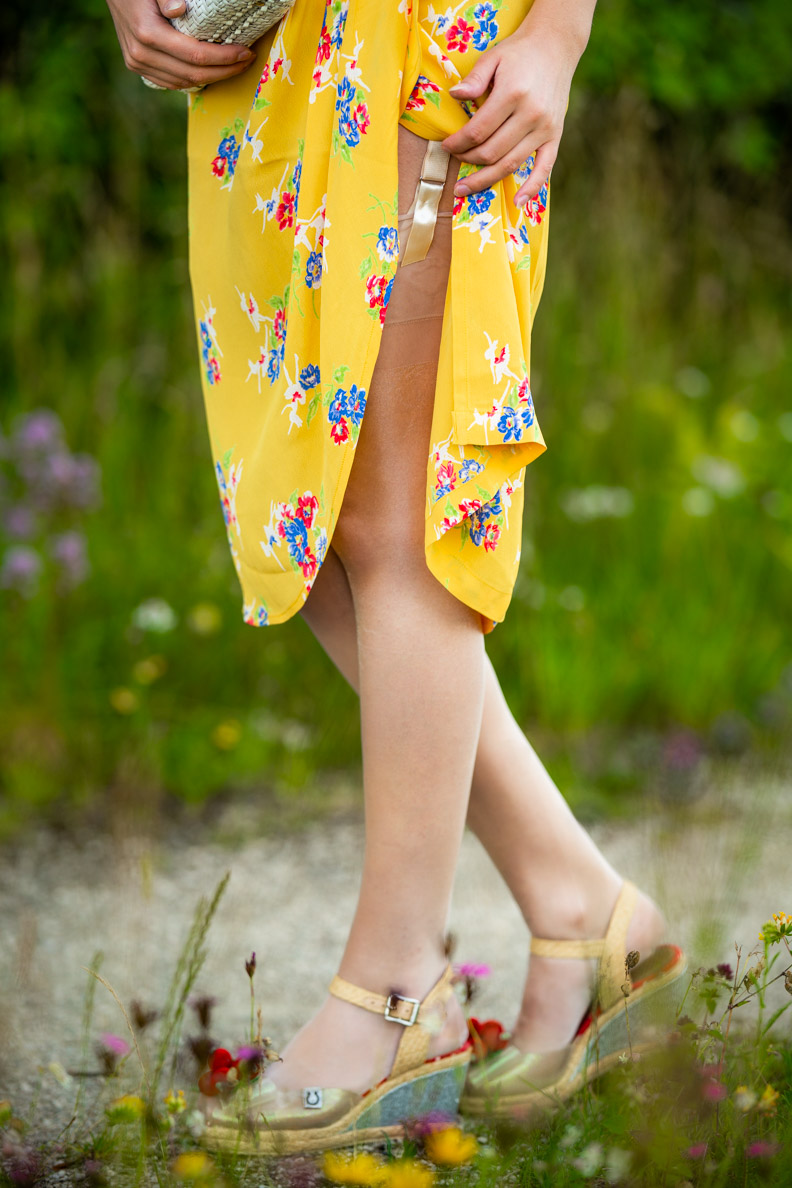 ---
A 40s inspired Summer Outfit – the Details:
Retro dress "Mabel": c/o The Seamstress of Bloomsbury
Stockings: c/o Secrets in Lace – Europe
Garter belt: c/o Secrets in Lace – Europe
Shoes: Miss L-Fire, similar here and here
Earrings: Glitter Paradise
Basket bag: Vintage, simliar here
---
---
A summery vintage Makeup
To match the summery 40s outfit, I chose a classy makeup with warm shades. As always, I start with a foundation like the Chanel CC Cream, for example. On my lids, I first apply the Urban Decay Primer Potion and use brown eyeshadow, afterwards. Lots of mascara enhances my eyelashes. On my cheeks, I apply bronzer and a little bit of red blush. The Dior Addict Fluid Stick in "Wonderland" finishes this classy summer makeup.
---
Makeup Details:

---