This blogpost contains affiliate links and pr samples
Those warm summer nights are rare in the south of Germany, so I recommend to use them wisely. After a short temperature drop, summer is back and we took advantage of a warm evening to visit the Tollwood in Munich, a festival with music and lots of delicious organic food. Drinks, accessories (not very cheap, but often really nice; I bought a round straw bag, by the way), and food – does one need anything else for a perfect evening? To match the summery and relaxed flair, I'm wearing a really lovey summer dress: Claudia by Dolly and Dotty with an amazing floral print.
For warm Summer Days and Nights: Claudia by Dolly and Dotty
Claudia has short sleeves and a flared skirt, which looks best with a thin petticoat underneath. The dress is made of cotton with a small amount of elastan and is therefore super comfy, even when it's very warm. But of course, I especially love the floral pink print. 😉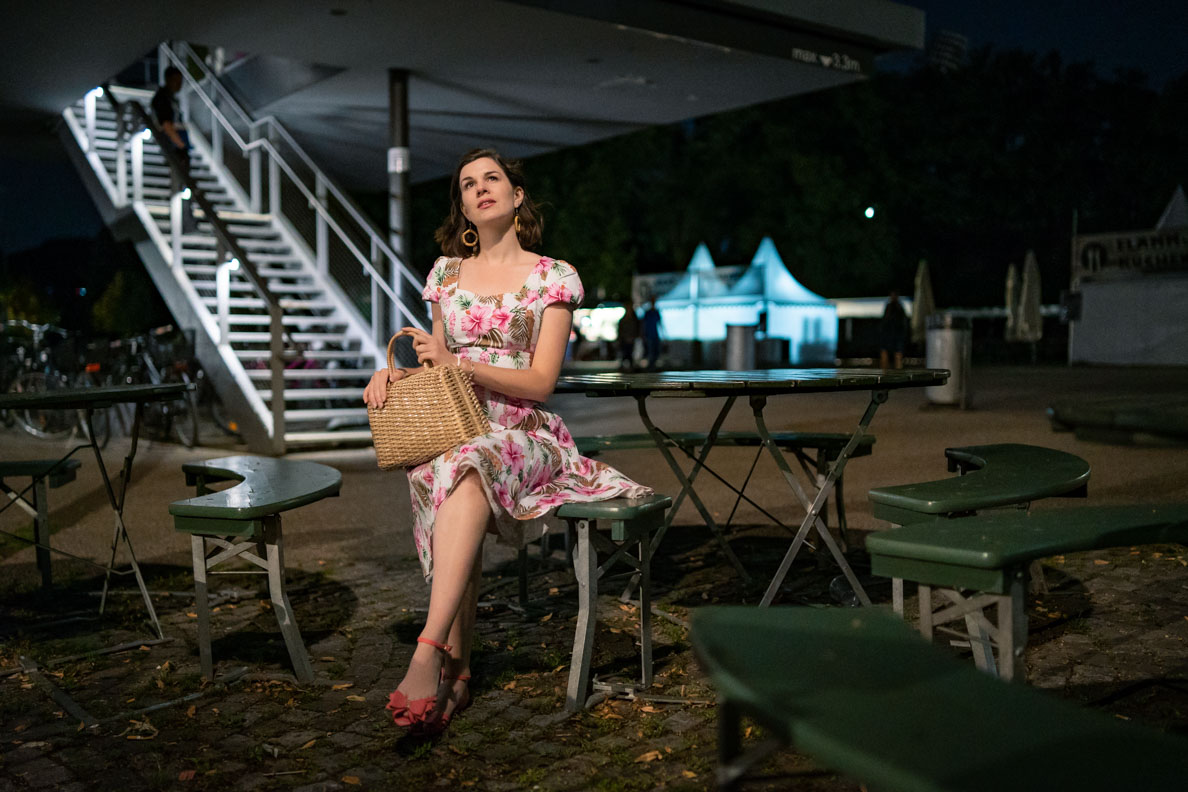 To match the dress, I'm wearing pink flats by Petite Jolie. High heels aren't the best choice for Tollwood, as the ground is very gritty. Bamboo earrings by Glitter Paradise, my favourite vintage basket bag, as well as sea shell bracelets from my vacation in Croatia finish this summery retro outfit.
I really love to wear such colourful summer dresses by night, as they remind me of holidays in the south. 😉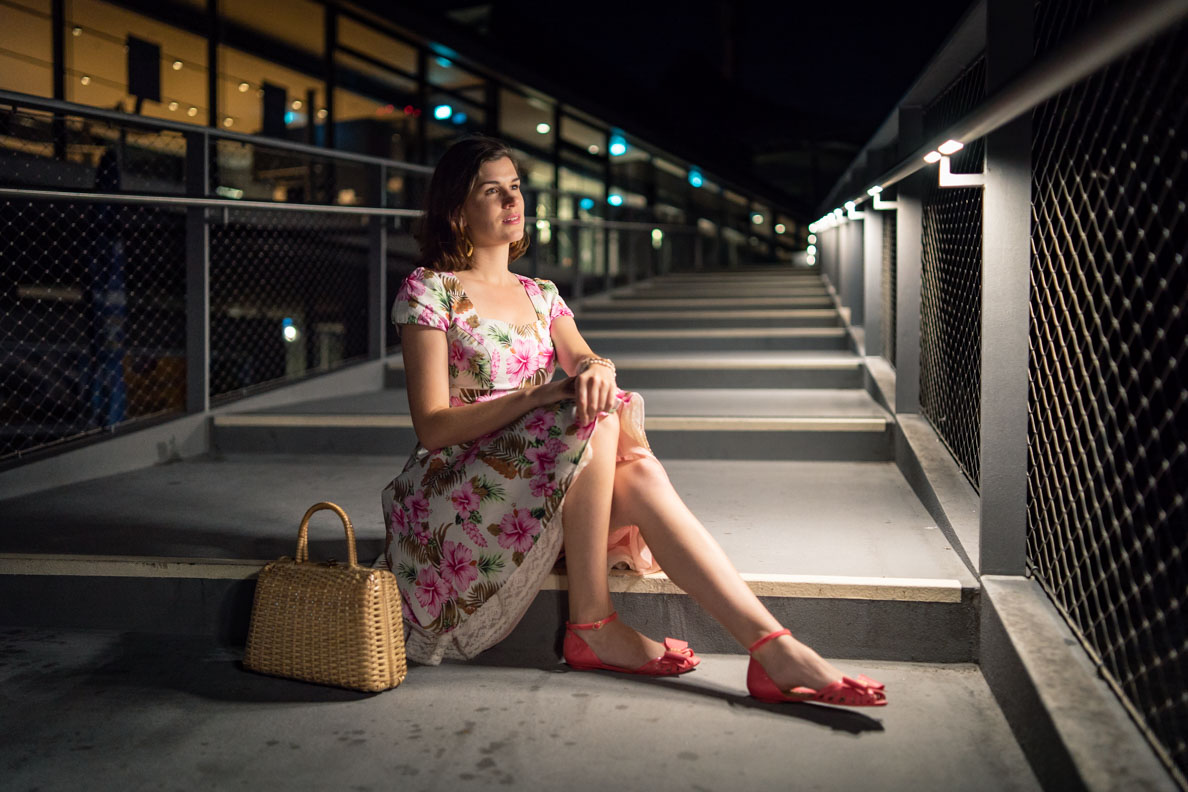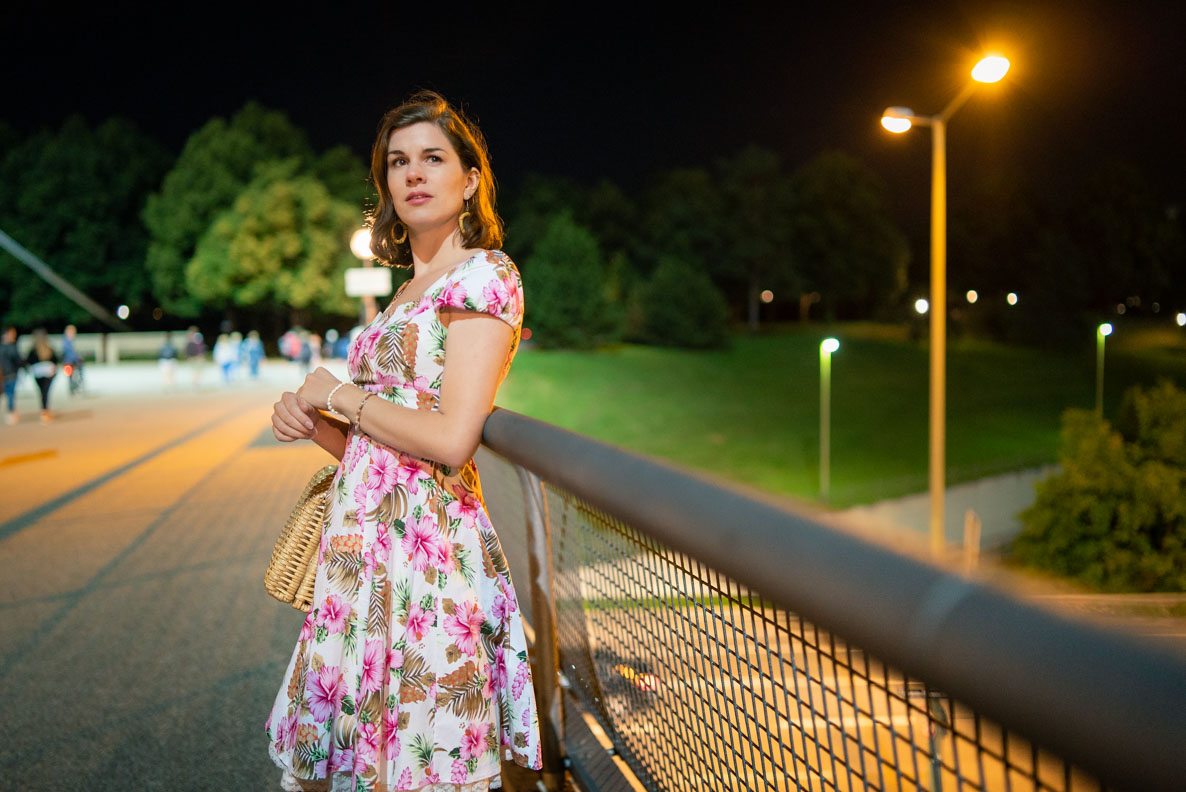 We weren't able to take the outfit photos at Tollwood, as it was very crowed. So we decided to shoot the dress in Olympiapark. The place, where Summer Tollwood takes place. In winter, Tollwood is at Theresienwiese (the place where Oktoberfest takes place).
---
A summery retro Outfit – the Details:
Retro dress "Claudia": c/o Dolly and Dotty
Petticoat: Vintage, similar here
Bamboo earrings: Glitter Paradise
Shoes: Petite Jolie, very similar here
Basket bag: Vintage, similar here
---
A subtle retro Makeup
My makeup is very classy and subtle this time. I start with a foundation like the Perfection Lumière Velvet Foundation or the CC Cream by Chanel. On my eyelids, I first apply the Urban Decay Primer Potion, afterwards I apply a light pink eyeshadow and enhance the crease with a plum colour. I use lots of Mascara, a bit of pink blush and some highlighter for a lovely glow. On my lips, I start with th Dior Addict Lip Sugar Scrub as a base, and on top, I apply the Dior Addict Lipstick in "Fuchsia Twist".
---
Makeup Details:

---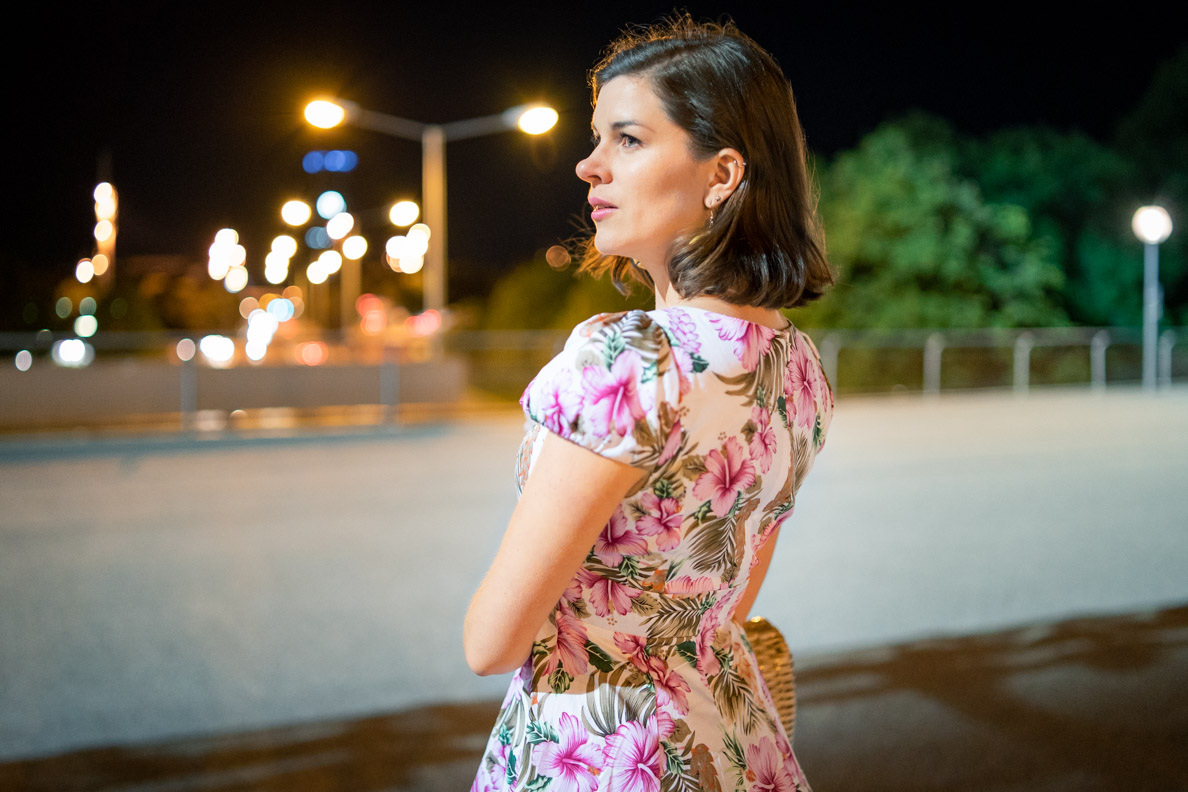 By the way: Exactly three years ago, I published my very first blogpost here on RetroCat.de. You can find it here. 😉