How to feel more comfortable in (seamed) nylons
This blogpost contains affiliate links and pr samples (marked with *)
A question I receive on a regular base is, if I have some advice on how to feel better in (seamed) stockings, especially in everyday life or even office. A great topic for my stockings series here on RetroCat.de! Of course I have some advice, because when I started wearing the vintage style and therefore also stockings, I often felt a bit insecure as well.
PS: This blogpost is for everyone who wants to try (seamed) nylon stockings but doesn't feel very comfortable in them. If you are a stocking pro, you can definitely skip this post and read my advice on how to take care of your delicate nylons, instead. 😉
 Wearing Nylon Stockings in everyday Life
Needless to say it is absolutely okay to wear stockings in everyday life. No matter if you choose one with or without a seam, thigh highs or stockings with garters. But what if you want to wear stockings, but don't feel very comfortable in them? Maybe my tips will help you!
Are Stockings only made for the Bedroom?
Before I will share my tips with you, let us have a look at the story of stockings. They originally weren't made to seduce. As I already told you in my stockings ABC, tights didn't got invented before the middle of the 1960s. In the first half of the 20th century, stockings were something most women of the western world wore almost every day underneath their dresses and skirts. Even the seams were just the logical consequence, as stockings were sewn up at the back. Of course nylon stockings already looked very pretty back then, and were highly coveted. Nevertheless, stockings originally were made to cover the legs and keep them warm.
In the middle of the 1960s, the first tights were sold. Step by step, stockings got replaced by tights, and nowadays are often seen only in an erotic or fetish context. However, I find stockings sometimes even more comfortable and practical than thigh highs and tights. This is why:
In contrast to tigh highs, stockings with garters are not slippery and usually stay where they are meant to stay. The only prerequisite is to invest in a perfectly fitting and high quality garter belt.
Due to the elastic band at the top of tights, they can be a bit uncomfortable at the belly. Stockings are more comfortable, in my opinion, but as I said before, a good garter belt is important.
In stockings, I feel so much more elegant and glamorous than in tights. 😉
But now, let us talk about my best advice on how to feel better in (seamed) stockings.
---
Tip 1: Start wearing seamed Stockings in the Evening
If you've never left your house in seamed stockings, start wearing them for a special occasion in the evening! You won't feel as overdressed as in everyday life and are able to find out, if you like the look of seamed stockings.
---
Tipp 2: Invest in good Garter Belts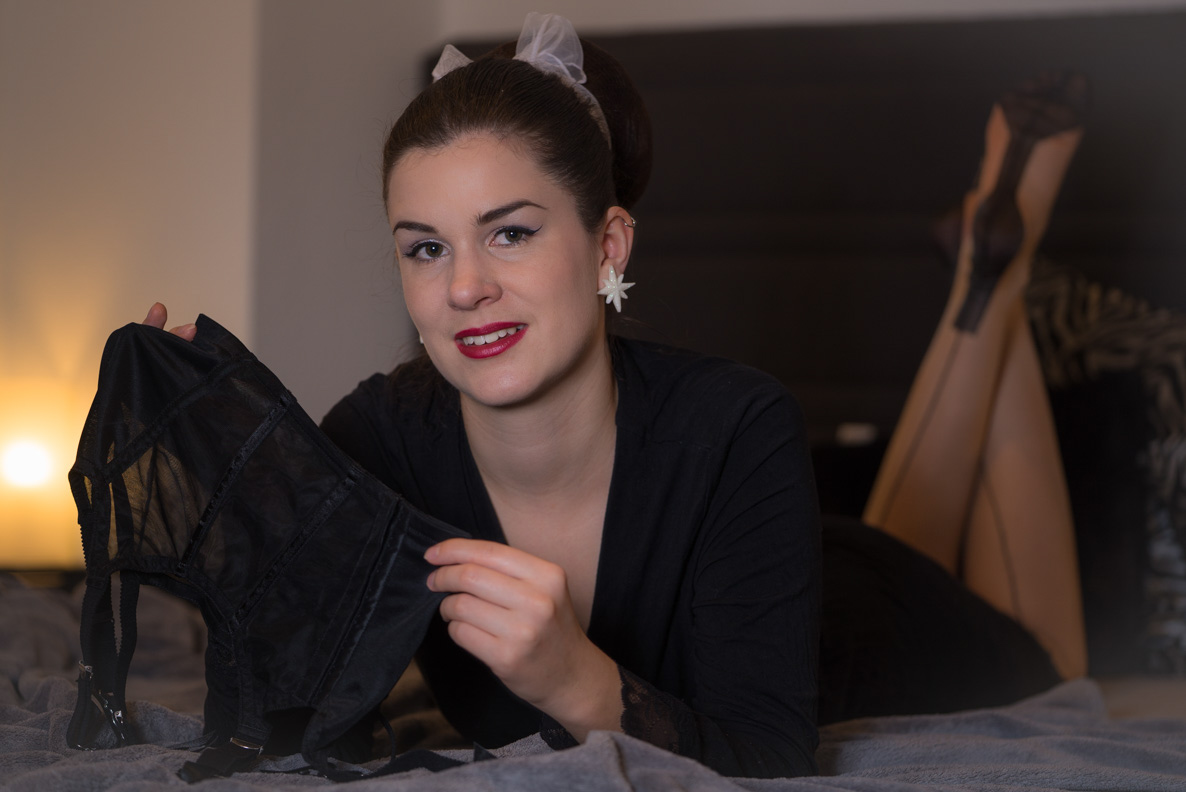 A well-fitting, comfortable, and high-quality garter belt is a must for every stocking-wearer. Because there is nothing worse than slippery stockings. You don't even need a lot of garters. Invest in one or two that really fit, that's enough. Here are some things you should keep in mind when buying one:
Your garter belt should be comfortable, but tight enough to not slip down. So make sure you can move and everything still stays in place. Very thin and small garter belts, by the way, are usually not very reliable.
I personally prefer garter belts with at least three garters on each side. This gives me more security, makes sure my nylon stockings stay in place, which is especially helpful if you wear seamed ones. But of course two garters on each side can work as well. In this case, it makes sense to experiment a bit to find out what make you feel good.
If you want to wear stockings underneath tight dresses or skirts, make sure your garter belt is made of a thin fabric and discreet. I personally like garter belts made of nylon mesh, like this one.
PS: In this blogpost, you will find a detailed guide about garter belts.
---
Tip 3: Put on your Garter Belt first, and your Slip afterwards
This tip sounds trivial, but it's actually a pretty good one: Always put on your garter belt and stockigs first, and your slip afterwards. This really helps if you want to go to the ladies' room. 😉
---
Tip 4: Start with elastic Fabrics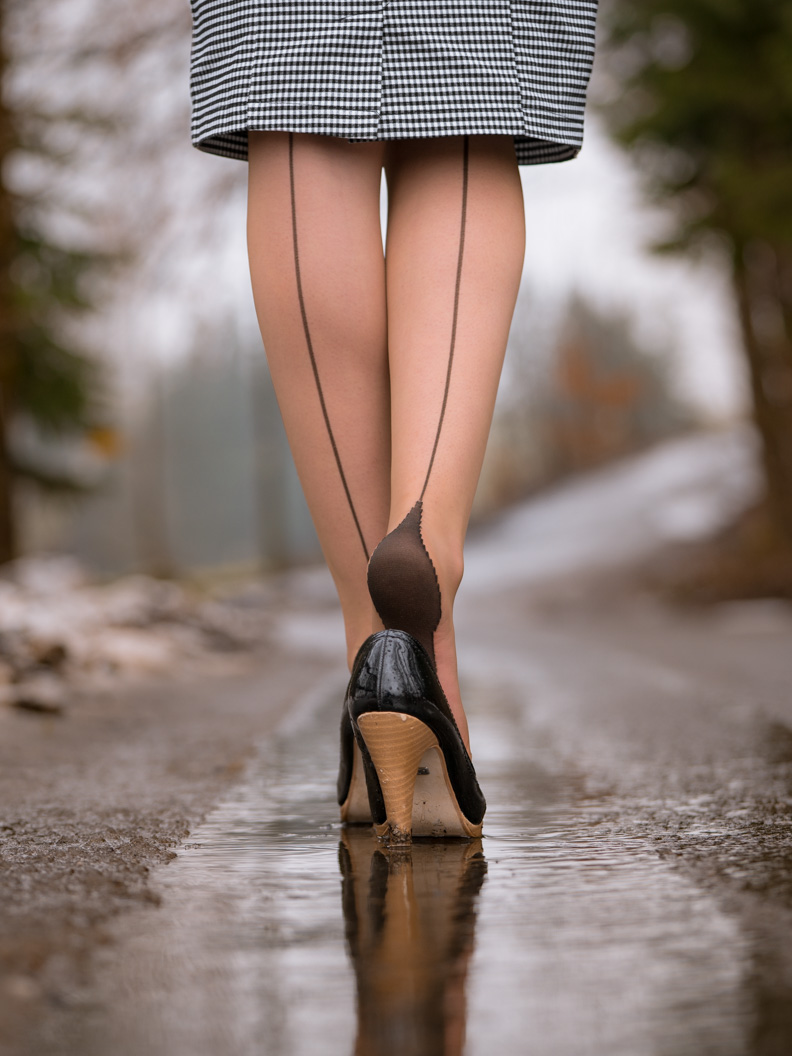 If you are insecure if you like seamed stockings, try ones made of elastic fabrics. They are usually a bit cheaper than real nylons and "hug" your leg without getting wrinkles.
My very first pair of seamed stockings and a perfect pair for "beginners" are the Dana Glamour von Secrets in Lace*, which you can shop here.
---
Tip 5: Try seamless Nylons first
If you try real nylons for the very first time, you maybe will be surprised: As they are non-strechy, they look super long. Furthermore, they tend to get a bit wrinkly, especially on your joints. But I can tell you: You will get used to it!
So if you want to try real nylons, I recommend choosing a pair without seams. Seams can be a bit tricky, as they not always stay straight and you maybe will need some time to put them on perfectly. So seamless, not shiny nylons are perfect to make a try if you like the feeling of them on your skin without attracting too much attention to your legs.
---
Tip 6: Choose a Pair with a subtle Seam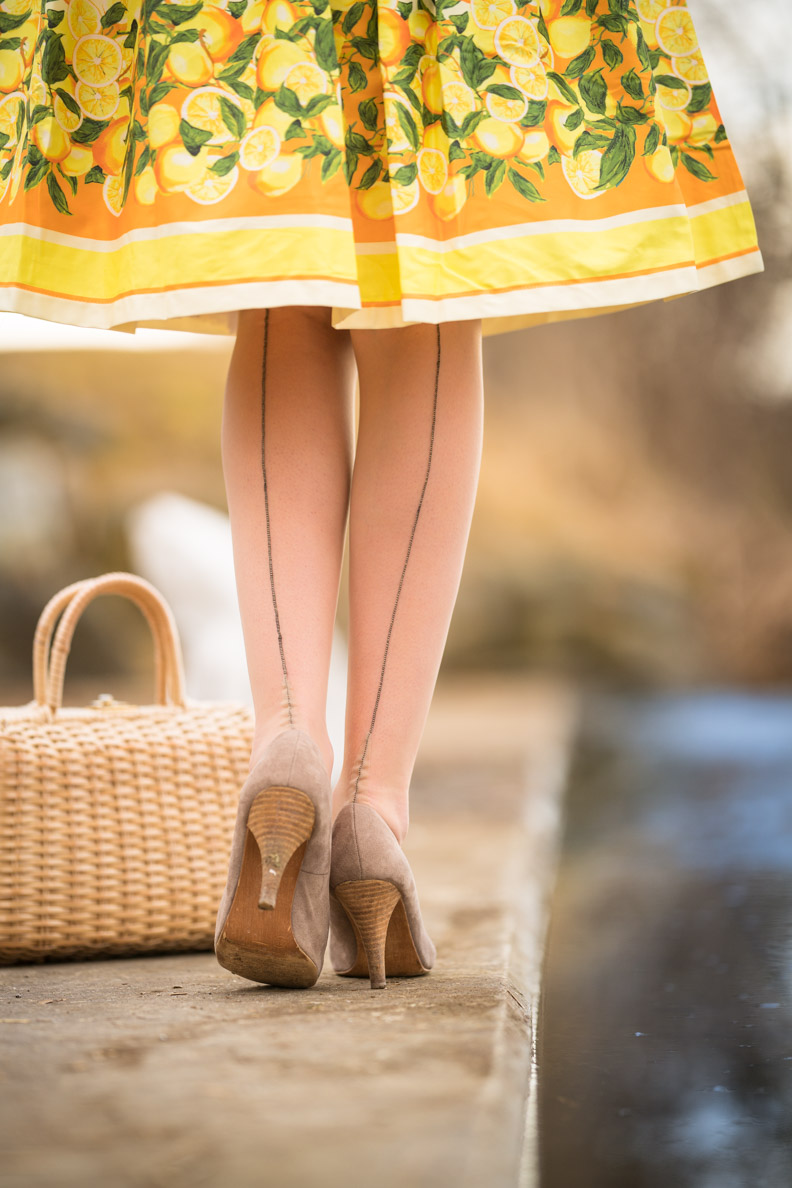 If you like the feeling of nylons on your skin, and want to wear seams in everyday life, I recommend to go for a more subtle one, at the beginning. The Elegance French Heel stockings* by Secrets in Lace (shop them here), for example, have a dark seam, but an almost sheer heel. Therefore, they look very glamorous, but are still super chic and subtle. The Premier French Heel stockings are even more discreet, as beside the heel, the seam is nude-coloured as well.
PS: Nowadays, seamed stockings might not be the perfect choice for office, especially in very conservative businesses. If you are doubtful, I recommend to choose a seamless pair. If you want to wear seamed stockings in office, I personally would definitely go for a pair with nude-coloured seams.
---
Tip 7: Choose nude-coloured Nylons
Nylons are very delicate and can get destroyed quite quickly. On nude-coloured stockings, though, you don't see the flaws as much as on contrast-coloured stockings. So in everyday life, I almost always choose beige stockings. My black ones are for the evenings. 😉
---
Tip 8: Invest in high-quality Nylons
Make sure to buy high-quality stockings! I buy some of my sheer tights in drug stores as well. But when it comes to real nylons, I prefer brands that are known for their quality.
---
Tip 9: Make sure your Stockings are long enough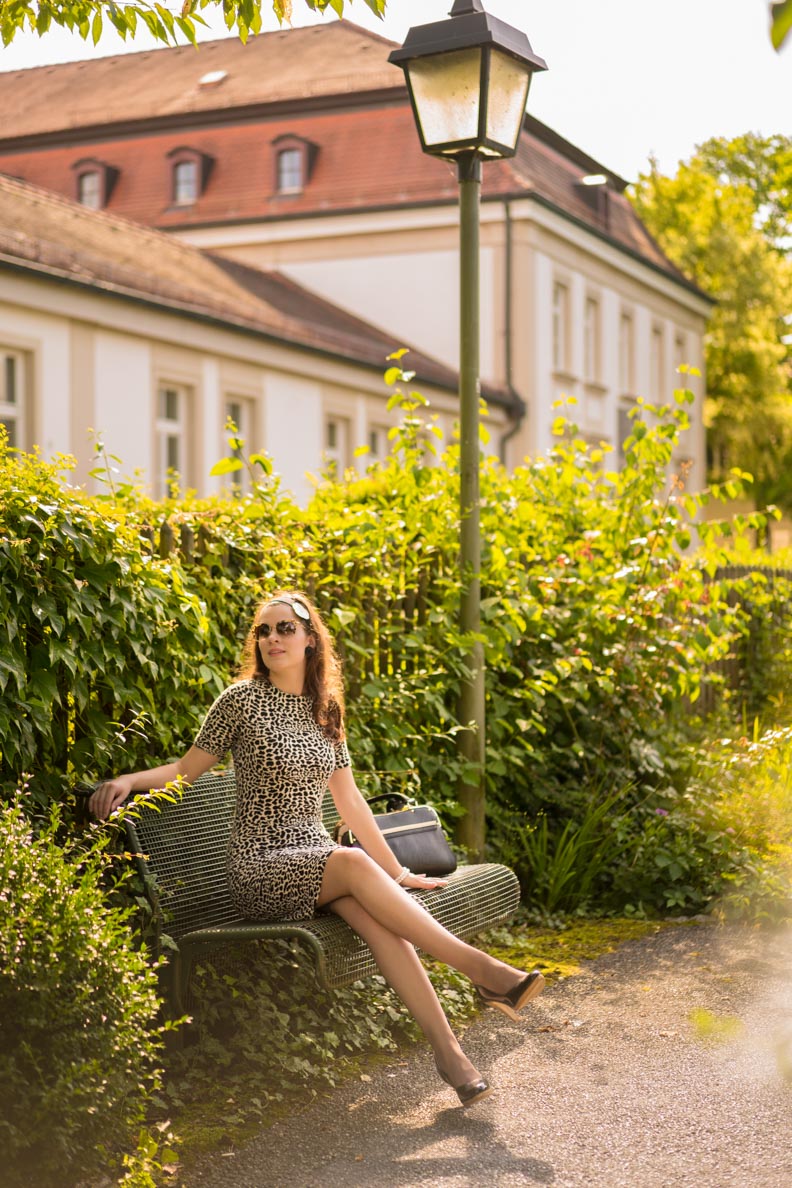 Your stockings should be thigh high and end directly underneath your bum. If they are not long enough, you will most likely spend a lot of thoughts on the question if one can see the welt (upper part) of the stockings. So always make sure to check the size chart before buying a new pair of stockings!
Stockings underneath mini skirts/dresses are only for pros! If you would like to try this, do the following test: Before leaving the house, sit down and bend down in front of a mirror. Check, if one can see something you actually would rather hide. If so, wear tights this time. 😉
---
Tip 10: Always take a second Pair of Stockings with you
Even if you take good care of your stockings, they can get destroyed when you are on your way. Ladders not only look ugly, they can also make you feel insecure. So I recommend to always having a similar pair of compensatory-stockings with you.
If only one stocking got flaws, I also only replace this one, and keep the other one as a back-up for the next time. In the long run, this saves a lot of stockings and money! Especially if you wear stockings as often as I do.
---
You kept in mind all those tips, but still feel uncomfortable in stockings? Don't worry! Not everyone has to like them! And if you still want an authentic vintage look with seams, you can try seamed tights like these ones.
---
This might be also interesting for you: