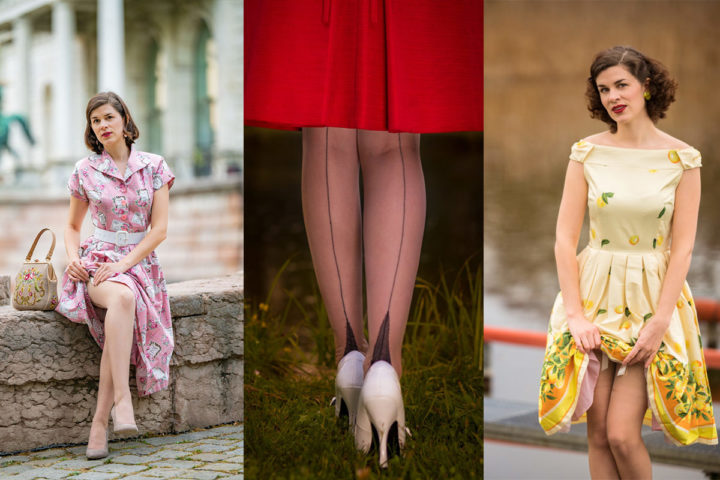 Nylons, RHTS, Stockings, Thigh Highs, Pantyhose, and more: The Hosiery ABC
This blogpost contains affiliate links
Did you know that stockings have keyholes? And women once fighted against each other to get just one pair of nylons? The world of hosiery and stockings is exciting, glamorous and fascinating. Moreover, it looks like you, my dear readers, are very interested in this topic. This is why I decided to start a little stockings series here on my blog RetroCat.de. And what would be a better start than a litte hosiery ABC? In this blogpost, I'm going to introduce different types of hosiery, clarify concepts, and tell you a little bit about the history of stockings and nylons.
The next few posts about stockings will be about how to take care of your hosiery and how to put on seamded nylons the right way. So if you have any specific questions, please feel free to ask me! Wether in a comment under this blogpost or via mail. You will find my mail address on my about page (click here).
Compression Stockings
Compression stockings are meant to apply graduated pressure, or compression, to the leg. They help to improve blood flow from the legs to the heart and prevent legs from swelling. Compression stockings are especially useful after surgery, during pregnancy, or for people with medical conditions that impair circulation. As this kind of stockings are a medical device, you shoud definitely consult a doctor to learn if compression stockings are a good idea for you, before buying them!
---
Denier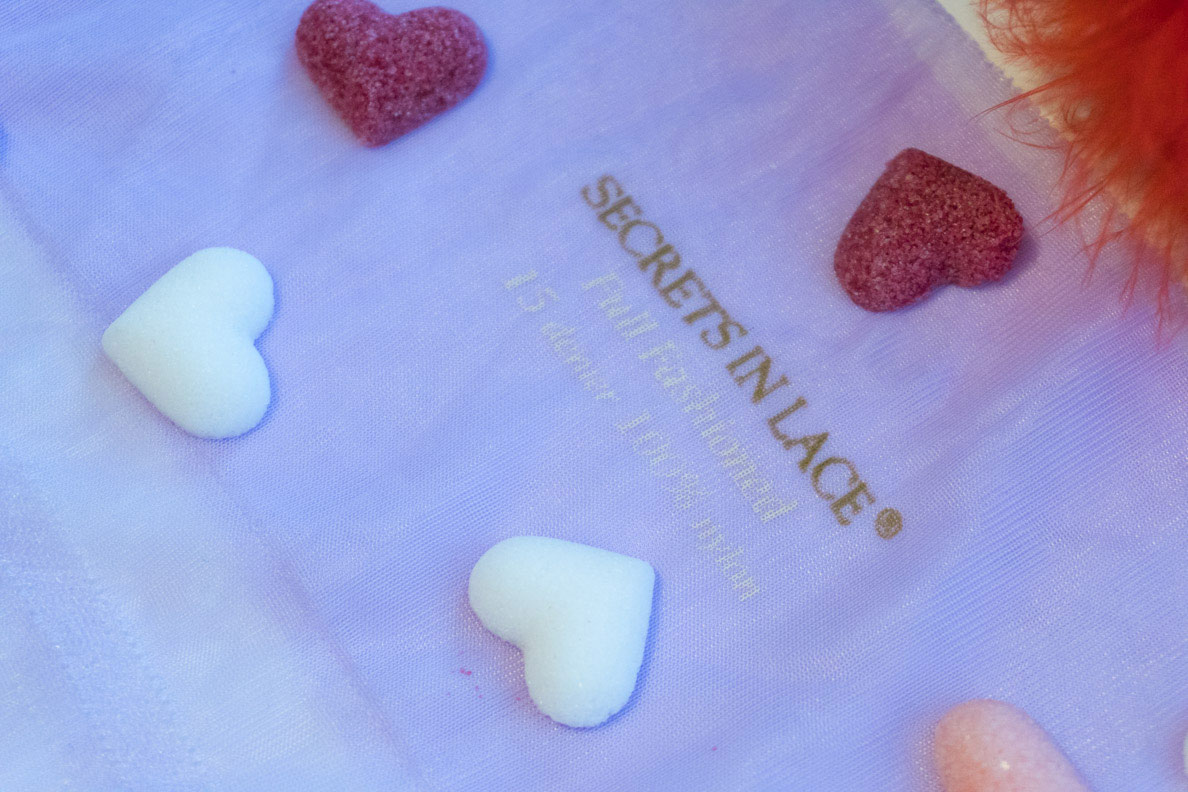 Denier, or "den", is an old French weight unit for the linear mass of density for fibers. The less the denier number, the lighter the stockings. 5 denier means the fiber weights 5 gram per 9,000 meters; 15 denier means 15 gram per 9,000 meters. Stockings with a maximum of 20 den are considered as sheer, 30 to 40 den are considered semiopaque and 50 or more den are opaque.
By the way: Did you know the first stockings had 70 to 40 den? Afterwards, mostly stockings with 30 to 15 den were worn. And only in 1951, 10 den were reached. Today, even stockings with 5 den are available.
---
Finish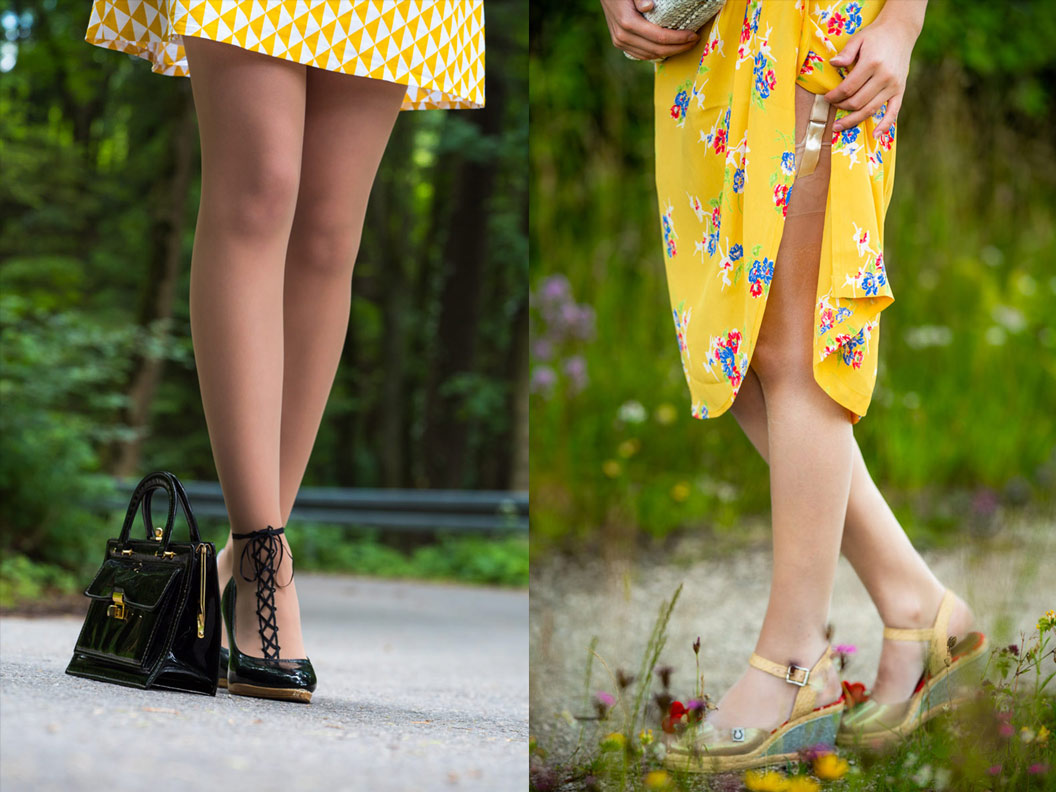 The finish of hosiery is a continuum from matte to shiny. A shiny finish (also known as gloss, glimmer, or shine) is bright, sparkling and reflecting the light. It looks a bit like freshly oiled legs, and many find it aesthetically pleasing to look at. As shiny stockings put all the attention to your legs, I like to wear them for special occasions or a night out. Matte hosiery doesn't reflect light and is kind of dull. This makes it perfect for serious occasions or business looks. In modern fashion, shiny stockings are often seen as a no-go. I don't care, though. 😉
---
Fully Fashioned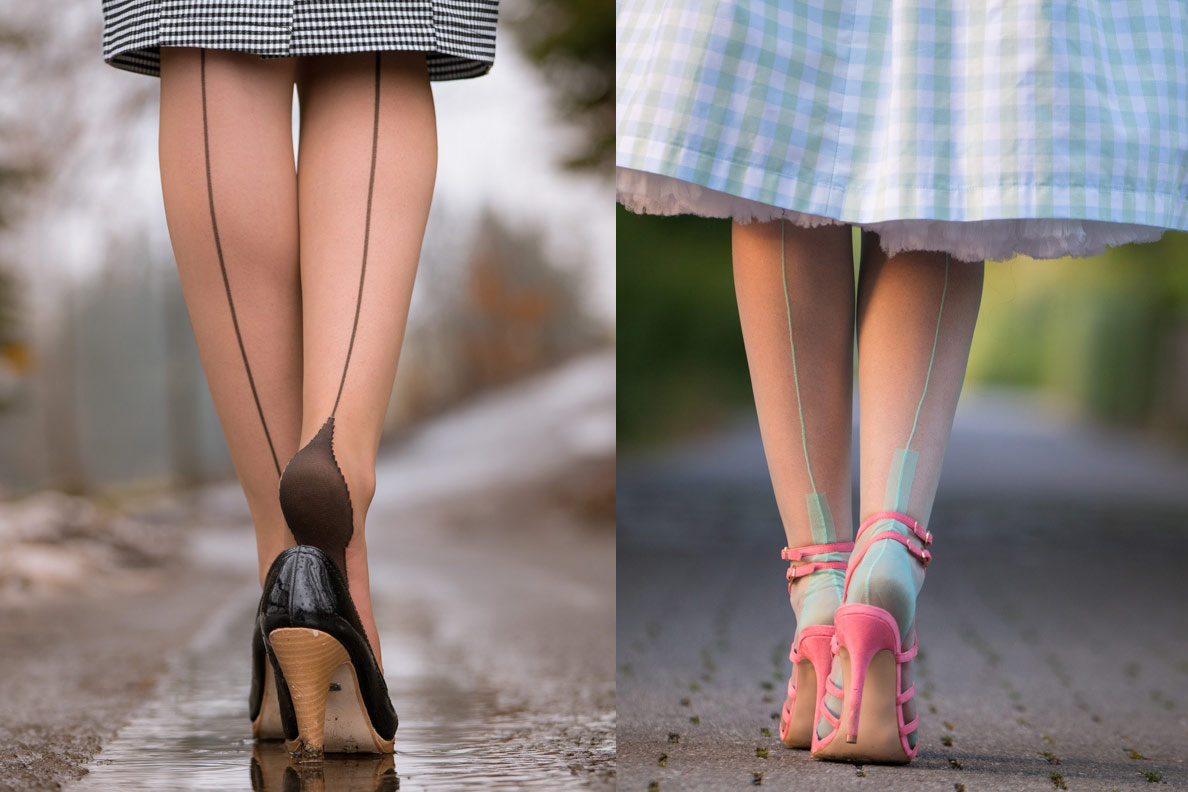 Fully fashioned stockings/nylons are vintage-style stockings, that has been very popular from about 1940 to 1955. Back then, hosiery wasn't strechy, as made of 100 % nylon. So the shape of the stockings had to be the shape of a leg. This is why fully fashioned stockings are not simply a "hose".
Furthermore, it wasn't possible to knit hoses. So stockings were first knit flat and then sewn up the back in the shape of a leg. Hence, they have some special features: Darker toes and heels (French Heel, Cuban Heel or something similar), a seam at the back, and a keyhole (see point "keyhole" for more information). True vintage style fully fashioned stockings have a real seam. There are also nylon stockings in "leg-shape" without a seam or with a fake-seam available. These are most of the time more modern interpretations, though.
In the middle of the 1950s, machines that were able to knit hoses were invented, so until about 1965 seamless stockings got quite popular. When at the end of the 1960 the mini skirt became popular, pantyhoses and tights captured the market. Until now, most of the women choose tights over stockings. So it is no wonder that it is quite hard to find real fully fashioned stockings nowadays, however, a handful of factories, like Secrets in Lace, Cervin Paris, or Gio, for example, still produce authentic vintage-style stockings.
---
Garter Belt/Suspender Belt
Garter belts, also called suspender belts, are undergarments that are used to keep up stockings. They consist of a kind of belt (hence the name) which is worn at the waist or slightly below to prevent the belt sliding down (it is pulled downward by the stockings). Two or three elastic suspender slings on each side are attached to the belt.
The suspenders are typically clipped to stockings with metal clips into which a kind of rubber disc is inserted; so the stockings can be 'locked' in place. These clips, also known as suspender slings, are best attached to stockings with a simple welt (see point "Welt" to learn more about it) without lace.
Garter belts are availble in a lot of different shapes and designs. I show you my favourites in this blogpost. For the best wearing comfort, though, I always recommend to choose garter belts with a least three suspenders on each side. And if you like to buy some pretty and high-quality garter belts, I recommend to have a look at Secrets in Lace (click here).

---
Heel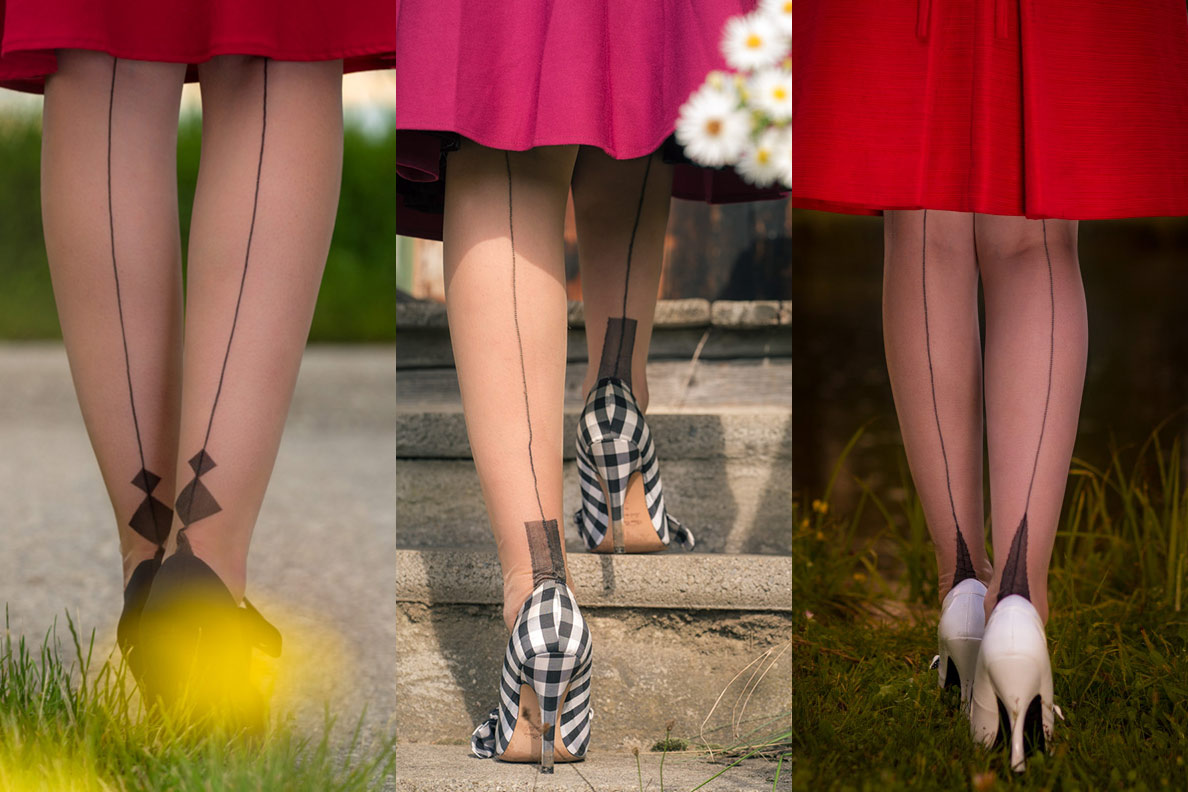 The heel of a stocking can have many different shapes. The most common are a pointy heel (French Heel) and angular heel (Cuban Heel). However, there are many more shapes, and notations can differ as well.
---
Keyhole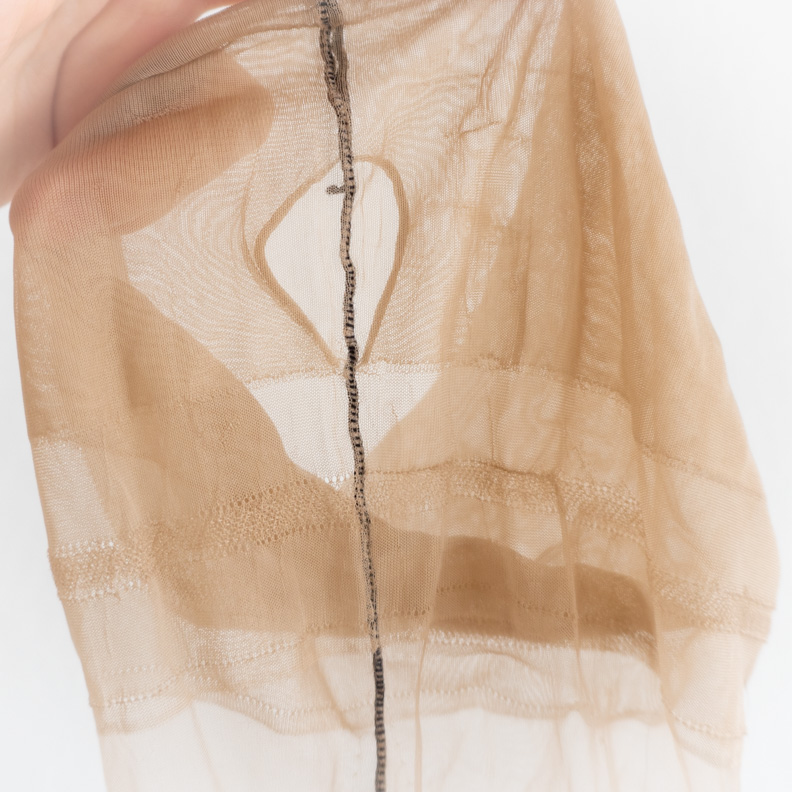 You can't unlock stockings, they have a keyhole though, at least fully fashioned ones (see point "Fully Fashioned" for more). The little hole at the welt (the very top of a stocking) is called keyhole.
---
Ladder
A ladder is a tear in a stocking or tights. Ladders look like a long, vertical hole with a seris of horizontal fibres running across. They occur when the knit yarn is ripped or comes undone. If you find a ladder in your stocking or tights, the only thing you can do is to try it doesn't get any longer by making the end of the ladder sticky with the help of nail polish or hairspray. This however, doesn't make the ladder invisible.
Until the 1960s, though, ther were professionals who mend ladders. Nowadays, however, stockings or tights with ladders are usually simply replaced by new ones.
---
Nylon & Nylons
Nylon is a synthetic micro fibre, that is, due to its sheer, silky, and shiny finish, inter alia used to produce stockings and tights. Nowadays, it can be quite hard to find real nylons (stockings made of 100 % nylon), as modern stockings often consist of nylon and elastane (spandex) to make them more strechy and prevent them from crincling. However, labels like Secrets in Lace or Cervin, for example, still sell true nylons.
If you try real nylon stockings for the first time, you might be surprised by their length. As they are non-strechy, they look super long. But I can tell you: They feel great on your legs!
When talking about nylon, it is also worth to talk a little bit about the thrilling story of this material:
The fascinating story of nylon stockings
For hundrets of years, stockings have been made of wool or cotton. This was quite warm, not very chic, though. When in the roaring 1920s, women started to wear shorter skirts, they needed something more elegant than thick wool stockings. This is why many stockings were made of silk from Japan, back then. However, silk stockings were very sensitive and too expensive for the majority of women.
Wallace Hume Carothers experimented for many years until the first example of nylon (nylon 6,6) was produced on February 28, 1935, at DuPont's research facility. In 1939, DuPont sold about 4,000 nylon stockings from an experimental plant on one day. Many interested women didn't get their hands on a pair, though.
In 1940, nylon stockings were first sold commercially in different stores in the USA. During their first year on the market, about 64 million(!) pairs of nylon stockings were sold! When the United States entered into World War II in 1941, however, nylon was needed for the maufactoring of things like parachutes. Many patriotic women even donated their nylon stockings for this causes.
After the end of the war, in August 1945, nylon stockings were produced again. However, there weren't enough nylons to cover the full range of demand. According to reports, some women even fighted over nylon stockings! And in Germany, soldiers from the US could get almost everything from women in exchange for a pair of nylons. Women who simply couldn't afford nylon stockings, painted the "seam" with a pen on the back of their legs.
For some years, nylon stockings has been a must-have for mannequins and movie stars. Then, in the late 60s, tighs and pantyhoses became popular and stockings almost disappeared from everyday life.
---
Pantyhose
When at the end of the 1960s skirts and dresses got very short, something different and more practical than stockings in combination with a garter belt was needed. So round about 1965, a panty got attached to the stockings and the pantyhose was born. By now, pantyhose and tights (see point "Tights" for more) are worn more often than stockings. Pantyhose are an all-in-one style that may be sheer all over (sheer to waist) or may have an opaque or reinforced panty section.
Pantyhose are typified by their sheerness and low denier (see point "Denier"). They are usually worn in the skin colour of the wearer, but can also be coloured in another neutral shade like black or dark brown. As I read, in the U.K., though, the word "tights" is more common than pantyhose. You will find vintage inspired pantyhose here, for example.

---
RHT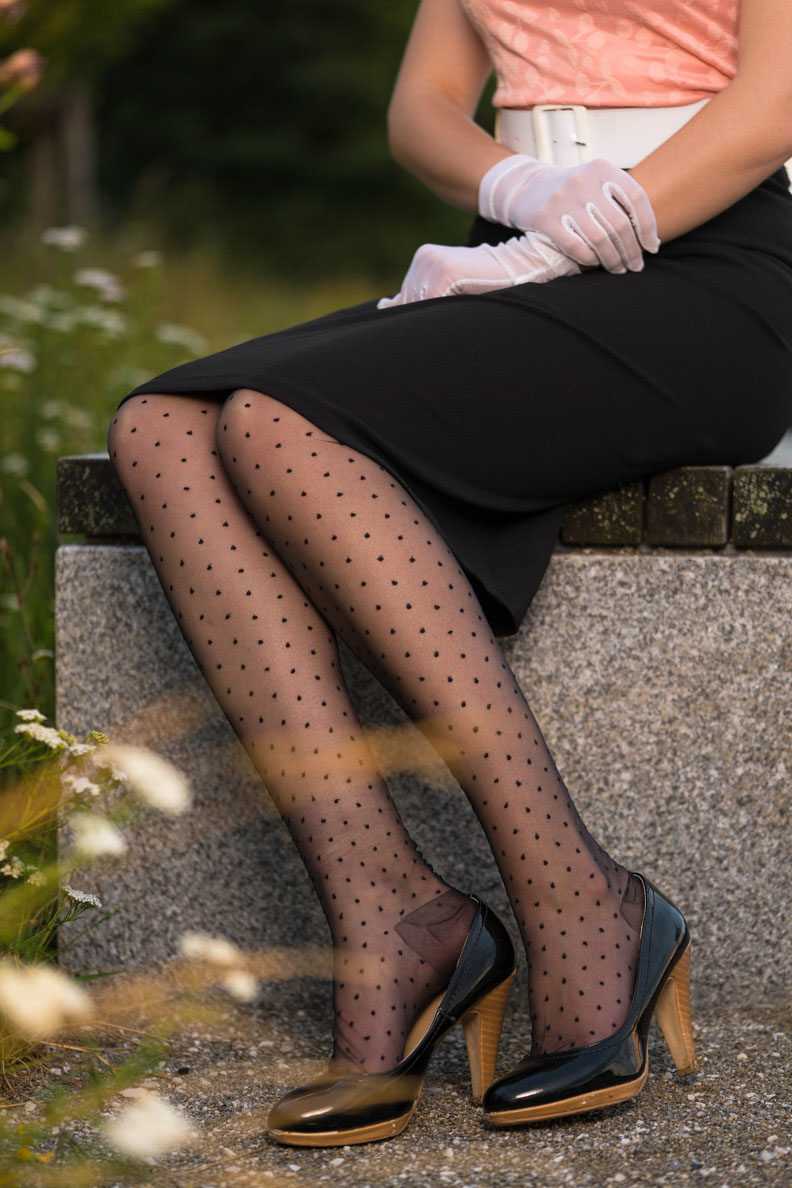 The letters RHT stand for reinforced heel and toe. This means heel and toe have thicker knit nylon to help prevent runs. If you are interested, you will find pretty RHT stockings here, for example.
---
Seam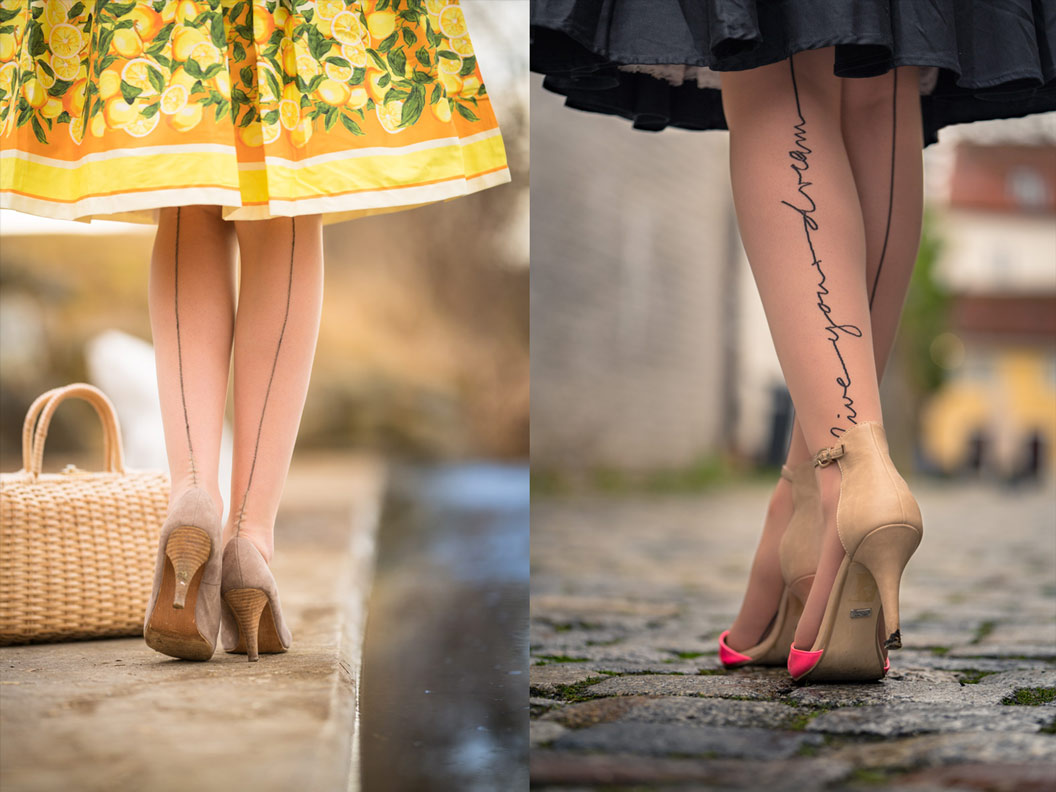 As mentioned in the point "Fully Fashioned", in the 1940s and 1950s, seams were just the logical consequence as stockings were sewn up at the back. There are still stockings with real seams available (at Secrets in Lace, for example). However, nowadays, you will also find quite fashionable stockings and tights with artificial seams. I personally usually prefer real seams, however, sometimes I enjoy to add a modern touch with fancy seams to my retro outfits.

---
Stockings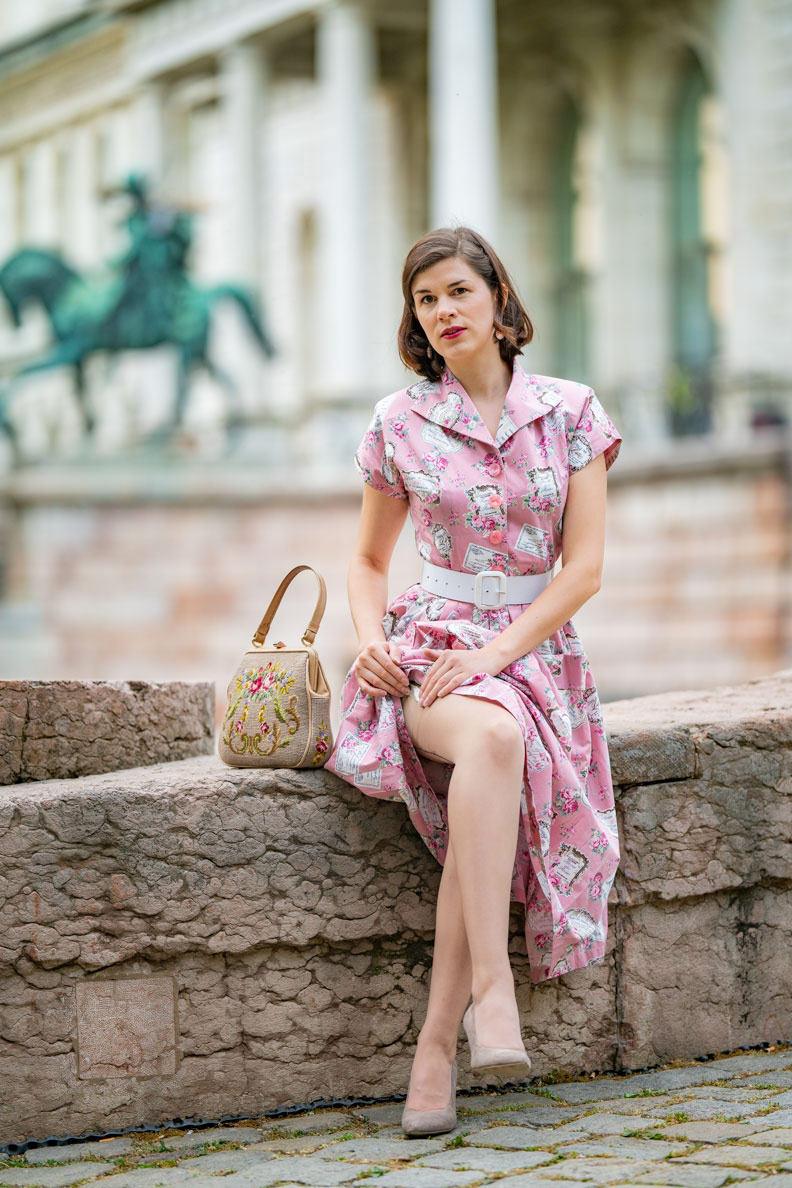 Stockings are a type of hosiery and extend to the upper thigh (stockings ending at the knee are known as knee highs). Nowadays, they are usually made of nylon and need a garter belt or leg garters to keem them up. Modern-day stockings tend to be seamless, however, as mentioned before, some factories still produce fully fashioned stockings with real seams on original machines from the 1940s and 50s.
By the way: In this blogpost, I introduce my favourite stockings for every occasion.

---
Thigh Highs
Thigh highs are stockings that don't require a garter belt to stay up. This is why they are also called stay-ups or holdups. To stay high on their own, they have elastic or silicone bands in the welt (have a look at the point "welt" to learn more about this). Although many find them to be easier to wear than stockings, I personally don't really like thigh highs. If you want to try them, though, I recommend to get some high quality ones and, if they have silicone bands, don't lotion your legs to make sure they don't slip. You will find beautiful thigh highs here, for example.

---
Tights
The word tights refers to the tight fit of them to the body. They are essentially opaque pantyhose and cover the entire lower body from waist down, including the feet. (Tights without the foot portion are known as leggings).
Tights are usually high denier and come in a huge range of different colours, patterns, and fabrics. As mentioned before, the word pantyhose seems to be not very common in the U.K. and "tights" is usually used to describe all kind of all-in-one style hosiery. You will find fancy and vintage inspired tights here, for example.

---
Toe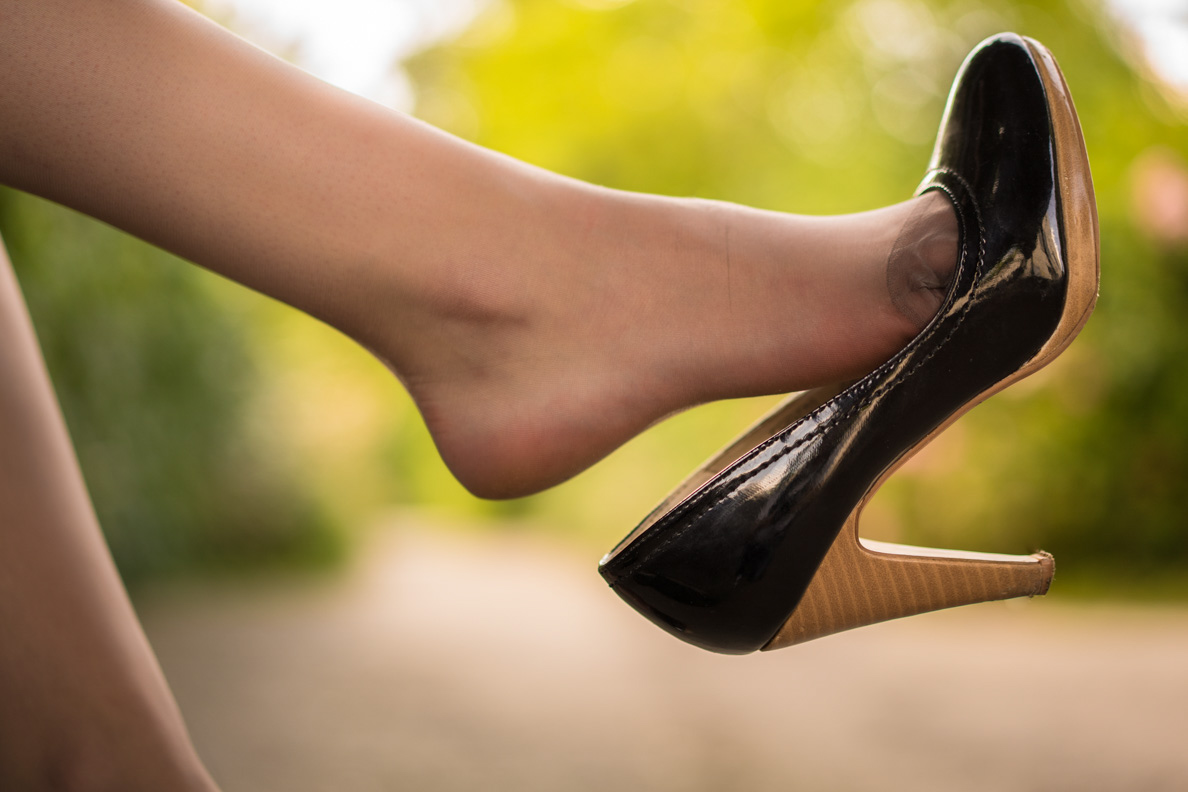 The toe (and heel) of hosiery can either be sheer, reinforced (also have a look ath the point "RHT"), shadow, or open. A sandalfoot or invisible toe is not reinforced and therefore sheer all along the foot. A shadow toe is in between sheer and reinforced; so not completely sheer, but also not as thick as the traditional reinforced toe. Toeless hosiery end right before the toe, which means toes are left free and exposed. I personally recommend to wear toeless hosiery or hoses with sheer toes in open shoes, and reinforced toes in closed shoes or pumps, as reinforced ones are not as delicate as sheer ones.
---
Welt
Welt describes the upper portion of stockings and thigh highs. It usually is thicker and more opaque than the rest of the leg. Sometimes, the welt might have a special design, like a lace optic, for example.
The welt is also were the garter grips are attached to the stockings, or, regarding thigh highs, were the elastics or silicone bands would be placed. This is also the part I recomment to grab when pulling on your stockings or tigh highs. As this part is thicker, it is not as delicate as the rest of the leg.
---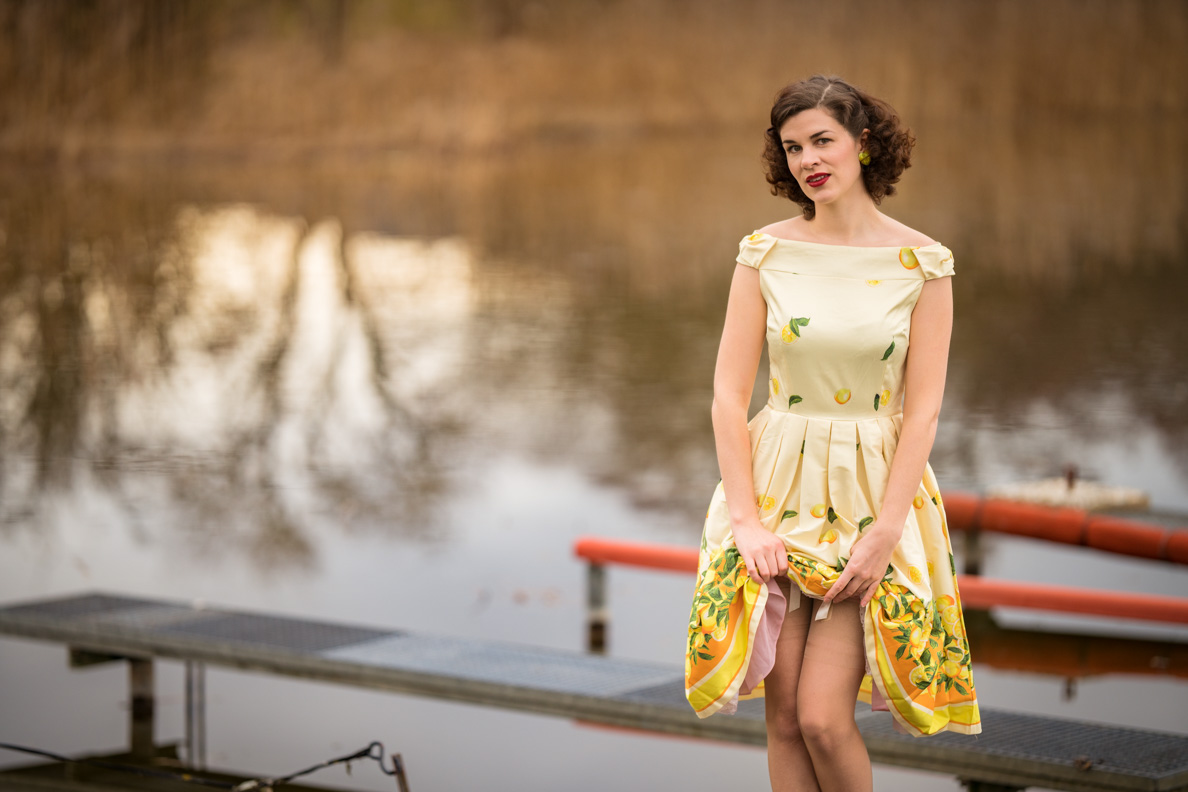 I really hope you enjoyed this little hosiery ABC! Maybe you even know hosiery related words I didn't mention here, but you consider as important. If so, please let me know. I'm always pleased to get feedback and learn something new! 😉
---
This might be also interesting for you: