The story of jersey (fabric) & an amazing dress by Belle Couture
This blogpost contains pr samples (marked with c/o) and affiliate links
A fabric that is super comfortable, doesn't wrinkle, looks beautiful, is easy-care, and also affordable – sounds too good to be true, doesn't it? But you know what, such a fabric really exists! Jersey has all these features. In this blogpost, I'm going to show you how beautiful this fabric can look, where it is from, and how Coco Chanel is involved in this story.
Jersey (Fabric) & it's Story
Before diving deeper into the story of jersey, we are going to find out, what exactly this fabric actually is.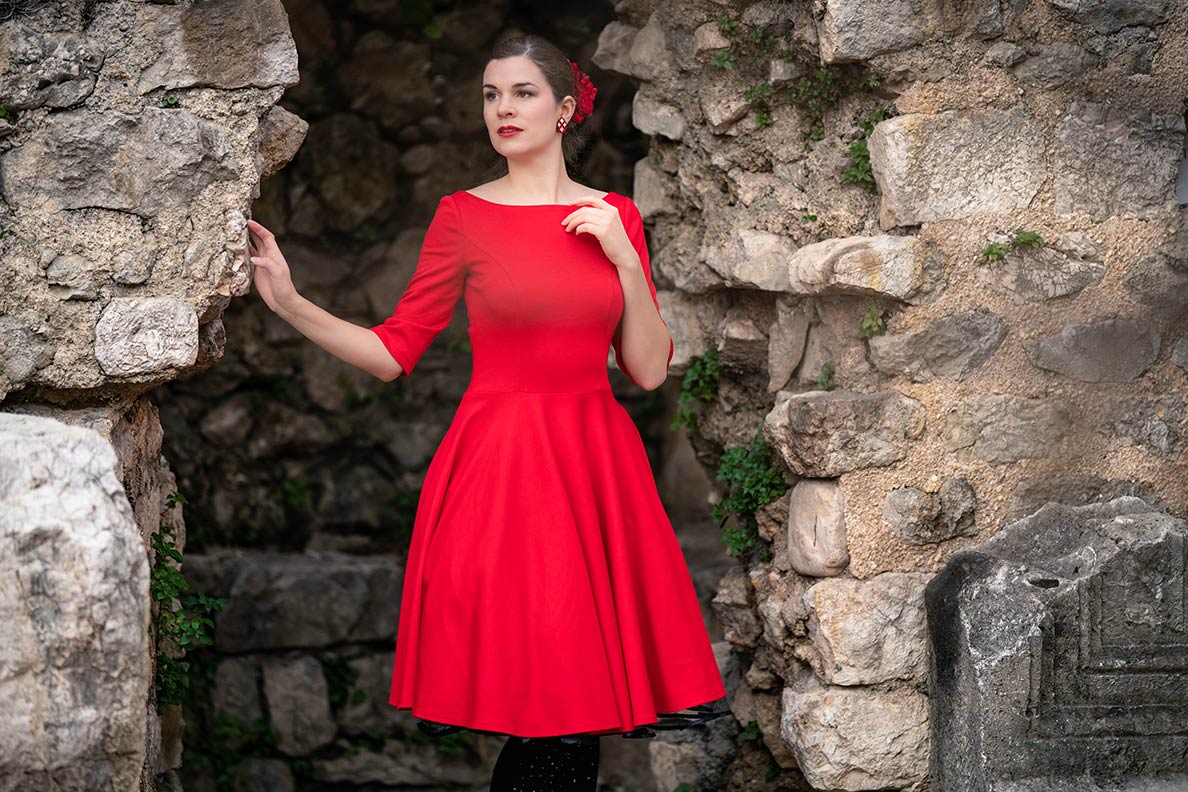 What is Jersey?
The word jersey is used to describe a soft, elsastic knit fabric that is used predominatnly for clothing manufacture. Jersey usually is made of wool, cotton, and synthetic, sometimes even silk fibres. The fabric can either be very stretchy (single knitting), or heavier with less stretch (double knitted).
The name of the fabric comes from the largest of the Channel Islands: Jersey.
Story of Jersey (Fabric)
Since medieval time, Jersey (Channel Islands) was an important exporter of knitted goods. It is said, that there, the knitted fabric was first produced. However, in fashion industry, jersey definetely wasn't the first choice. Silk and satin were the prefered materials. It was Coco Chanel who made jersey so popular.
How Coco Chanel made Jersey fashionable
"Luxury must be comfortable, otherwise it is not luxury." – Coco Chanel
Mademoiselle Chanel's intention was to create elegant, wearable, and comfortable women's wear for every day and night. She got inspired by sportswear and the striped fisher sweaters. So it is no wonder, that jersey, during this time mainly used for men's underwear, was the perfect fabric for her designs. Especially, as it was even affordable during World War I. Her collections were a real revolution in women's fashion. She banned corsets, made the litte black dress fashionable, and she even used the comfortable fabric jersey for evening dresses!
"I make fashion women can live in, breath in, feel comfortable in and look younger in." – Coco Chanel
How Jersey is used nowadays
Coco Chanel changed the image of jersey for the better. And even until after World War II, this fabric was the first choice for sportswear and jerseys (clothing). However, by now, jersey mainly got replaced in sports industry by synthetic fibres like nylon, polyester, and elastane. Nowadays, jersey mainly is used for T-shirts, women's tops, draped garments, underwear, and bed linen.
My beautiful red dress by Altelier Belle Couture, though, proves that this comfortable fabric can still look super elegant.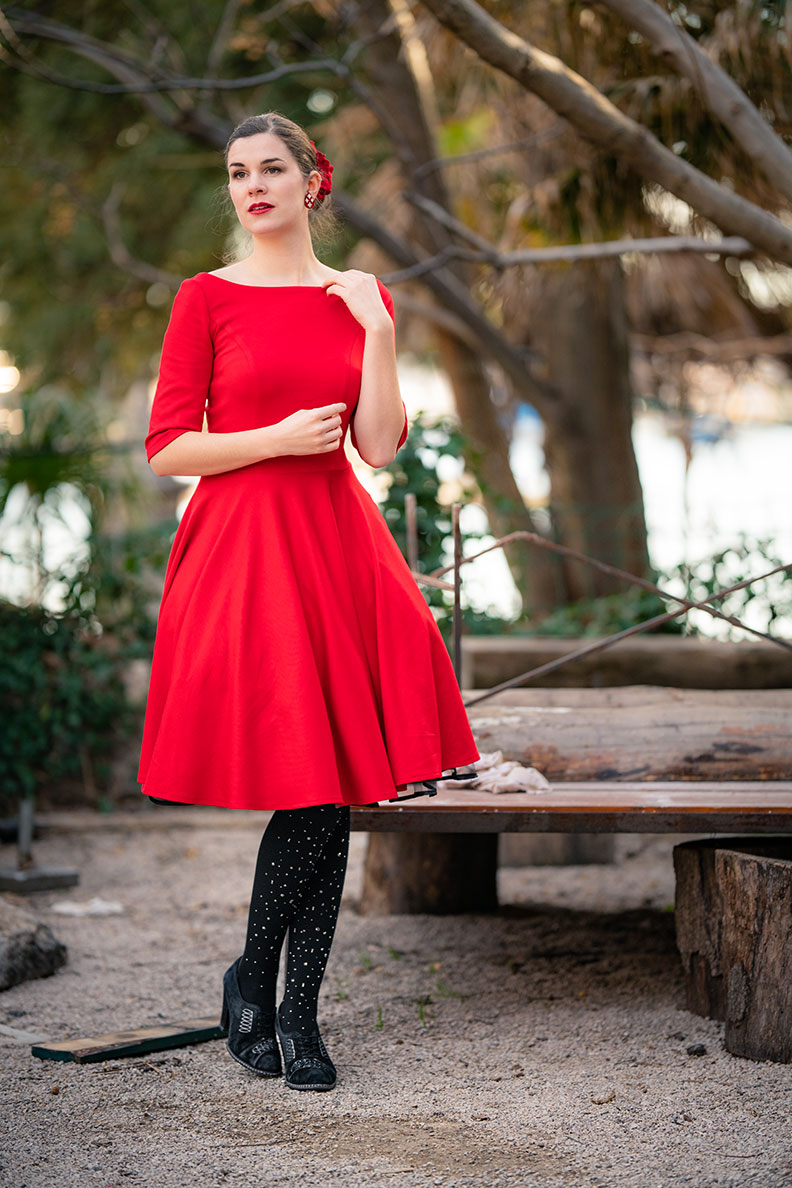 Chic & comfortable: The jersey dress "Audrey" by Belle Couture
As I'm travelling a lot, privately and for business reasons, I need comfortable, non-wrinkling, light, but still beautiful clothing. The jersey dress "Audrey" by Atelier Belle Couture meets all these requirements. Although it has been packet into a suitcase for many hours – wee took those photos in Croatia, Krk Island – "Audrey" still looks amazing and freshly ironed. As this dress is tailor-made, it fits perfectly and enhances the waist. Nevertheless, due to the elastic fabric, it still feels great and is absolutely comfortable. I especially love the circle skirt, under which I'm wearing a matching petticoat, and the pretty back-neckline.
---
More beautiful jersey dresses by Belle Couture:

---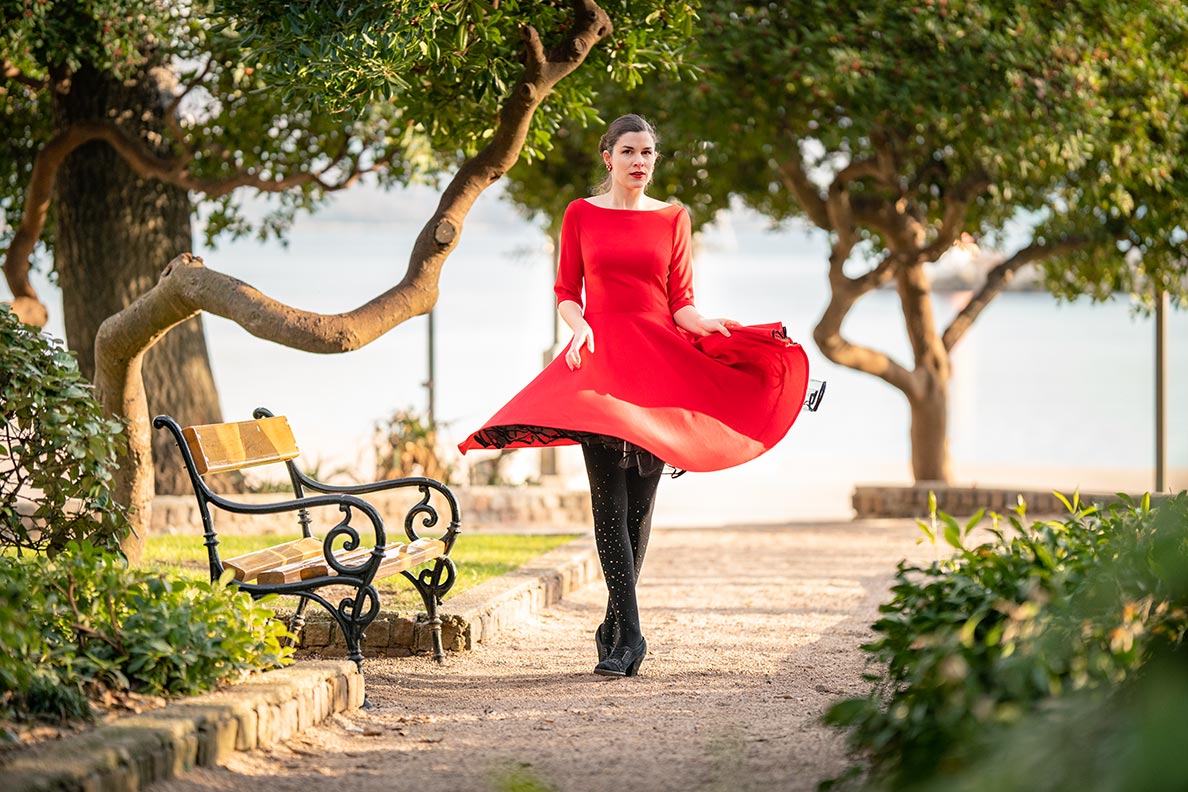 And if you are now wondering how I managed it to pack a petticoat into a small suitcase, I have a tip for you: Use vacuum bags! They are inexpensive, reusable, super easy to use, and space-saving.
As it is pretty cold in winter, even in Croatia, I teamed the dress with thermal tights and wore sparkly finshnets on top. My shoes are by Miss L-Fire, and the warm retro coat is by Hell Bunny. A colour-matching hairflower by Miranda's Choice as well as earrings by Glitter Paradise finish this comfortable but super elegant vintage inspired outfit.
More Styling Tips:
Jersey dress in combination with (ballet) flats are perfect for everyday life, as they are very comfortable but still look good.
Teamed with sparkly jewellery and an elegant clutch, a jersey dress is also perfect for evening occasions, find an outfit example in this blogpost.
If you prefer an extraordinary and very glamorous look, team your jersey dress with a fascinator, nylons, as well as elegant accessories. In this blogpost, I show you how such an outfit can look.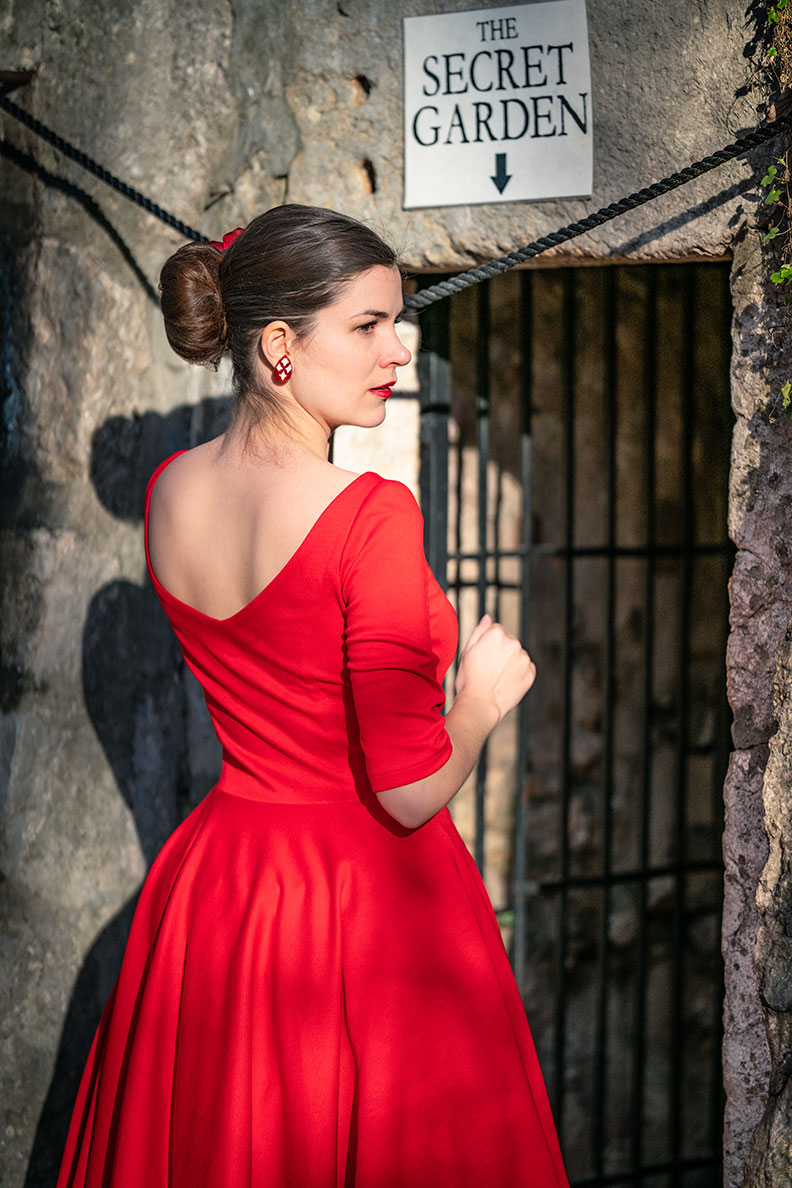 ---
Outfit Details:
Dress: c/o Belle Couture
Petticoat: c/o Belle Couture
Coat: Hell Bunny, very similar here
Thermal tights: Calzedonia
Sparkly fishnets: Calzedonia, similar here
Shoes: Miss L-Fire, similar here
Hairflower: c/o Miranda's Choice
Earrings: Glitter Paradise
---
If you want to learn more about fashion and the story of fashion classics, make sure to check out my page Fashion Know-how (click)!