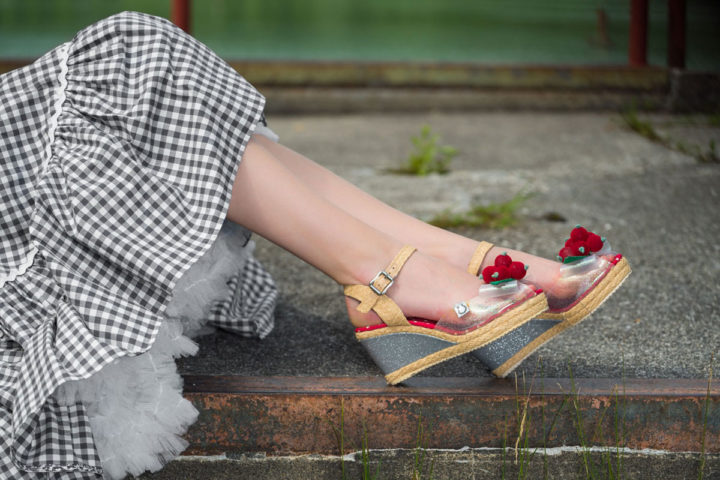 Shoe trend: Wedges
This blogpost contains affiliate links (marked with *)
Wedges are celebrating their comeback. Amazing news for us vintage lovers! As those shoes are not new inventions, but were already very fashionable in the 1930s. In this blogpost, I'm going to tell you the exciting story of the wedge shoe. Furthermore, I reveal why these shoes were so popular in the 40s, and of course give you some style advice.
What are Wedges?
Wedges, also called wedge boots/shoes, are shoes (or boots) with a sole in the form of a wedge. So one piece of material, often cork, raffia, or rubber, serves as both the sole and the heel. Salvatore Ferragamo is known as the one who popularized wedges and made them fashionable in the late 1930s.
The Story of Wedges
Antecedents of the modern wedge were known hundreds of years ago in many cultures, especially among African and Asian populations. But also in Europe they are not an invention of the 20th century, just think of the chopine. The modern wedge, though, has its root in the late 1930s. In 1937, Salvatore Ferragamo showed a new kind of footwear: A shoe with a wedge heel. Since then, designers experimented with materials like wood, cork, raffia, or even glass.
While in the 1930s wedges were mainly a fashionable accessory, they became very popular in the 1940s. Due to rationings of materials like leather, leather shoes got very expensive. So wedges made of cork, raffia or wood were great alternatives. Salvatore Ferragamo, by the way, even experimented with cellophane. However, cork and raffia were the most popular fabrics for wedge shoes, mainly as those materials are comfortable, light, and durable, but still stylish.
As exotic leathers like snake skin and fur weren't affected by rationing, they were used for stylish wedges as well. However, these materials remained quite expensive and were therefore mainly popular among the more wealthy population.
After World War II, most of the rationed materials were available again for fashion industry, and therefore, wedge shoes got more and more out of fashion. The fashion of the 1970s, though, got a lot of inspiration from the 1940s so wedges became en vogue again. Some folklore inspired details and other styles gave them a fashionable update, and until today, wedges become fashionable over and over again. This season, espadrilles wedges are especially trendy.
Why Wedges?
Wedge shoes have many advantages and are therefore definitely a must-have.
Wedges are very comfortable, even when the heel is super high, as they often have platforms at the ball of the foot.
Furthermore, it is easy to walk in them, even on cobblestones. And you don't have to worry about sticking in a manhole cover. 😉
Last but not least, wedges make your legs look longer and therefore go very well with longer skirt or dresses and capri pants.
How to style and wear Wedges
Wedges are available in a lot of different styles, so there is a matching shoe for almost every outfit. Therefore, these shoes are definitely a favourite of mine for spring and summer. In the following, I'm going to show you different styles of this shoe and of course, I give some advice on how to team them.
PS: A click on the photo will lead you to the related blogpost with all outfit details. 😉 
Retro-style Wedges
Cheerful vintage inspired wedges go very well with summery retro looks. I like to team them with elegant dresses as well as more casual capri pants. Some chic retro shoes with a wedge heel are available here*, for example.
---
Shop vintage inspired Wedges*:

---
Flirty Wedges with Laces & folklore Details
Ribbons, laces, and flirty details – wedges inspired by the folklore look look best when worn true to the original style. So I like to team them with flirty outfits, lace blouses, full skirts, or traditional blouses. Maxi dresses and skirts go very well with these shoes as well, but they will even look amazing in combination with a chic summer dress.
---
Shop Wedges with Laces & Folklore Details*:

---
Super high Wedge Heels
Super high wedge heels are not only very stylish, they are, in comparison to stiletto heels, even quite comfortable and easy to walk in. I especially love to team my blue one with maritime looks.
---
Shop Shoes with super high Wedge Heels*:

---
Wedges with abstract Heels & fancy Patterns
Wedge shoes with an abstract heel, fancy details, or crazy patterns are especially fashionable and definietaly an eye-catcher. I love to team my shoes with huge polka dots and lovely details with a lot of different styles. They go especially well with 60s inspired looks, and add a fashionable touch to every vintage outfit.
---
Shop Shoes with an abstract Wedge Heel & Fancy Patterns*:

---
What about you? Do you like shoes with wedge heels as much as I do? And how do you like to team them?
---
More Fashion Classics:
---
If you want to learn more about fashion and the story of fashion classics, make sure to check out my page Fashion Know-how (click)!