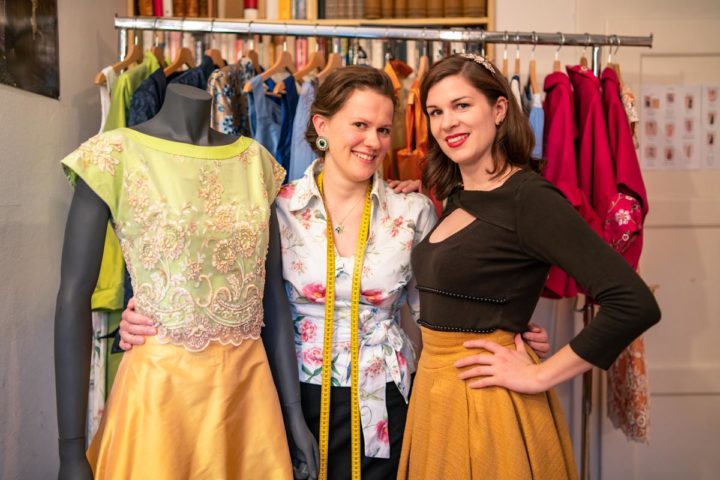 Honór Couture: Timeless, elegant, extraordinary
Advert | paid collaboration
Weddings, garden parties, galas, and other events – spring and summer has a lot of occasions where elegant, but light garments are necessary. And if you focus on quality and uniqueness, it is even harder to find something suitable. This is why I want to introduce the German label Honór Couture from Munich to you.
Honór Couture: Handiwork & lovely Details
Honór Couture really lives up to their name: The elaborate dresses are all handsewn in Germany and have so many great details. Owner and designer Franziska Rüsch only uses high-quality fabrics like cotton, soft cashmere, chiffon, and shimmering silk. So it is no wonder that her dresses not only look amazing, but also feel great on the skin.
Franziska Rüsch creates garments for women, that flatter the female body. She gets inspired by bygone eras, nevertheless, she makes clothes for modern women. Her designs never get out of fashion, they are timeless classics which will look as amazing in ten years as they do now.
---
Details are very important at Honór Couture:
(Unfotunately, it was not possible to translate the captions of the photos…)
---
Franziska Rüsch – the Woman behind Honór Couture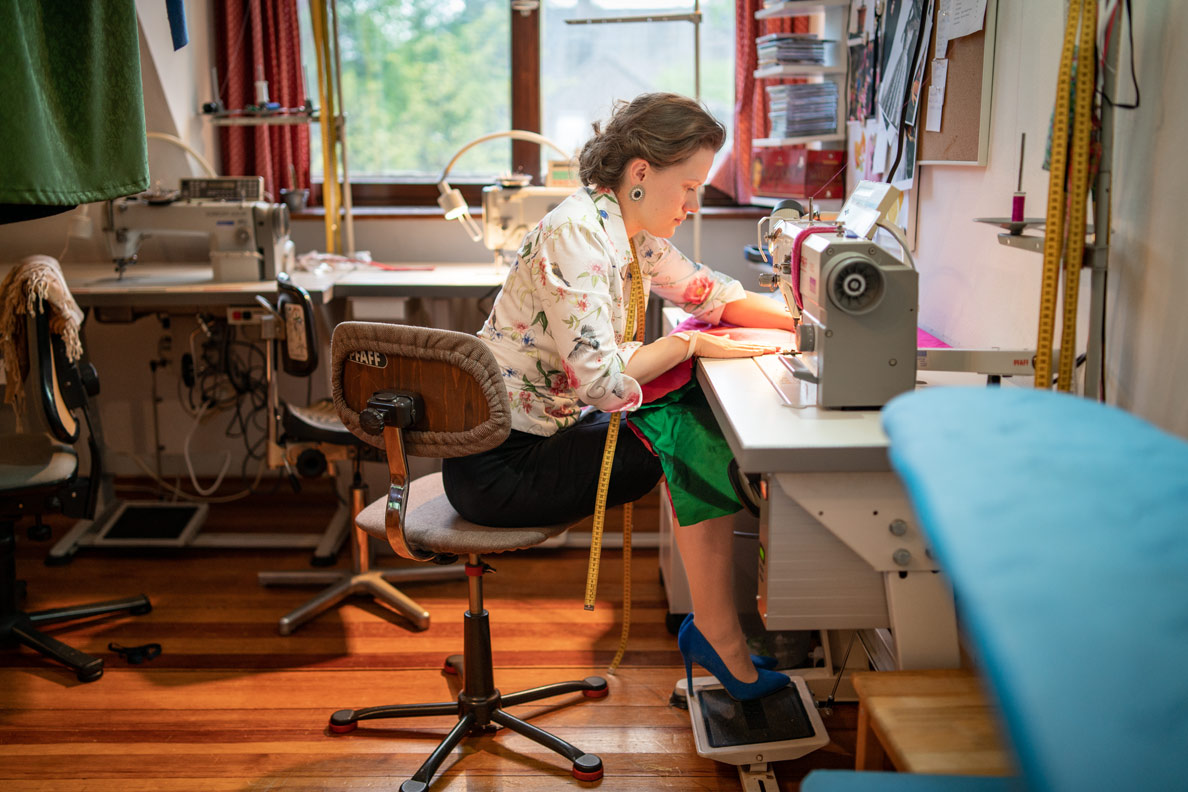 If you meet Franziska Rüsch, you would be surprised how young this woman is! Right after finishing her fashion design study, she assumed the dressmaker's workshop from Gundy Ellert and has been pursuing her business since then. Born in a huge and very creative family, Franziska Rüsch always loved sewing. Her mother was a successful seamstress as well and now, Franziska continues with this passion.
"My aim is to emphasize a woman's dignity and highlight her beauty." – Franziska Rüsch
A young woman with a great talent and big goals – absolutely remarkable! Franziska makes almost everything by herself: From design, to sewing, and the presentation. Two seamstresses and a small tailor shop near Augsburg support her.
---
Behind the Scenes of Honór Couture:
---
Honór Couture: Elegant Ladieswear for every Occasion
Honór Couture offers elegant ladieswear for any occasion. No matter if you need a long evening gown for a gala or prom, a chic dress for a wedding invitation, or a lovely skirt in combination with a blouse for the office – Honór Couture covers various areas and most of their garments can even be worn on different events. As all garments are handmade on-site, it is no problem to adjust the designs to each bodytype and modify them in order to please the customer's own wishes.
In the following, I want to show you some designs from the current spring/summer collection. As you will see, oranges and lemons were a huge inspiration.
Ladies' Suits & elegant Dresses
Chic ladies' suits, elegant dresses, or pretty skirt-blouse-combinations – Honór Couture offers a great variety of elegant ladieswear for everyday life and the office. If you prefer something a bit more glamorous but not too formal for events like birthday parties, christenings, or something similar, I would go for a knee-length dress with a lovely pattern and pretty details. Some amazing example for dresses like this are Arla as well as Christina.
---
Elegant Dresses for Weddings & similar Events
As soon as spring arrives, the first wedding invitations can be found in the letterbox. If you need a chic outfit for this occasion, Honór Couture is the perfect brand for you. And in a dress with summery prints like Susanna has, you will not only look amazing at the wedding celebration, but also at garden or birthday parties. The print, by the way, is a design by Franziska Rüsch's sister and therefore absolutely unique.
Another favourite of mine is the navy blue dress Katharina with some very pretty lace details. It is perfect for summer weddings, but also, together with a huge straw hat, a perfect companion for walks at the lake or sea, garden and other summer parties.
---
Long Gowns for formal Occasions
Honór Couture also offers gorgeous long gowns for balls, proms, galas, and other formal occasions. Those dresses are all made to measure to fit perfectly. So you don't have to worry when dancing in a sleeveless dress like Helena, everything will stay in place. 😉
Another dream of a dress is Orangenblüte (orange blossom) with a huge bow at the top and a beautifully flowing skirt.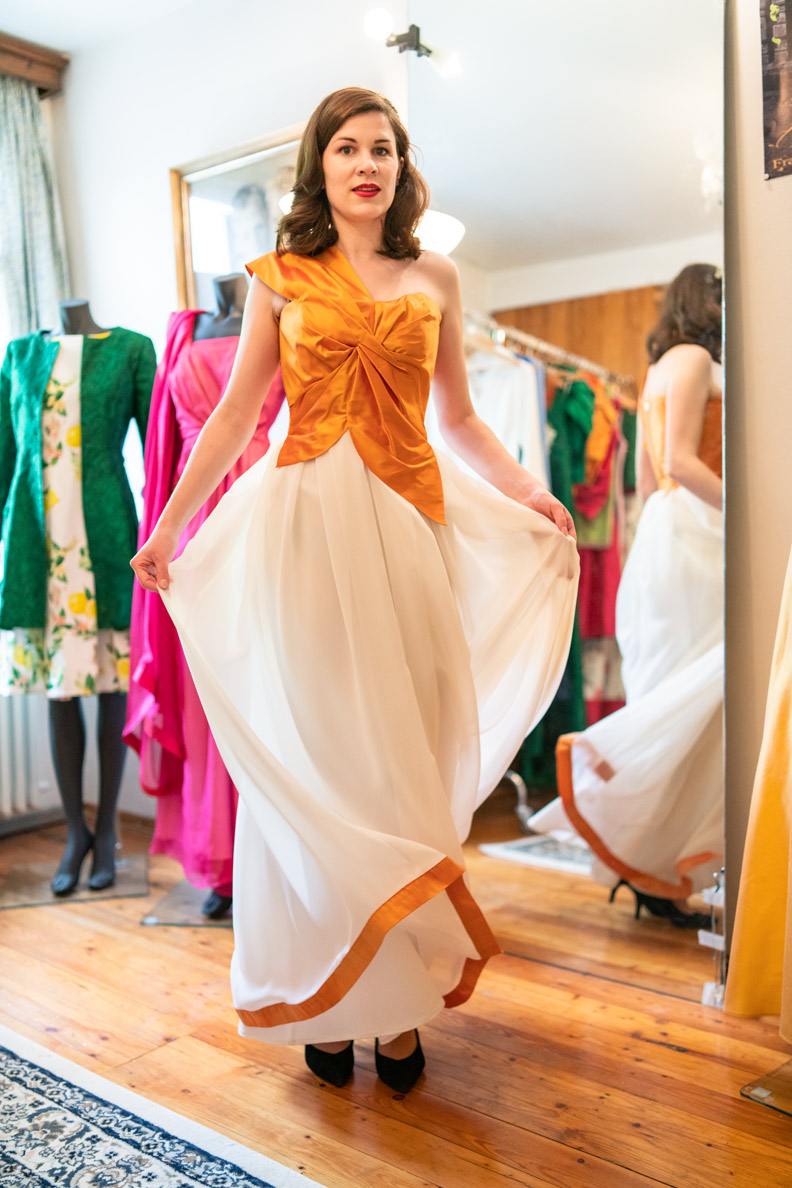 ---
Matching Coats, Jackets & Accessories
Beside dresses, Honór Couture also offers coats and matching accessories. The elegant long silk scarf Isabella, for example, is perfect for the church, or a bit more chilly summer days, as it covers the shoulders, keeps you warm (at least a little) and is still super light.
Paula on the other side, goes very well with the evening gown I introduced before. For a real "wow-moment" I recommend to enter the room with the scarf and put it off in the course of the evening. 😉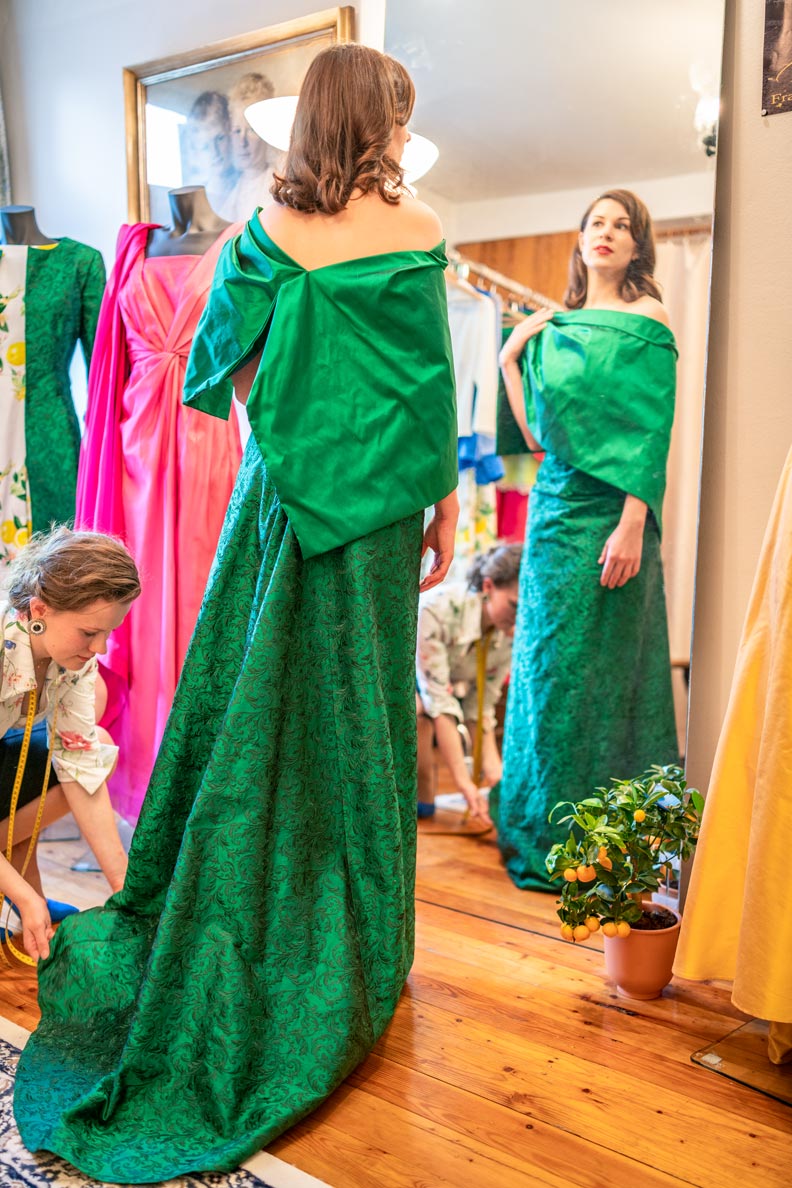 ---
Honór Couture: Contact
Honór Couture doesn't have a store, yet. The garments can be ordered online (click here to enter the website). If you would like to try something on, you can also visit the atelier.
---
Atelier:
Reinekestraße 32
81545 Munich
Opening Hours:
Date by agreement
Phone: 0049 1573-5205829
Email: Ruesch@honor-couture.de
And now, I'm curious: Which one is your favourite dress?