How to wear skirts and dresses in winter
Do you also wear your skirts and dresses in winter? This is a question I receive quite often. You must know, winters in Germany can be pretty cold. Nevertheless, the question is easy to answer: Yes, I do. 🙂 And it isn't really a problem. I am almost never cold. With just a few tricks, you can definitely wear skirts and dresses in winter. And in the following blogpost, I am going to tell you how.
This blogpost contains affiliate links (marked with *)
Warm Dresses and Skirts for Winter
Let's start with the base: A warm winter dress or skirt in combination with a sweater. It is best to choose a dress with long or at least 3/4-length sleeves. Furthermore, have a look at the fabric. Wool, for example, is especially warm
By the way: It actually is not that easy to find pretty vintage inspired winter dresses. I personally like to have a look at TopVintage* and Peggy Sue Vintage, for example. Furthermore, I absolutely adore the dresses by Ginger Jackie. Another great tip for cold days is to simply wear a subtle turtleneck* underneath a sleevless dress.
*Affiliate links

---
How to wear Dresses in Winter: Long Gloves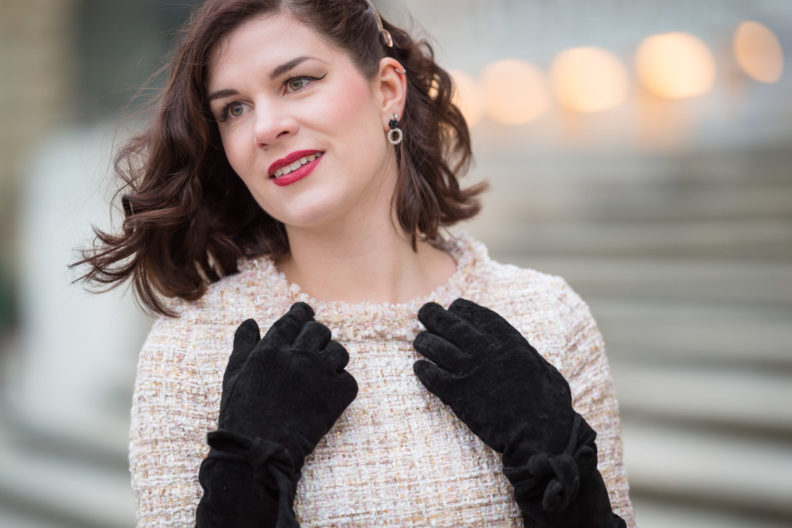 Especially if you choose a sweater or dress with 3/4-length sleeves, I recommend long gloves like these ones* to cover your forearms. I also always choose lined gloves on very cold days, as thin leather gloves usually aren't that warm. A great alternative are cosy wool gloves like these ones*.
*Affiliate links

---
How to wear Skirts and Dresses in Winter: Warm Thermal Tights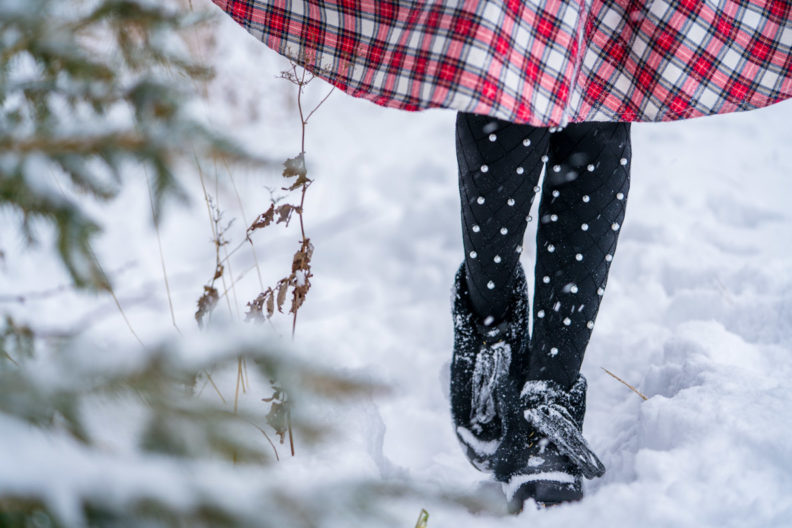 Thermal tights are absolutely perfect for everyone who wants to wear dresses and skirts during cold season. They keep our legs warm and are also quite affordable. I personally almost always wear the thermal tights by Calzedonia*.
PS: Make sure to check out my blogpost about thermal tights to read more about this kind of hosiery and learn how to style them more glamorous.
*Affiliate links

---
Warm Boots for the cold Season
When wearing boots, we can even walk through deep snow! Furthermore, they keep our legs warm and are absolutely perfect for very cold winter days. Depending on the occasion and temperatures, I choose between fancy lace-up boots, stylish overknee boots or very warm and cosy winter boots. You will find some lovely retro style booties at TopVintage*, for example.
*Affiliate links

---
The more Layers, the better: Petticoats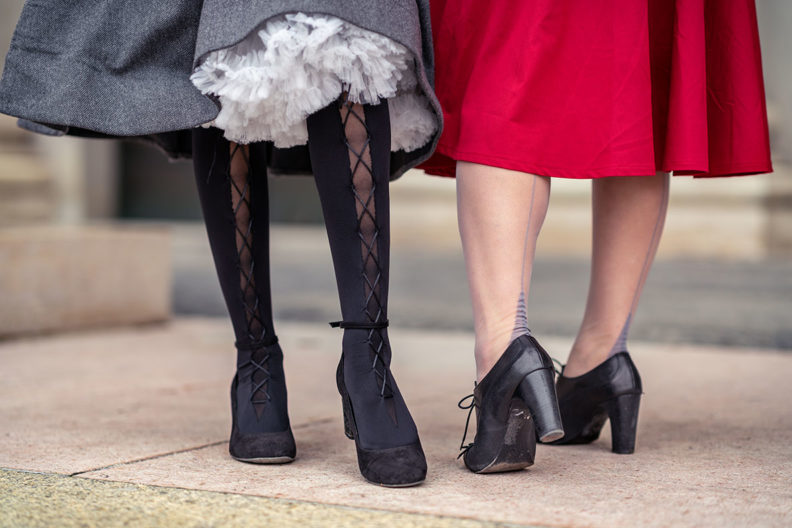 Another layer of clothes definitely makes sense during cold season. This is why I love to wear fluffy petticoats underneath my flared skirts and dresses. A petticoat also has another advantage: They prevent your skirt from "sticking" to the tights. PS: Underneath fitted dresses, I like to wear a slip that has the same effekt. 🙂 Petticoats are available from a lot of different suppliers. I usually buy mine true vintage or from shops like TopVintage*.
*Affiliate links

---
Winter Outfit for cold Days: Warm and cosy Accessories
Beside all those warm clothes and pieces like gloves, tights and boots, there are some more warm accessories I recommend for winter. One of my favourite accessories during the cold season are definitely berets* and hats. They not only keep your head warm, but also protect your hairstyle from the weather or cover a bad hair day. And of course, don't forget your scarf in winter! A more glamorous alternative are fake-fur collars, buy the way. 
*Affiliate links

---
Warm Coats and thin quilted Jackets
The only thing we need for our warm winter outfit now is a winter coat. As there are so many different coats available, I already wrote about my favourite ones in this blogpost. One of my must-haves, by the way, is the amazingly glamorous Pearl Coat von Collectif Clothing*. Wonderful retro coats are available at TopVintage*, EMP* and Rockabilly Clothing*, for example.
And for everyone who is always freezing, I have another tip: Just wear a thin quilted jacket like this one* underneath your winter coat! 
*Affiliate links

---
Do have some more recommendation for cold winter days?