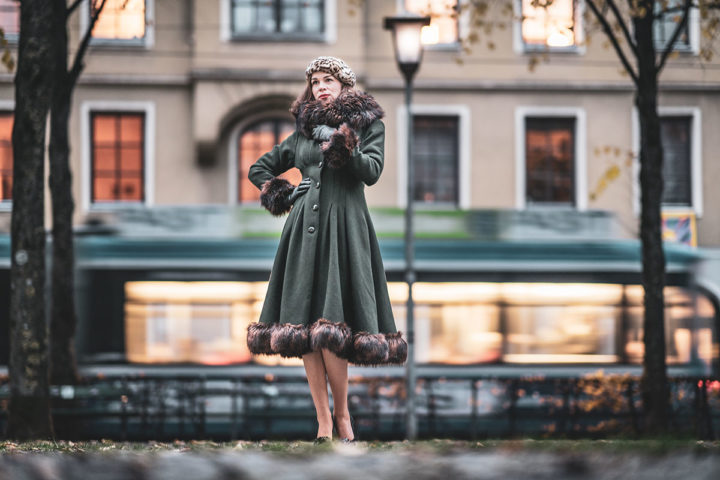 Elegant vintage inspired winter clothing
Winter is here – at least almost! The ice cold winds blows between the houses, and the nights are frosty, foggy, or even snowy. But this is no excuse to dress like a Michelin Man, as there are a lot of stylish and glamorous winder clothes available! So in the following, I'm going to introduce some more and less popular winter coats and jackets to you, tell you which of them is worth an investment, and also show you how to make them even warmer and take care of your glamorous winter coats.
*This blogpost contains affiliate links (marked with *)
The Pearl Coat by Collectif Clothing
The Pearl Coat by Collectif Clothing* is a fashion classic in the vintage and retro community. Which is no wonder, as the coat looks absolutely amazing. It is inspired by the style of the 1930s, quite long, feminine, and decorated with a lot of fake-fur.
I especially like the midi-length of the coat, as this covers almost all the dresses and skirts I own. Furthermore, the fake-fur looks super glamorous and keeps you quite warm, even when a cold wind is blowing. The quality of the coat is okay, I think. I had to sew on all the buttons by myself again, as I almost lost one of them. The rest is processed quite well, though. What I don't like that much is that despite the high price, the coat consists of synthetic fibres like polyester. But all in all, I really enjoy wearing this coat. It makes you a real head-turner and is oh so elegant!
You can shop the Pearl Coat by Collectif Clothing here*, for example. It is available in different colours, but the cut always is the same.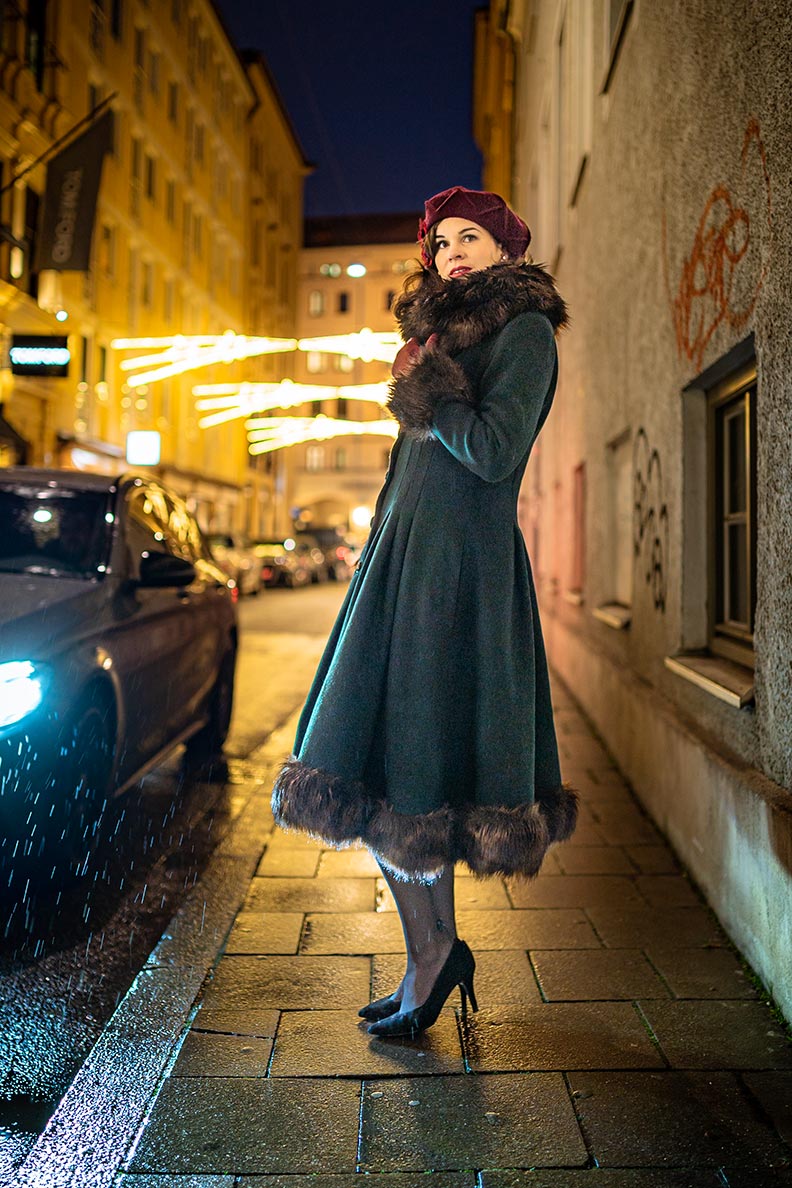 Pro
Looks amazing
Great length
Keeps you quite warm
Elegant, feminine cut
Contra
I had to sew on all the button by myself again, as some of them almost got lost
Quite expensive
Made of synthetic fibres
---
Swing Coat/Swing Jacket by The Seamstress of Bloomsbury
One of my biggest problems with elegant retro coats: They often have such a tight cut that I'm not able to wear them on top of my warm winter wool dresses. The Swing Coat von The Seamstress of Bloomsbury is different, though. The cut is very wide and ladylike, I also like the wide sleeves (look best in combination with long leather gloves, by the way).
As the coat is made of wool, it also is quite warm. However, the coat is very thin, and therefore a bit too cold for the really chilly winter days. So I prefer wearing this coat in late autumn and on early spring days, or on the milder winter days. As it only has buttons at the upper part, it also can be worn on top of very warm and thick wool dresses, by the way. Plus, it is available in two different lengths: As a Swing Jacket (shown in the pictures) and as a longer Swing Coat (midi-length).
Pro
Looks great
Authentic 40s style
Different options available (coat or jacket)
Well processed
Great fabric (wool), the lining is made of synthetic fibres
Contra
A bit too thin for really cold winter days
Lovely vintage inspired Jackets by The Seamstress of Bloomsbury:
*Affiliate links

---
The Angeline & Fairy Coat by Hell Bunny
The Angeline Coat by Hell Bunny has a very pretty cut with a flared hemline. Furthermore, the collar can be all buttoned up and therefore is super warm – even on very windy days. As the coat only has knee-length, though, it might be a bit short for your retro dresses (depending on your prefered style, of course). So if the majority of your dresses are longer than knee-length, I recommend to look for another coat. You will find the Angeline Coat here*, for example.
The Fairy Coat has the same cut as the Angeline Coat, but also has some literally fairytale-like decorations. Unfortunately, I couldn't find the Fairy Coat online anymore, but I found some pretty alternatives: The Interstellar Coat*, for example, has some wonderful moon and star decorations, the dark red Elvira Coat* with lovely black fake fur and the Anderson Coat* with dark applications.
The Capulet Coat by Hell Bunny is available in dark red* as well as black*. What makes this coat so special is the fact, that the cape is attachable. So it actually is a classy coat with some fake fur on the collar and sleeves. And on top, there is an attachable colour-matching cape. So if it is really cold, you can wear the coat with the cape. And if it is not that cold, you simply wear the coat or the cape – isn't this cool?
All three coats consist of synthetic fibres, they are not too expensive, though.
Pro
Great style
Due to the collar (Angeline and Fairy Coat) or the cape (Capulet Coat), the coat is quite warm
Elegant cut
Not too expensive
Contra
Had to sew on all the buttons to not loose them
Made of synthetic fibres
Only knee-length, so a bit short for many retro style dresses
Wonderful retro Coats by Hell Bunny:
*Affiliate links

---
The Mademoiselle Coat by Ginger Jackie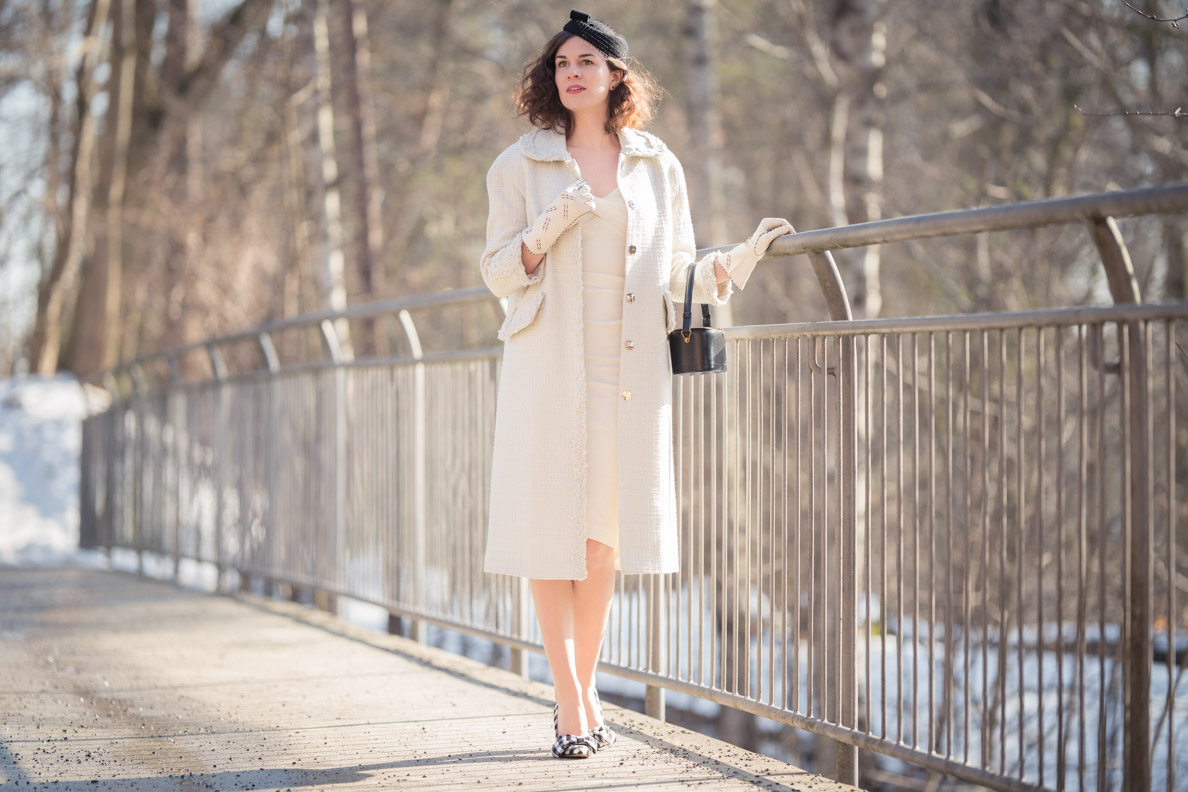 Ginger Jackie offers the most beautiful and authentic vintage inspired coats, in my opinion. They are all manufactured amazingly, and have many gorgeous details. They are a bit pricey, though. So I see them as an investment in my style and went for a very classy, timeless one. The "Mademoiselle Coat" has a very authentic 1950s cut and reminds me a bit of the coats of Mrs. Maisle. Due to its light colour, the coat looks very elegant. Such a coat can last for a lifetime, if you take good care of it!
If you decide to buy a more expensive coat, I would always go for neutral colours like black, creme, grey, camel, or maybe navy, depending on what shade matches the rest of your wardrobe best.
You will find the Ginger Jackie coats here.
Pro
Great style
Amazingly processed
Great midi-length
Very elegant
Contra
A bit more pricey than the other options I showed
---
Shopping Tips for Winter Coats
In this blogpost, I already shared seven tips on how to successfully shop coats. Especially for winter coats, I also recommend the following:
Natural fibres like wool keep you warmer than most of the synthetic fibres.
Make sure to choose a length that fit the rest of your wardrobe. If the majority of your dresses and skirts are midi-length, make sure your coat also has midi-length. If you tend to wear shorter dresses/skirts, your coat can also be a bit shorter.
Beside the length, the cut of the coat also is important. Do you prefer flared skirts/dresses? Than make sure the hemline of your coat also is flared. If you prefer fitted cuts, you definitely can also go for a coat with a fitted cut.
Especially when investing in a more expensive coat, choose neutral colours that go well with a lot of your outfits.
To add a pop of colour to the grey winter days, I recommend to do this with a more affordable coat.
If you are lucky, you maybe find a great vintage or repro coat second hand for a very good price. Definitely have a look at platforms like Etsy* and Ebay, or have a look at specific facebook groups.
At the end of december/beginning of january, winter sales start. So during this time, you maybe can get hands on an amazing coat for a very good price. Plus: Usually, the really cold winter days don't start before January, so you are able to immediately wear the coat you purchased. If you want a specific coat in a specific colour, though, I would always buy it at the beginning of the season, as you never know if it will be still available in your size when winter sales start.
You will find a lot of different retro coats and jackets at the following shops, for example: TopVintage*, Etsy*, Amazon* and EMP*. Beside the brand I already mentioned, I also recommend to have a look at Julia Seyfarth* and CelesteLilou* for pretty vintage inspired coats.
---
How to take care of your Winter Coats
If you take good care of your winter coats, they can last for many years. Here are my best tips:
Retro coats often have fake-fur details, true vintage coats might even have a fur collar. This makes cleaning them not easier. So make sure to give your precious coats to a professional cleanser's shop.
It is best to hang your winter coats on hangers when storing them, so they don't get ugly wrinkles.
Even if you don't have a lot of space in your wardrobe, I can't recommend to store your coats in your cellar during summer. It is always better to store them in your regular wardrobe.
Especially coats made of wool and/or with fur-details are endangered by clothes-moths, which especially like moist and warm surroundings. If you are not able to store your winter coats in your wardrobe, it is best to clean them, make sure they are completely dry and then store them in a vakuum bag. If you store them in your wardrobe: Clothes-mothes don't like the smell of lavender and cedarwood. 😉
---
How to make your Winter Coats warmer
When it gets really cold outside, even the best winter coat may not be able to keep you warm enough. So here are some tips on how to make your coat even warmer:
Wear a thin jacket (without a hood and only with a low collar) underneath your coat. This really makes a huge difference and you still look super stylish while also staying very warm.
As we tend to loose a lot of warmth via our head, put on a hat or beret!
Wear a warm outfit underneath your coat. Wool keeps you especially warm on cold days. I also always wear thermal tights (sometimes even two layers of them!), when it is cold outside. Warm gloves, a scarf, and you are ready to go out into the cold!
[ap_divider color="#CCCCCC" style="dotted" thickness="1px" width="100%" mar_top="20px" mar_bot="20px"]
*Affiliate links

---