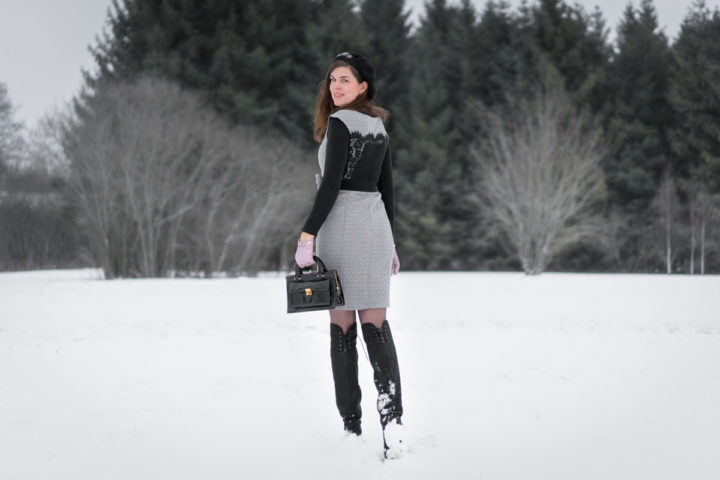 Normally, I'm not very interested in modern fashion trends. Lately, however, I got a little bit obsessed with over-the-knee boots as I saw them on so many gorgeous ladies on Instagram. I must say that I really like how they look on them. On the other side, I worried a bit wether they would go with my classy style or not. After trying some different combinations, I eventually found a look that I really enjoy wearing.
Vegan Over-the-Knee Boots by Beyond Skin
Before I'm going to focus more on my outfit, I want to say something about the boots. But first, I have to admit that I do own some leather shoes. This is mainly because I find it quite hard to get hands on high quality vegan shoes. In normal stores, there are either expensive true leather shoes or cheap plasic shoes in which you get sweaty feet the moment you put them on, available.
After doing some research, I discovered "Veganista", a small store in Munich which sells only vegan and fair fashion and accessories. There, I also found the black over the knee boots by the UK footwear label Beyond Skin.
This brand only uses vegan resources and trys to use sustainable, eco-friendly materials whenever it's possible. Furthermore, they give a part of their profit to social project. Definitely a philosophy that should be supported.
A retro Outfit with Over-the-Knee Boots
After buying the boots, I was insecure about the way I wanna wear them. So for a pretty long time they only stand in my closet which is in fact not very sustainable, no matter how eco-friendly the shoes were produced. I decided this is something I should change immediatly. After checking out Instragram and Pinterest for some inspiration, I came up with an outfit I really like.
I especially like to team over-the-knee boots with a short skirt. In combination with trousers, one can easily look like the Puss in Boots – not a very good style icon in my opinion. With a long skirt on the other side, my legs looked quite bulky.
Finally, I found the elegant grey shift dress by Traffic People which I already showed you here. It ends just above the knees so there is still a tiny gap between the hemline and the boots. This helps to let the legs look slimmer and makes the entire look more stylish. Unfortunately, the dress has no sleeves which is quite unpractical in winter. Therefore, I wore a thin turtleneck sweater underneath.
For the "retro touch" I also wore a beret as well as light pink gloves, a vintage handbag from the 60s, and big white earrings. So in the end, it's a kind of modern 60s look which works pretty well in everyday life.
By the way: The best about the boots is definitely that they are high enough to not fill with snow if you go off-road. 😉
Since it has been snowing all the time the last few days, I wasn't motivated to do my hair. They look super frizzy the moment I leave the house. Therefore it's no wonder that hats and berets are my best friends at the moment.
---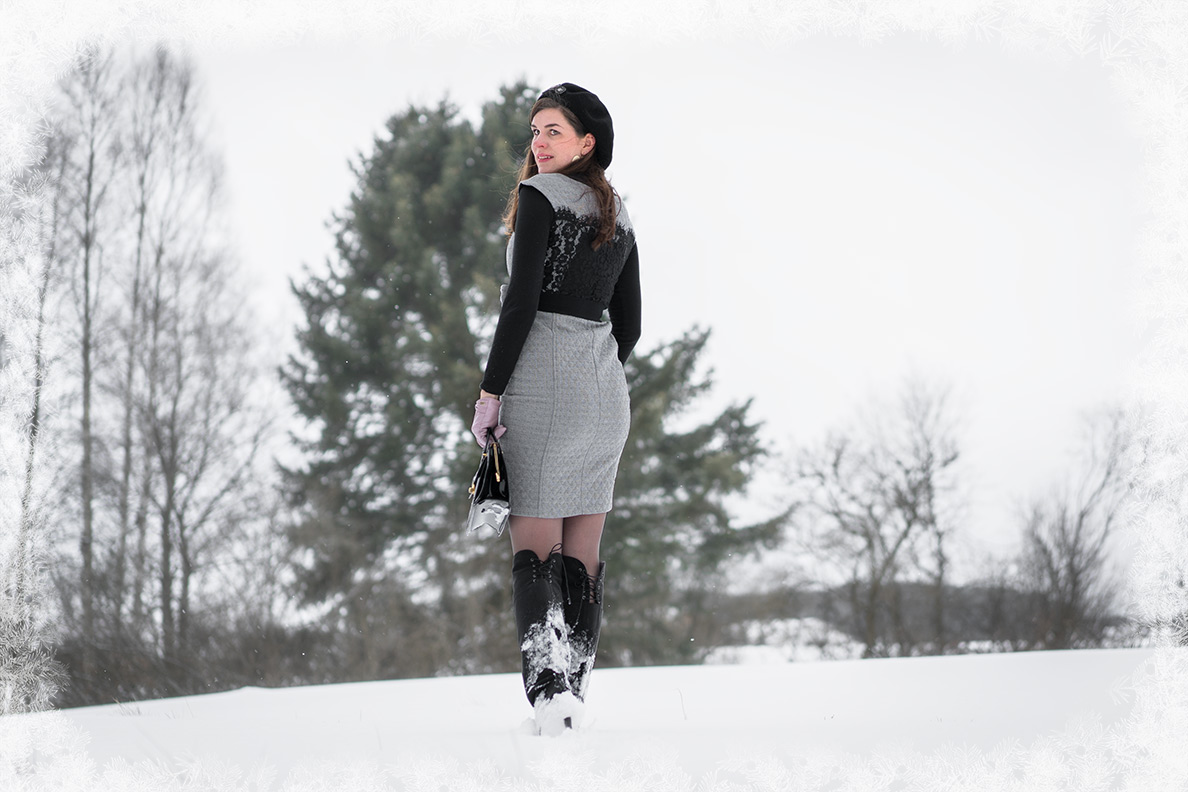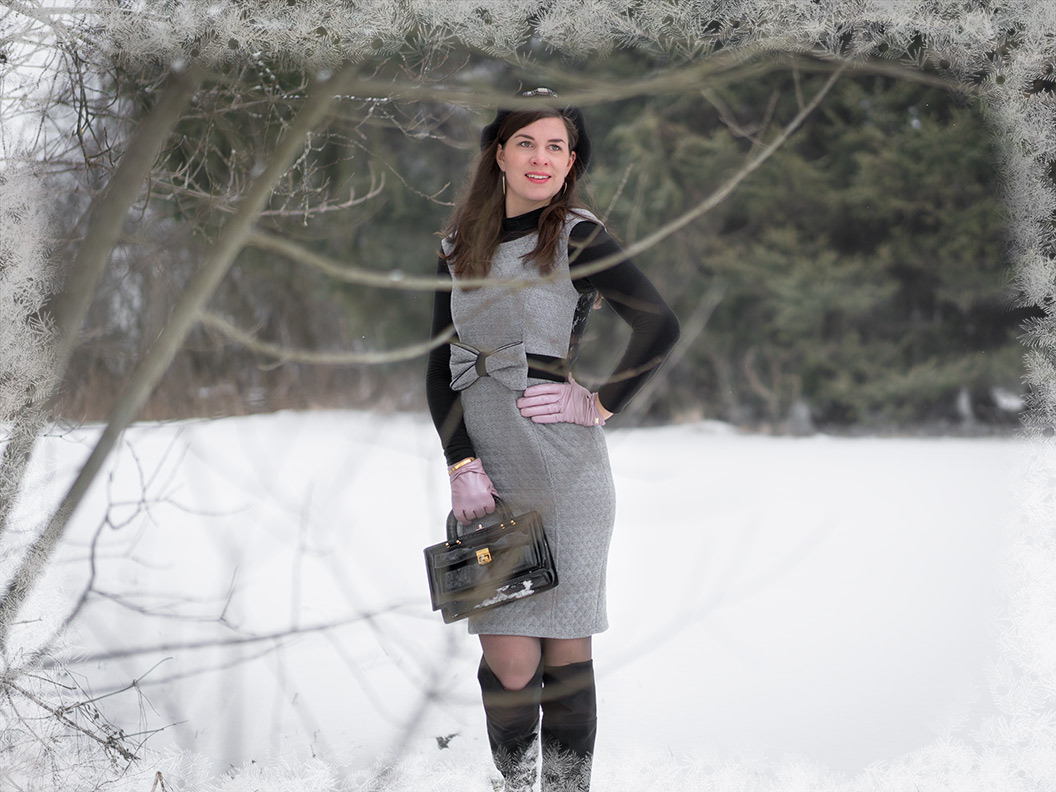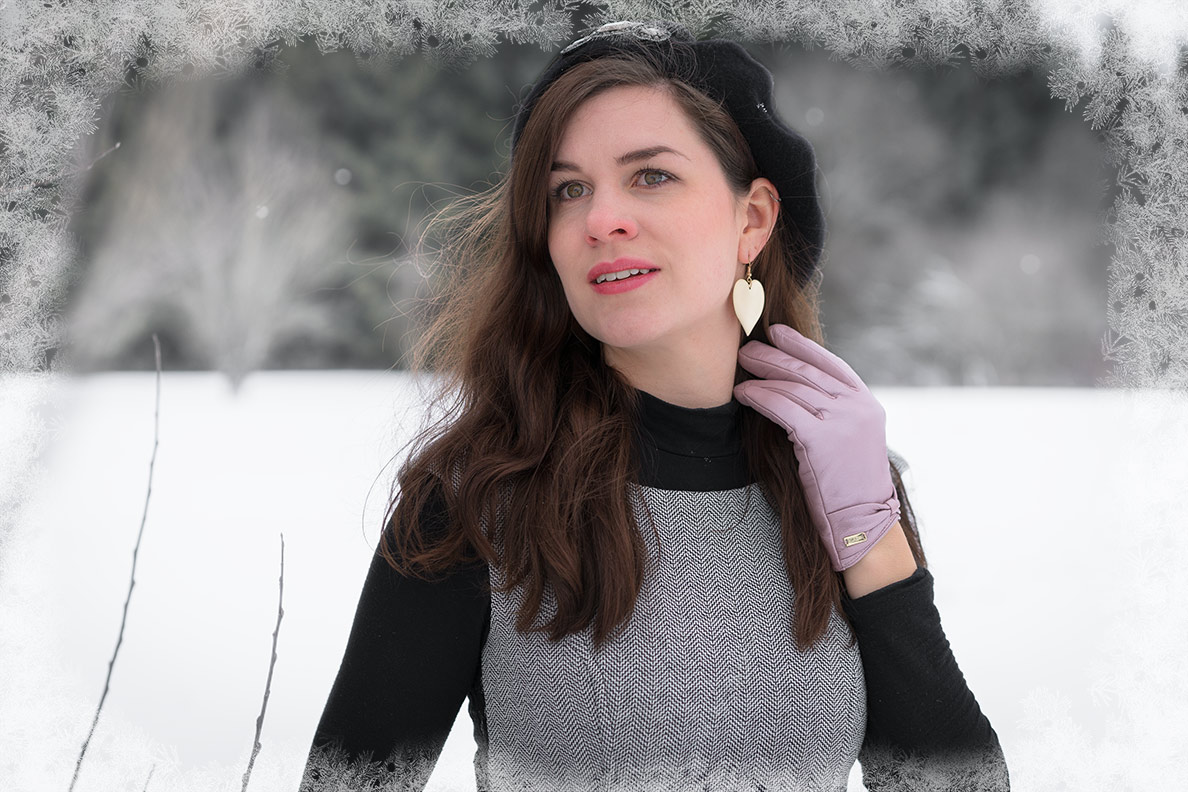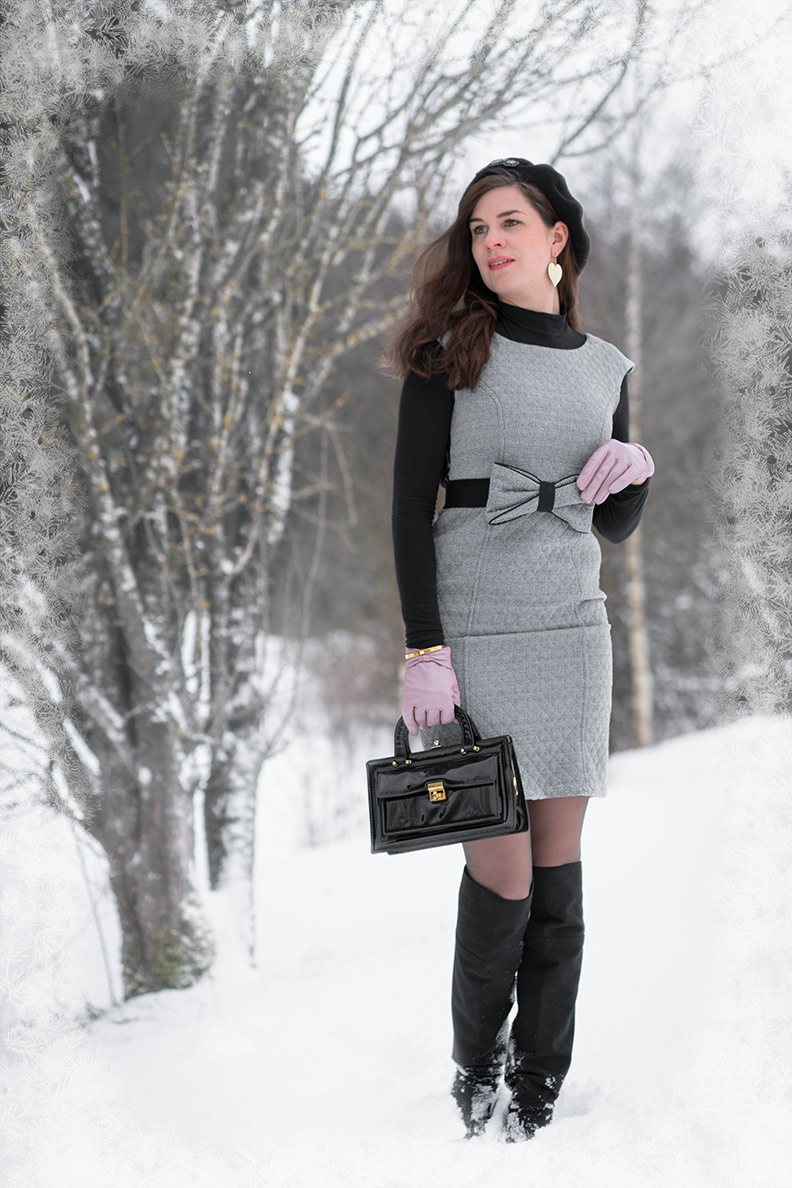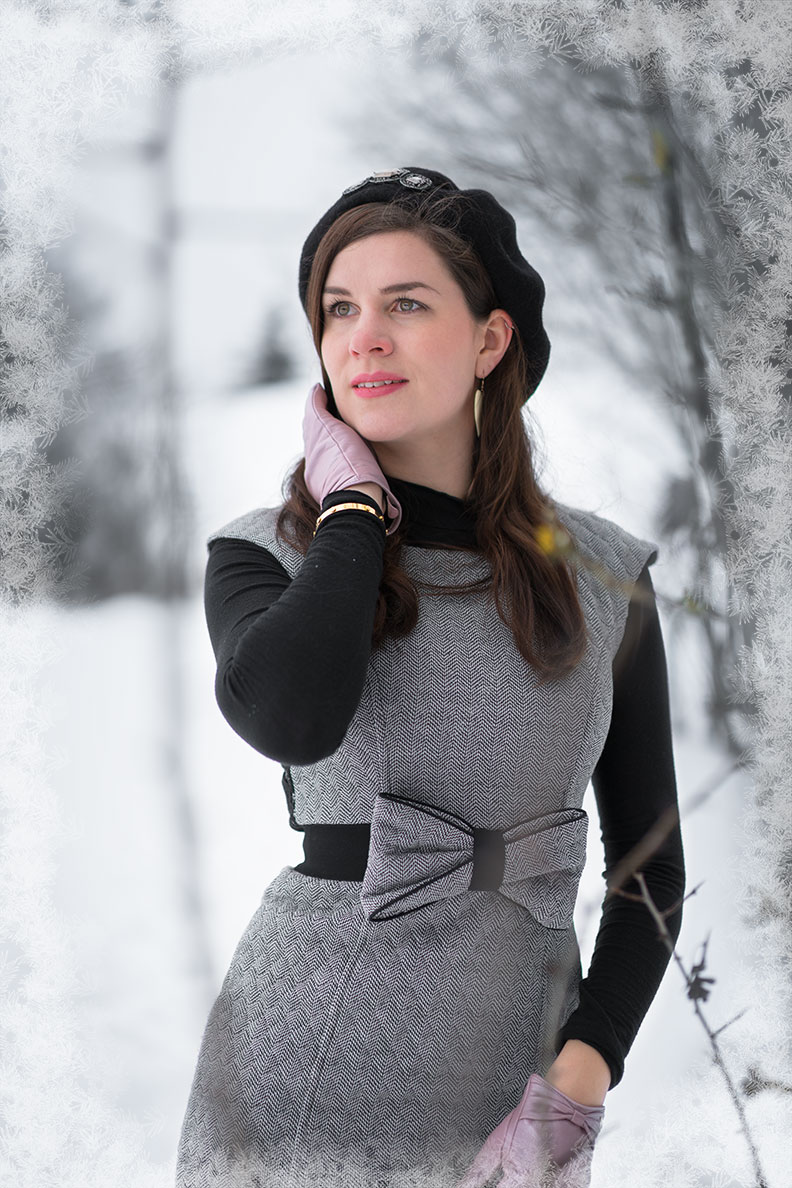 ---
A Winter Look with Over-the-Knee Boots – the Details:
Shift dress: Traffic People, old but similar here
Over-the-Knee Boots: Beyond Skin via Veganista, very similar here
Turtleneck sweater: similar here
Beret: similar here
Gloves: Tommy Hilfiger, sold out
Handbag: Vintage
Earrings: no name