I've always been fascinated with vampires! Those blood-sucking creatures of the night and I even have some things in common: I avoid the sun, have very pale skin, and dislike garlic. On the other side, I don't like blood at all and sleep in a bed instead of a coffin – so don't worry. 😉 Therefore it's no wonder that I fell in love with the vampy Claremont Dress by Hell Bunny the moment I saw it at Blue Banana, an UK online shop.
The Hell Bunny Claremont Dress: A 60s inspired Vampire Dress
The cut of the short black dress with its slightly flared skirt reminds me of the 1960s fashion. It has half-length sleeves with white ends and a super cute Peter Pan collar. Especially the vampire lips embroidery is a sweet and sexy detail.
To match the vampire lips, I wear red pumps by Irregular Choice, a huge vintage clutch, and – of course – a lipstick in the same colour. I found the gorgeous handbag and a matching purse in my grandma's cellar – she really had style. Black vintage leather gloves from the 50s finish the vampy retro look.
As you can see, it's winter and we have lots of snow at the moment so a beautiful coat is a must. The red Fairy Coat by Hell Bunny goes perfectly together with the Claremont Dress and keeps me warm.
To not to freeze on my legs, I wear hold-ups by Wolford. I normally don't like those kind of hoses since they are likely to slip when you are moving a lot, but the ones by Wolford are great and stay in place.
This time, I wear my hair down. To achieve those curls, I used sleep-in rollers and brushed my hair out in the moring. Afterward I pinned the front parts of my hair halfway back and the easy vintage inspired hair style is done.
Blue Banana: An UK Online Shop for retro Fashion
The Hell Bunny Claremont Dress is available at Blue Banana, an online and local shop for alternative fashion from the UK. Beside band shirts, emo clothing and piercings they also offer a wide range of retro fashion from brands like Hell Bunny, Banned Apparel and Voodoo Vixen. This shop is definitely worth a visit!
Blue Banana is based in the UK but offers international shipping for very fair prices.
---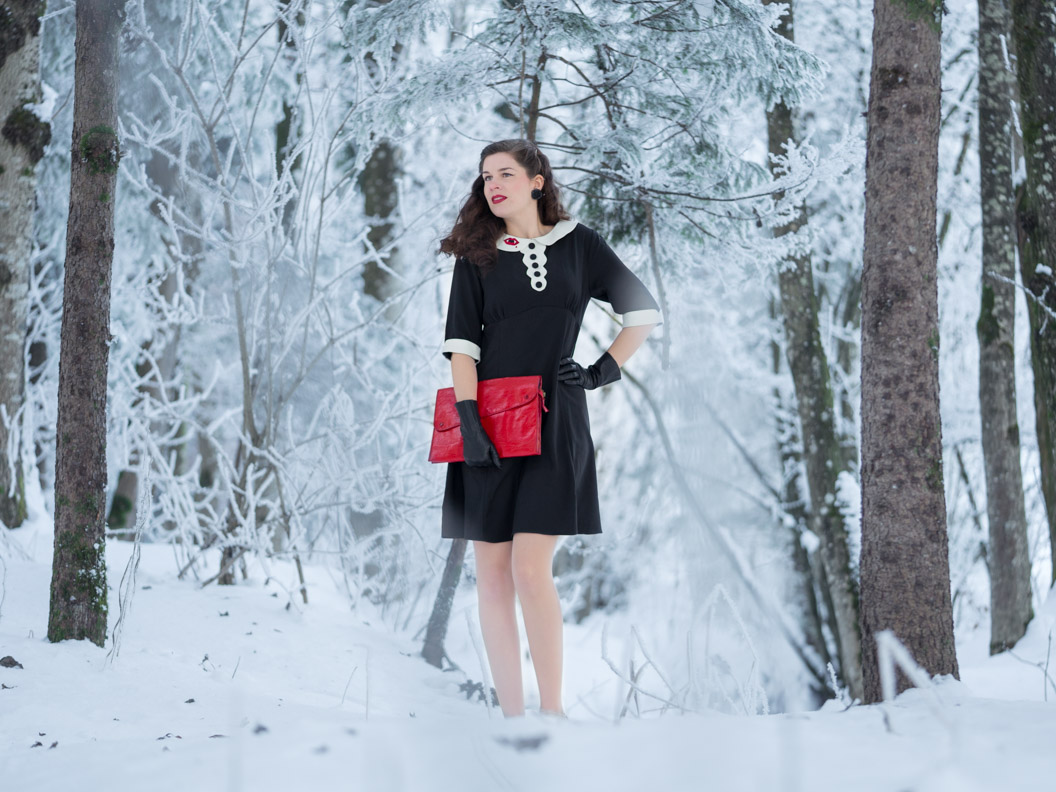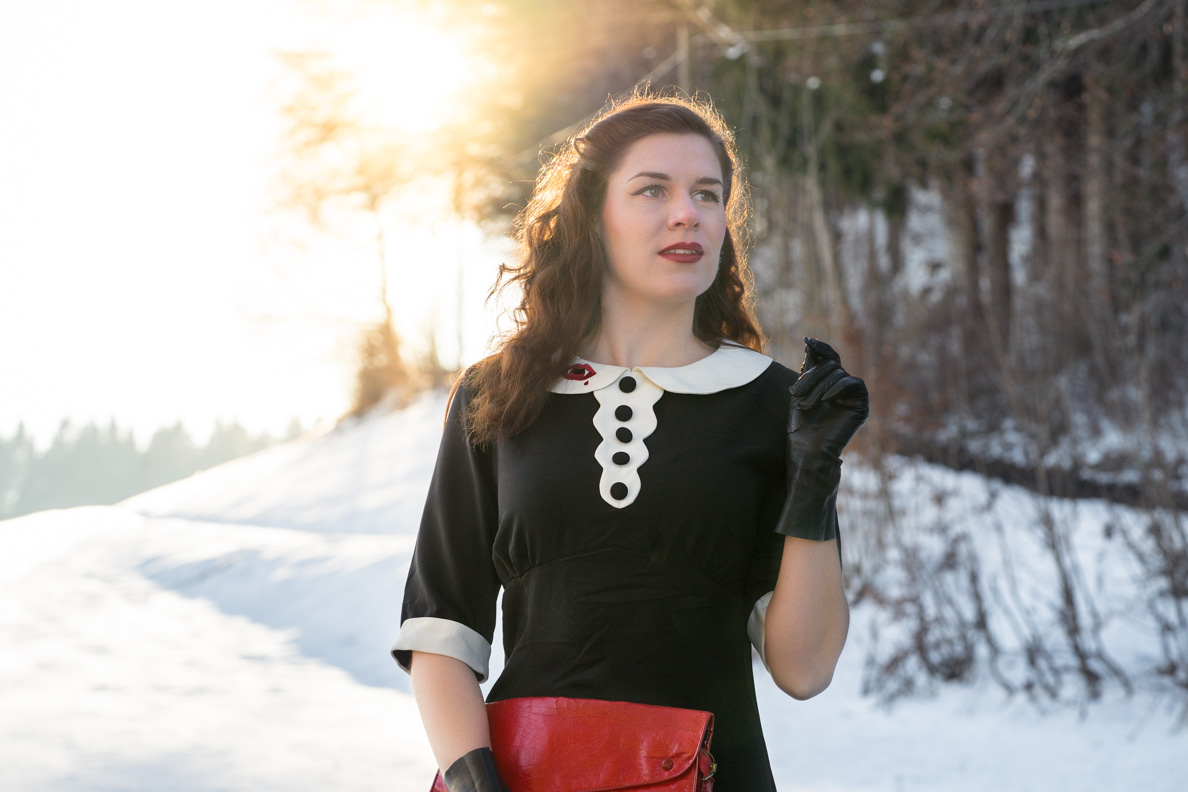 ---
A 60s inspired Vampire Look – the Details:
Claremont Dress: Hell Bunny c/o Blue Banana
Retro coat: Fairy Coat by Hell Bunny (very similar here
)
Pumps: Irregular Choice (similar here
)
Hold-ups: Legwear DE
Earrings: Glitter Paradise
Gloves and handbag: Vintage
Merken