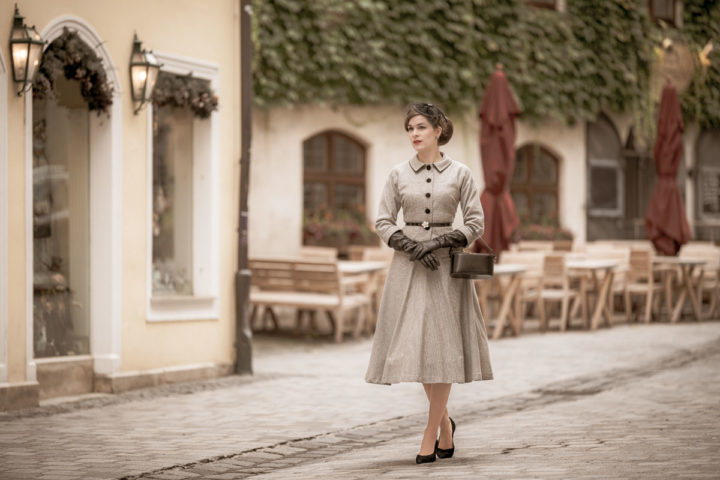 An elegant 1950s Outfit for modern women
This blogpost contains affiliate links (marked with *) and pr samples (marked with c/o)
The outfits worn by the popular mannequins of the 1950s are some of the most elegant ever, I think. I mean, don't you link names like Dovima, Suzy Parker, or Jean Patchett with pure elegance? I definitely do. And their style is not only very glamorous, but also timeless, and looks just as beautiful today as it did back then. In this blogpost, I'm going to show you how to create such an elegant 50s look in some easy steps, and tell you how to adjust it to modern life. You don't even need the same garments as I'm wearing.
The Basics: What to keep in Mind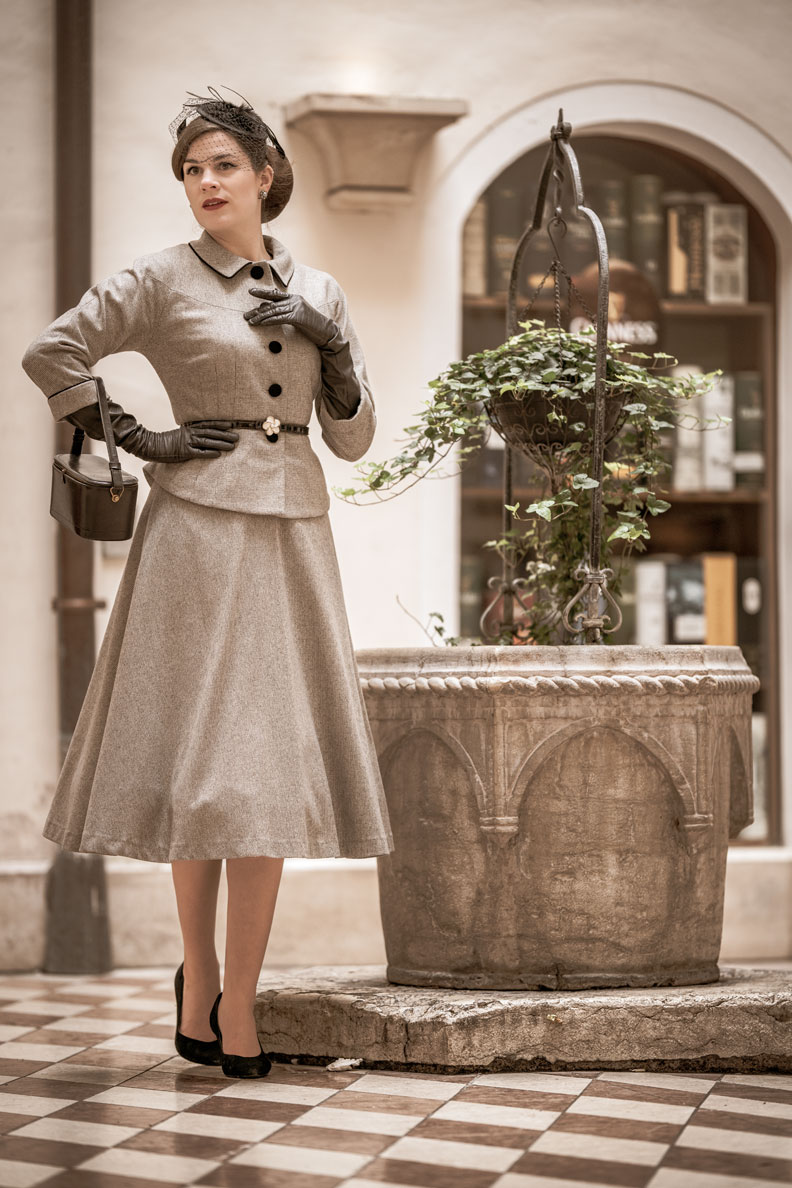 A real lady of the 50s would have never worn garments that don't fit perfectly or aren't in perfect condition. Therefore, before we start with creating our elegant 1950s outfit a few things to keep in mind: only choose garments/accessories that actually fit and are in perfect condition. I, for example, bring outfits to a tailor or seamstress to get them altered, if they don't really fit, and bring my shoes to a shoemaker as soon as they aren't in perfect condition anymore.
How to create an elegant 1950s Outfit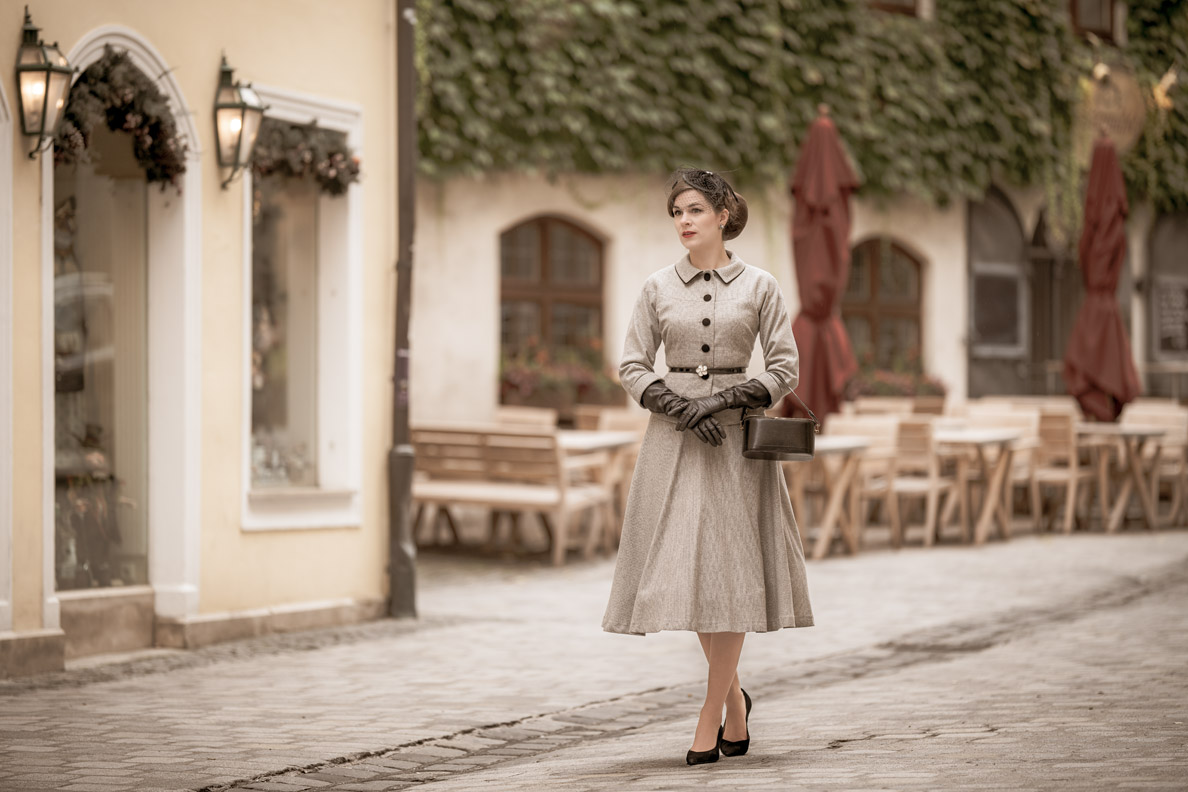 As we know the basics now, let's start with our outfit. Of course the fashion of the 1950s was diverse and not every woman wore the same outfit. However, when we think of the elegance of the 1950s, we usually have the style of Dior's New Look in mind. So for my outfit, I also got inspired by the New Look. And now, I finally tell you how to create an elegant 50s outfit step by step. I personally chose timeless, high-quality garments that fit perfectly and will still look great in ten years. Plus: The different garments can be teamed with different outfits and can be worn on many different occasions.
---
A 50s inspired Outfit – the Details:
Skirt: Ginger Jackie, similar here*
Jacket: Ginger Jackie, ähnliche here*
Gloves: Vintage, similar here*
Belt: ähnlicher here*
Stockings: c/o Secrets in Lace
Hat: Vintage, similar here*
Earrings: Vintage, similar here*
Shoes: Peter Kaiser*
Handbag: Vintage, similar here*
---
Step 1: The Lingerie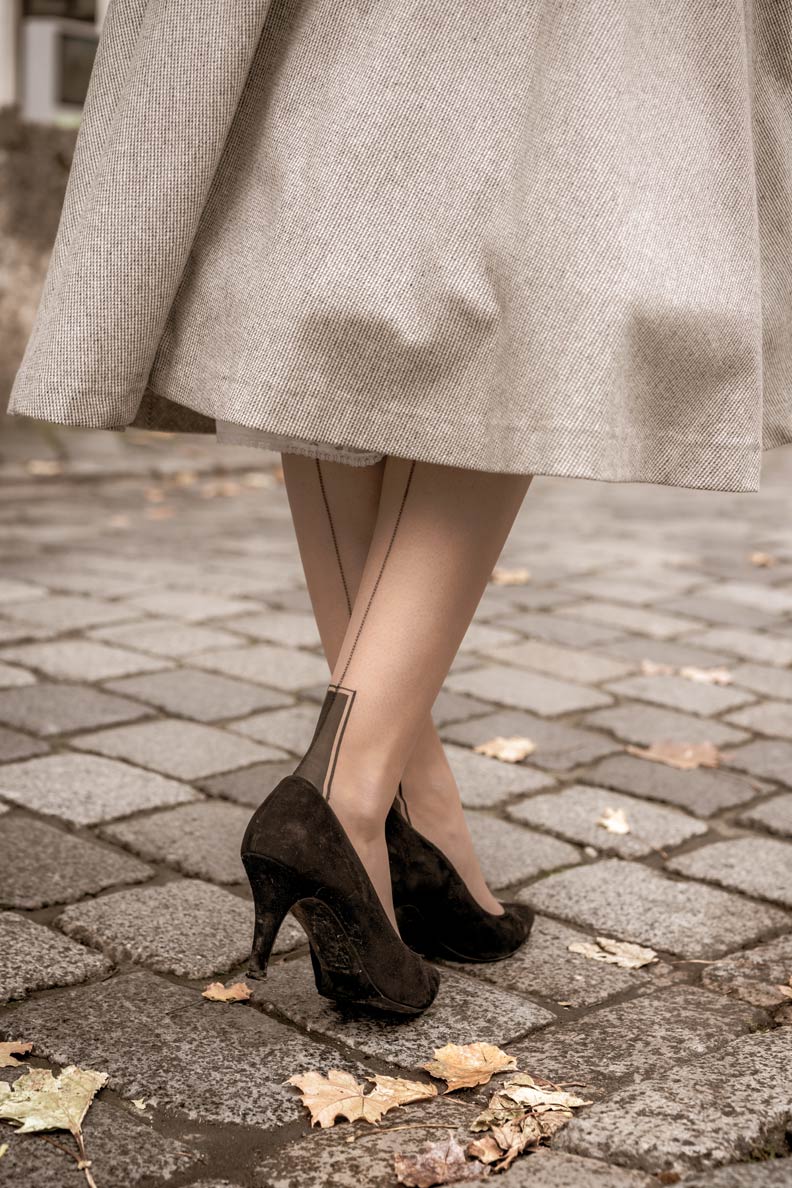 Let's start with something we usually also start dressing ourselves with: Lingerie! The popular mannequins of the 1950s usually had a very tiny waist and an hourglass-silhouette. But don't worry, even the models from back then knew shapewear and many of them created their silhouette with the help of corsets, waist chinchers, and so on. Of course, you don't have to wear shapewear if you don't want to. I personally like to wear such underwear every now and then, though. For this look, I teamed the Sophisticated Longline Bra by Secrets in Lace with the Sophisticated Garter Belt, for example. This also helps me with my posture, by the way.
Petticoats were another big thing in the 1950s. The voluminous ones are able to give the a-line and circle skirts their shape. Slimmer ones made of silk or satin, on the other side, can also be worn underneath pencil skirts, to prevent them from "sticking" to the leg.
Back in the 50s, it was absolutely normal wear seamed stockings. For my look, I went for the Anya Outline Heel Stockings by Secrets in Lace. If you don't feel comfortable in nylon stocking, I recommend this blogpost. And if this doesn't help: Of course you can also simply wear tights. 😉
[ap_divider color="#CCCCCC" style="dotted" thickness="1px" width="100%" mar_top="20px" mar_bot="20px"]
*Affiliate links

---
Step 2: Elegant Clothing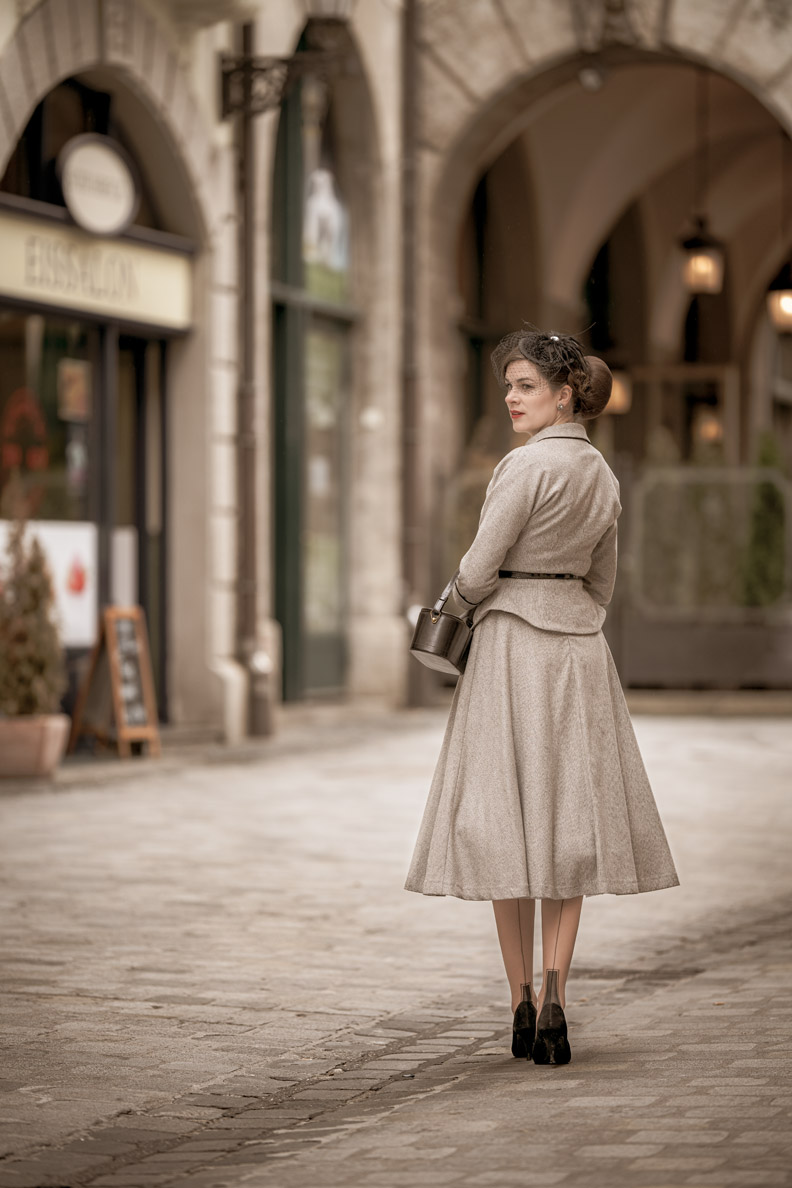 To create a very elegant outfit, I recommend an ensemble consisting of a skirt or dress in midi-length with a matching jacket. What kind of skirt – a-line skirt or pencil skirt – by the way, is completely up to you. In the 1950s, both styles were fashionable. Such an ensemble is a real all-rounder and can worn on many different occasions. If you team it with a huge handbag and only some subtle accessories, it is perfect for the office. Worn with fancy accessories and a hat, it look great in the evening. Furthermore, you can wear the jacket with different skirts and even trousers. And the skirt or dress looks more casual when worn without the jacket. As you can see, such an ensemble is very versatile.
My ensemble is by Ginger Jackie and a real homage to the Dior New Look! The peplum jackets looks absolutely gorgeous, the skirt has the perfect length and of course, the quality is amazing. And although this is a 50s reproduction, the ensemble looks very timeless.
What to keep in Mind when buying a 1950s Ensemble:
You don't need the exact ensemble as I have to create an elegant 1950s look. But if you want to invest in one, I definitely recommend to go for a high-quality one that may be a bit more expensive, but was made to last a lifetime.
A more budget friendly alternative to a complete ensemble is a vintage inspried blazer that can be worn with many different kind of skirts and trousers. You will find some pretty blazers that don't cost a fortune at TopVintage*, for example.
But no matter for which alternative you go: I always recommend to invest in timeless pieces with neutral colours like black, grey, or navy blue.
---
Step 3: The Hat
In the 1950s, both, men and women usually wore hats on a regular base. Nowadays, however, they are no longer an essential part of an outfit. Quite sad, isn't it? Especially as a hat literally crowns an outfit. For an elegant 50s look, you can choose from a variety of different styles. May it be an elegant pillbox hat, a cute half hat*, or an extraordinary beautiful huge New Look inspired hat*. And if you want to wear something very special, go for a cute little cocktail hat*, or a fancy fascinator. PS: In this blogpost, I show you the most beautiful hats for autumn and winter and tell you, how to style them.
Of course, you can also skip the hat for more casual occasions or the office. 😉
[ap_divider color="#CCCCCC" style="dotted" thickness="1px" width="100%" mar_top="20px" mar_bot="20px"]
Chic vintage inspired Hats:
*Affiliate links

---
Step 4: The Gloves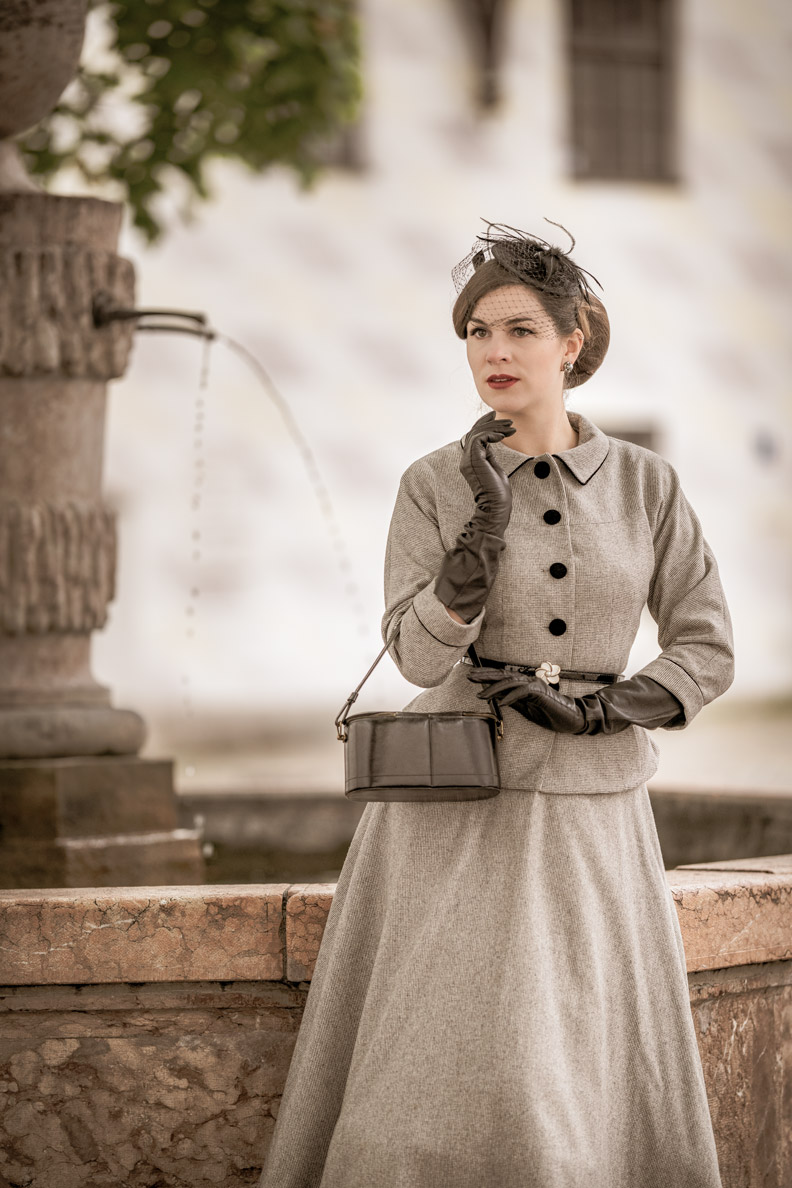 Gloves are another neglected accessory of our modern times. We usually only wear them during the cold season or for practical purposes. Such a shame, as delicate cotton, nylon, or lace gloves can easily be worn on warm days as well! They make every outfit immediately more elegant and are a wonderful way a to add a little bit of colour to subtle outfits (find an exemple here). During autumn and winter, I like to wear vintage leather gloves. As the sleeves of my jacket only have a 3/4 length, I chose long vintage gloves to keep me warm. I recommend to look in vintage stores for long leather gloves, as they are not very common nowadays and can be quite expensive.
[ap_divider color="#CCCCCC" style="dotted" thickness="1px" width="100%" mar_top="20px" mar_bot="20px"]
*Affiliate links

---
Step 5: Shoes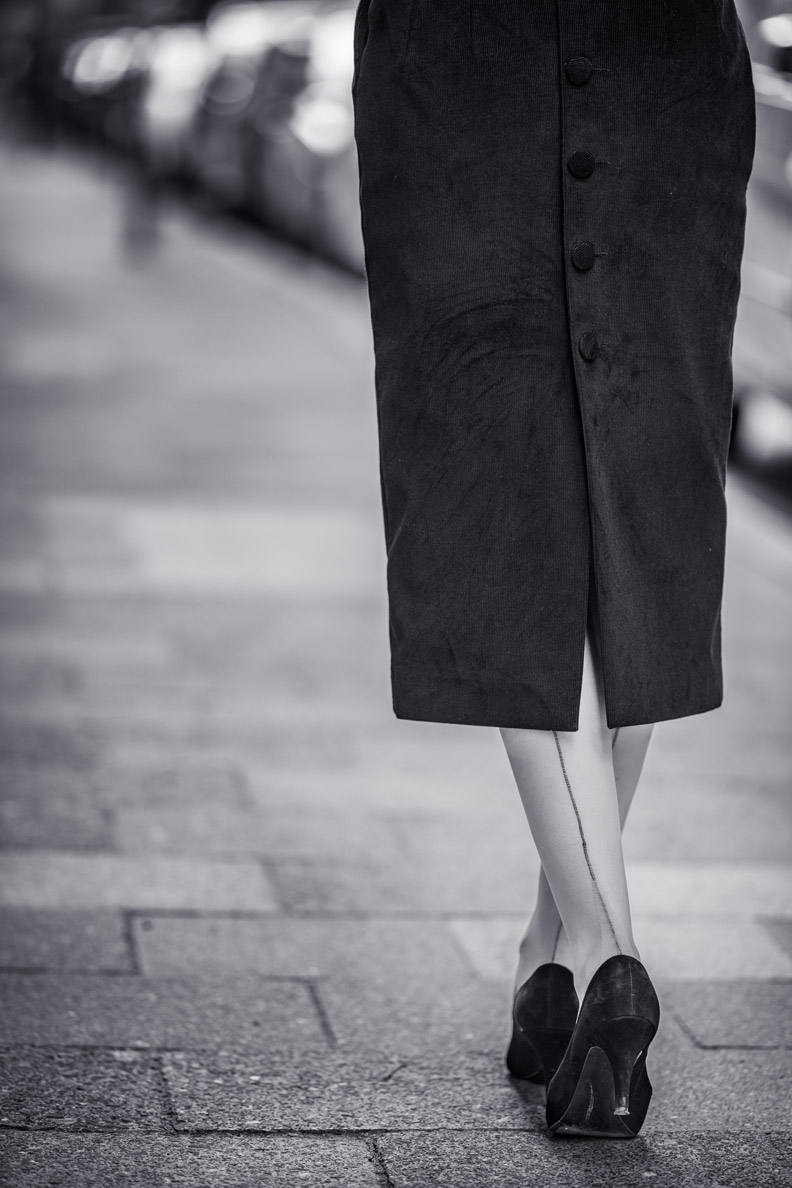 The mannequins in old fashion photos wear chic pumps, most of the time. The heels usually never were really high, though. Of course you can wear real high heels, if you want to add a modern touch to your 50s inspired outfit. However, I personally prefer half-height heels. They look great, but are definitely more comfortable, especially if you have to spend a whole day in them.
A pair of chic, black pumps is an all-rounder and definitely worth to spend some money on. Mine, for example, are by Peter Kaiser* and definitely more comfortable than they might look. And if you take good care of your shoes, they can be your companion for many years.
[ap_divider color="#CCCCCC" style="dotted" thickness="1px" width="100%" mar_top="20px" mar_bot="20px"]
*Affiliate links

---
Step 6: The Handbag
Let's talk about handbags. Back in time, handbags usually were a bit smaller than nowadays, which actually is no wonder, as laptops, tablets, and huge smartphones weren't invented back then, as we all know. If you want to wear your elegant 50s inspired outfit to the office, of course you can team it with a modern large bag. I recommend to invest in a beautiful, high-quality handbag that is easy to combine and looks elegant. One of my favourite handbags is a tote bag by Furla*, but I also own one that was a bit more affordable, which I bought at TopVintage*.
If I'm going to a café with friends, or going to spend an evening with my love, I like to team my retro outfits with true vintage handbags. Those are unique, look super pretty, and definitely finish every 50s inspired retro look.
[ap_divider color="#CCCCCC" style="dotted" thickness="1px" width="100%" mar_top="20px" mar_bot="20px"]
*Affiliate links

---
Step 7: Accessories & Jewellery
By now, our elegant 50s outfit is almost finished. I just like to add some lovely accessories, like a thin belt and a muff for cold winter days, for example. Those pieces make your outfit really special and definitely add that certain something.
When it comes to jewellery, I like to wear some pearls, small sparkly stones, an elegant watch, often a brooch, and maybe a ring. For daytime, I definitely believe in less is more, though. In the evening, I also wear sparkly necklaces with matching earrings and bracelets.
[ap_divider color="#CCCCCC" style="dotted" thickness="1px" width="100%" mar_top="20px" mar_bot="20px"]
*Affiliate links

---