This blog contains affiliate links (marked with *). If you shop products via those links, I may get a small provision which helps me to maintain my blog. Of course the price doesn't change. Items marked with c/o were given to me as free test samples.
An eerie last-minute Halloween outfit (without having to buy a specific costume)
Flickering candles, apple-cinnamon tea, a spooky series (I recommend Penny Dreadful, available on Netrflix), and some sweets: This is exactly how a perfect Halloween looks for me. Maybe I should mention that Halloween wasn't a big thing in Germany until the last few years. Lately, however, I noticed a lot of Halloween parties, decoration, and costumes. And although I'm not so into Halloween parties, I actually like a good spooky look and to dress up for this occasion once a year. I usually stay at home on this particular day, though.
But what if you planned to spend Halloween at home and then get a last-minute invitation to a spooky party? Buying a costume isn't an option for me, in such a case. I don't like to waste money on something I only can wear once a year or maybe even never again. So in this blogpost, I show you how to create an eerie last-minute Halloween outfit with garments you most likely already have, and if not, I name some alternatives and have linked some great options for you.
How to create an eerie last-minute Halloween Outfit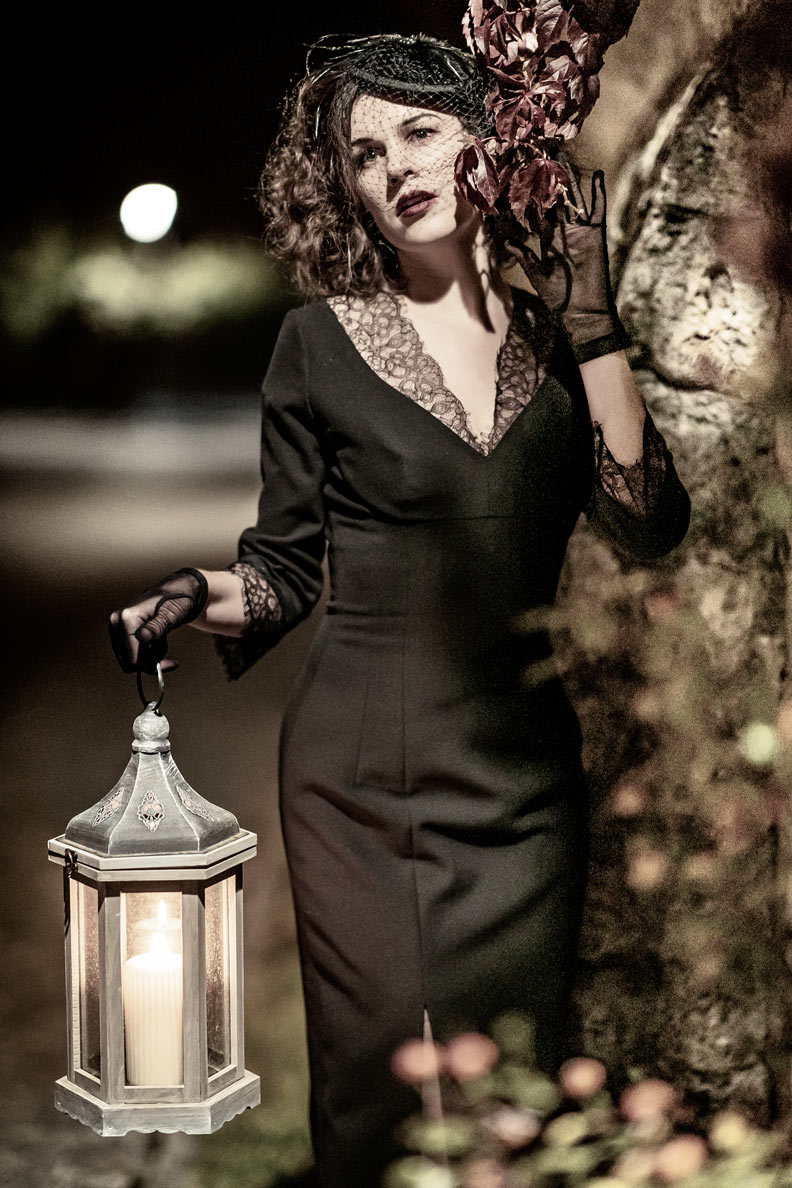 Before we start with our actual outfit, it makes sense to have a look at your closet and take inventory of what is inside. Do you have a black dress with lace details? Perfect! Dark red or lilac shades work as well, by the way. And when it comes to accessories: Look for spooky spider/cat/bat earrings, dark flower crowns, and fancy fascinators with veils. And now, as we have an overview, we can finally start with creating our last-minute Halloween outfit.
---
Last-Minute Halloween-Outfit – The Details:
Dress: Ginger Jackie, similar here*
Stockings: c/o Secrets in Lace
Spider earrings: c/o LaliBlue*
Gloves: Secrets in Lace
Fascinator: Vintage, similar here*
Shoes: very similar here*
Latern: similar here*
---
Last-Minute Halloween Outfit Step 1: An eerie Base
First of all, we need an eerily solid base. In my case, this is a little black dress with lace details by Ginger Jackie. Your dress doesn't have to be fitted, by the way. A flared skirt works as well. An alternative for everyone who is not so into dresses is a jumpuit. Lace or tulle details are great, but not a must. What also looks great: White Peter Pan collars, buttons, velvet, and big bows. Your outfit doesn't even have to be black, by the way. As mentioned before, a dark red or lilac works as well. Another good idea: vertical stripes à la Beetlejuice. 😉
*Affiliate links

---
Step 2: Dark Tights/Stockings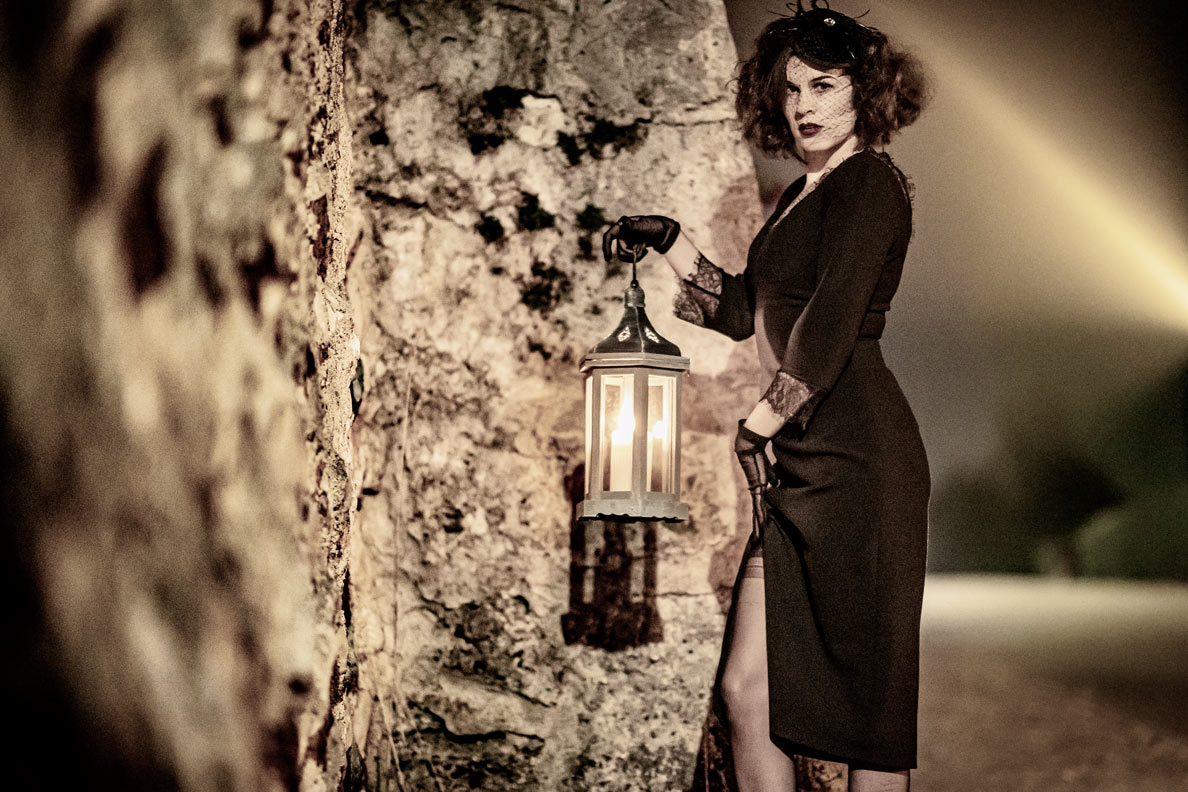 If you chose a jumpsuit as a base of your Halloween look, just skip this point. But if you went for a dress, let's search for some dark tights or stockings. The following legwear is perfect to compliment your Halloween outfit:
Black stockings with seams
Black fishnet tights
Lace tights
Blood-red tights
You can also wear your damaged tights/stockings with ladders on Halloween.
*Affiliate links

---
Step 3: Eerie Hair Accessories
Until now, our outfit might be a bit sinister, but is definitely not Halloween-ready, yet. This is why we now add some crazy hair accessories. I chose a fascinator with a veil and feathers, which I bought for just a few euros at a flea market a few years ago. If you don't have a fascinator with veils and other details, you can either buy one here*, or you try to do one by yourself with the help of glue, veils, feathers, and tulle. Dark flower crowns, or turbans work perfectly as well. And for everyone who doesn't want to wear a fascinator, I recommend a mask for the eyes. 😉
*Affiliate links

---
Step 4: Spooky Accessories & Shoes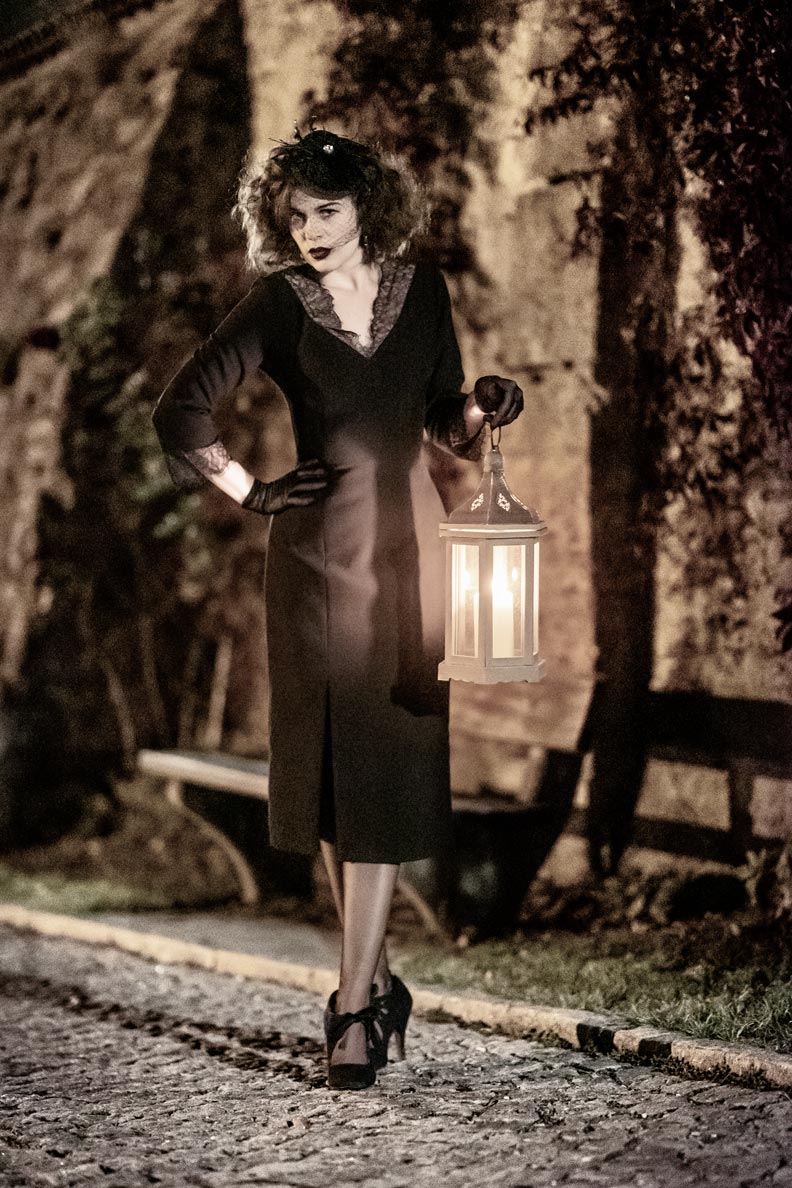 Beside a fascinator with a veil, adding some more spooky accessories definitely makes sense. I, for example, went for black nylon gloves. Lace gloves, of course, are a great choice as well.
When it comes to shoes, I recommend black or dark red ones. Lace-up pumps or boots are perfect, but plain pumps are fine as well.
*Affiliate links

---
Step 5: Halloween Jewellery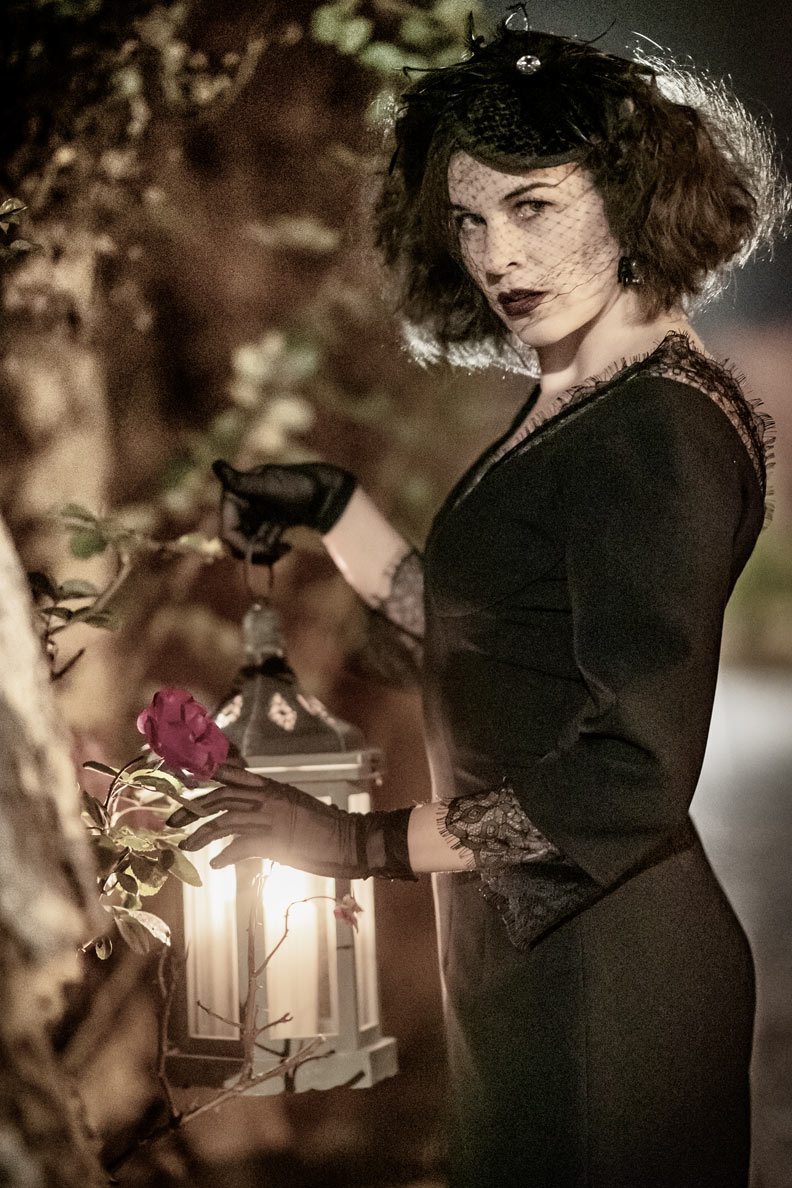 Jewellery is always a good idea. But for Halloween, we need some special pieces. I'm, for example, wearing spider earrings by LaliBlue*, which I already showed you here. Glitter Paradise*  offers some spooky Halloween jewellery as well. Beside spider, bats, or cats, black roses are great for Halloween as well. And if you can't find anything suitable in your jewellery box, just go for something fancy and sparkly.
*Affiliate links

---
Last-Minute Halloween Outfit: Hair and Makeup
Our outfit is finished but maybe isn't as eerie and spooky as we wished. In this case, hair and makeup really helps to create the Halloween look. And you don't even need some fancy products!
An easy Halloween Hairstyle
Wild hair that looks a bit like you put your finger in the socket (never do that, by the way), is perfect for Halloween. For my hairstyle, I used sleep-in rollers* over night and brushed my hair in the moring. And afterward, just backcomb, backcomb, backcomb, and use a ton of hairspray so everything stays in place. And now, just add your fascinator or flower crown – that's it!
If you have more time, you can also try to create finger waves. This hairstyle is definitely suitable for Halloween, but also is a bit tricky.
*Affiliate links
---
An easy Halloween Makeup
Theatre makeup might be great for Halloween, but I guess most of us don't own such products. So for my Halloween makeup, I simply used produtcs I already had.
Easy Halloween Makeup: Foundation & Contouring
I start with a foundation that has a good coverage and use lots of bright powder afterwards.
And now comes the fun part: Contouring! I used some dark contouring powder underneath my cheekbones, on the sides of my nose, on my temples, and the sides of my chin. You don't even have to blend the contouring product, this time. 😉
Afterwards, I use some red blush on my cheeks and apply a little bit of highlighter.
Easy Halloween Makeup: Eyes & Lips
As always, I start my eye-makeup with applying an eyeshadow primer. Then, I use some red eyeshadow for my upper and lower lid. If you don't have a red eyeshadow, you can also use blush or lipstick to create this look. I use a dark brown eyeshadow for my crease and as an eyeliner and then, apply a lot of mascara on my upper and lower eyelashes. You can also use false lashes, if you like, but you don't have to.
For my eyebrows, I use a very dark powder and overdraw my natural eyebrows at the end.
Last but not least: The lips. I apply a very dark red one, the shade "Vampira" by Kat von D. If you don't have a dark red lipstick, you can also line your lips with a black kohl and fill them with a classy red lipstick – looks super cool as well. 😉
*Affiliate links
---
And this is my last-minute Halloween outfit! What are your plans for the 31st of October? Are you team Halloween part or team couch?