An eerie last-minute Halloween outfit (without having to buy a specific costume)
This blogpost contains affiliate links (marked with *) and pr samples (marked with c/o)
Flickering candles, apple-cinnamon tea, a spooky series (I recommend Penny Dreadful, available on Netrflix), and some sweets: This is exactly how a perfect Halloween looks for me. Maybe I should mention that Halloween wasn't a big thing in Germany until the last few years. Lately, however, I noticed a lot of Halloween parties, decoration, and costumes. And although I'm not so into Halloween parties, I actually like a good spooky look and to dress up for this occasion once a year. I usually stay at home on this particular day, though.
But what if you planned to spend Halloween at home and then get a last-minute invitation to a spooky party? Buying a costume isn't an option for me, in such a case. I don't like to waste money on something I only can wear once a year or maybe even never again. So in this blogpost, I show you how to create an eerie last-minute Halloween outfit with garments you most likely already have, and if not, I name some alternatives and have linked some great options for you.
How to create an eerie last-minute Halloween Outfit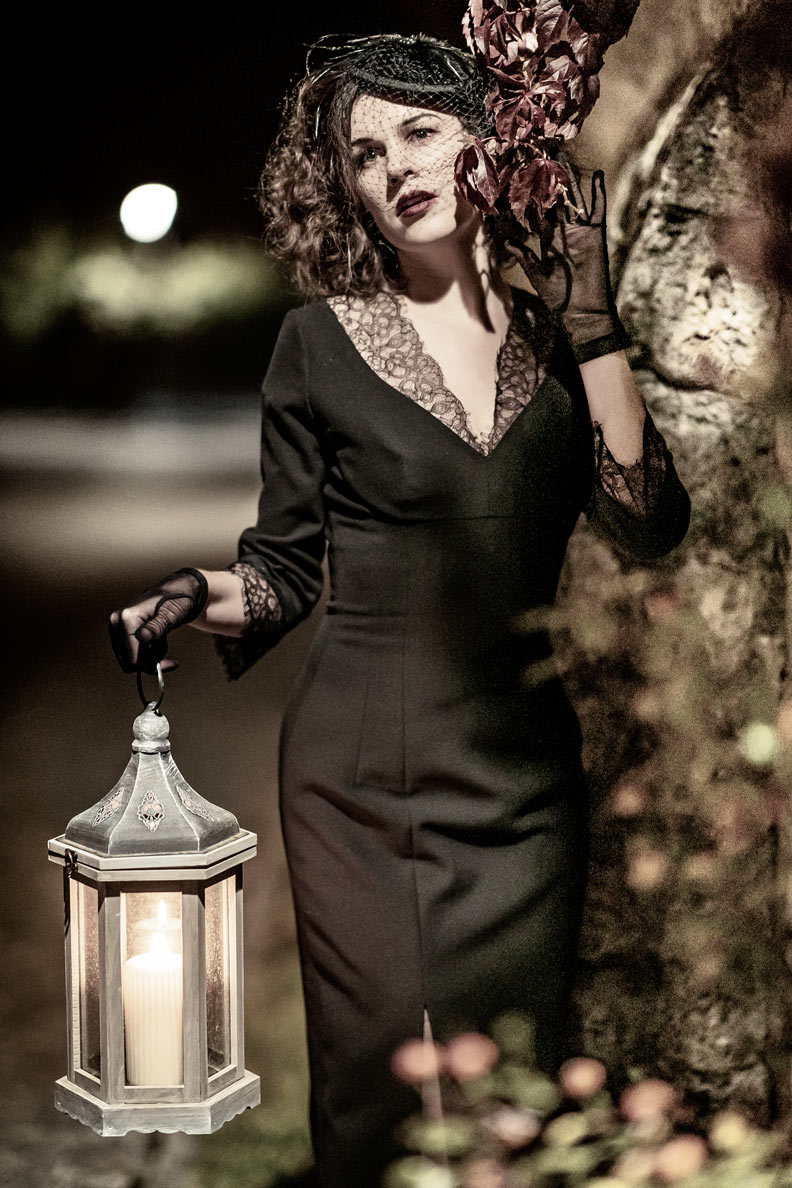 Before we start with our actual outfit, it makes sense to have a look at your closet and take inventory of what is inside. Do you have a black dress with lace details? Perfect! Dark red or lilac shades work as well, by the way. And when it comes to accessories: Look for spooky spider/cat/bat earrings, dark flower crowns, and fancy fascinators with veils. And now, as we have an overview, we can finally start with creating our last-minute Halloween outfit.
---
Last-Minute Halloween-Outfit – The Details:
Dress: Ginger Jackie, similar here*
Stockings: c/o Secrets in Lace
Spider earrings: c/o LaliBlue*
Gloves: Secrets in Lace
Fascinator: Vintage, similar here*
Shoes: very similar here*
Latern: similar here*
---
Last-Minute Halloween Outfit Step 1: An eerie Base
First of all, we need an eerily solid base. In my case, this is a little black dress with lace details by Ginger Jackie. Your dress doesn't have to be fitted, by the way. A flared skirt works as well. An alternative for everyone who is not so into dresses is a jumpuit. Lace or tulle details are great, but not a must. What also looks great: White Peter Pan collars, buttons, velvet, and big bows. Your outfit doesn't even have to be black, by the way. As mentioned before, a dark red or lilac works as well. Another good idea: vertical stripes à la Beetlejuice. 😉
*Affiliate links

---
Step 2: Dark Tights/Stockings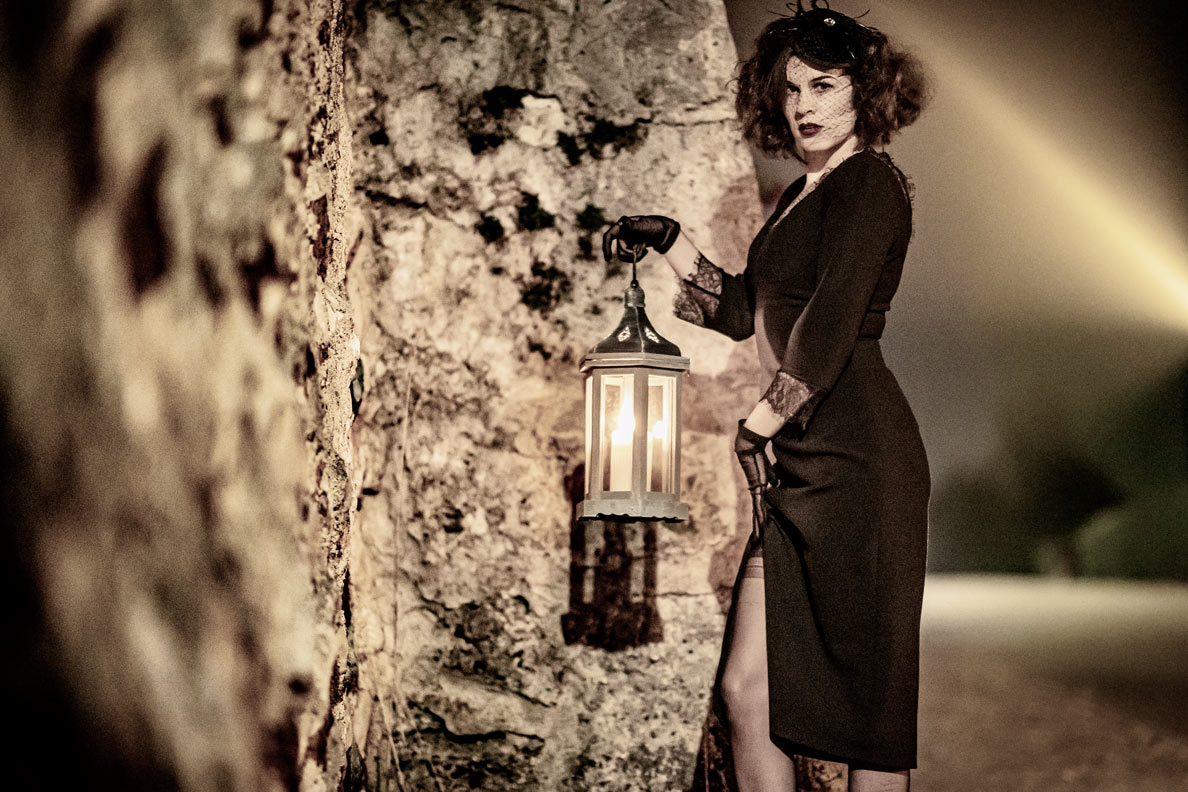 If you chose a jumpsuit as a base of your Halloween look, just skip this point. But if you went for a dress, let's search for some dark tights or stockings. The following legwear is perfect to compliment your Halloween outfit:
Black stockings with seams
Black fishnet tights
Lace tights
Blood-red tights
You can also wear your damaged tights/stockings with ladders on Halloween.