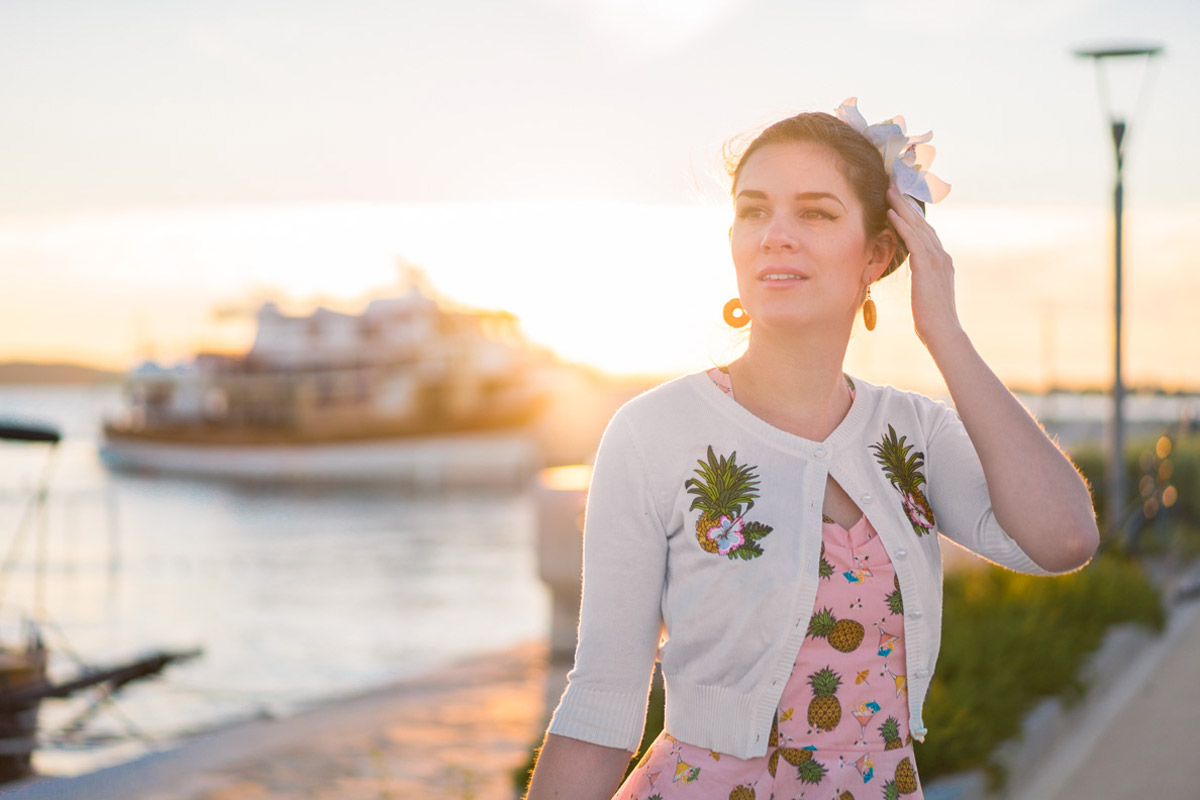 This blogpost contains affiliate links (marked with *). If you shop products via those links, I may get a small provision which helps me to maintain my blog. Of course the price doesn't change for you.
How to wear and style pineapple print
On July 5th in 2015, my very first blogpost went online on RetroCat.de: It was about a pink retro dress with pineapple print. 🙂 Since then, 1,217 more blogposts were published and I still love blogging as much as I did back then. My photos got sharper, and my blogdesign more modern. My style, though, remained almost the same. It maybe got a bit more grown up, but I still enjoy wearing retro dresses and circle skirts. And so I even still own the dress from my first blogpost. At the beginning of the year, I tought about selling it, but in the end, I decided it is a keeper. I no longer wear it in everyday life, but the pink pineapple dress is still faithful companion for my summer vacation. And since I love pineapple print that much, I decided my birthday blogpost should be about exactly this print.
Two Photos from my first Blogpost on RetroCat.de
A little funfact: I think pineapples look absolutely amazing! But I don't like to eat them, they simply do not tast, in my opinion – at least as long as they are not part of a cocktail. 😉
Inspiration: A Pineapple
Affiliate links
---
Cheeky retro Dresses with Pinapple Print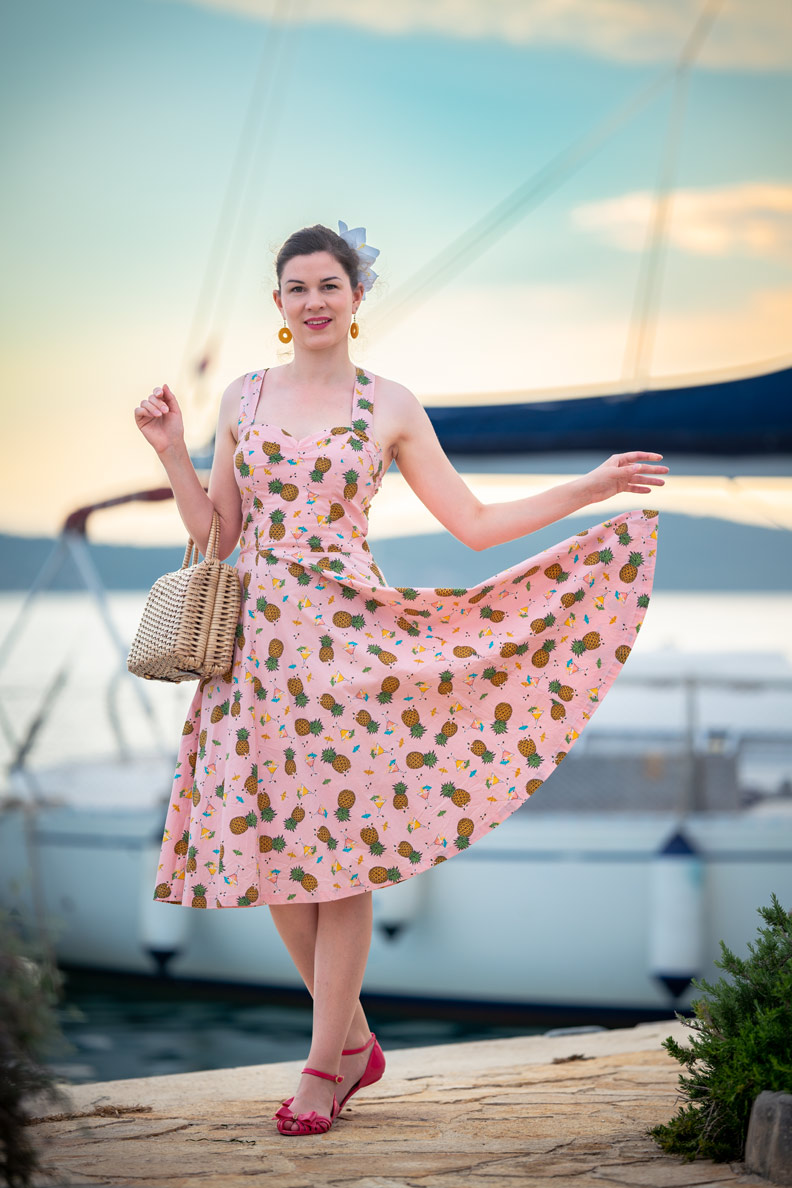 Pineapple prints look especially great during summer. As I already mentioned, I like to wear this pattern during vacation time. And you know what: It not only makes me smile, but also other people. 😉 My retro dress is by Banned*, by the way, and still available in some sizes. But I also found some pretty alternatives:
*Affiliate links

---
What to wear with Pineapple Dresses
Pineapple dresses often look very cheerful and cheeky, so I think the accessories can be a bit more fancy as well.
Matching Cardigans for your Pineapple Dress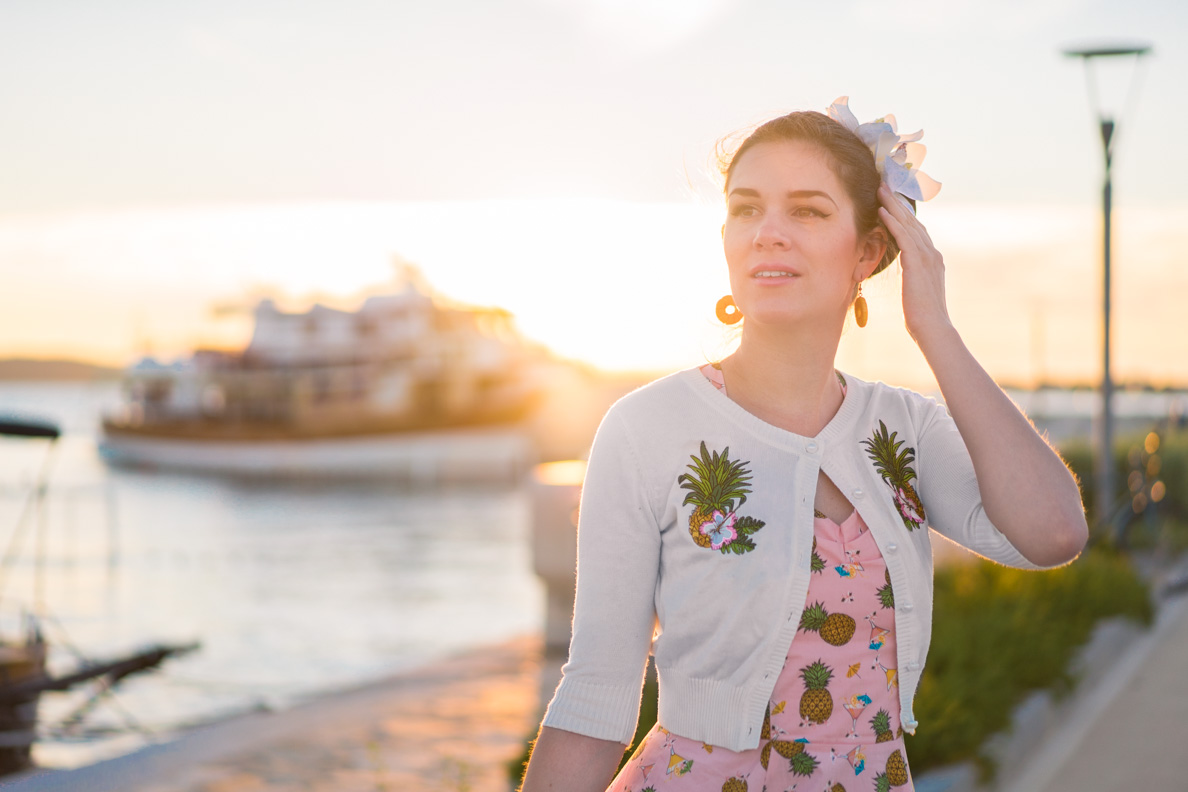 Even in summer it can get a bit chilly outside, especially during the evening. So I usually take a lovely cardigan with me. And to match my dress, I absolutely adore a short white cardie with pineapple decorations*. If you think this maybe is a bit too much, you can also wear a more subtle one, of course. 😉
*Affiliate links

---
Pineapple Earrings to wear with your retro Dress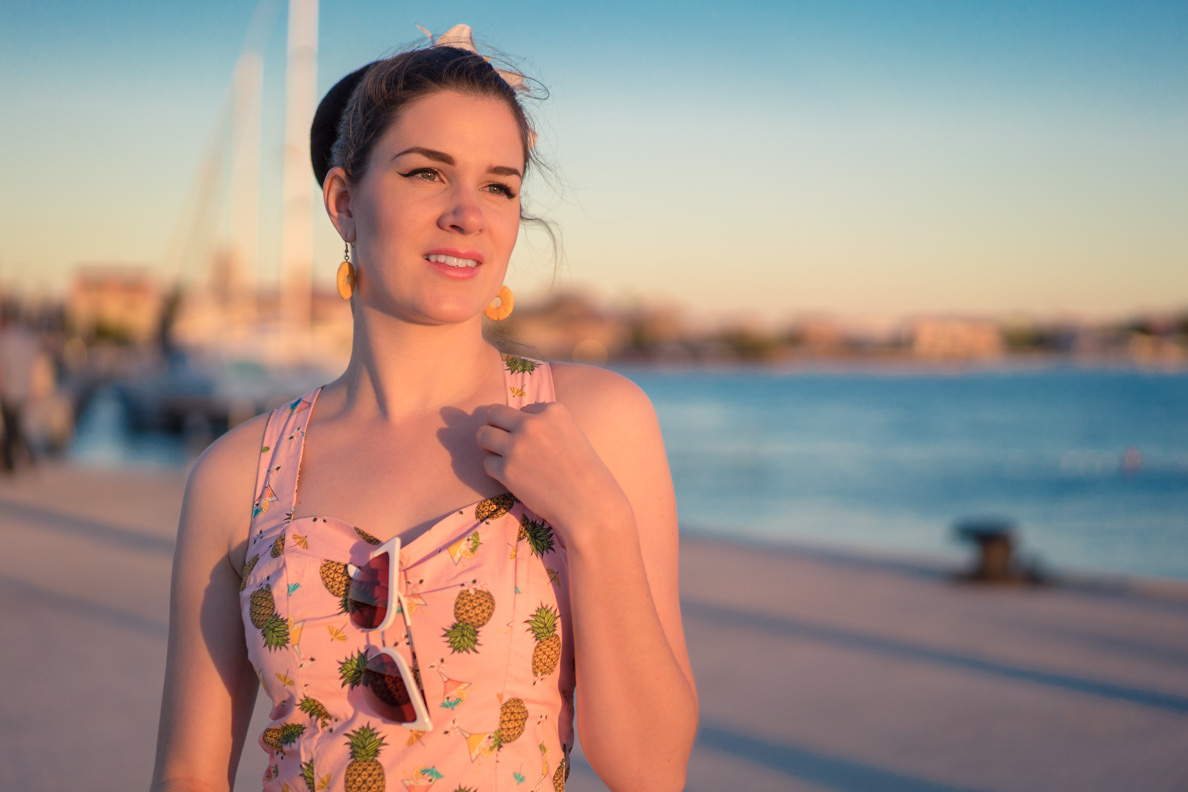 What could be a better accessory to wear with a pineapple dress than pineapple earrings*? This might not be your first choice for the office, but definitely looks great on festivals or during vacation time. Another fun alternative are bamboo earrings*.
*Affiliate links

---
Matching Hair Accessories for a Pineapple Dress
Huge hairflowers or cheeky fascinators* literally crown an outfit. You will find some lovely ones at Etsy* or TopVintage*, for example.
*Affiliate links

---
Sunglasses and Parasols for your Summer Outfit
On sunny days, we must protect ourself, so don't forget your sunglasses, sunscreen and a parasol*! I personally love to wear fancy retro cat eye sunglasses with my pineapple dress, by the way. 🙂
*Affiliate links

---
Shoes and Handbags to finish the Outfit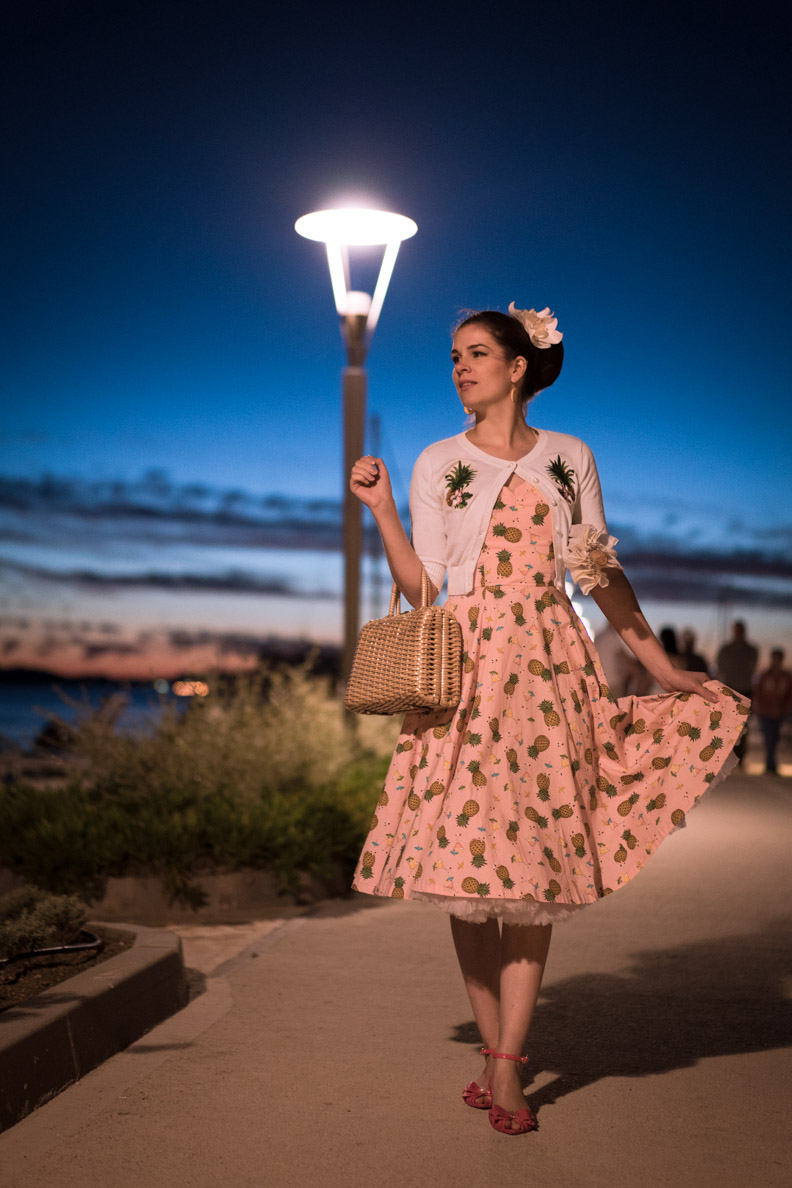 Now the only missing things are some matching shoes and a handbag to finish the look. I usually go for colourful jelly sandals as well as my beloved basket bag.
*Affiliate links

---
For everyone who can't get enough of Pineapple Prints: Cheeky Pineapple Swimwear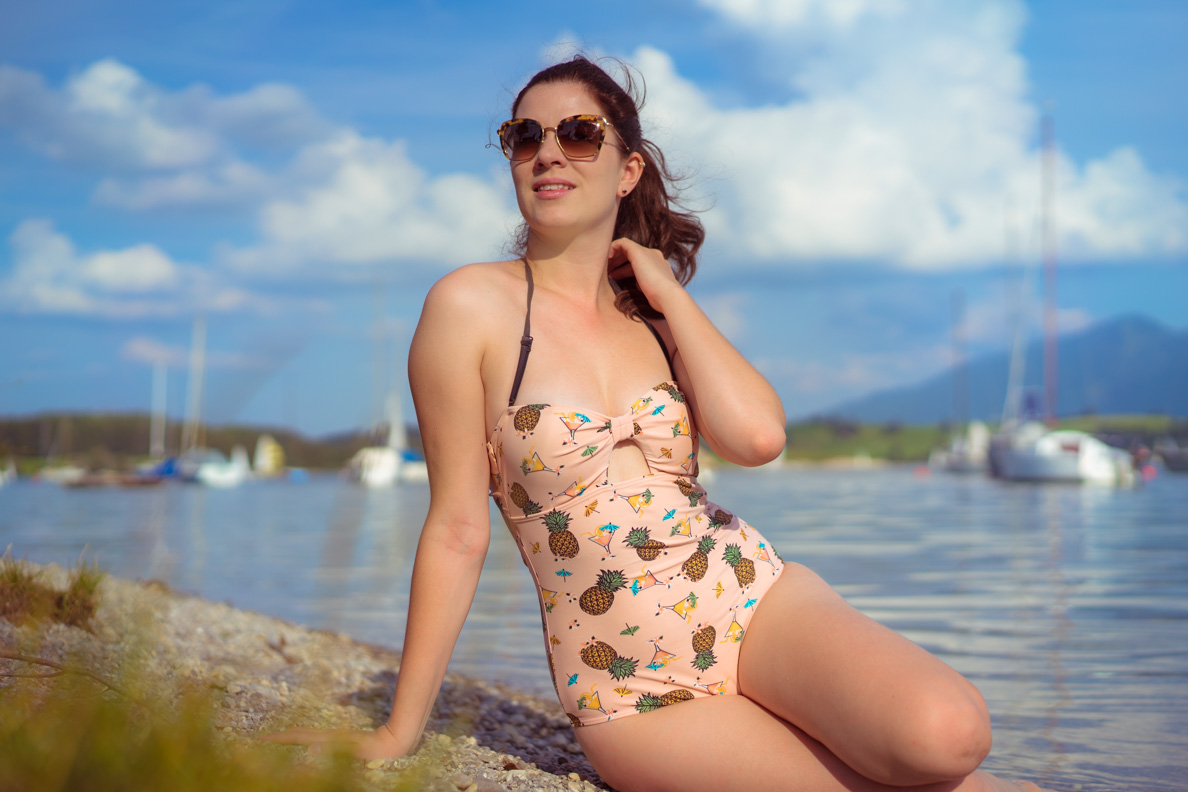 If pineapple dresses and accessories are still not enough for you, I have some good news: There is even pineapple swimwear* available! Perfekt for a relaxed day at the beach. 🙂
---