Trend report then and now: The most beautiful basket bags & styling tips
This blogpost contains affiliate links (marked with *)
You rarely see an influencer without a stylish basket or bamboo bag nowadays, and even the most influental fashion houses like Dolce & Gabbana or Michael Kors send their models with THE trend accessory down the catwalk. The love for this kind of bags is not new, though. In this blogpost, I'm going to tell you where the basket bag has its roots, who made it very famous more than 40 years ago, and of course I'm also going to show you some very beautiful basket bags and give some style advice.
What exactly is a Basket?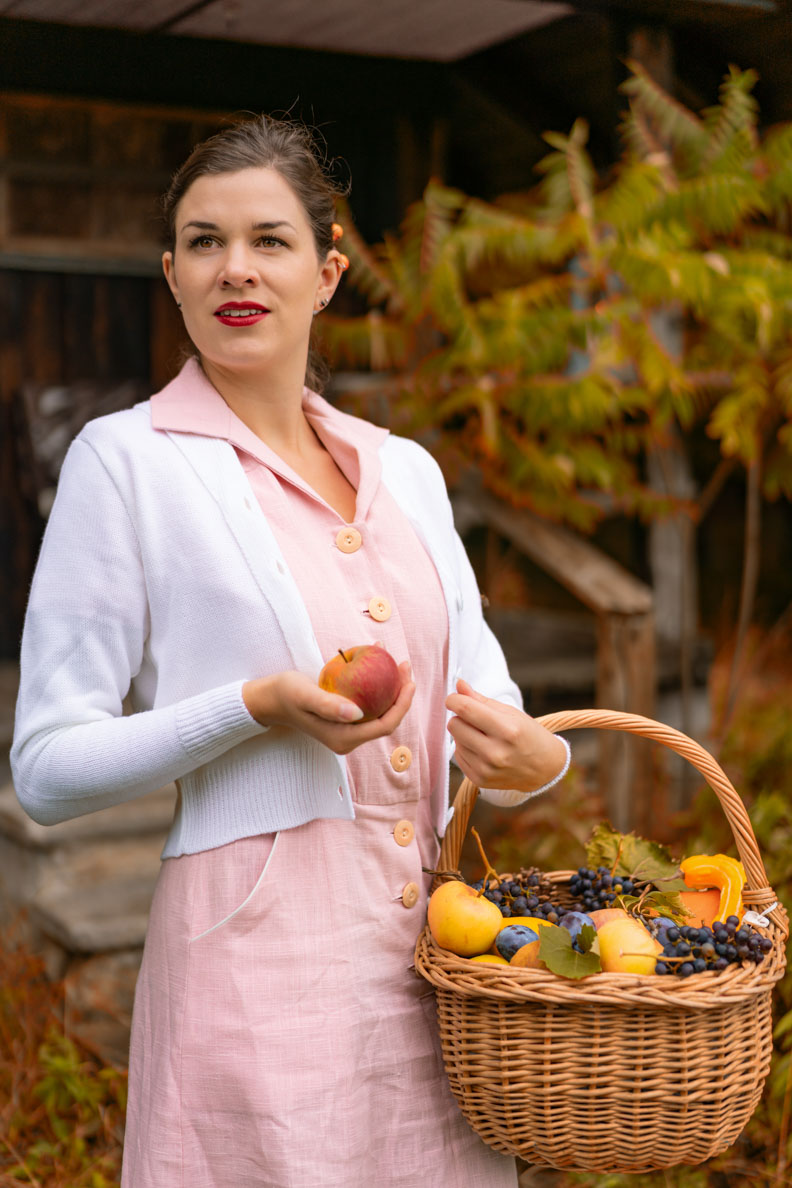 A basket is a generally hand woven container that is traditionally constructed from stiff fibers. It can be made from a range of materials, like wood splints, wicker, and cane, for example. Weaving techniques often differ from region to region so there is a variety of different basket shapes and patterns available.
By the way: Most baskets are made from plant materials, but other materials such as horsehair, metal, or even synthetic materials can be used as well.
How Basket Bags found its Way into Fashion
People have been weaving baskets sind thousands of years, usually not as a fashion accessory, though, but as a practical container to harvest, carry, or store things. So they mainly had an utilitarian purpose. Nevertheless, baskets often had pretty decorations. While in the 1930s, classy materials like leather were mainly used to create handbags, basket bags came into fashion in the early 1940s.
Due to the rationing of leather during World War II, this material was hard to get and quite expensive. Therefore designer started to experiment with different materials like raffia, wood, or bamboo, for example. In the end, they not only created a new kind of shoe (shoes with a wedge heel made of raffia or similar materials), but also some fashionable basket bags. Even in post-war-time, such basket bags or bags with bamboo details remained fashionable. In 1947, for example, Gucci launched the still popular "Bamboo" bag with a handle made of bamboo wood.
In the 1950s, basket bags from Italy brought the La Dolce Vita feeling to the fashion metropolises in the western world. Of course, basket bags still had an utilitarian purpose, but now, they mainly were a fashion accessory.
It was Jane Birking, though, who made a simple basket the fashion must-have of her time.
How Jane Birkin made a simple Basket fashionable
Nizza in 1972: Jane Birkin is carring, beside her daughter Charlotte, a simple basket. And this is not the only time you see the style icon of the 1970s and early 80s with a basket. She even wore her basket that often, that it kind of became her trademark. In the early 1980s, she met Jean-Louis Dumas, the chairman of the Hermès group back then, in an airplane. Her basket bag broke, leaving her scramble to replace the things that fell out. Jean-Louis Dumas helped her and asked why she always carries such an unwieldy basket with her. Jane's answer war as simple as fateful: She said, unfortunately, there doesn't exist a bag she really likes and that fits all the things she needs. Right in the airplane, it is said, they stared to design the famous "Birkin Bag".
So one can say, a simple basket was the predecessor of one of the most popular and expensive bags in the world. The Birkin Bag ist still a fasion classic, but the basket bag is experiencing a very successful comeback, currently.
Basket and Bamboo Bags nowadays
For some years, basket bags weren't really fashionable and mainly seen on boho lovers or vintage girls. In 2017, though, the "Ark-Bag" by the American label Cult Gaia caused a new hype on Instagram. The bamboo bag was such a success that some other labels started to sell very similar bags. The consequence: A lawsuit. As the bag is inspired by a Japanese picnic bag from the 1940s, though, court dismissed Cult Gaias lawsuit.
Nevertheless, the "Ark-Bag" still is very popular and was just the beginning of the great success of straw, bamboo, and basket bags, which are now available in all different kind of shapes.
The most beautiful Straw, Bamboo, and Basket Bags for Summer
There is a basket bag for every occasion, here are some tips were you can find some unique and especially pretty ones:
At Etsy*, you will not only find handmade basket bags, but also true vintage ones and even one* that is inspied by the basket Jane Birkin used to carry.
The famous bamboo bag by Cult Gaia* is available at MyTheresa*, for example.
Amazon* offers a wide range of different basket bags as well.
Retro and vintage lovers will also find some pretty and stylish basket and straw bags at TopVintage*.
But which bag matches which outfit? I'm going to give some style advice in the following.
Classy Bamboo & Basket Bags
Classy bamboo and basket bags look great with almost every summer outfit, no matter if you choose a pretty summer dress, capri pants, or a stylish skirt. You can even wear a basket bag with more elegant outfits. Baskets a la Jane Birkin also look great to a simple jeans and t-shirt combination. The only dress, though, I wouldn't team with a basket bag is a very glamorous evening gown. But on the other side: Why not making an evening gown look more casual and stylish? 😉
---
Shop classy Bamboo & Basket Bags*:

---
Round Straw & Basket Bags
Round straw and basket bags look casual and are quite practical, especially when they have shoulder straps. They are perfect for summer days in the city and to dress down some more elegant garments.
---
Shop round Straw & Baket Bags*:

---
Stylish & extraordinary Basket Bags
Stylish basket bags with crazy prints or extraordinary shapes are able to upgrade every outfit. They look great with quite simple looks, fashionable outfis, as well as vintage inspired looks.
---
Shop stylish & extraordinary Basket Bags*:

---
Elegant Basket Bags & Clutches
As I already mentioned, it can be a bit tricky to team basket bags with glamorous dresses. Clutches made of straw or similar materials, though, look great with light and fluttering gowns. But of course, such a bag looks also lovely in combination with a pretty summer dress, the only problem: This bag doesn't fit a lot of things. 😉
---
Shop elegant Basket Bags & Clutches*:

---
Casual Straw Bags & Shopper
Huge shoppers made of straw not only look great, they are also good for the enviornment, if you use them instead of plastic bags. These bags are quite easy to style and actually look good with almost every daytime outfit. To find everything easily and quick, I like to put my phone, purse, and keys in a smaller bag, because having to search for your money in a huge shopper at the checkstand can cause some anger, trust me… 😉
---
Shop casual Straw Bags & Shopper*:

---
Straw Bags for the Beach
Huge straw bags are absolutely perfect for the beach. They fit everything you will need at the beach, from towels to books and suncreen. Put on your bikini, wear a pretty beach dress on top, grab your straw bag, and you are ready to go. 😉
---
Shop Straw Bags for the Beach*:

---
Designer Bamboo & Basket Bags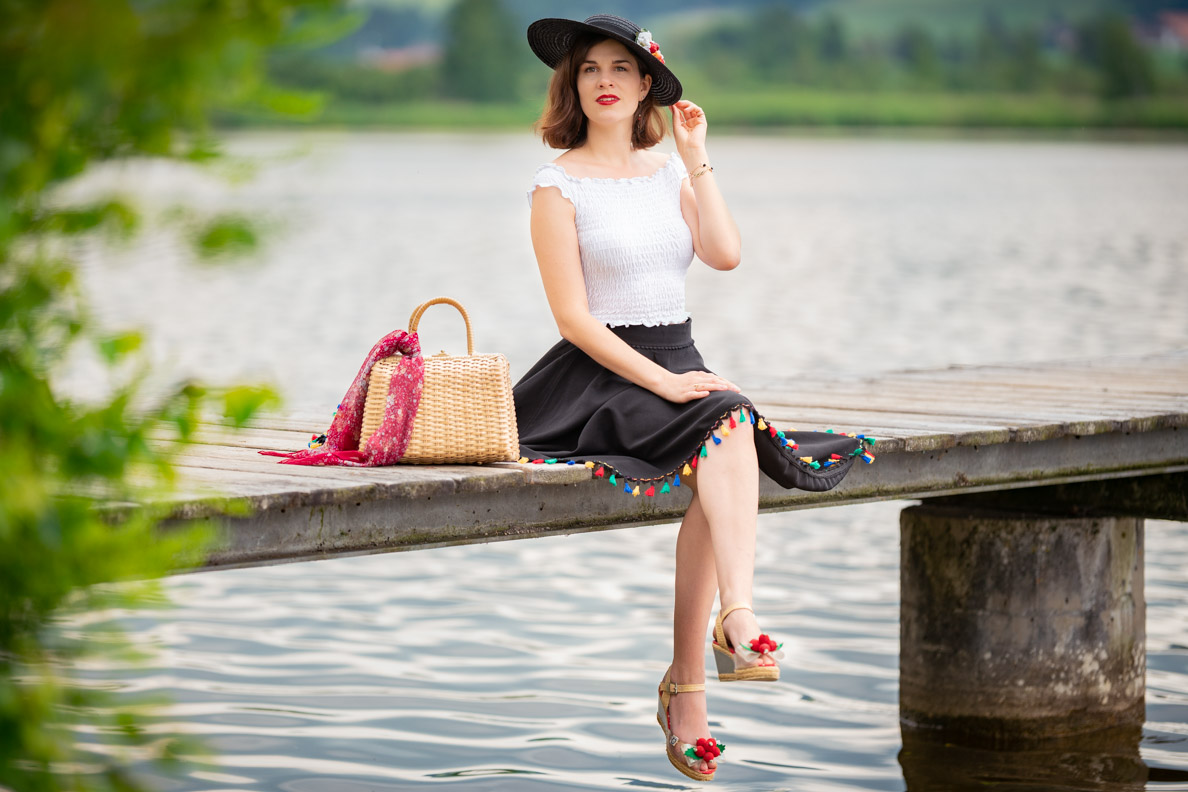 We now know that baket bags don't have to be expensive to look great. If you prefer the luxurious version, though, I'm happy to tell you that there are a lot of gorgeous basket bags from well-known fashion brands available.
PS: If you don't have the budget for a fancy designer bag, you can pimp a simple basket bag with accessories like a scarf, for example.
---
Shop Designer Basket & Bamboo Bags*:

---
If you want to learn more about fashion and the story of fashion classics, make sure to check out my page Fashion Know-how (click)!