The pillbox hat, its story & styling tips
This blogpost contains affilaite links (marked with *) and pr samples (marked with c/o)
When you think of pillbox hats, what comes to your mind first? For me, it were flight attendants and Jackie Kennedy. This small hat has a much longer and more interesting story, though. So let's dive into the world of the hat with the funny name, learn about its story, and find out how to style, team, and wear it.
What is a Pillbox Hat?
A pillbox hat, or simply pillbox, is a small oval to round hat with no brim, a flat crown and straight, upright sides that is usually worn by women. The funny name of the hat refers to its shape: It reminds of the small cylindrical cases that pills used to be sold in, especially during the 19th and first half of the 20th century.
This kind of hat usually is single-coloured or has a pattern (leopard pattern was popular in the 1950s, for example) and back in time, were often made out of fabrics like wool, velvet, silk, or even fur. In the 1930s, the modern pillbox found its way into fashion and was worn, depending on the decade, either on top of the head, at a tilt low on the face, or at the back of the head. Antecedents of the pillbox are much older, though.
The Story of the Pillbox Hat
The modern pillbox resembles a so called wimple, an ancient form of a female headdress. This kind of headdreass has its roots in early medieval Europe and was worn to cover the top of the head. Depending on the region, the wimple usually had a veil or cloth that was worn around the neck and chin.
Pillbox similar hats, however, are worn in different regions of the world by both, men and women, as a part of their traditional clothing. Some example for these are ethnics in Greece, Turkey, Albania, Uzbekistan, as well as Nepal. In other regions, a pillbox kind of hat, often worn with a chin strap, was or still is part of the military uniform. This is also how the pillbox hat found its way into civilian work uniforms, like the ones worn by bellboys in luxury hotels, or later in time, female flight attendants.
The Pillbox in Womenswear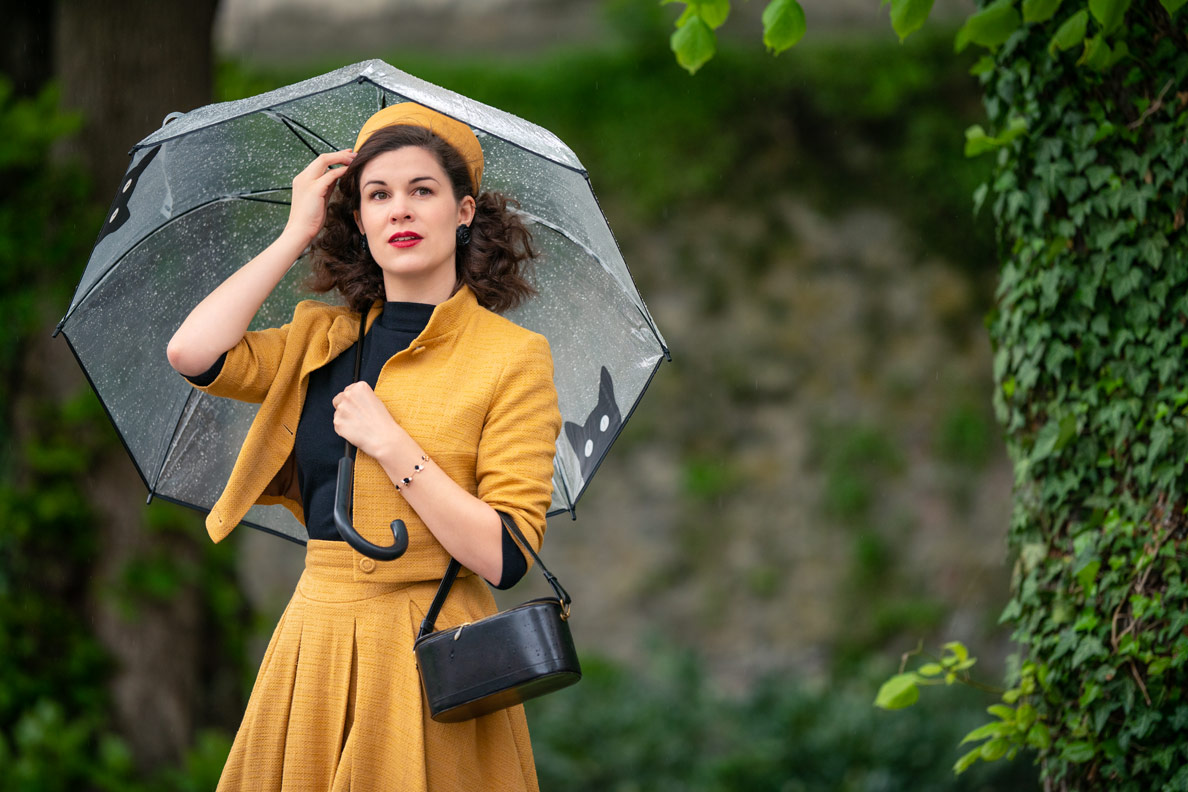 In the 1930s, the round hat with no brim found its way back into fashionable womenswear. By now, there can't be claimed an "inventor", but what we do know is that the famous costume designer Adrian (Gilbert Adrian) designed a hat with no brim for Greta Garbo, which she wore in the movie The Painted Veil in 1934. During the 1930s, such small, round hats with no brim were usually worn at a tilt and/or low on the face. Often, the pillbox hats back then were also decorated with veils or a cloth. In the 1940s, such decorated pillbox hats were still worn.
But it was in the 1950s, when the pillbox started to get more popular, especially in Northern America. Some of them still had decorations like veils, however, this was also the time when plain pillbox hats became fashionable. The golden age of the pillbox hat were the early 1960s though, when Jackie Kennedy gained more and more attention.
Jackie Kennedy & the Pillbox Hat
Jackie Kennedy, wife of the in 1961 elected president of the United States, John F. Kennedy, was known as one of the best dressed women of her time, and quickly became a style icon. She owned a variety of different pillbox hats in many different colours. Her signature look back then: A shift dress, a matching jacket, white gloves, and a colour-matching, unaccessorized pillbox worn at the back of her head. Most of her pillbox hats were designed by the American fashion designer Halston.
More popular wearers of the pillbox hat:
The Pillbox nowadays
Since about the middle of the 1960s, with a growing youth culture, hats continuously lost became less important as a vital part of a woman's outfit. Nowadays, pillbox hats can mainly be seen on formal occasions worn by members of the royal families in Europe or (ex-)first ladies. Otherwise, the pillbox is still part of some civilian work uniforms, especially in luxury hotels or some airlines. In fashion, the pillbox has almost no relevance anymore. This is a bit sad, isn't is?
So in the following, I want to show you how you still can look amazing with a pillbox hat.
---
Shop Pillbox Hats*:

---
How to wear & style a Pillbox Hat: What you should know
As I already mentioned, hats in general and the pillbox in specific aren't part of a woman's basic equipment anymore. Thus, uncertainty prevails sometimes when it comes to questions like when, how, and where to wear a pillbox hat. I'm going to answer some of those questions in the following.
Formal & elegant: When to wear a Pillbox Hat
A pillbox hat is a perfect accessory for formal and/or festive occasions like:
Christenings
Weddings, where a fancy fascinator would be too much
but even for everyday life, in case the rest of your outfit is elegant as well.
---
From Curls to Updos: These Hairstyles match a Pillbox Hat
Just recently, I published a blogpost where I showed different easy hat hairstyles. As a pillbox only covers a part of the head, the following styles go best with it:
Small curls look amazing in combination with so many different kind of hats and are also a wonderful hairstyle to wear with a pillbox. A side parting in combination with a backcombed front looks especially chic.
Also, a voluminous 60s flip a la Jackie Kennedy looks amazing in combination with a pillbox.
But you don't necessarily have to war your hair down. Even a low bun or chignon looks wonderful together with this small round hat. But keep in mind that your bun shouldn't be too big, otherwise your hat won't fit anymore. 😉
If you like to wear your pillbox at a tilt low to your face, you can also try a chic 40s inspired victory roll.
---
How to style a Pillbox Hat
As mentioned before, a pillbox goes especially well with elegant and/or formal outfits. Shift dresses, skirts in combination with a matching jacket, or chic ladies' suits are perfect choices and always remind a little bit of Jackie Kennedy's elegant style. Jeans, T-shirts, capri pants, or shorts, on the other side, are maybe not the perfect garments to wear with a pillbox.
Of course you can also get creative and team your pillbox with veils and cloths, just as the ladies in the 1930s and 40s did. In this case, I recommend dresses in the style of the particular decade.
---
Skirt, Jacket, Top & Pillbox: My Outfit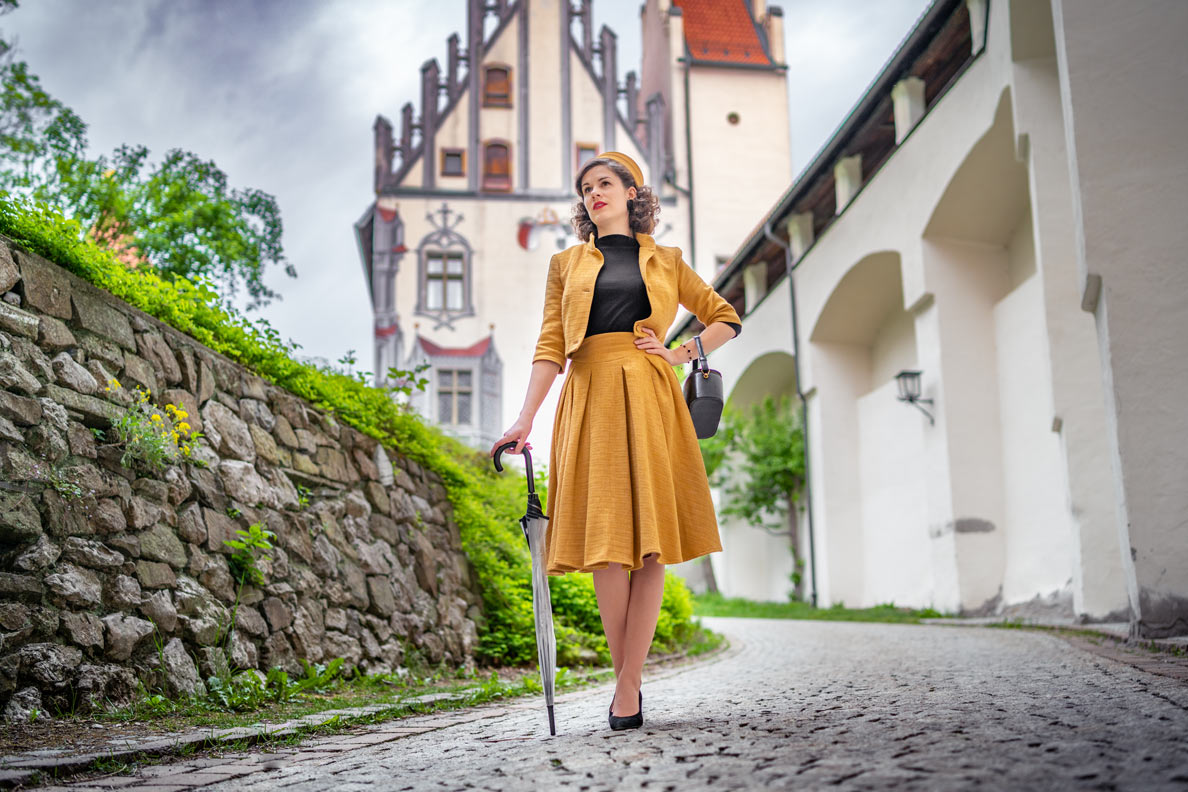 I decided to go for a classy combination and teamed my mustard circle skirt with a black top as well as short jacket. My pillbox hat by c/o Miranda's Choice perfectly matches the colour of my skirt and jacket.
---
The Pillbox by Miranda's Choice
Miranda's Choice offers a wide variety of pillbox hats in different colours. A bow decorates the otherwise plain hat, while a small, integrated comb helps to keep everything in place. If you have short hair or want to go out with the hat on a very stormy day, it is also possible to fix the pillbox to a hairband.
PS: If you are searching for true vintage pillbox hats, I recommend platforms like Etsy* or Ebay.
As rainstorms aren't unusual in Germany, I like to take a stylish umbrella with me. My accessories, on the other side, are completely black.
---
The Anya Outline Stockings Secrets in Lace
Elegant stockings by c/o Secrets in Lace finish my vintage inspired outfit. The Anya Outline Heel nylons are especially elegant due to a small but effective detail: The stockings have a black outlined European heel and therefore make the whole look even more glamorous. Now, the only thing you need are matching black pumps and you are ready to go.
---
Outfit Details:
Skirt: Gracy Q, similar here*
Jacket: Gracy Q, similar here*
Top: c/o Vivien of Holloway
Stockings: c/o Secrets in Lace*
Garter belt: c/o Secrets in Lace*
Pillbox hat: c/o Miranda's Choice
Umbrella: via TopVintage*
Shoes: Peter Kaiser*
Earrings: Glitter Paradise*
---
---
If you want to learn more about fashion and the story of fashion classics, make sure to check out my page Fashion Know-how (click)!