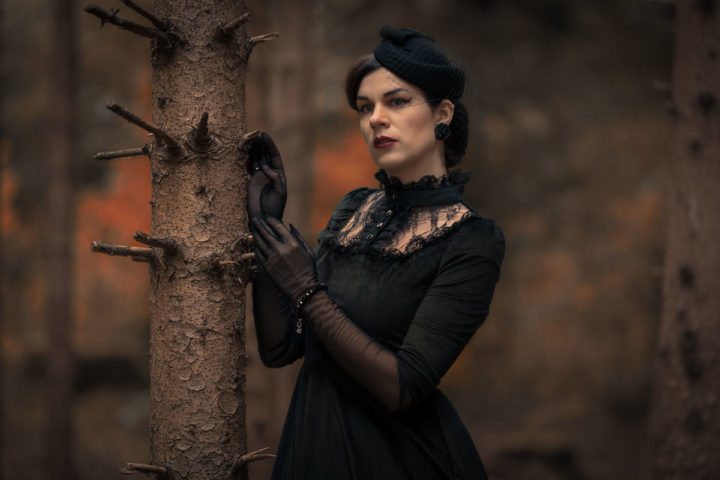 Black lace, velvet, long gloves, snoods, and a dark makeup – Halloween is just around the corner and my motto right now is: Drama! I usually don't buy Halloween costums or outfits just for this occasion. I prefer clothes I can wear after October 31 without getting glances of fear from other people. In this blogpost, I'm going to introduce "Faith" by BlackButterfly, and show you in which combination it works perfectly for Halloween.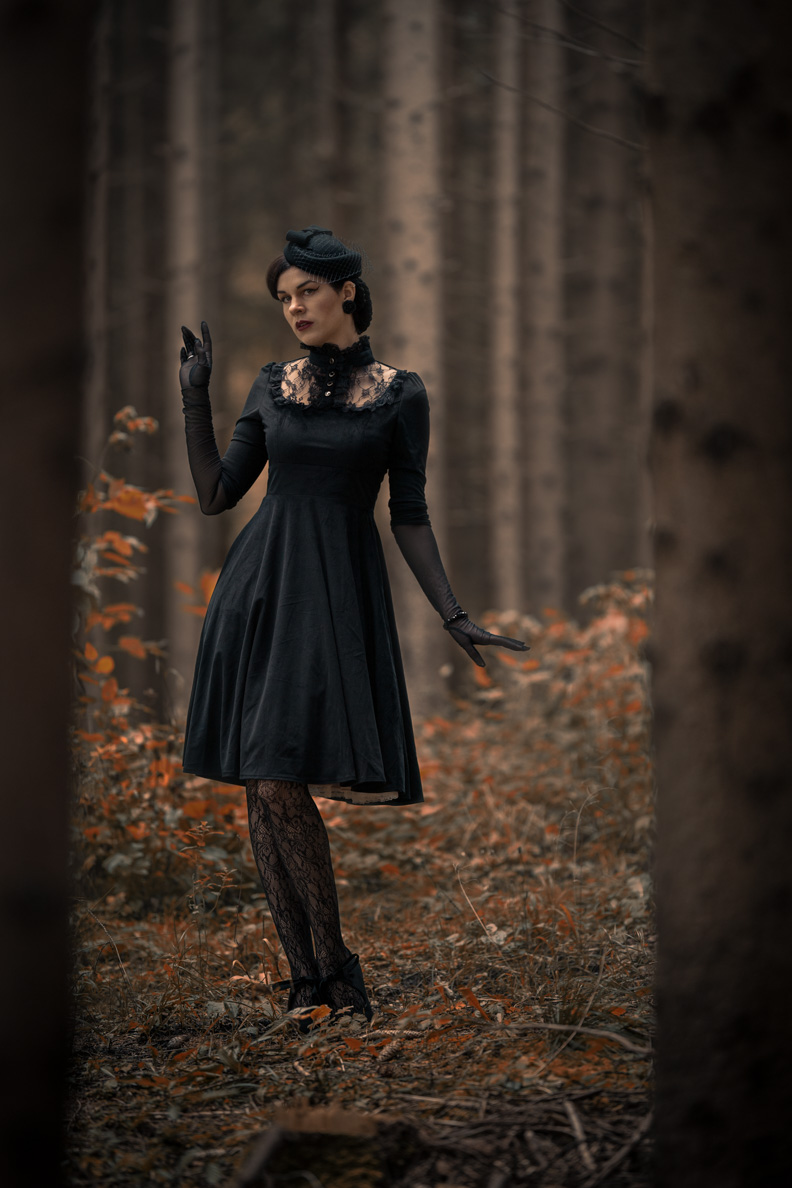 Eerily beautiful: The retro Dress "Faith" by BlackButterfly
"Faith" has a classy cut and half sleeves. The slightly flared skirt is fully lined and the velvet fabric looks simply amazing. But what I love most about the dress is the amazing lace collar with buttons which makes "Faith" a real head-turner.
Usually, I would team this retro dress with subtle accessoires. However, for Halloween I went for a quite dramatic combination. The long nylon gloves by Secrets in Lace look not only gorgeous, they also keep me warm. Black rose earrings by Glitter Paradise go very well with "Faith", while lace tights pick up the details on the collar. I hid my hair underneath a snood and a black hat is literally the crowning of this vintage inspired Halloween outfit.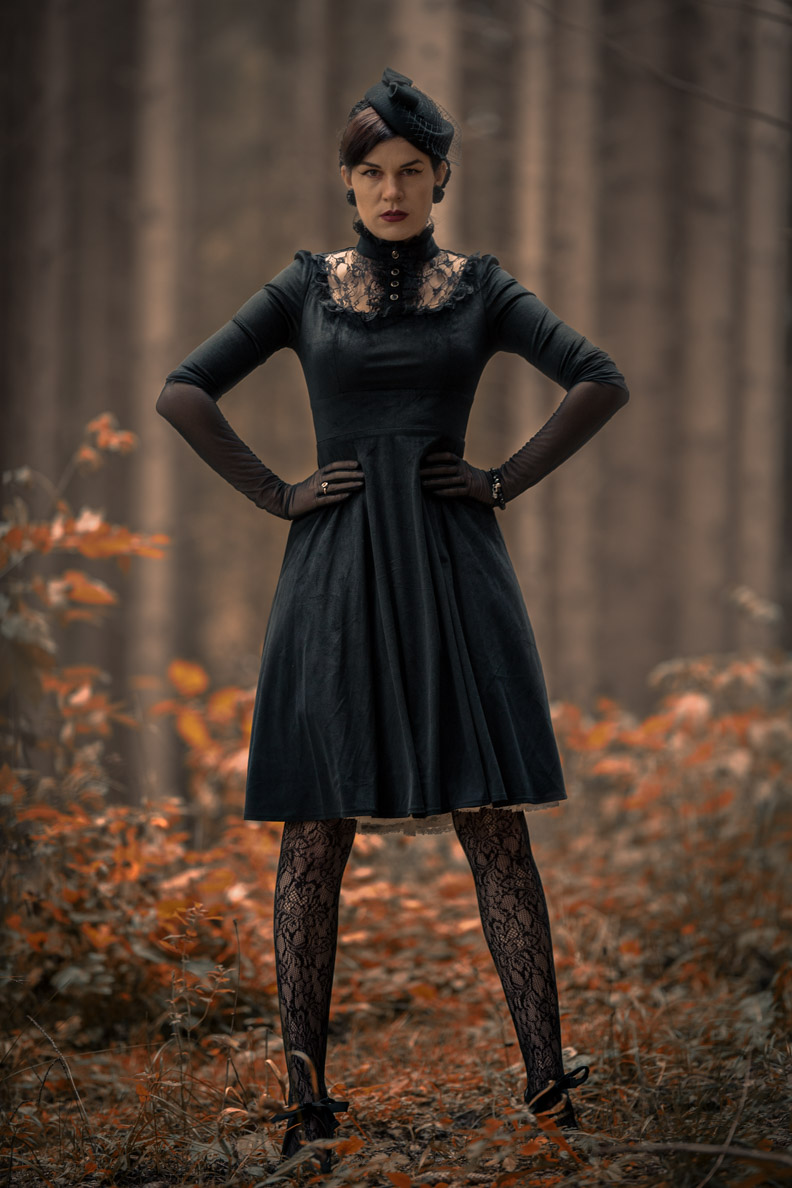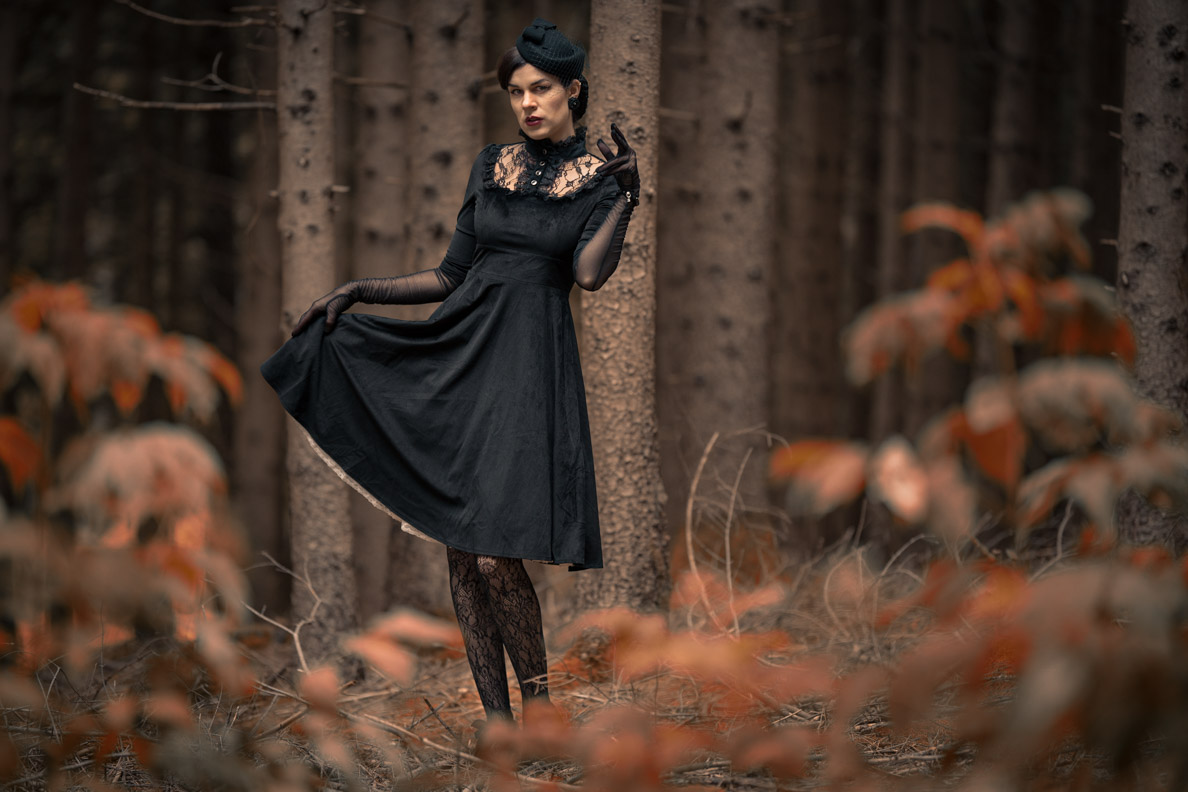 ---
Dramatic and striking: A vintage inspired Halloween Makeup
For Halloween, I like to wear a lot of makeup – A LOT. For this spooky look, I used a very light foundation and went for dark contours. I simply followed the common contouring rules and just skipped the blending. On my lids, I applied a reddish brown as well as a dramatically winged eyeliner. For my eyebrows, I used a very dark shades and applied lots of mascara to complement the eye makeup. A hint of blush as well as the super dark lipstick "Noir Red" by Besame Cosmetics finish the vintage inspired Halloween makeup.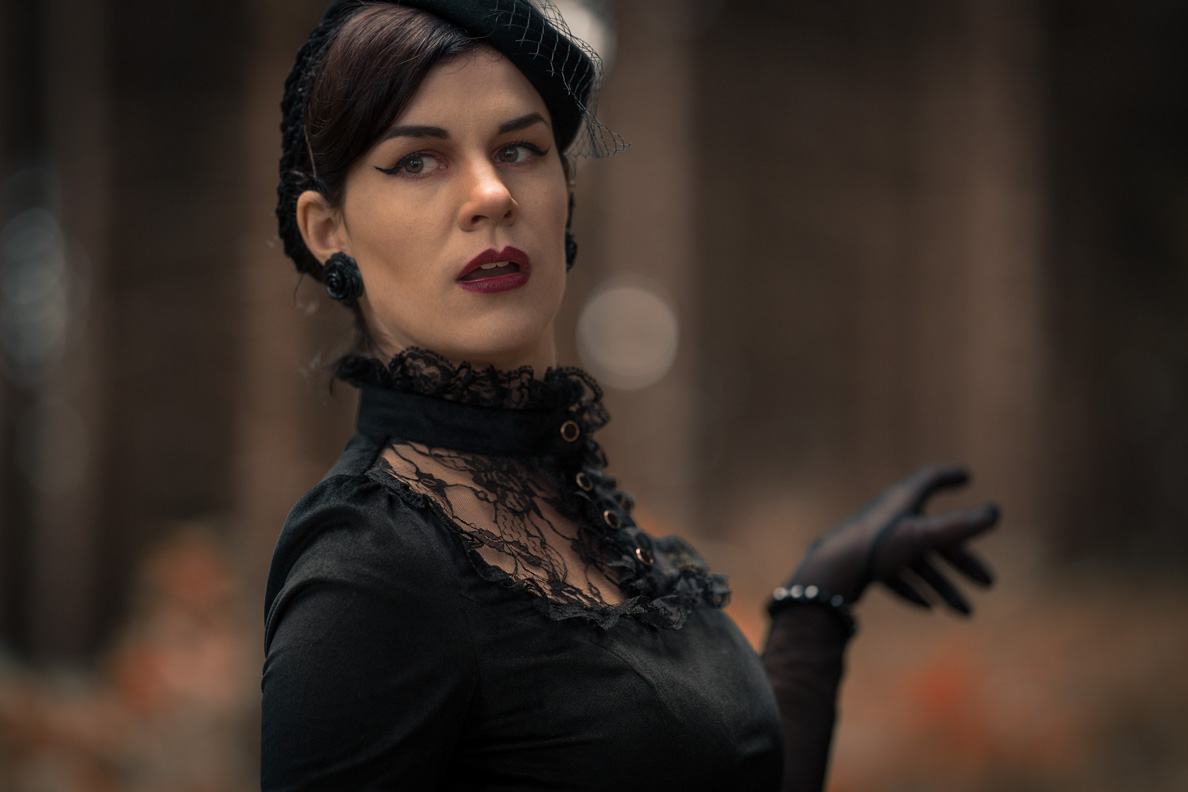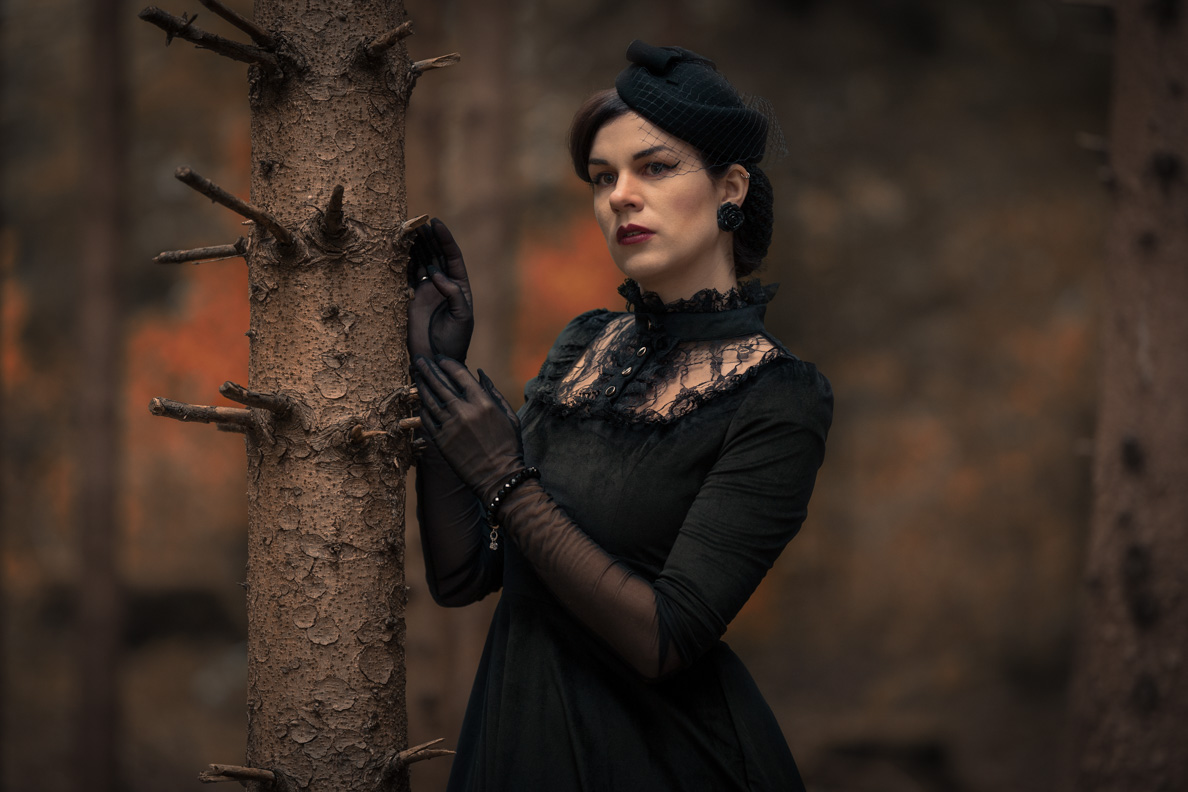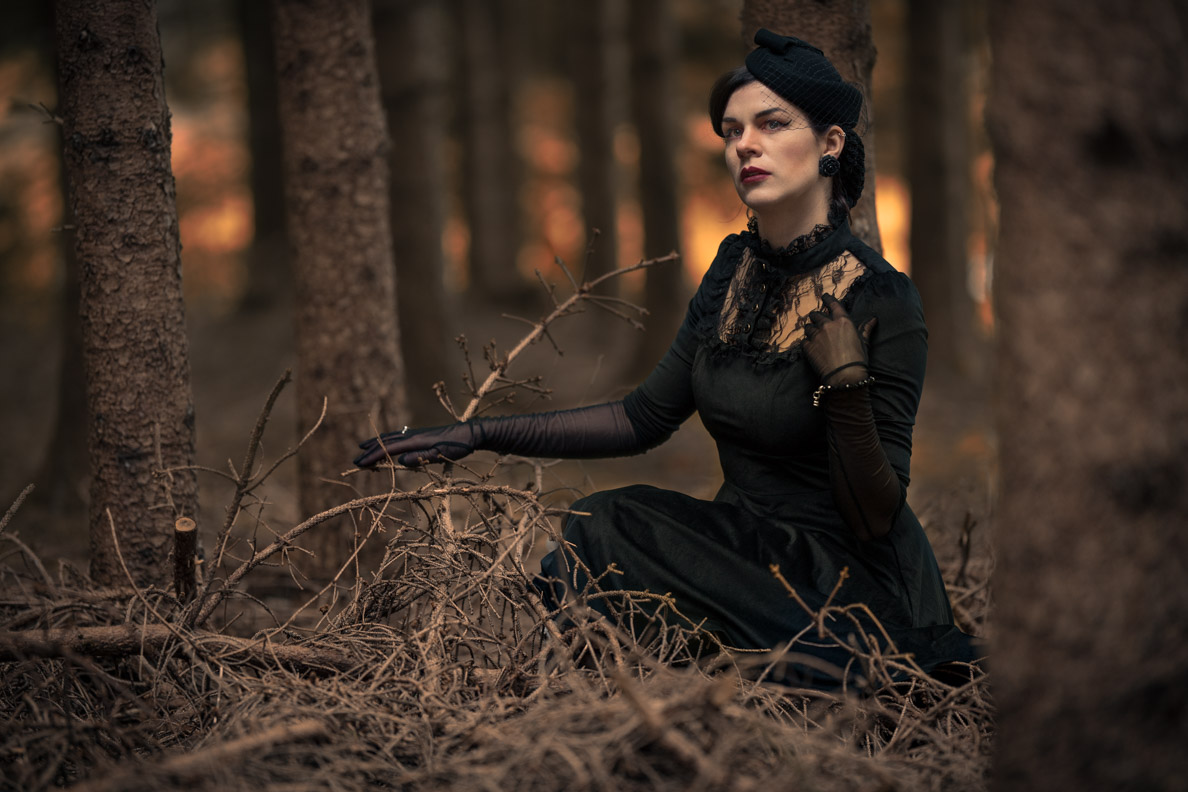 ---
A vintage inspired Halloween Outfit – the Details:
Dress "Faith": c/o BlackButterfly
Hat: Collectif Clothing
Earrings: Glitter Paradise
Gloves: Secrets in Lace – Europe
Shoes: Mojo Moxy, similar here
Tights: Elbeo, similar here
---
Halloween Makeup – the Details:
Foundation: Chanel Perfection Lumière Velvet Foundation
Eyeshadow: Chanel Les 4 Ombres in "Candeur et Experience" (No. 268)
Eyeliner: NYX Matte Liquid Liner
Contouring stick: Diorblush Duo Stick (no longer available)
Mascara: Kat Von D Immortal Lash 24 Hour Mascara
Blush: Chanel Rouge Joues Contraste in "Rouge Profond" (No. 320)
Lipstick: Besame Cosmetics in "1930 – Noir Red"