I guess every vintage lady knows this feeling of always being overdressed. Nowadays, women wear dresses only for special occasion most of time. This is a bit sad in my opinion since a perfectly cutted dress enhances the lady's curves in a wonderful way. For day to day life, however, I prefer cheerful cuts and cute patterns to not look too formal. "Sabrina" by BlackButterfly fulfills all those criteria.
"Sabrina" by BlackButterfly: A perfect Dress for the classy Retro Look
Red is one of my favourite colours anyway, since it goes so well with my pale skin and dark hair. The white polka-dots are super cute and classy without  looking childish. Since the cotton fabric is a little bit thicker and the dress has short sleeves, it's perfect for transitional periods. With a cardigan and pretty stockings, though, one can even wear it in winter.
For more volume I wore a petticoat underneath the lined skirt. In everyday life I prefer true vintage pieces since they are not as voluminous as some repros are. A white belt from my mum's closet enhances the waist while sugar sweet pumps by Irregular Choice are the cherry on the cake of this look.
As I wanted the outfit to look a bit more like winter, I chose a pretty hairflower with frozen apples by Sophisticated Lady Hairflowers. Colour matching earrings by  Glitter Paradise finish the classy retro look.
PS: In this style diary post, I already showed you "Sabrina" in a different combination.
A Retro Makeup for Everyday
To match the pinup look I wore a very classy retro makeup, which is done in a few minutes after some practice. I always start with foundation, concealer, and powder. Afterwards, I apply a light eyeshadow all over the lid and enhance the crease with a darker shade. Now, apply eyebrow powder, eyeliner and lots of mascara and the eye makeup is done.
On my lips I wear "Ruby Woo" by Mac. On top I like to use a bit of gloss, and for a fresher look I apply some blush – that's it.
As you can see in the pictures, it was quite stormy and I had lots of problems so get my dress and hair under control…
---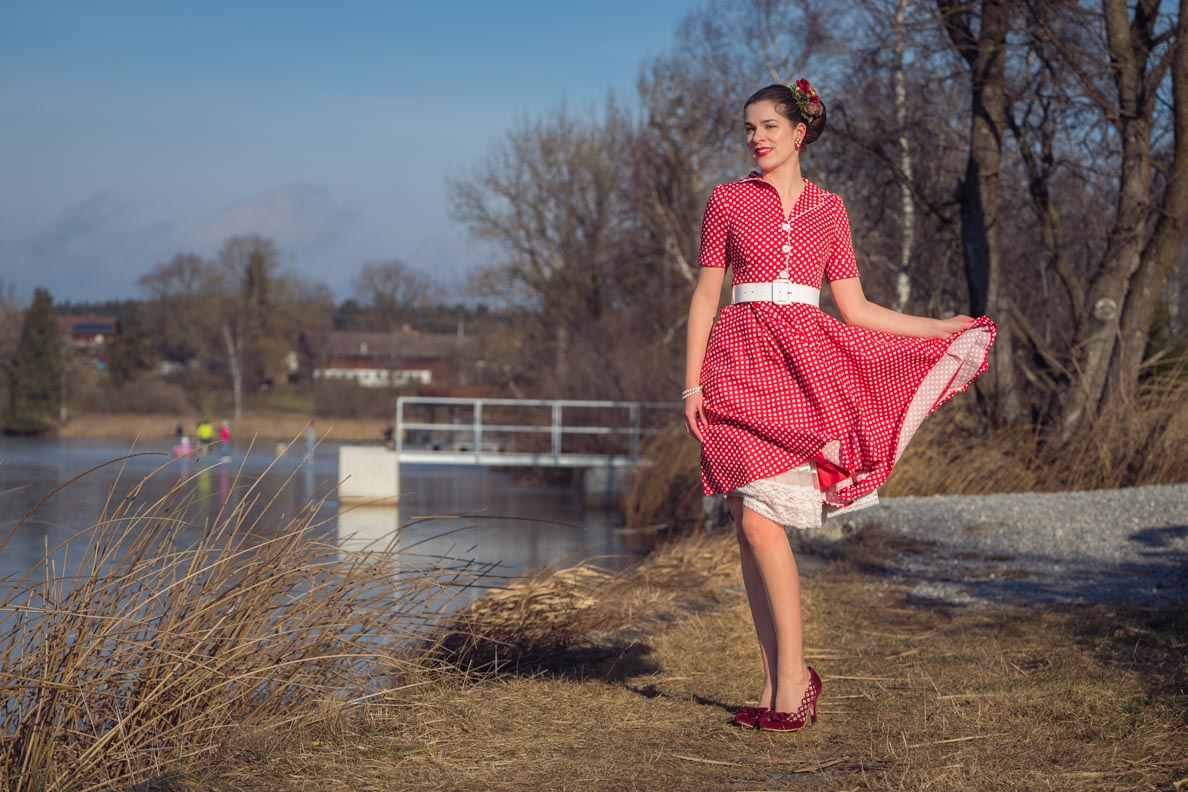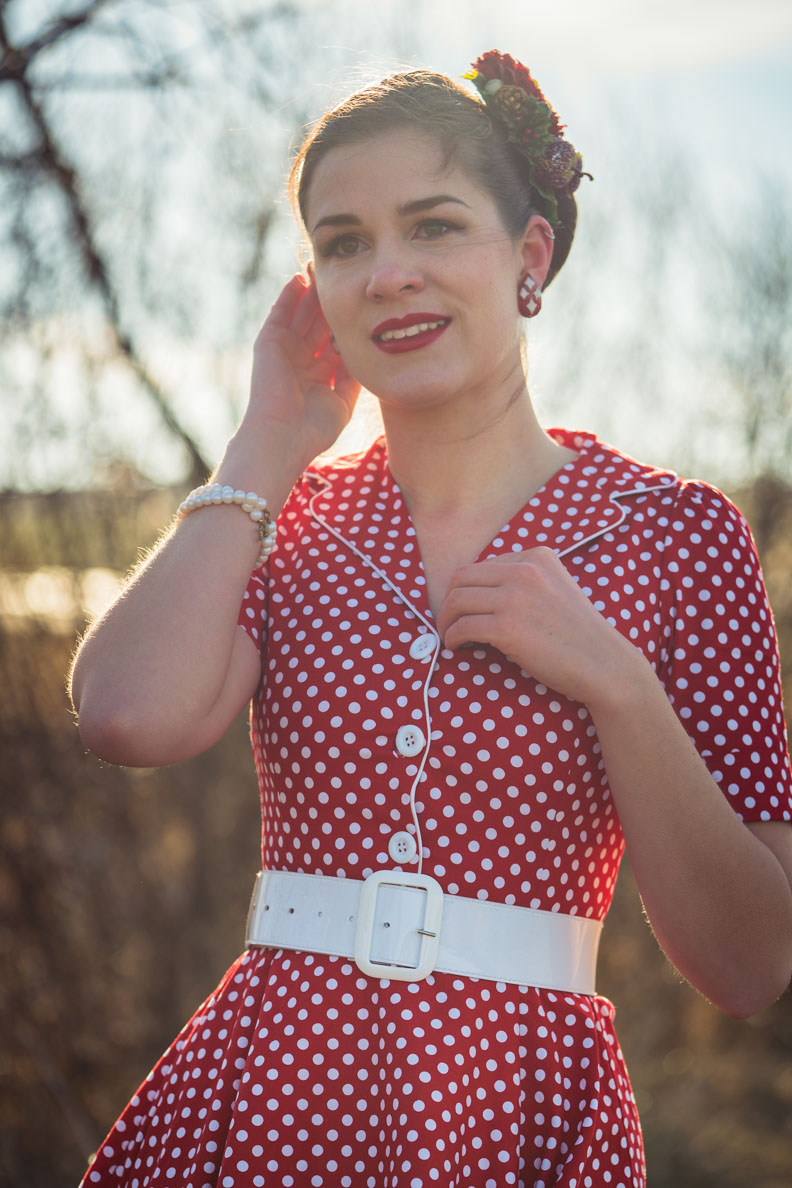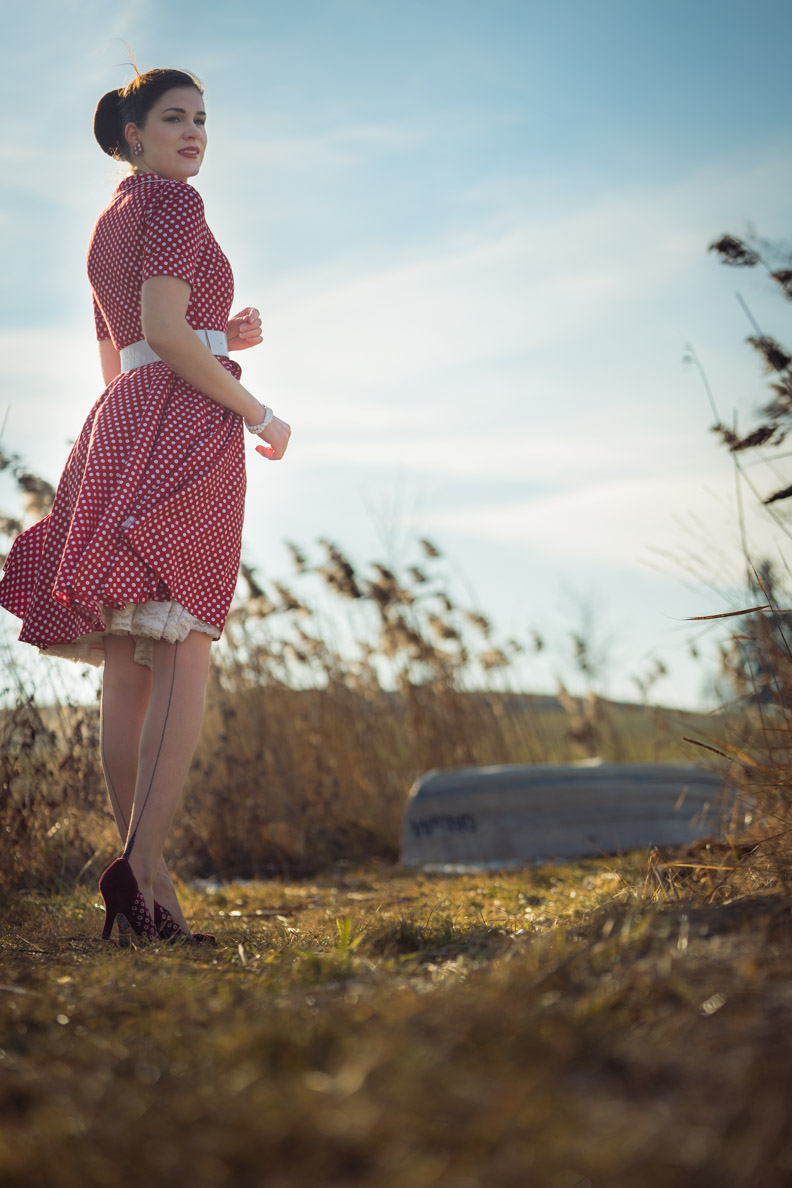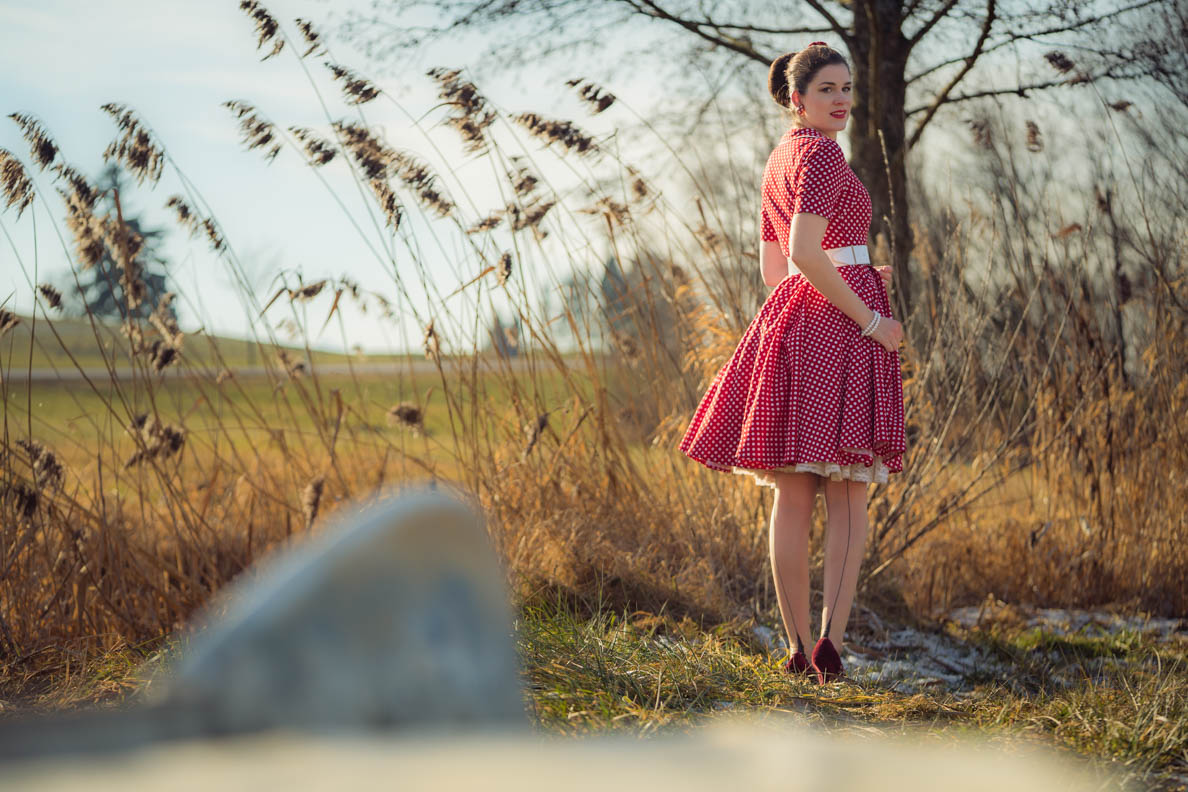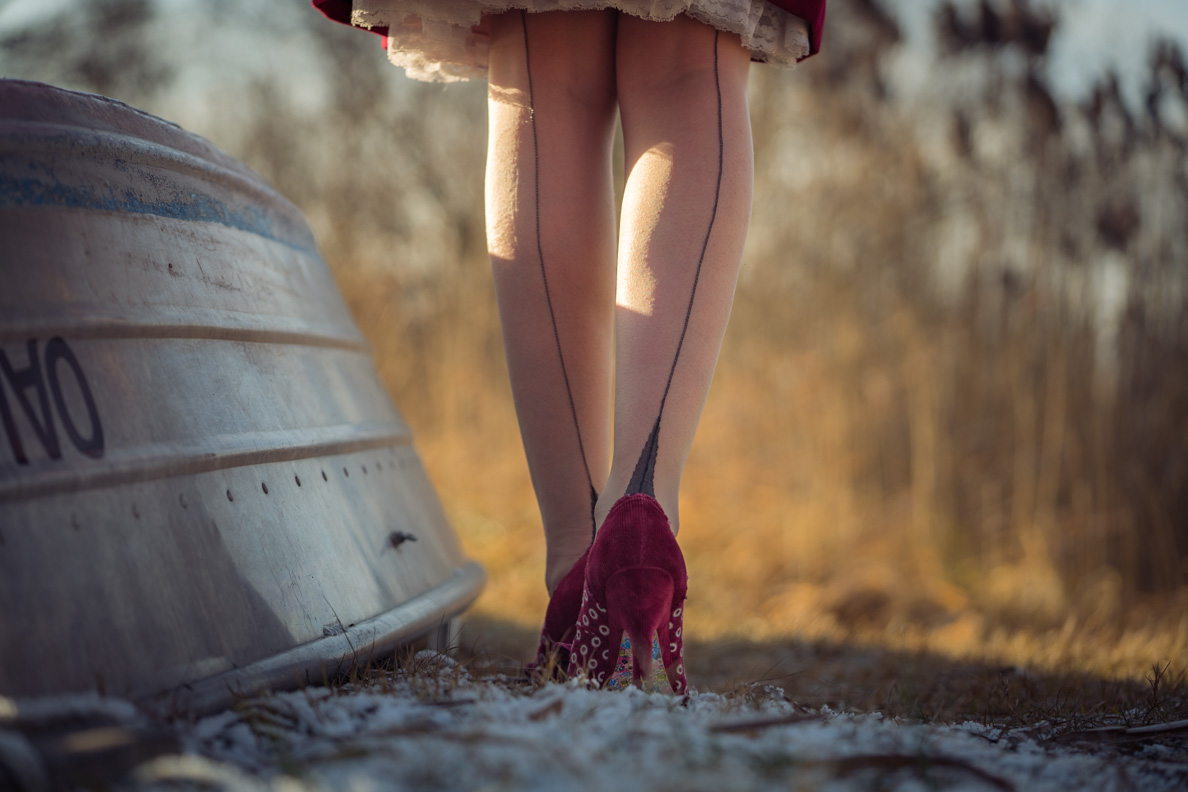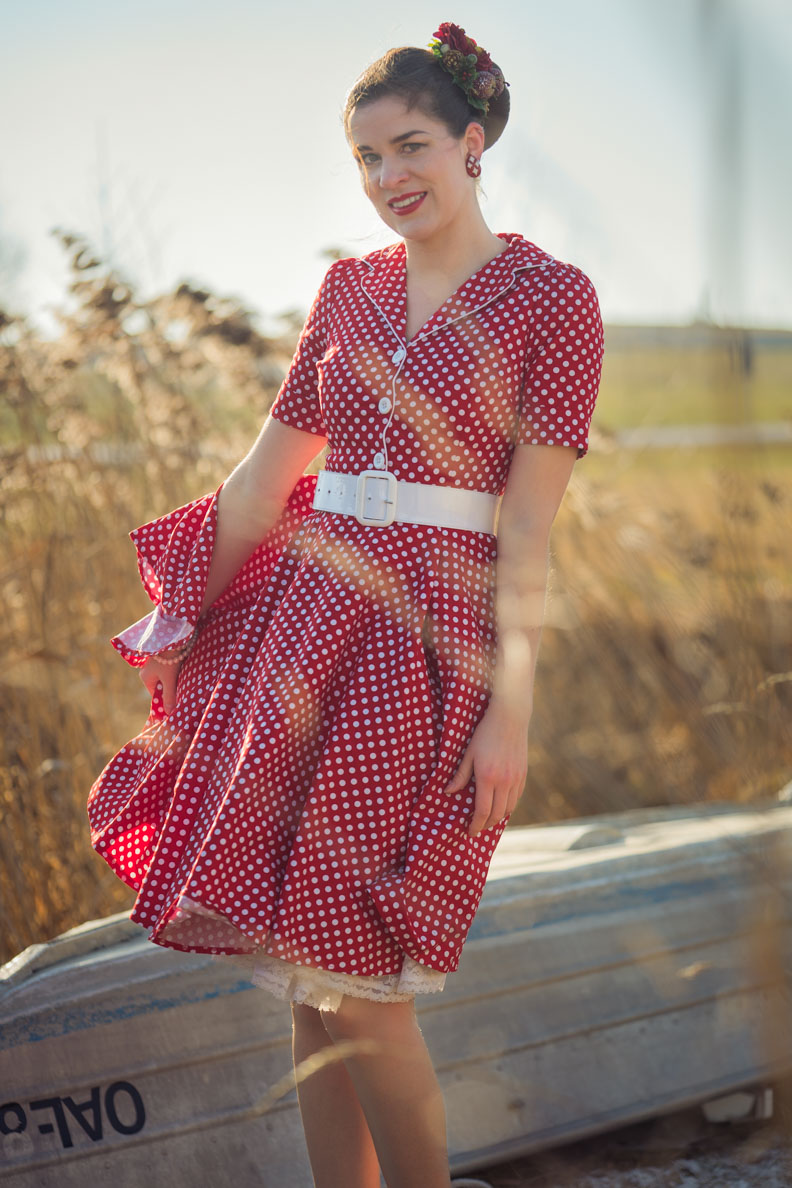 ---
A classy Retro Look: The Details
Dress "Sabrina": c/o BlackButterfly
Petticoat: Vintage, similar here
Belt: Vintage, similar here
Stockings: c/o Secrets in Lace Europe
Shoes: Irregular Choice, similar here
Earrings: Glitter Paradise
Hairflower: Sophisticated Lady Hairflowers
Lipstick: "Ruby Woo" by Mac