Festive Christmas Accessories
I not only like to decorate my flat christmassy, but also myself. And I have the motto: The more kitschy and sparkling, the better. Even this year, I will follow my tradition, because a fancy Christmas headband never hurt anyone, right? And things that cheer us up are really important during these strange times. So let me show you my favourite Christmas accessories.
This blogpost contains affiliate links (marked with *)
Christmas Accessories for your Head and Hair
I enjoy wearing hats and fascinators all year long. But during Christmas season, they are definitely one of my must-haves. And no matter if kitschy or super elegant – I wear all of them.
Headbands for Christmas
Let's start with a kitschy classic: Christmas headbands! No matter if with reindeer antlers or other cheesy christmassy frills – Christmas headbands are definitely a fun head-turner and always lift my mood. You don't have to wear such an accessory during a formal Christmas dinner (I definitely would, though), but they are definitely a wonderful accessory for informal Christmas parties. And for this year: Why not wearing a fancy Christmas headband during a video conference? I am sure this will make everyone smile. 🙂
Wonderful Christmas Headbands:
*Affiliate links

---
Christmas Accessories: Hats & Fascinators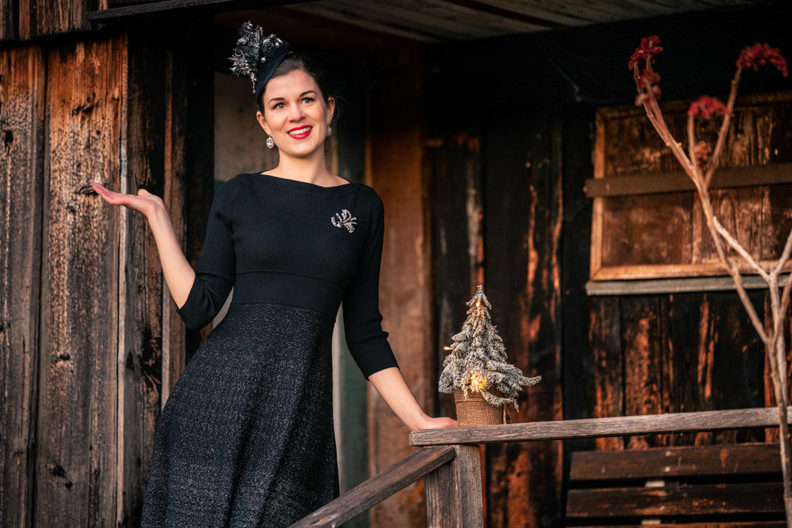 Of course we all can wear those Santa Claus caps, but I personally prefer something more sparky. So I rather choose sparkly fascinators and hats with a lot of christmassy decorations. They look good in combinaiton with classy, subtle garments, but also add that certain something to rather festive dresses – so they are definitely one of my favourite Christmas accessories.
Enchanting Christmas Hats & Fascinators:
*Affiliate links

---
Festive Hairflowers for Christmas
If you prefer a more subtle look, but still want to wear something christmassy in you hair, I recommend festive hairflowers. You can either wear them in your hair or attach them to a hat/beret. And the best: They go well with so many different outfits!
Wonderful Christmas Hairflowers
*Affiliate links

---
Christmas Accessories: Sparkly Jewellery for your Ears, Neck and Collar
Beside my head and hair, I also like to decorate my ears, neck and clothes with sparkly Christmas accessories.
Sparkly Christmas Earrings
To be honest: I don't really wear a lot of jewellery, but I always put on earrings. And of course, I like it if my earrings are sparkling. My absolute favourite Christmas earrings, by the way, are the star earrings by Glitter Paradise*. They not only look great and are easy to style, the are also a real bargain. 🙂
Wonderful Christmas Earrings:
*Affiliate links

---
Christmas Accessories: Sparkly Necklaces
Necklaces are another wonderful way to spice up your outfit. During Christmas season, I like to wear glamorous true vintage necklaces, snowflakes, classy hearts or snow balls – it only has to be sparkly. 🙂
Pretty Christmas Necklaces:
*Affiliate links

---
Festive Brooches
Beside earrings, brooches are another jewellery must-have for me. Although you almost never see them nowadays, I absolutely adore to pimp my dresses and tops with sparkly (vintage) brooches. During Christmas season, I recommend bells, Christmas trees, stars, reindeers or something like this. Have a look at vintage shops or online second hand platforms – I found most of my vintage brooches over there. 🙂
Festive Brooches:
*Affiliate links

---