Fancy and stylish: The trend tights 2020
While just a few weeks ago, it was so hot that it was almost unbearable, the first autumn storm already blew across the streets. We still have some time before the leaves are getting colourful and fall down. Nevertheless, we all should prepare ourselves slowly but surely for the cold season. A small comfort: The time for stockings and tights is back! And what would be a better and more pleasant preparation for autumn than having a look at the trend tights 2020? In this blogpost, I am not only going to show you what hosiery is fashionable this season, but will also tell you how to style it.
This blogpost contains affiliate links (marked with *)
Trend Tights 2020: Colourful Hosiery
Autumn is going to be colourful – and not only due to the colourful leaves in the streets! No, even our legs will get some colour, as tights in all different shades of the rainbow are absolutely en vogue in 2020.
*Affiliate links

How to style colourful tights: Colourful tights look great in combination with 60s inspired mini dresses. You can choose between subtle outfits in black, white, or grey, to add just a pop of colour to your look with your tights. Or you pick up a colour of your dress with your tights, or do some colour-blocking – this is completely up to you. Colourful tights are definitely a great way to have fun with styling!
*Affiliate links

---
Trend 2020: Lace Tights
Beside colourful hosiery, lace tights are another important trend of 2020. If you are brave enough to wear something really extravagant, choose colourful lace tights to draw all the attention to your legs.
*Affiliate links

How to style lace tights: Lace tights go very well with romantic outfits – just think of Blair Waldorf from Gossip Girl. Such lace tights also look great in combination with very elegant outfits, or can be styled very seductively and dark when worn together with black looks (just have a look here to see an example), which is a great idea for Halloween, by the way. 😉
*Affiliate links

---
Trend Tights 2020: Tights with Patterns
Not only lace patterns are trendy on tights in 2020, but also all the other patterns you can think of. They can be subtle, fancy, graphic, colourful, or even animally – so there is something for almost every taste. 😉
*Affiliate links

How to style patterned tights: Tights with patterns go very well with subtle outfits, as they really add that certain something to a look. If you want to mix patterns, you have to be a bit careful. But with some fashion finesse, you are able to create some very stylish looks when mixing different patterns.
*Affiliate links

---
Trend 2020: Glamorous Hosiery
Matching the more glamorous autumn and winter fashion, glamorous, decorated tights are another trend of 2020. Glitter, rhinestones, and shine are just a few examples for what decorations your stylish hosiery for autum and winter can have.
*Affiliate links

How to style glamorous, decorated hosiery: Sparkly hosiery can be a great highlight when worn with sublte outfits. Nevertheless, you can also go for a very glamorous and fancy look when you team decorated tights with sparkly dresses.
*Affiliate links

---
Trend Tights 2020: Tights with Logo Print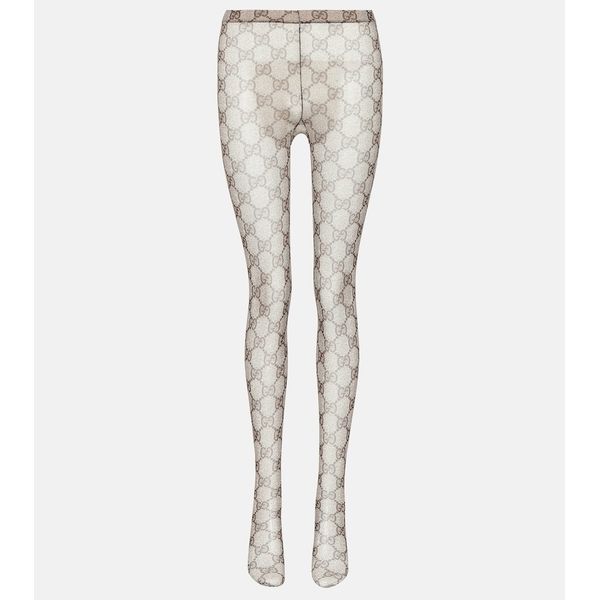 Last but not least, let's talk about one of the biggest tight trends this season: Hosiery with logo prints. I must admit that I am personally not so into this trend. However, as it is such a huge thing in 2020, I want to add it to this list. From luxury labels like Gucci* or Fendi* to more affordable brands like Calzedonia or Wolford*, a lot of brands offer hosiery with bold label prints.
*Affiliate links

How to style tights with logo prints: Tights with bold logos are already very striking and therefore look best in combination with subtle, elegant outfits. A safe choice definitely is the little black dress, as this one usually looks very elegant and therefore is a great contrast to the showy logo print. A good alternative is the little white dress. 😉
*Affiliate links

---
By the way: In this blogpost, I'm going to tell you how to wear hosiery in open shoes like sandals and peeptoes.