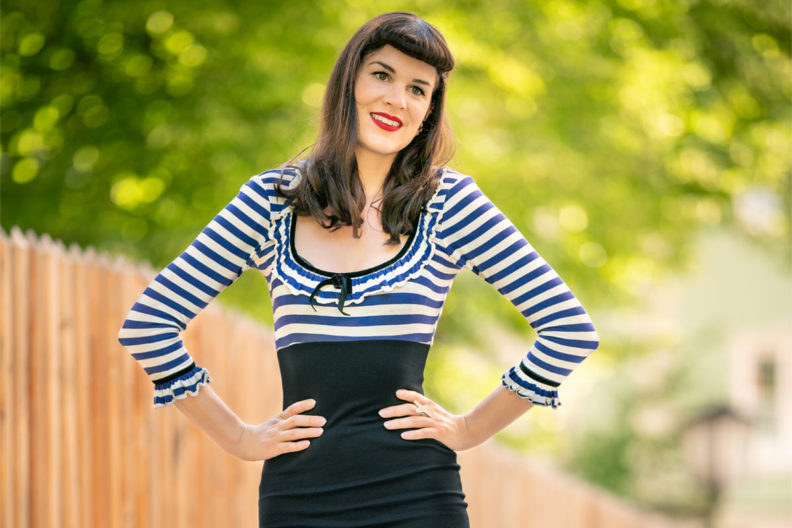 Pin-up look for late summer
The really hot temperatures are passé, and autumn is just around the corner. However, currently, it is still late summer and too warm for thick materials or jackets. This is why I am going to show you a cheeky and fun pin-up look for the transitional season between summer and autumn.
PS: In this blogpost, I tell you the fascinating story of pin-up girls.
This blogpost contains affiliate links (marked with *)
A fun Look for transitional Season: Fitted Cut, longer Sleeves
On very hot summer days, I usually prefer light flared skirts and dresses over slim, fitted cuts. As soon as the temperatures get a bit more pleasant, I really enjoy wearing all my fitted, figure-hugging dresses, again, though.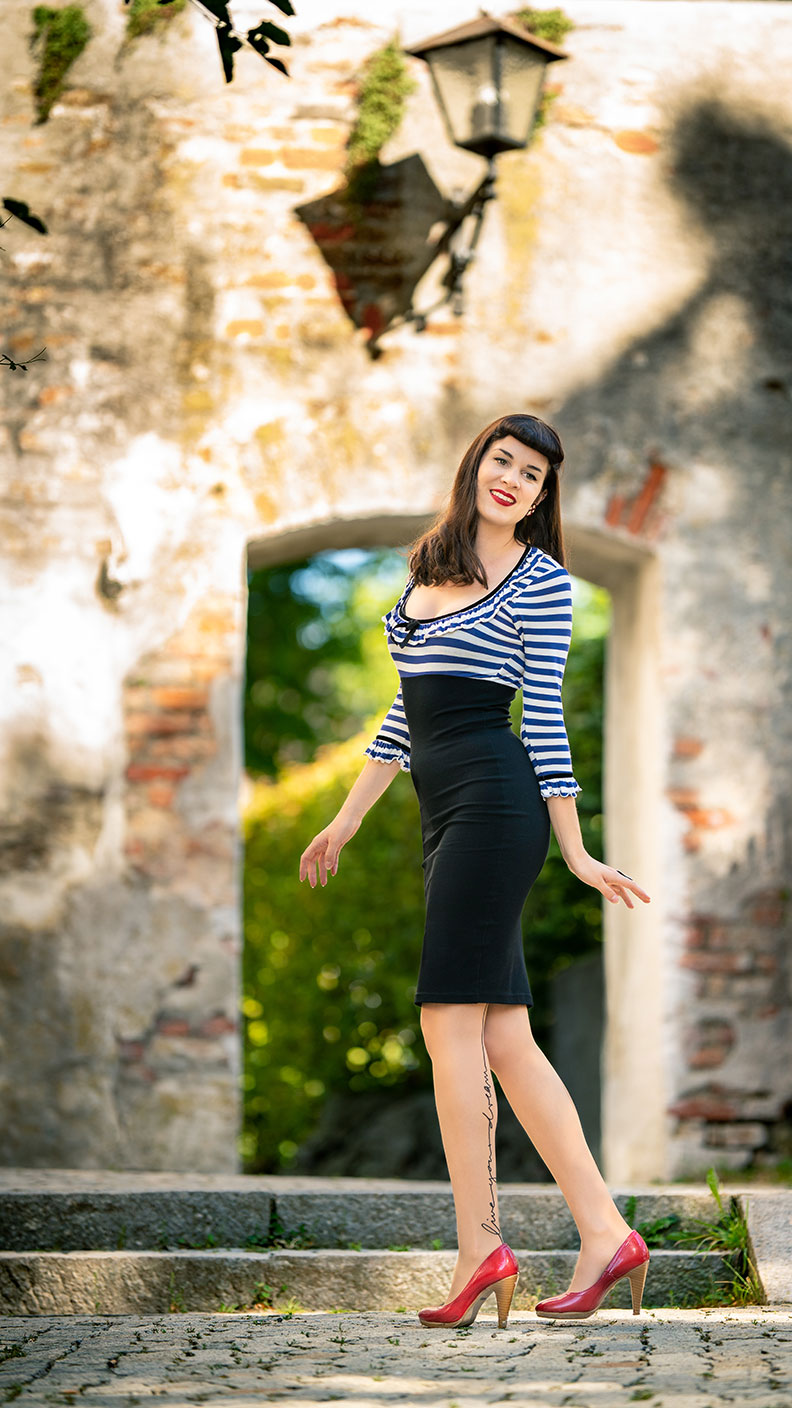 It can get quite chilly during transitional season as soon as the evening comes, while the temperatures during the day are still pleasant and warm. Therefore, sleeveless dresses might be too cold, while long sleeves might be a bit too warm. So short or 3/4 length sleeves are a great compromise for late summer/transitional season.
*Affiliate links

---
Stockings and Tights for Late Summer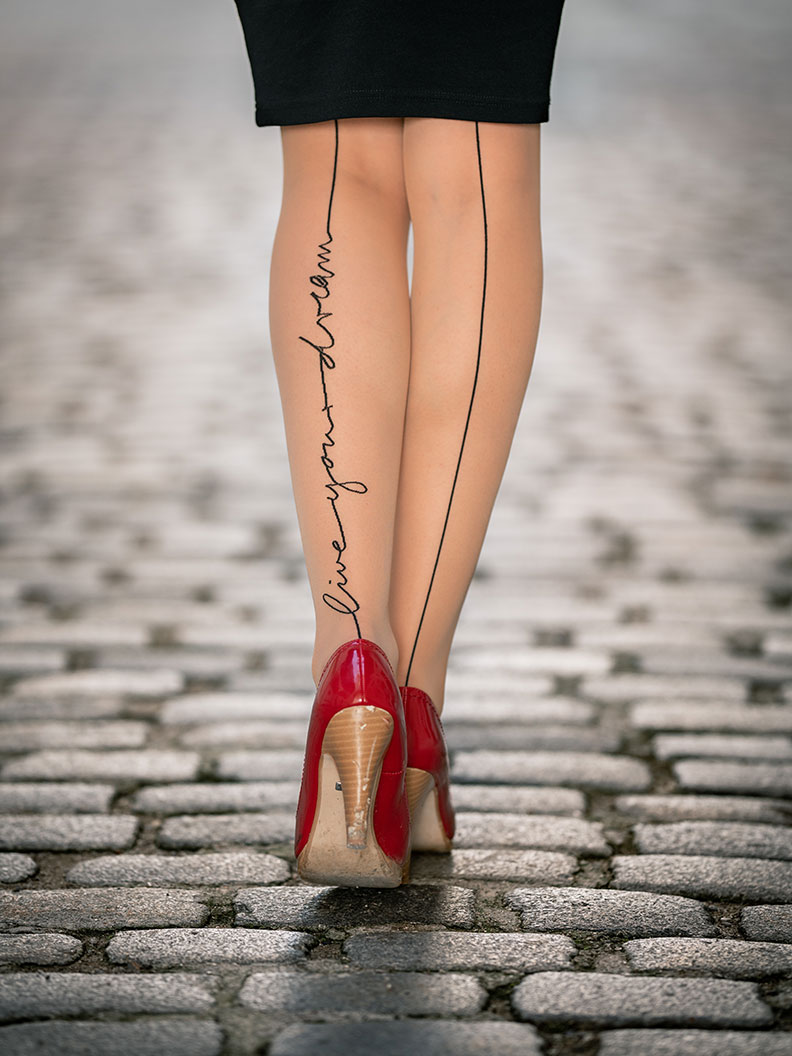 As much as I enjoy wearing stockings, in high summer, it is simply too hot for me to wear hosiery. But when it cools down a bit in late summer, I finally take them out again. Underneath very fitted dresses, I usually wear tights, and under everything else, I enjoy wearing nylon stockings in combination with a garter belt – but of course this is just a matter of taste.
*Affiliate links

---
Matching Pin-up Accessories
Beside stockings, such a fun and cheeky pin-up outfit doesn't need many accessories. For a great contrast of colour, I team the navy blue dress with red shoes (similar here*) as well as colour-matching earrings, and a super cool corset ring by Glitter Paradise*. On sunny days, I also like to take a parasol with me.
*Affiliate links

---
A cheeky Pin-up Look for transitional Season: Hair and Makeup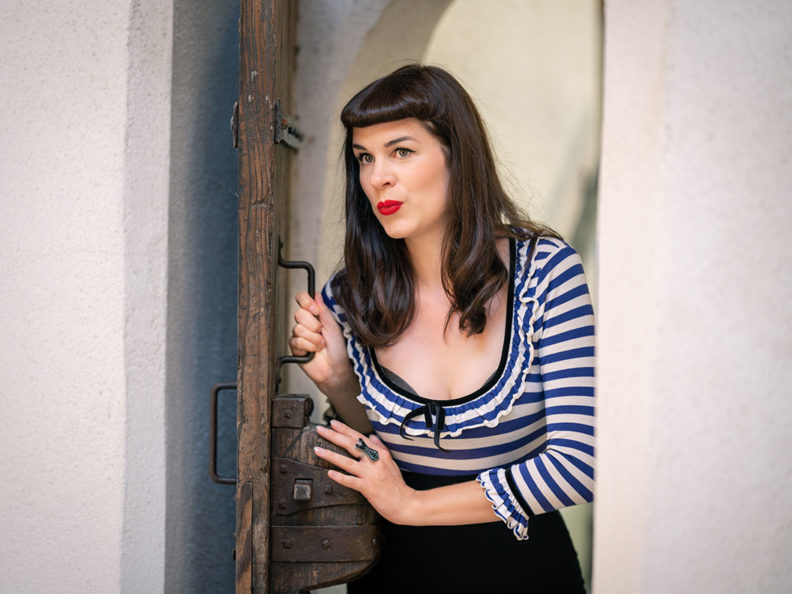 My pin-up makeup is quite classy: Foundation, some powder, eyeliner, as well as mascara, red lips, and a little bit of blush – that's it.
My hairstyle is super easy and quick as well. I use huge hot rollers for a lovely bounce, brush out my hair, and roll the front strand over a so called sleep-in roller* that I cover with my hair – this sleep-in roller helps me to create fake bangs. That's it – a super easy, but stylish pin-up hairstyle inspired by Bettie Page. 😉
---
A cheeky Pin-up Look for late summer: The Details
---