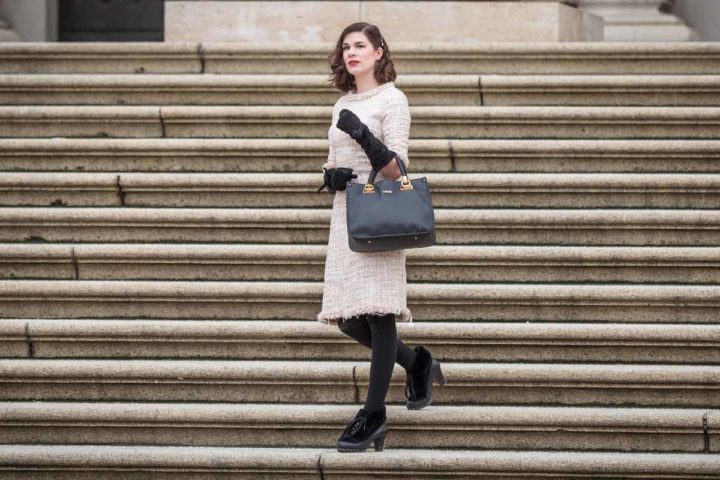 Classy cuts, gorgeous details, and lots of elegance: I feel so much butter in timeless dresses and skirts than in jeans and t-shirt. And yes, I do wear those clothes in everyday-life. It would be lavishing to only wear my dresses for photos shoots and store them in my closet afterwards, wouldn't it? However, I receive questions about my everyday-outfits and how pracitcal or unpractical they are on a regular base. So I decided to answer some of them in this blogpost. Furthermore, I'm going to show you how to make everyday-life a bit more glamorous with just a few steps. Because every day is much more beautiful with a chic outfit, isn't it? The base of my look this time is the gorgeous Tweedy Dress by Von 50′.
Pure Glamour: The Tweedy Dress by Von 50′
The cream-coloured dress has a fitted cut and enhances a woman's curves wonderfully. The thick fabric is perfect for cold winter days and keeps you warm. Gorgeous highlights are the collar, the hemline, and the ends of the sleeves. Moreover, the Tweedy Dress is shimmering amazingly in the light due to gold threads. For events that take place inside, I would team it with stockings, pumps, and subtle earrings.
But as I wore the dress for a shopping trip in bitterly cold Munich, I had to team it with warmer accessories. I wore thermal tights as well as boots by Miss L-Fire. Those aren't uncomfortable at all, by the way. I can wear them all day long without getting my feet hurt. It maybe needs a bit more time to find chic but comfy shoes for everyday-life. However, I think it is worth the effort.
As the sleeves are only half-length, I decided it would be best to wear long gloves. Those not only look super elegant, they also keep me warm. On top of my outfit, I wore a black jacket. Doesn't this one look much more glamorous than a loud windbreaker? (I don't know how it is in your country, but here in Germany, people wear windbreakers not only for hiking or a walk at the sea, but also for a day in the city…)
A huge handbag is very pracitcal, of course, especially when you drag around as much stuff as I do. 😉 Mine is by Liu Jo.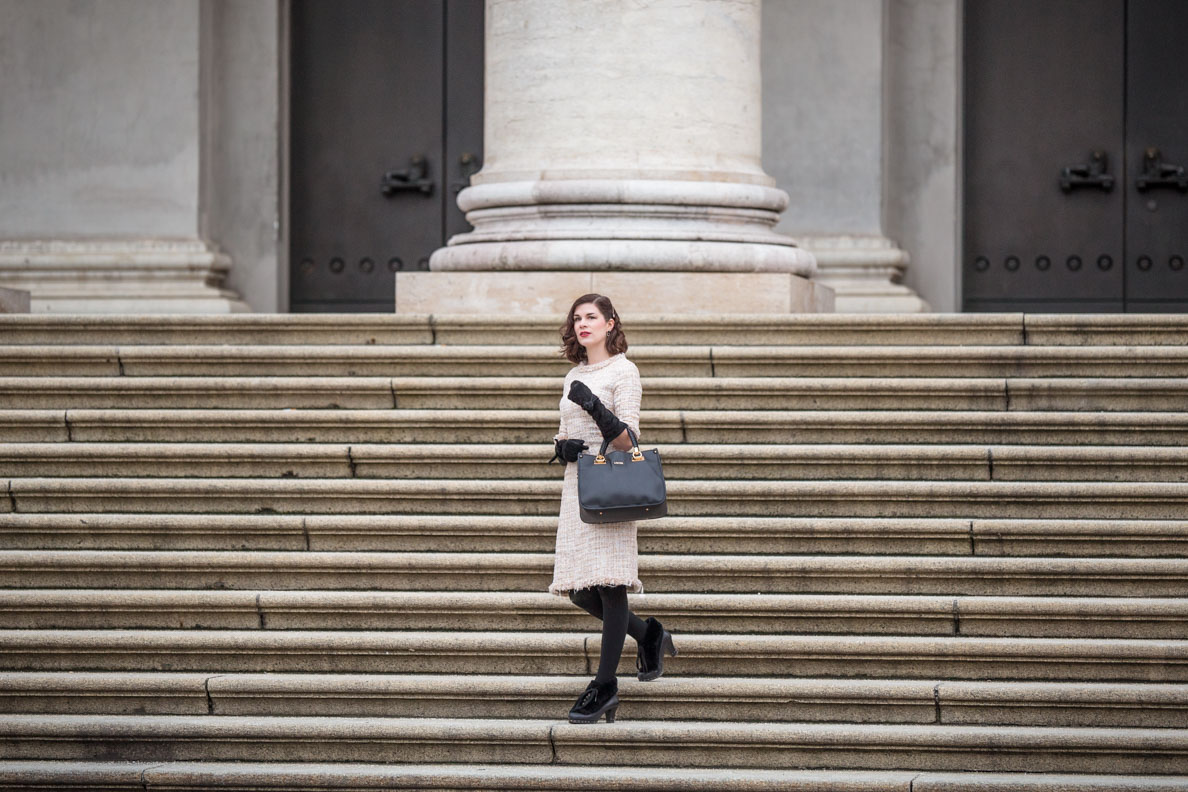 ---
Glamour versus practical
All in all, I have the feeling that more and more people believe glamorous outfits can't be practical. I don't think so! I've been wearing dresses and skirts in combination with heels and red lipstick for many years now. And I totally can keep in step with others! I don't need longer than half an hour to dress up and do my makeup in the moring. It doesn't make a difference if you put on jeans and t-shirt or a dress and tights, right? And my clothes aren't uncomfortable at all. I mean, of course dresses that are too tight aren't comfy, but the same is true for jeans and other clothes. If you take care of quality and fit, you will feel good in whatever you would like to wear!
I also got told that I could dress much younger. Looking younger than I am has never been my intention! But as Lily Jarlsson already wrote a wonderful blogpost on this topic (find it here), I decided it doesn't make sense to talk about this here and now. 😉
---
A vintage Makeup for every Day
I usually don't wear a complete makeup in everyday-life. Most of the time, I use a CC cream for an even skin, emphasize my eyebrows, and apply mascara. A hint of blush makes one look fresher, and on the lips, I apply either the Dior Addict Lip Scrub, or for a more glamorous look red lipstick. If I have enough time, I also use eyeshadow and eyeliner.
All in all, I don't need more than five to ten minutes for my everyday-makeup, and no longer than half an hour for an evening makeup. When it comes to my hair, I usually use sleep-in rollers. So the only thing I have to do in the morning is brushing my hair. If I don't have enough time to curl my hair, I normally simply hide it underneath a hat or beret. 😉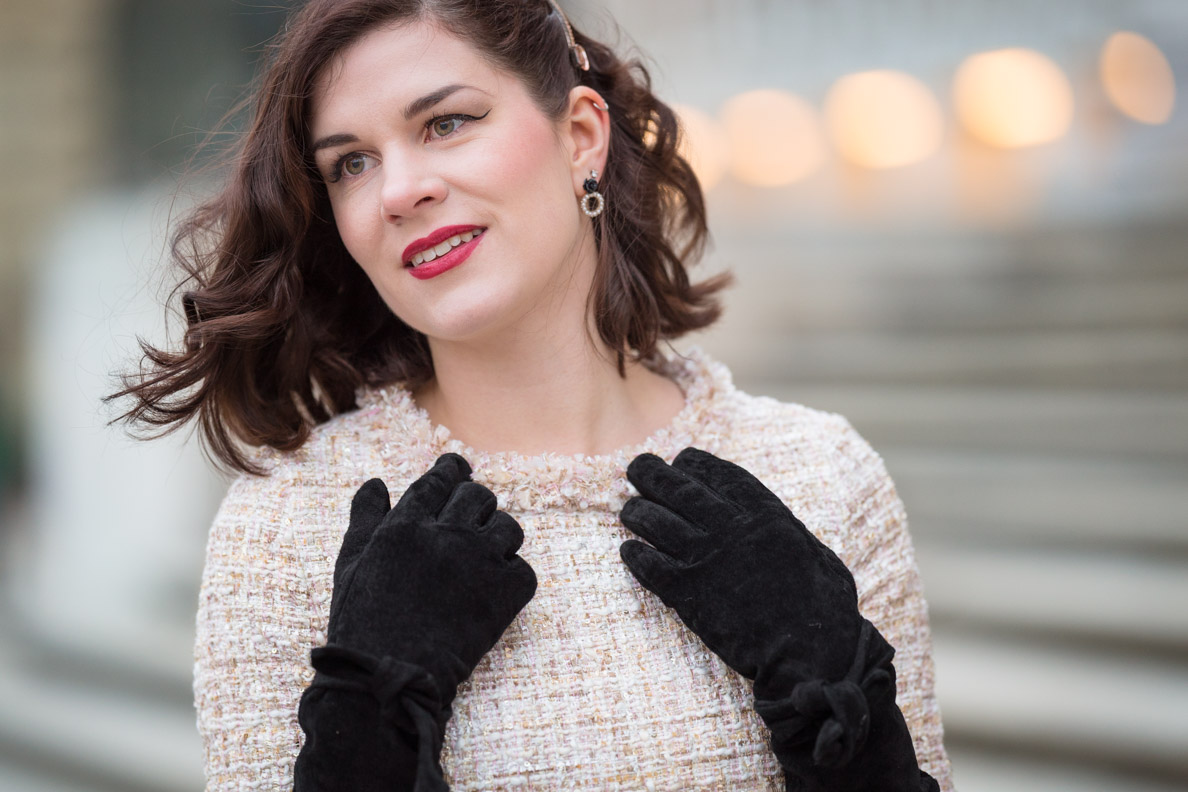 ---
A glamorous vintage Outfit for Everyday-Life – the Details:
Tweedy Dress: Von 50′
Gloves: similar here
Jacket: similar here
Handbag: Liu Jo
Tights: Calzedonia
Boots: Miss L-Fire via Maison Chi Chi
Earrings: similar here
---
A classy vintage Makeup – the Details: