This blog contains affiliate links (marked with *). If you shop products via those links, I may get a small provision which helps me to maintain my blog. Of course the price doesn't change.
Red tights meet a black mini dress
I am so sick of winter! And while actually the only things I want to wear are breezy dresses and delicate, pastel-coloured nylons, temperatures are preventing me from doing so. But this is no reason for wearing boring outfits and tights, right? So to raise my spirits and stay happy during the dark season, I decided to step out of my comfort zone and try a fun look that is not so typical for me. Instead of a midi skirt and classy hosiery, I am wearing a mini dress and red tights, this time.
Outfit Details:
Mini dress: H&M, similar here*
Red tights: similar here*
Waist belt: similar here*
Hat: Ted Baker, similar here*
Gloves: Roeckl*
Shoes: Tamaris*
*Affiliate links

---
Stylish & cheeky: A Mini Dress meets red Tights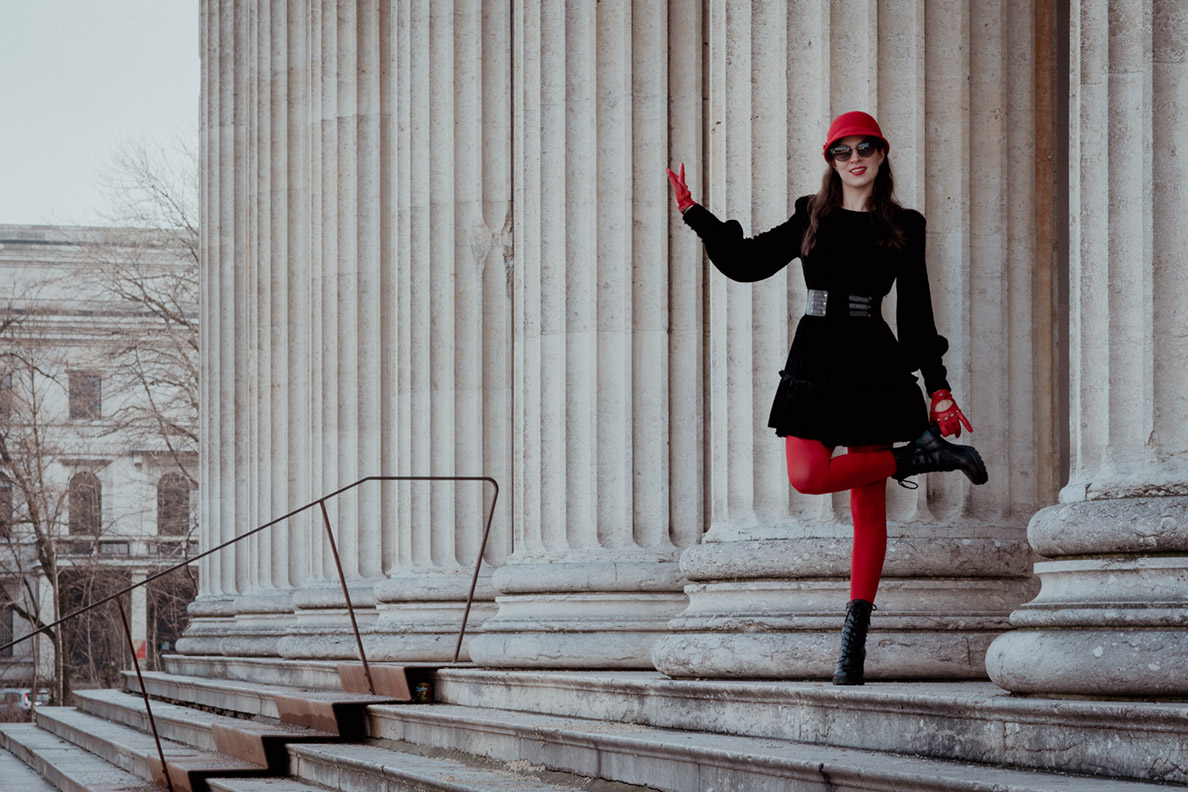 I usually find most of my fashion inspiration in 1940s and 50s. But every now and then, I like to immerse into the swining sixities. So I chose a mini dress made of velvet with extravagant sleeves from the The Vampire's Wife x H&M collection. As the dress has a very loose fit, I teamed it with a waist belt, this time. By the way: A belt is a wonderful way to transform an outfit! So a small collection of (waist) belts is definitely a good idea. 😉
Red tights are a real head-turner. You can buy them for only a few bucks at Calzedonia, for example, and add a very cool highlight to your look with them. To finish the outfit, I am wearing colour-matching accessories. A red hat as well as gloves look stylish and keep me warm. Furthermore, I am wearing lace-up boots and cat-eye-sunglasses.
Voila – a perfect outfit for a day in the city or a visit at a café.
---