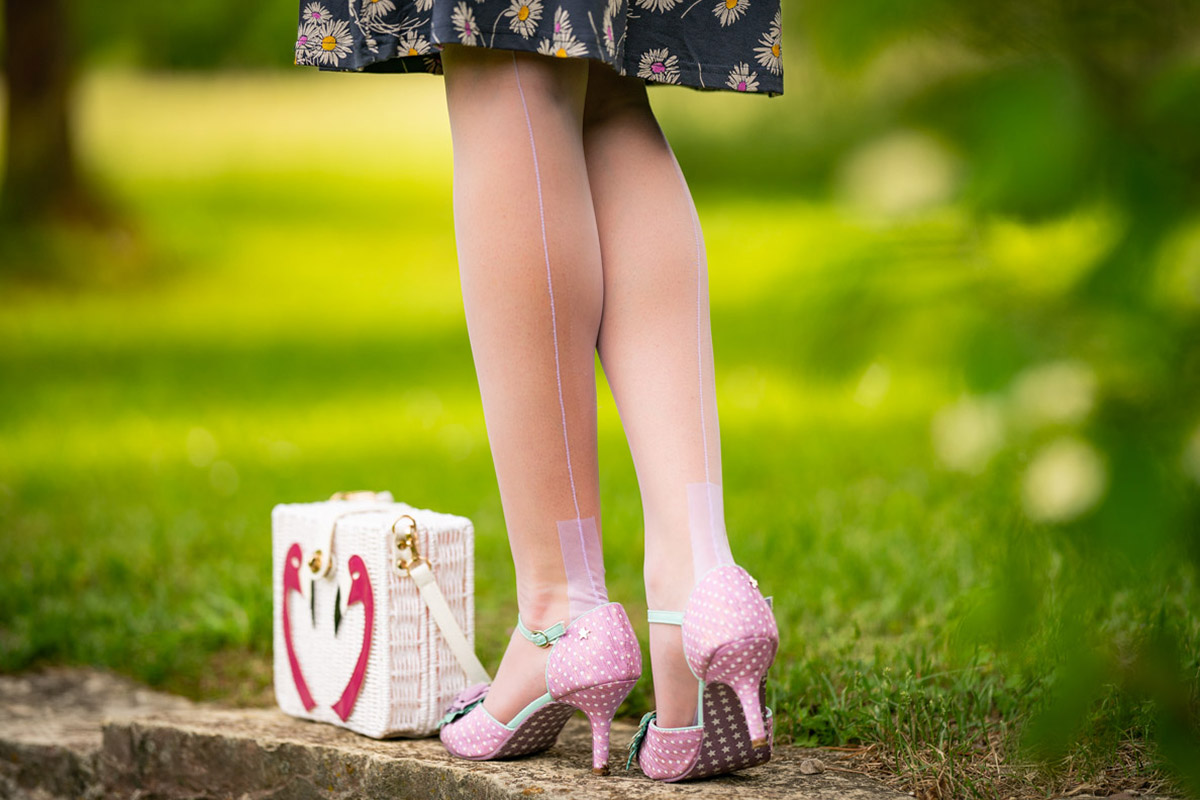 This blogpost contains affiliate links (marked with *). If you shop products via those links, I may get a small provision which helps me to maintain my blog. Of course the price doesn't change for you.
How to style colourful tights and nylons
Recently, I shared some wonderful colourful nylons and tights for spring with you. This kind of hosiery really is super pretty and springlike. However, it can be a bit hard to style this kind of legwear. So in the following, I am going to show you how to wear colourful tights and nylons in an elegant way and tell you what to keep in mind.
How to style colourful Tights: Classy Outfits
A wonderful way to spice up a subtle, very classy outfit is to team it with colourful tights. So what about wearing delicate, colourful nylons in combination with a classy pencil skirt or little black dress? By the way: This is also the best way to wear colourful hosiery at the office or on more formal occasions.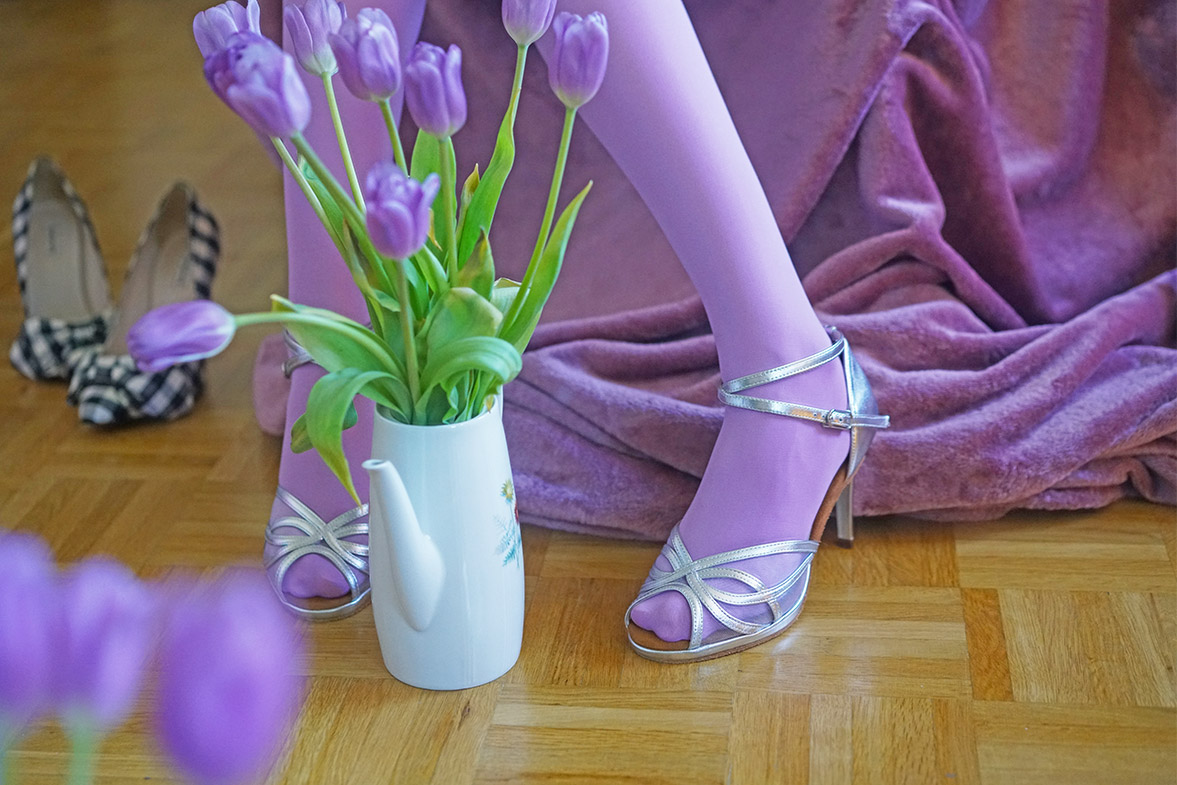 For a super cool 60s look, I recommend to style opaque, colourful tights with matching mini dresses or skirts.
*Affiliate links

---
Colour-match Tights and Nylons with your Outfit
If you prefer a little bit more fancy outfits, but still like it very elegant, you can colour-match your hosiery with your dress. Mint green nylons, for example, go very well with a light green retro dress.
Light blue seamed stockings, on the other side, look absolutely amazing with a blue summer dress. If you like, you can also add some other pops of colours in form of accessories or shoes, for example (just look at the pink sandals and hat together with the green stockings). I personally even think that colourful, sheer nylons look better in combination with summer dresses than dark hosiery. Simply as they look lighter and more fun. 🙂
Especially if you like to wear colourful hosiery with patterns, I recommend to team it with subtle, colour-matching looks or outfits in neutral colours like black or grey, to keep it elegant.
*Affiliate links

---
How to style colourful Tights and Nylons: Colour-Blocking
Everyone who likes more extraordinary outfits can experiment with colour-blocking, which means to team two or more different colours. So what about mint green nylons in combination with a lilac skirt*?
If you prefer a bit more subtle hosiery, you can choose a light colour like yellow, for example. This shade looks especially cool in combination with coral colours, I think.
Another super cool colour-combination is navy blue (the dress is available here*) and yellow. PS: Did you notice you find the yellow colour in my pillbox hat and earrings as well?
All in all, I absolutely like to experiment with different colour-combination! You might be very surprised how cool different shades can look together.
*Affiliate links

---
How to wear colourful Hosiery with patterned Dresses
Colourful hosiery even looks great in combination with patterned garments! Just make sure the colour of your tights/nylons can be found in the pattern. I, for example wear a blue flower dress* together with colour-matching nylons.
Delicate, subtle coloured (seamed) nylons or sheer tights go especially well with patterned garments, as they complement the look without getting all the attention. I, for example, team sheer lilac nylons with a lovely flower dress.
Colourful hosiery even goes well with very light-coloured summer dresses. Just make sure to choose something very sheer and light. So with my white and pink summer dress, I am wearing delicate pink nylons.
*Affiliate links

---
By the way: You definitely can wear (colourful) hosiery in open shoes like sandals or peeptoes! In this blogpost, I tell you what to keep in mind when doing so.
---
This might be also interesting for you: