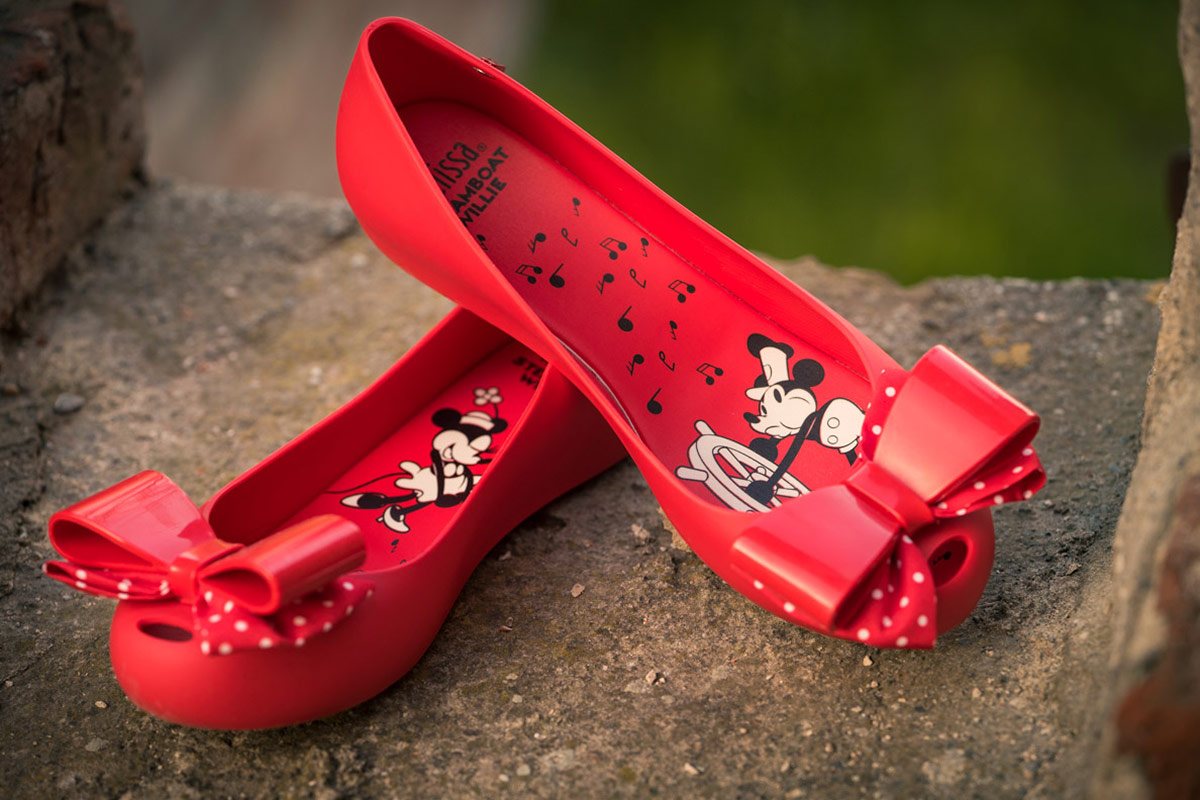 This blogpost contains affiliate links (marked with *). If you shop products via those links, I may get a small provision which helps me to maintain my blog. Of course the price doesn't change for you.
How to style ballet flats
I know there are quite mixed feelings about ballet flats out there. Some absolutely love them, and some don't like them at all. I am definitely in the first group. Ballet flats are such a great alternative to other flat shoes. They go very well with flared skirts and dresses as well as capri trousers, as they don't look chunky like many other flat shoes do, in my opinion. Furthermore, I like to take a pair of small ballet flats with me in my handbag, whenever I am wearing highheels. So when my heels get very uncomfortable, I take out my ballet flats and enjoy the rest of the day/evening. In this blogpost, I am going to talk about these special flat shoes, tell you a bit about their history and of course how to style them in an elegant way.
The Story of Ballet Flats
Ballet flats got their name as they look very similar to the dancing shoes ballerinas wear on stage. Most of the time in the fashion world, they are slippers. Some of them have straps, though.
Flat shoes similar to the ballet shoes we know nowadays were already worn in the 16th century by men and women. However, later on heels got more popular and even the ballet dancers wore shoes with a heel, until the French dancer Marie Camargo decided she no longer wants to dance in heels. At the end of the 19th century, Italian born shoemaker Salvatore Capezio, who was specialised in dancing shoes and was the official shoemaker of the Metropolitan Opera House in New York, started to create high-quality flat dancing shoes that looked very similar to the ones we know today. Although Salvatore Capezio passed away in 1940, the comany remained.
During World War II in the early 1940s, when materials like leather run short for the fashion industry, the American designer Claire McCardell asked Capezio to create some ballet flats that fit her collection – already a great success! Ballet flats got finally very popular in mainstream fashion, when in 1949 Vouge featured a pair on their cover. And when celebrities like Audrey Hepburn or Brigitte Bardot started wearing them on screen and in their private lifes, ballet flats became a big fashion trend.
The most beautiful Ballet Flat for the warm Season
*Affiliate links


---
What to keep in Mind when shopping Ballet Flats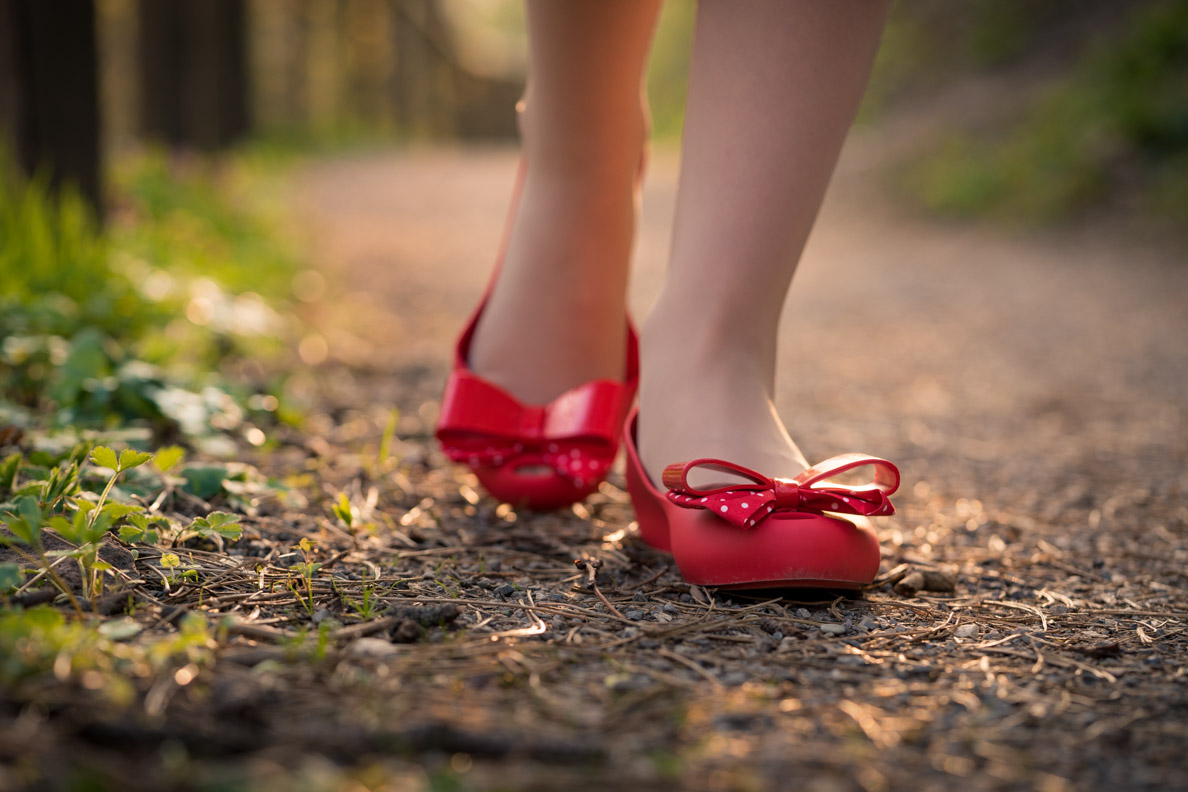 Ballet flats can either be super comfortable or the hell on earth for your feet. So it is very important to keep a few things in mind before buying a pair.
Make sure to only shop high-quality ballet flats (the don't have to be very expensive, by the way)! Especially ballet flats made of very harsh materials can cause painful blisters. I personally like very soft and strechy ballet flats the most, by the way.
It is very important that your ballet flats fit absolutely perfectly. If they are just a bit too small, it can be so uncomfortable to walk in them. If they are just a teeny tiny bit to large, on the other side, you might slip out of them while walking. So when trying on some ballet flats, make sure to walk in them a few steps before buying them.
If you tend to get blisters, it might be recommendable to wear tights, stockings or socks in your ballet flats.
Blister patches are very useful. So I always carry some patches in my handbag when leaving the house. Most of the time, by the way, my boyfriend needs one and not me. 😉
---
How to style Ballet Flats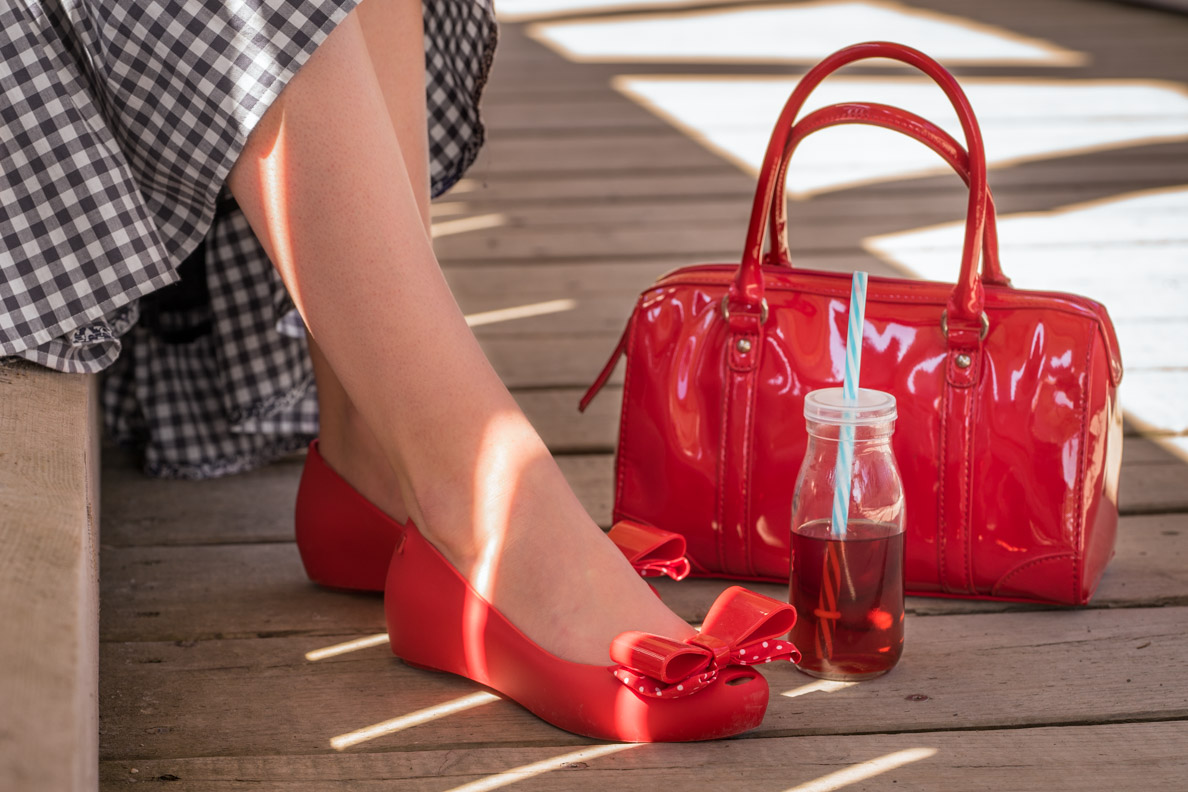 Ballet flats go well with a lot of different outfits. I don't wear them in combination with pencil skirts/dress or very glamorous outfits, though. These are some garments that look especially good together with ballet flats:
Circle skirts inspired by the 1950s or 40s style swing skirts
Capri trousers – just like Audrey Hepburn used to wear
Sassy shorts
Slim trousers with a high waist
And in the following, I am going to show you some concrete outfit examples.
Ballet Flats elegantly styled with a beige Skirt and black Top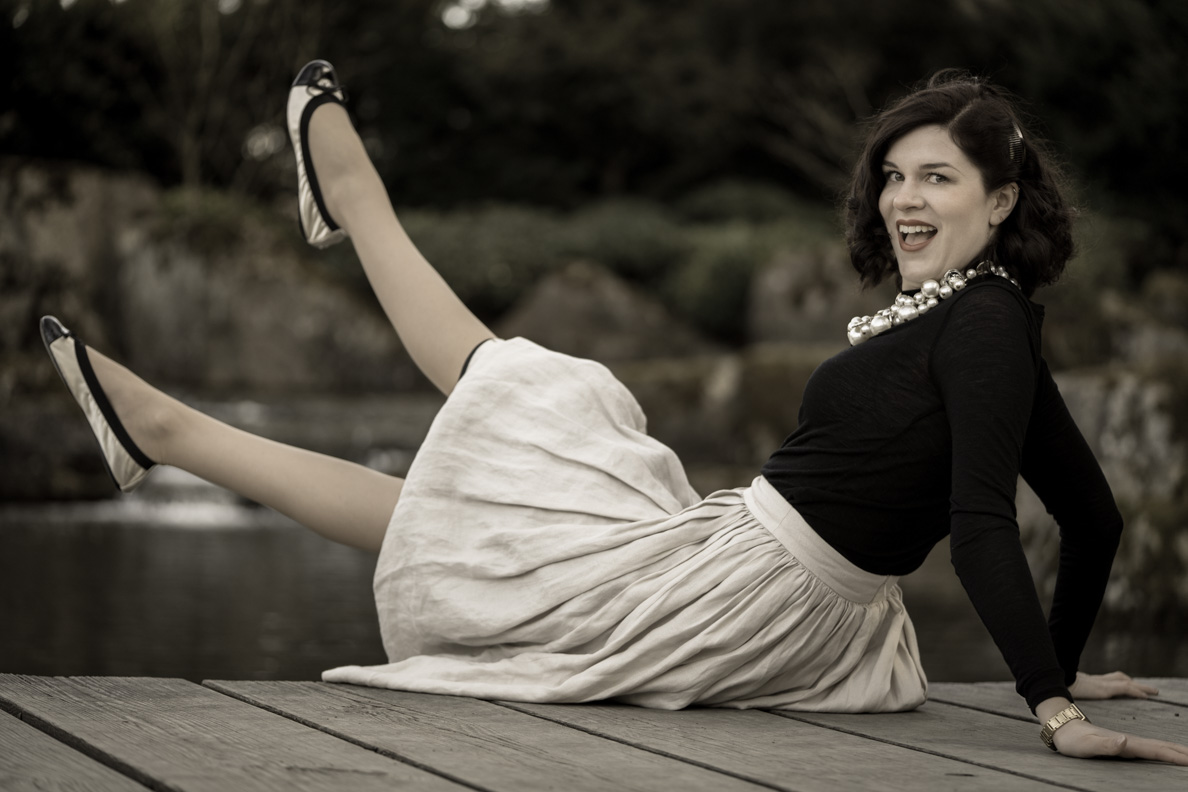 Ballet flats: Buffalo, similar here*
Skirt: Von 50′*
Petticoat: Vintage, similar here*
Top: & Other Stories, similar here*
Pearl necklace: similar here*
*Affiliate links

---
Ballet Flats and traditional Dresses
Ballet flats: Buffalo, very similar here*
Traditional dress "Gretl": Lena Hoschek
Hat: Faustman, similar here*
Earrings: Glitter Paradise*
*Affiliate links

---
How to style Ballet Flats: Circle Skirt and Blouse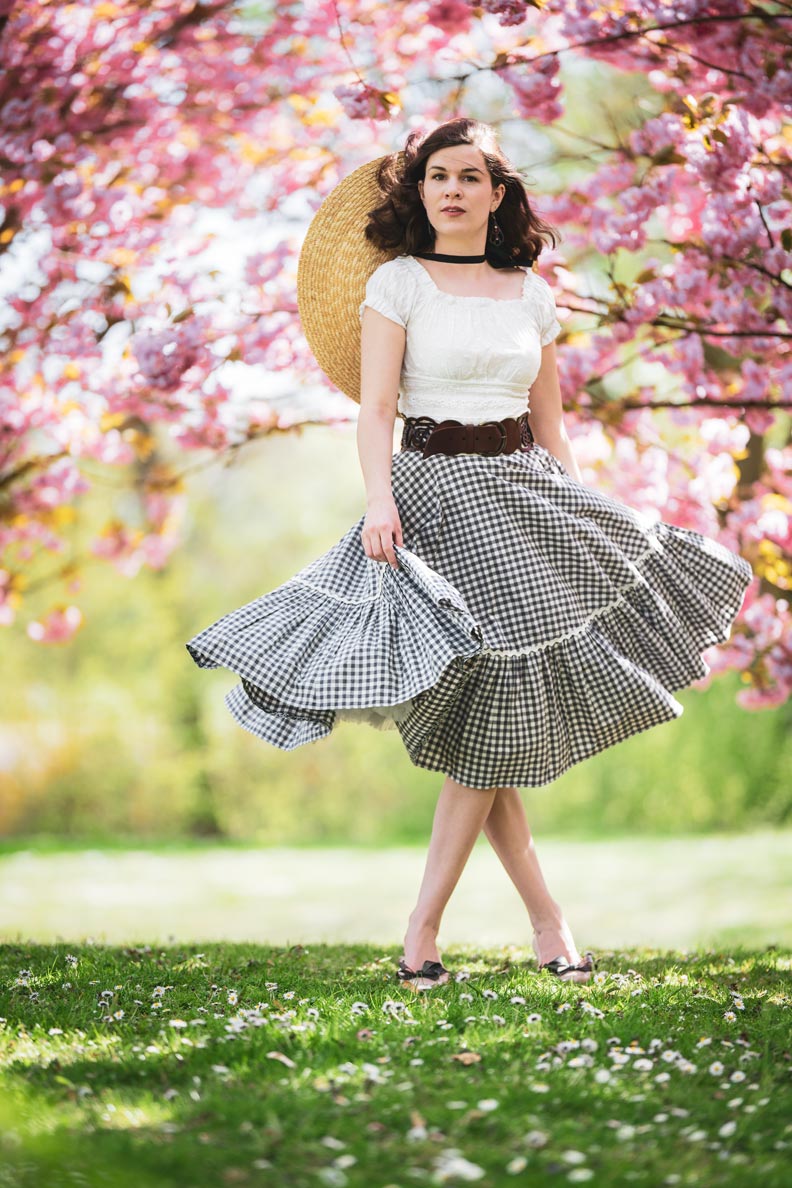 Ballet flats: Melissa, similar here*
Top: similar here*
Circle skirts: Lena Hoschek, similar here*
Hat: Jacquemus, similar here*
*Affiliate links

---
Ballet Flats and high-waist Trousers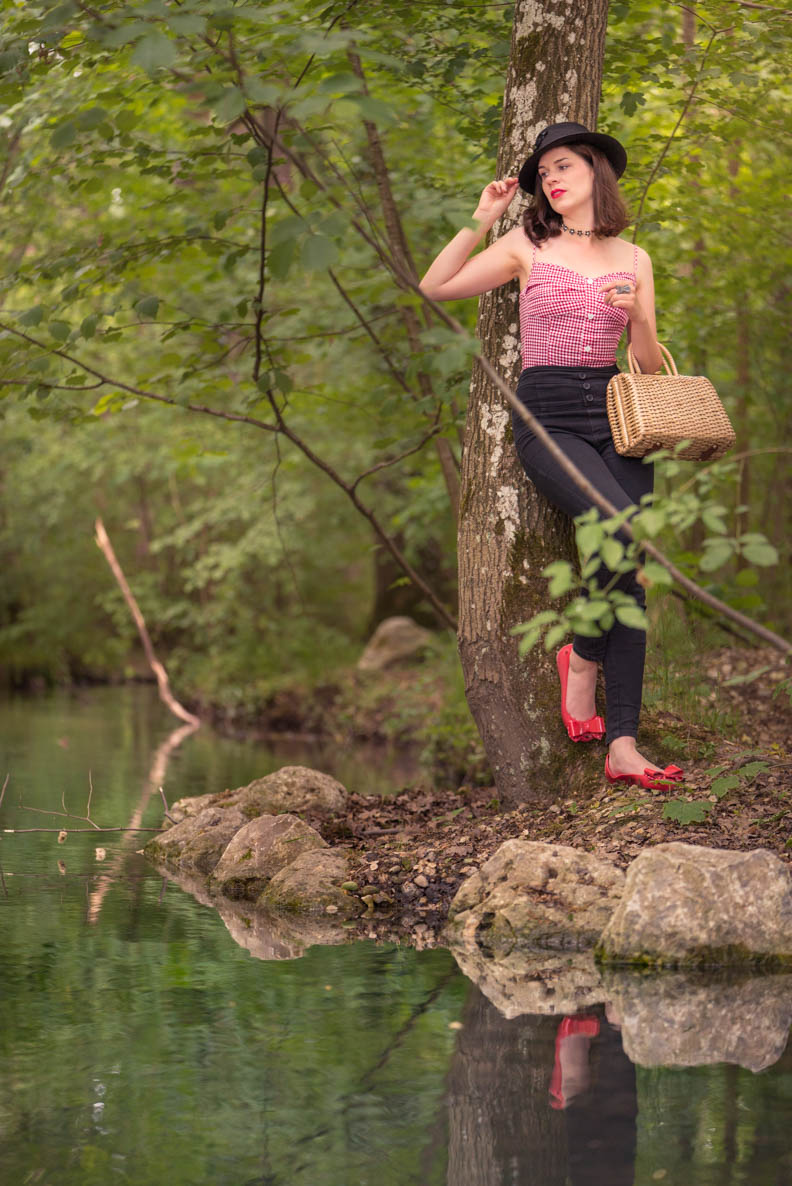 Ballet flats: Melissa, similar here*
Top: Collectif Clothing, similar here*
Trousers: Steady Clothing, similar here*
Hat: Vintage
Handbag: Vintage, similar here*
*Affiliate links

---
Sightseeing Tour in Ballet Flats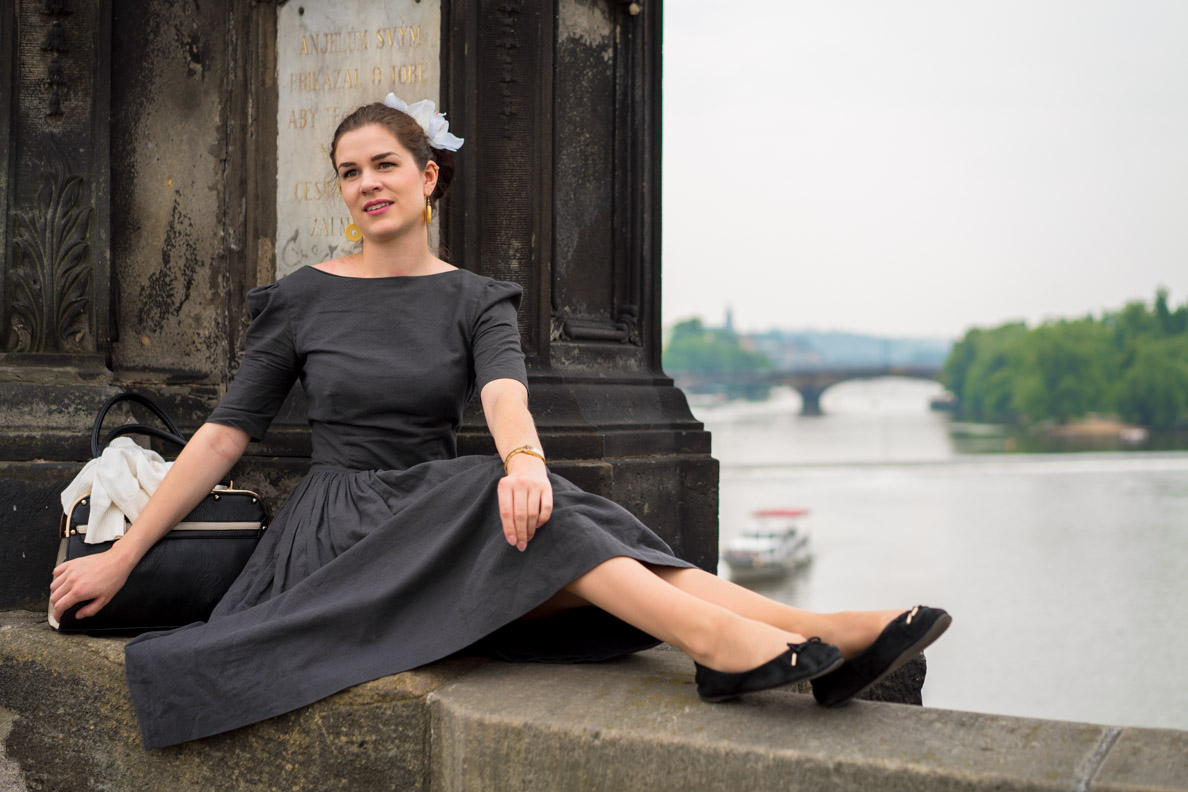 Ballet flats: Buffalo, very similar here*
Grey dress: Von 50′, similar here*
Earrings: Glitter Paradise*
Hairflower: Sophisticated Flowers*
Handbag: similar here*
*Affiliate links

---
A walk at the Sea with Ballet Flats and Capri Trousers
Ballet flats: Melissa, similar here*
Capri trousers: similar here*
Top: Hell Bunny, similar here*
Cardigan: Vivien of Holloway
Handbag: Vintage, similar here*
*Affiliate links

---
Ballet Flats and Swing Trousers
Ballet flats: Ted Baker, very similar here*
Blouse: The Seamstress of Bloomsbury*
Trousers: The Seamstress of Bloomsbury*
Hat: The Little Shop of Gorgeousness, similar here*
*Affiliate links

---
How to style Ballet Flats: A cheeky Summer Outfit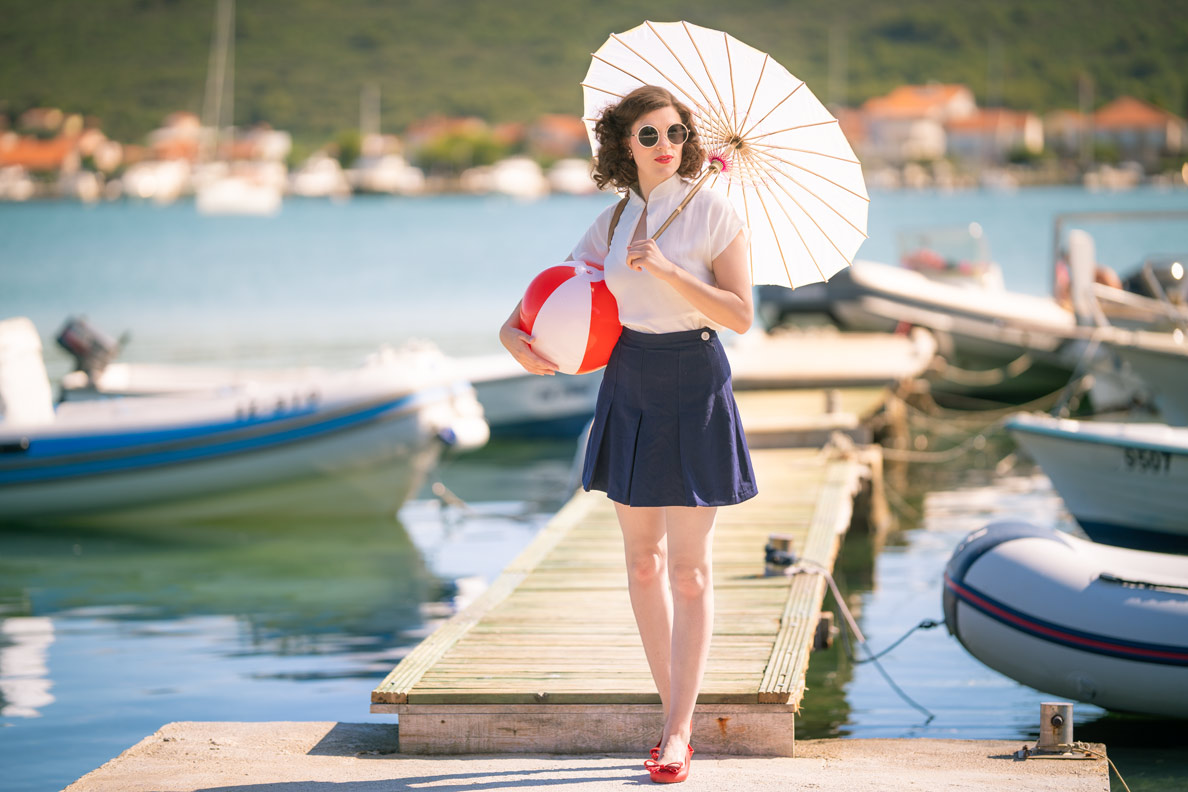 Ballet flats: Melissa, similar here*
Blouse: The House of Foxy via Mondo Kaos
Blouse: The House of Foxy via Mondo Kaos
Parasol: via Amazon*
Water ball: similar here*
*Affiliate links

---