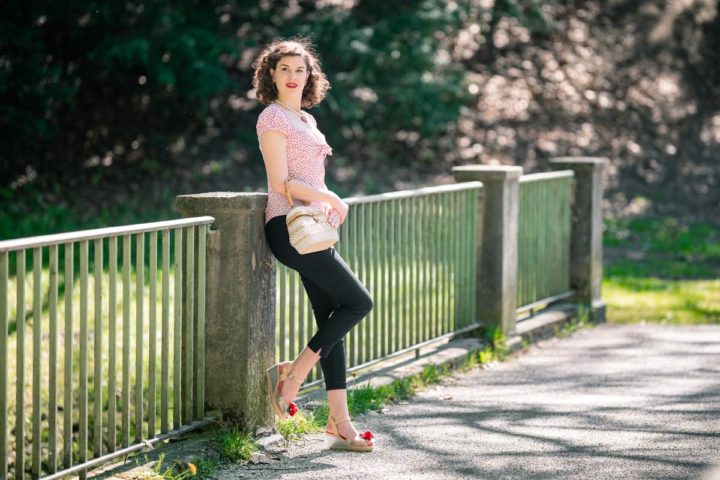 Fashion classic capri trousers: Definition, story & styling tips
This blogpost contains affiliate links & pr samples (marked with * or c/o)
Comfortable, practical, but still stylish: Capri trousers (or capri pants in the US) are a perfect choice for several informal occasion in spring and summer. In this blogpost, I want to tell you how this piece got from a provocateur to a fashion classic and of course I show some different outfits with capri trousers.
Capri Trousers: Definition
Capri trousers, also known as three quarter legs, capris, or pedal pushers are three quarter long, fitted trousers. Usually, they have a slotted hem, which makes it easy to turn them up. Capris classically end somewhere between the knees and ankles.
Classic capri trousers are waist-high, without any pockets, and made of cotton or linen. However, nowadays they are available in a lot of different form and fabrics. No matter if denim, single-coloured, or patterned, high-waisted or not, with or without pockets – everything is allowed.
The Story of the Capri Pants
Capri trousers were acutally not invented by Emilio Pucci, but buy a German: Sonja de Lennart, whose favourite destination was the Italian island Capri created the Capri Collection from 1945 until 1948; consisting of a capri skirt, capri blouse, capri belt, capri hat, and finally capri trousers. While the capri skirt and belt got already invented in 1945, the capri trousers didn't hit the market until 1948. Until know, the only really popular piece from this collection are the capri trousers, though.
Myth & Scandal
Sonja de Lennart, who opened her first boutique after World War II in Munich, cut her trousers to three-quarter-length during a walk at the beach in Italy, so her trousers legs didn't got wet. A slot at each hemline and the new trousers were born. Such a revolution!
To understand why these trousers caused so much trouble, we have to have a look at the model of femininity of this time. Even though women used to wear wide legged trousers in war period, during the late 1940s and 1950s, women in trousers were seen as unseemly. So a close-fitted pair of trousers, which even shows a part of a naked leg definitely did not fit into the picture of a reputable housewife. This is why capri trousers were even seen as an kind of erotic provocation and ended in discussions about moral and decency of women.
Some mothers even forbid their daughters to wear capris or only allowed them as leisure and/or beach wear. They definitely weren't allowed in offices for a very long time, and a German actress (Senta Berger) even got refused ot enter an hotel as her elegant suit was seen unseemly. So maybe this scandalous conception of capri trousers made them that interesting for young women.
Althoug Sonja de Lennart invented the capri trousers and had to assert her design to her father, she didn't received the recognition for her design she would have deserved.
---
Shop Capri Trousers:

---
Emilio Pucci & the Capri Trousers
Often, the invention of the capri trousers is still refered to Emilio Pucci. But he only copied Sonja de Lennart's design and sold it in his own boutique in Capri, labeled as Capri Pants. Hubert the Givenchy, who made some designs for Audrey Hepburn, and later on Yves Saint Laurent, recived some recogintion as well. We usually don't think about Sonja de Lennart, though, when talking about capri pants.
But how did those pant became that popular? This is most probably mainly due to the very popular wearers.
How Actresses made the Capri Trousers so popular
Already in 1949, actress Mady Rahl wore capri trousers in public. In 1950, Erni Mangold followed her. (Both of them were quite popular in Germany and Austria.) But it wasn't until style icon Audrey Hepburn wore capris in movies like Sabrina and her private life that these trousers got popular all around the western world. Marilyn Monroe, Sophia Loren, Katharine Hepburn, Ava Gardner, Doris Day, Brigitte Bardot, Grace Kelly, and Elizabeth Taylor are just some more examples for popular acctresses who followed her example and loved to wear capris. Especially the combination of scandal and popular wearers made the capri trousers a must have and fashion classic of the 1950s.
And when noone else than Jackie Kennedy wore her very first pair of capri trousers with pleats in public, the capris also reached the upper class.
The Capri Trousers: A Fashion Classic from then until now
Even though capris definitely had their heyday in the 1950s, they were still very popular in the 1960s. In 1978, they had another big appearance in the movie Grease. Afterwards, it seems like they had a little break and were mainly worn as sports wear. But they celebrated their huge comeback in 1994 with Uma Thurman wearing them in Pulp Fiction (Quentin Tarentino). They experienced another in revival in 2002 and are back on the runways in this season, as I already told you here.
How to team Capri Trousers & what to keep in Mind
It is often said that capris are only for lean and tall women. This is definitely not true, though. With keeping just a few things in mind, capri trousers look great on every women and body type.
Due to their length, capri trousers may optically shorten your silhouette. So for curvy and/or small women, it makes sense to team capris with open shoes like pumps, as those optically lengthen the legs.
Sandals make your capri trousers outfit look more summery. But of course your capris will also look amazing teamed a la Audrey Hepburn with ballet flats and a simple top.
High-waisted trousers are able to create an illusion of an hourglass-silhouette.
If you put your top into your high-waisted capris, your legs are going to look longer.
Wearing the top over the capris, on the other side, looks more casual. In the 1950s and 1960s, women wore both variants, by the way.
You can shop great vintage inspired capri trousers at TopVintage or Amazon, for example.
In the following sections, I'm going to finally show you different outfits with capri trousers.
---
Classic Retro Look with Capris & a Blouse
Capri trousers go very well with (summery) blouses. I already introduced you my trousers by Pretty Retro* in this blogpost, and this time, teamed them with a lovely blouse by Lena Hoschek. Wedges, a basked bag, as well as some sugary retro jewellery by Glitter Paradise finish this 50s inspired summer outfit.
Outfit Details:
Capri trousers: c/o Pretty Retro
Blouse: Lena Hoschek, similar here
Necklace: Glitter Paradise
Earrings: Glitter Paradise
Basket bag: Vintage, similar here
Wedges: Miss L-Fire, similar here
---
Casual Outfit with Capris & Sweater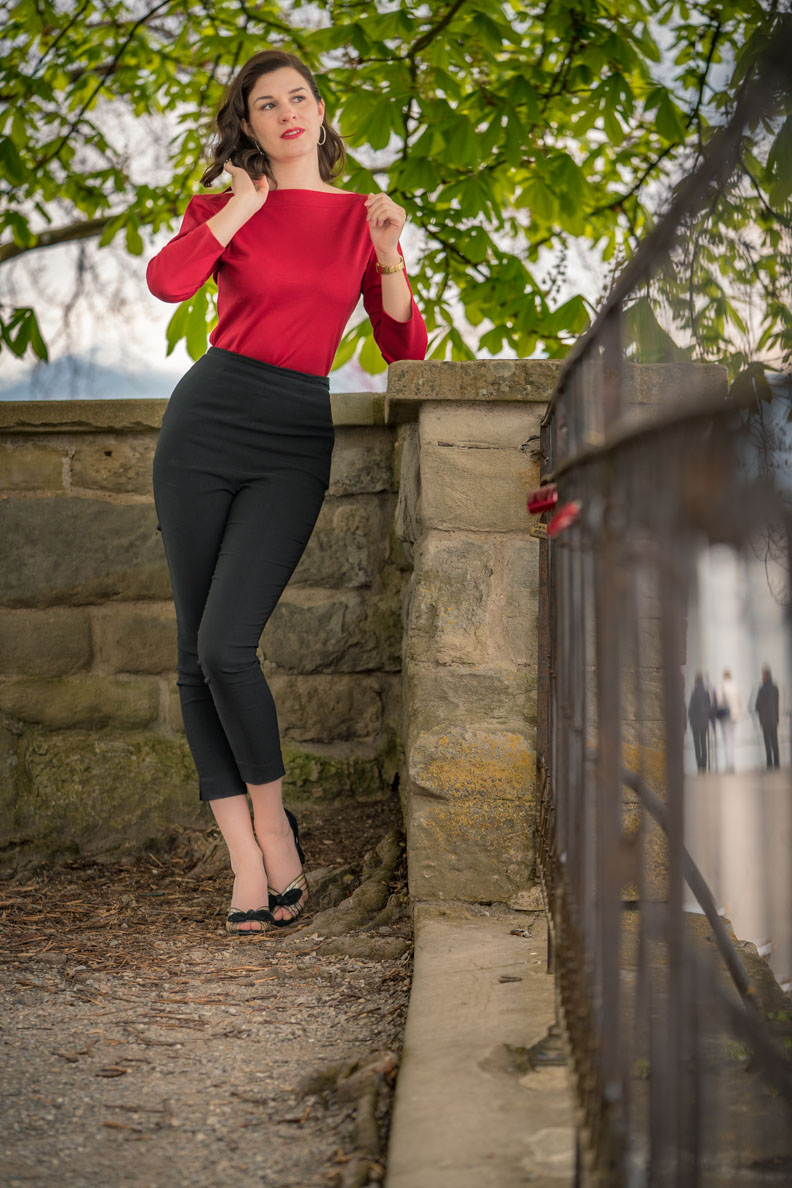 In combination with a simple sweater or top, capri trousers look casual and are absoutely perfect for everyday life. For a retro silhouette, I tucked my top into the capris and teamed them with lovely retro pumps. Plain jewellery finishes this casual daytime outfit.
Outfit Details:
Capri trousers: c/o Pretty Retro
Bardot Top: c/o Pretty Retro
Earrings: Swarovski
Shoes: Miss L-Fire, similar here

---
Nautical Look with Capris & a Sailor Shirt
Named after the inventor's favourite desitination, of course capri trousers look amazing when styled nautically inspired. For this relaxed outfit, I went for navy blue capris in combination with a sailor top, wedges, as well as a basket bag.
Outfit Details:
Top: Abbey Dawn
 by Avril Lavigne
Capri trousers: Jus d'Orange, similar here
Basket bag: Vintage, similar here
Shoes: Buffalo, similar here
Earrings: no name
---
For cooler Days & Evenings: Capris teamed with Cardigans
When it is getting a bit colder outside, capri trousers can easily be teamed with a warm knitted cardigan. Due the different shades of blue and the striped top, this outfit looks nautical inspired as well. Ballet flats make it very comfy and are perfect for a long walk (at the sea).
Outfit Details:
Capri trousers: Jus d'Orange, similar here
Striped shirt: Hell Bunny, very similar here
Cardigan "Jenny": c/o Vivien of Holloway
Ballet flats: Melissa via Maison Chi Chi, very similar here
Basket bag: Vintage, similar here
---
Stylish 60s Look with Capris & big Shades
The terms pleat-front trousers and cool doesn't seem to go very well together. If those pleat-front trousers have "capri lenght" and an amazing bright colour, though, they definitely can look cool. I teamed them with a short-sleeved cardigan, big sunglasses, a fancy pearl necklace, as well as elegant shoes. A perfect outfit for everyone who prefers a more stylish and extraordinary look.
Outfit Details:
Lena Pants: c/o King Louie, sold out, similar here
Top: c/o King Louie, sold out, similar here
Sunglasses: Miu Miu, similar here
Gloves: Vintage, similar here
Shoes: Miss L-Fire, similar here
Necklace: similar here
Handbag: Vintage
---
And now, I'm curious: Did you know who invented the capri trousers? Do you like to wear them as much as I do? And which one is your favourite outfit?
---
More Fashion Classics:
---
If you want to learn more about fashion and the story of fashion classics, make sure to check out my page Fashion Know-how (click)!