Stylish, elegant, glamorous: Summer hats for every occasion
This blogpost contains affiliate links
Spring has arrived and day by day, the sun is shining a bit longer. Oh how I enjoy the warm sunrays on my skin! The only problem: I easily get sunburnt on my nose and parting. What helps: sunscreen, of course, but also hats. They not only protect us from the sun, but also can look super stylish. In this blogpost, I'm not only going to show you the most beautiful hats for spring and summer, but also tell you which hat goes for which occasion, what to keep in mind when buying your summer hat, and how to pimp a boring one.
Summer Hats: What to keep in Mind & where to buy them
Before showing you the most beautiful summer hats, I want to give some advice on what to keep in mind when buying hats for spring and summer.
Straw hats are a classic for summer, that's for sure. They are not water proof, though, so shouldn't be worn in the rain. Other light fabrics like cotton are a good choice as well.
Even when the sun is shining, not every danger for hats is banned: Just a gust of wind and your hat may fall down to the street, or even worse, in the water. So always make sure your hat fits your head perfectly and maybe even fix it with a ribbon or hatpin.
Of course you want to take your summer hats with you on vacation. But please keep in mind: carrying them with your other package in a suitcase might cause damage. So it's best to carry hats in a specific hatbox. Many hats (especially the more expensive ones) already come in such a box, if not, you purchase one for little money on Amazon for example.
Summer hats are available for little money at almost all big fashion stores. Even though they might not be as high-quality as the more expensive ones from a millinery, they are still a good choice for everyday life.
If you would rather like to invest in a high-quality hat, which can't be seen on every second head, I recommend to visit a millinery (in Munich, I can recommend Nicki Marquart), or search in vintage stores for unique vintage hats. Platforms like Etsy or Ebay are good places to search online for vintage hats.
Here are some online hat shops I can recommend that have a great variety of especially vintage inspired hats:
---
Summer Hats: Boaters & Straw Hats for every Day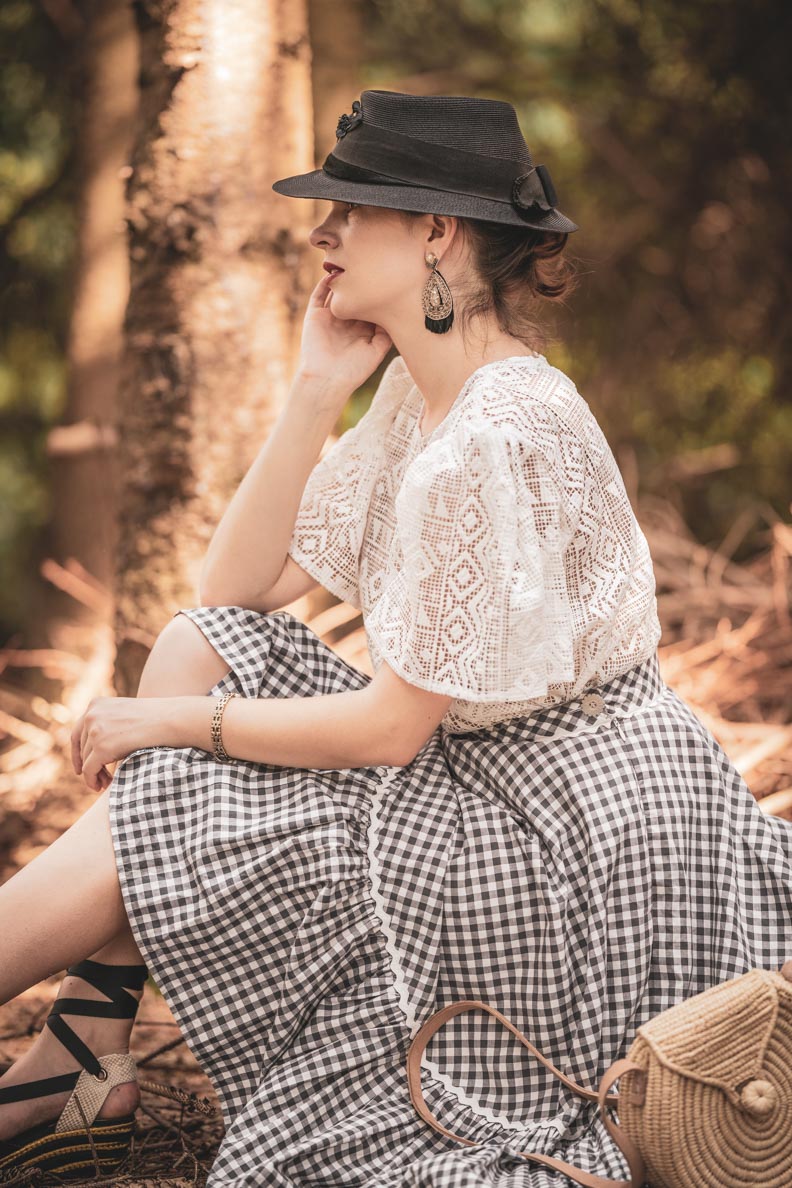 If I had to choose only one hat, I would go for a quite simple one made of straw with a brim. This kind of hat goes well with so many different outfits and suits a lot of occasion, depending on how it is styled. It is totally up to you if you rather go for a natural straw-coloured one, or a black one like mine. Just choose the one that matches the rest of your clothes best.
Shop Boaters & casual Straw Hats: