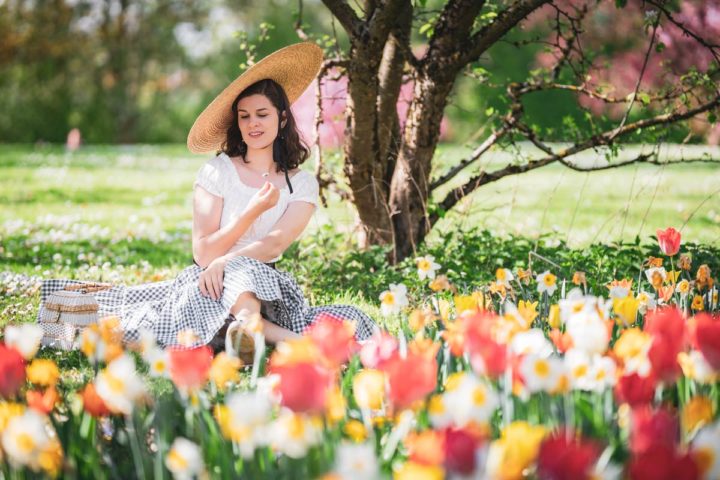 Perfect for summer: Gingham & how to style it for different occasions
This blogpost contains affiliate links
Warm summer days outside, picnics in nature, long walks in the park: Is there a pattern that matches such activities better than gingham? In this blogpost, I'm going to tell you the story of gingham, how it came into fashion, and of course give some styling tips for different occasions.
What is Vichy Check / Gingham?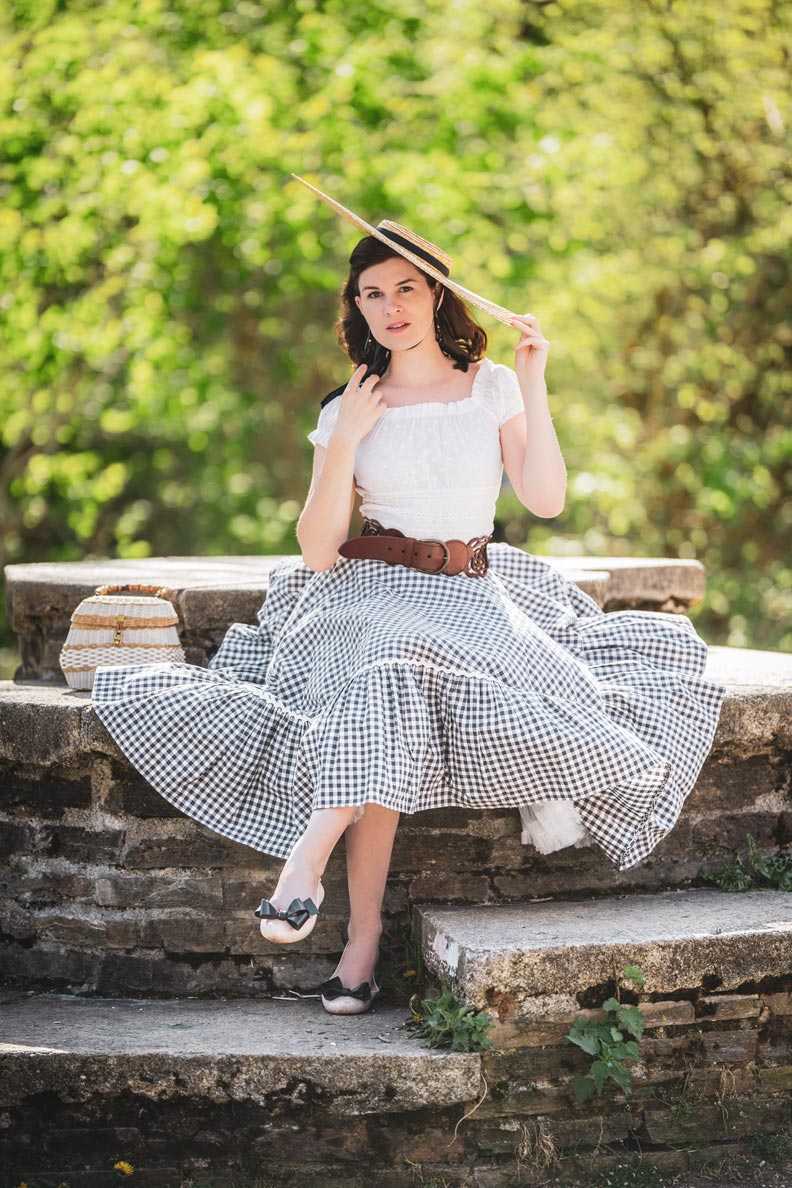 Gingham, also called vichy check, nowadays is known as a checked fabric, traditionally made from dyed cotton or cotton-blend yarn. The pattern is not a print, it comes from the weaving, where the colouring is on the warp yarns and always along the grain. Traditionally, the gingham pattern has two colours, where one is usually white, the second one black/grey, blue, red, or green. Nowadays, however, are many different variations available and somethimes, gingham has even more than two colours.
By now, we assume gingham with checks. Back in time, though, striped gingham was popular as well.
Vichy check, by the way, should not be confused with vichy (I tell you more about vichy in this blogpost).
The Story of Gingham
Gingham is a traditional pattern and used almost all around the world. Furthermore, it is quite old and its roots aren't known. Which is no wonder as checks are one of the oldest patterns in the world. This is mainly due to the manufacturing method of the first fabrics: weaving.
The name vichy check most likely comes from the French town Vichy. However, it is also a very popular and a traditional pattern in other European regions and countries like Bavaria, Belgium, the Netherlands, North Italy, Great Britain, and Sweden. Since the second half of the 17th century, the gingham cotton fabric has inter alia been produced in fabrics in Manchester.
But even outside of Europe, in countries like India, Japan, Indonesia, and many African countries, gingham has often been popular since a long time.
How Gingham came into Fashion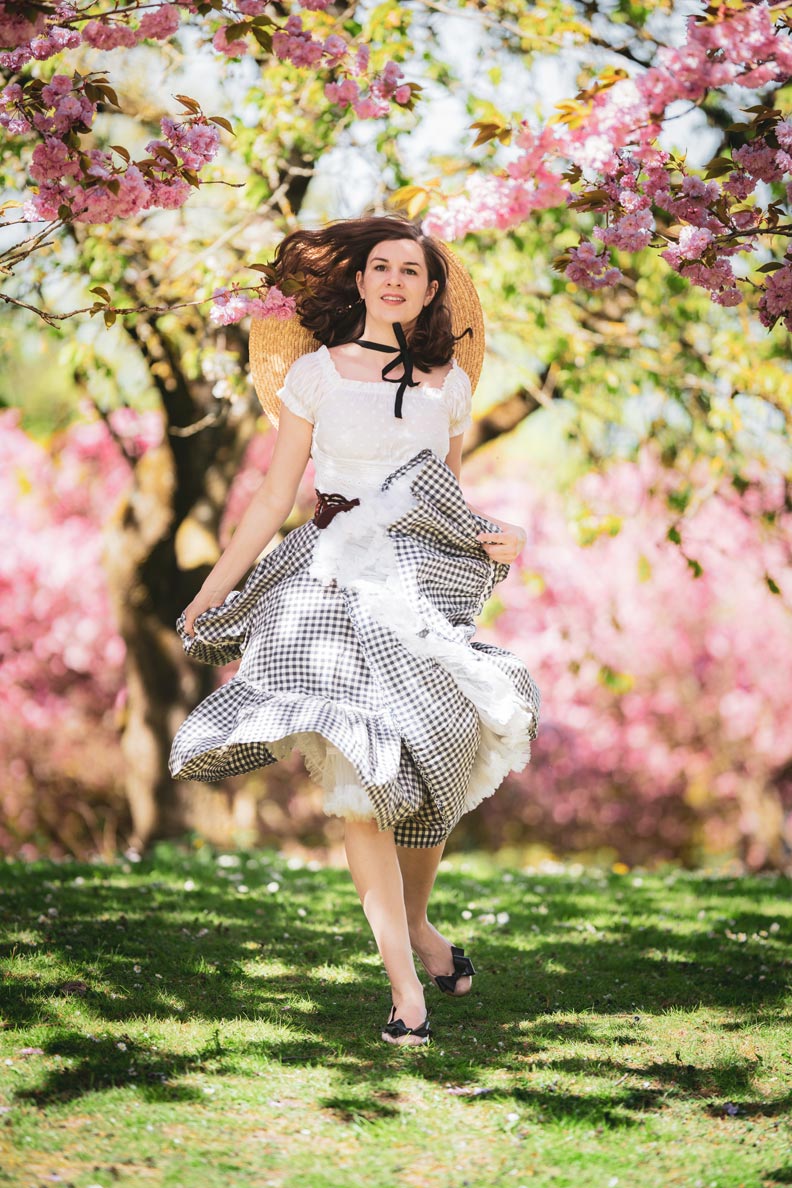 Originally, the gingham pattern was mainly used for housewares like napkins, tablecloths, picnic rugs, bedlinen, curtains, tea towels, and aprons. Even today, we usually associate the gingham pattern in blue or red with farmhouse parlours, picnics in nature, and warm summer days.
Gingham and its popular Wearers: From Brigitte Bardot to Alain Delon
In the 1950s, gingham house dresses became popular amongst American housewives. However, this pattern became really fashionable in 1959, when Brigitte Bardot wore a light pink gingham dress on her wedding with Jacques Charrier. She also liked to sunbath in a bikini with vichy checks in Saint Tropez.
---
Shop Gingham Swimwear:

---
Another popular wearer of the gingham pattern was Audrey Hepburn; gingham capri pants in combination with a simple top perfectly reflected her elegant but subtle style. Even men liked gingham: Beside Alain Delon and Gunter Sachs, David Hemmings wore a gingham shirt in the movie "Blow up". Since then, gingham celebrates its comeback every few years. Always popular is this pattern in the Austrian/Bavarian Tracht and in mod subculture.
---
How to wear and style Gingham
Gingham goes perfectly with summery, a bit more casual outfits, but even works in business, if done right.
Gingham accessories are able to add that certain something to an outfit.
Gingham can be even teamed with other patterns. I especially like to team it with the classy retro cherry print.
If you want a very fashionable and modern look, try a gingham blazer.
Now, I want to show you some of my favourite outfits with gingham:
Circle Skirt & a big Hat: A relaxed Outfit for a Day outside
A gingham circle skirt almost screams "picnic in nature", but also works for a walk in the park, of course. Beside my beloved Lena Hoschek skirt, I chose a white lace blouse, comfortable ballet flats, which are perfect for long walks, as well as a pretty vintage basket bag. A huge straw hat not only protects us from the sun, but also is the cherry on the cake of this comfortable but stylish leisure outfit. PS: In this blogpost, I show you more beautiful hats for spring and summer.
Outfit Details:
Skirt: Lena Hoschek, similar here
Blouse: similar here
Hat: Jacquemus, very similar here
Ballet flats: Melissa, very similar here
Handbag: Vintage, similar here
Shop Gingham Skirts & Dresses:

The circle skirt by Lena Hoschek is one of my all-time-favourites, and I wear it quite often. Here are some other combinations with this skirt: (A click on the picture will lead you to the respective blogpost where you find all the outfit details.)
---
Perfect for a Day in the Countryside: Gingham Top & High-Waist Trousers
Red and white gingham always reminds me of summer days in the countryside, and in form of a top, it is actually quite perfect for this occasion. I teamed the top with black trousers, flats, a basket bag, and a hat – that's exactly what you need to look like a stylish country girl!
Outfit Details:
Gingham top: Collectif Clothing, similar here
Trousers: Steady Clothing, similar here
Ballet flats: Melissa Shoes, similar here
Earrings: Glitter Paradise
Hat: Vintage, similar here
Handbag: similar here
Shop Gingham Tops:

---
Stylish 60s Look with Gingham Trousers
If you like a classy 60s inspired retro look that still works today, just get inspired by Audrey Hepburn and Brigitte Bardot! Gingham trousers (capris or long, that doesn't matter) in combination with a simple black or colourful top are the base of the look. Now you can play with shoes (I would go for classy pumps or ballet flats) and accessories. A teased hairstyle as well as a strong eye-makeup finish this stylish 60s outfit.
Outfit-Details:
Trousers: Collectif Clothing, similar here
Shoes: similar here
Earrings: similar here
Handbag: Vintage, similar here
Shop Gingham Trousers:

---
Stylish Details: Gingham Shoes & Accessories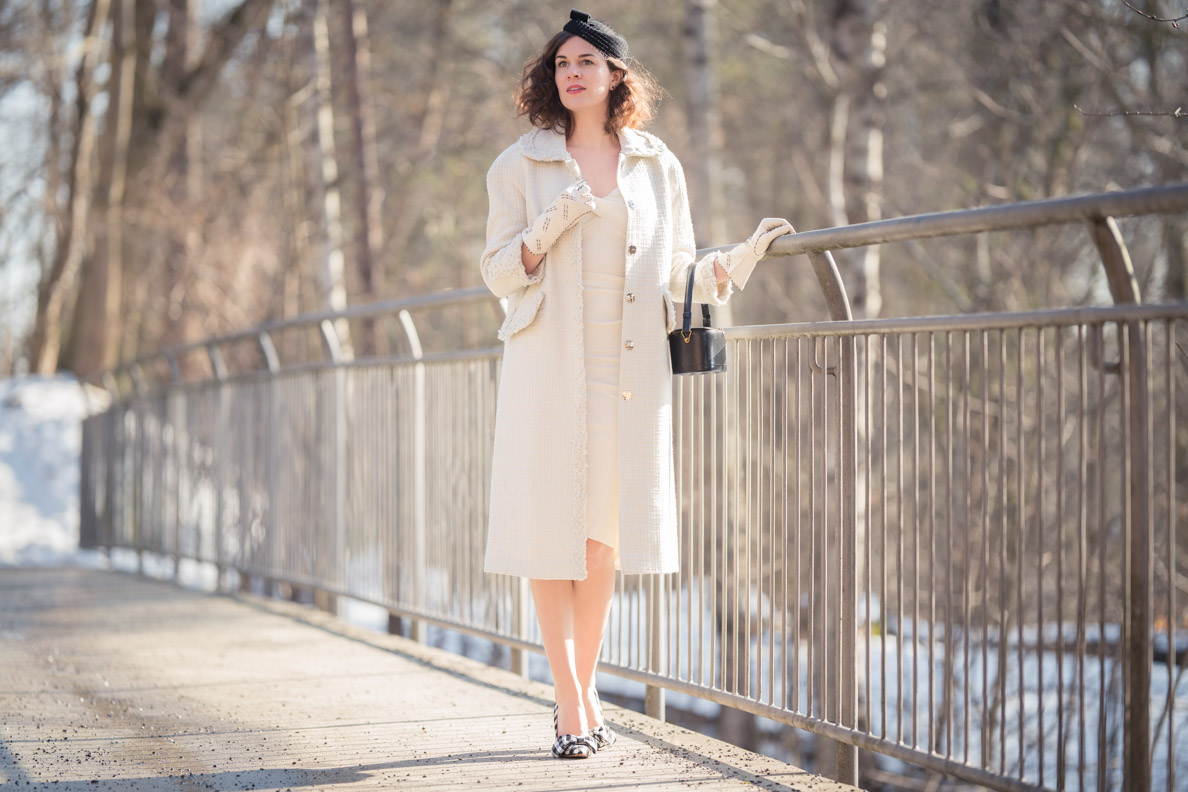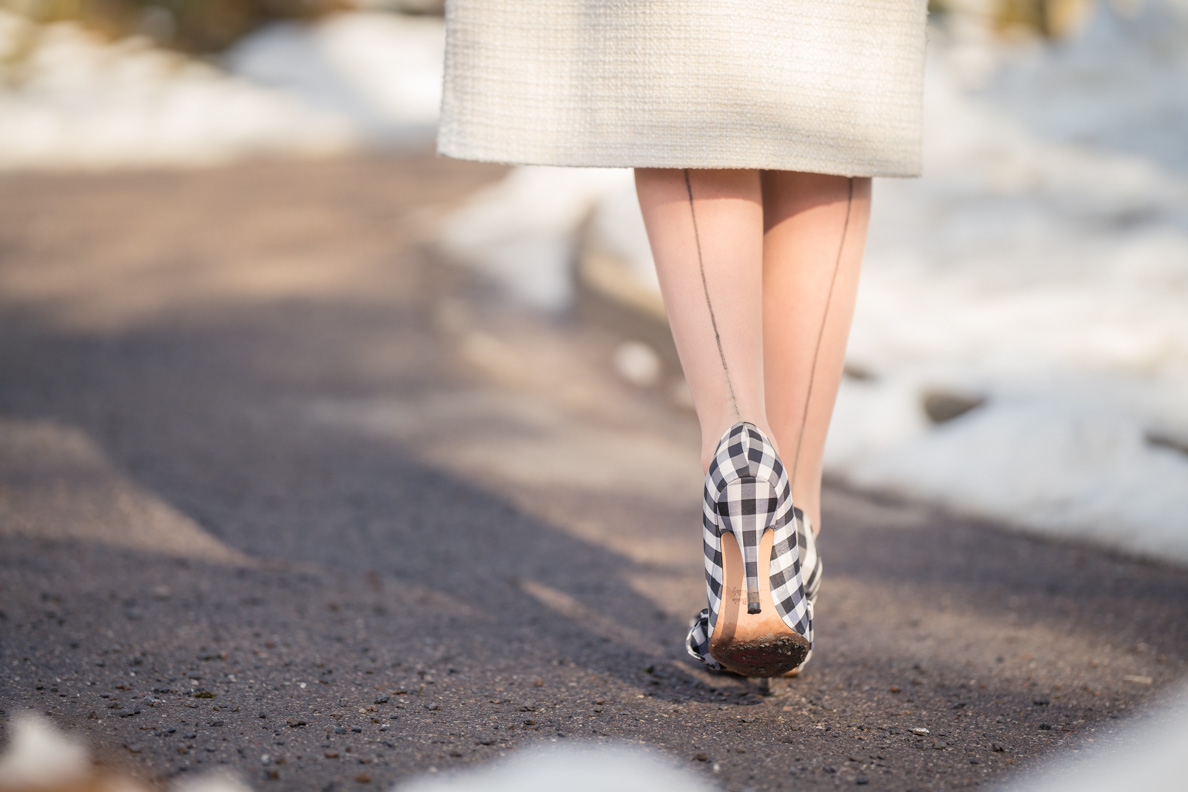 Gingham does not always have to look like countryside idyll and freetime. It can also be quite elegant, especially in form of shoes or gloves. To make my white outfit a bit more stylish, I teamed it with gingham high heels and some black accessories.
Outfit Details:
Coat: Ginger Jackie
Dress: Stop Staring!, similar here
Elegance French Heel Stockings: c/o Secrets in Lace – Europe
Shoes: Lena Hoschek, similar here
Hat: similar here
Handbag: Vintage
Gloves: Vintage, similar here
Shop Gingham Accessories:

---
Colourful Gingham for Summer Weddings & Garden Parties
If you would like to wear gingham on an elegant garden party or maybe a summer wedding, I recommend (pastel-)colours in combination with white. This always looks fresh, light, but also chic. Lovely pumps, sunnglasses, as well as a nice handbag, and you are ready to go.
Outfit Details:
Gingham Dress: Wiener Kreation, similar here
Petticoat: Vintage, similar here
Shoes: similar here
Gloves: Secrets in Lace
Sunglasses: similar here
Belt: Vintage, similar here
Shop colourful Gingham Styles:

---
And now, I'm curious: Do you like gingham as much as I do? And what is your favourite combination?
---
More Fashion Classics:
---
If you want to learn more about fashion and the story of fashion classics, make sure to check out my page Fashion Know-how (click)!