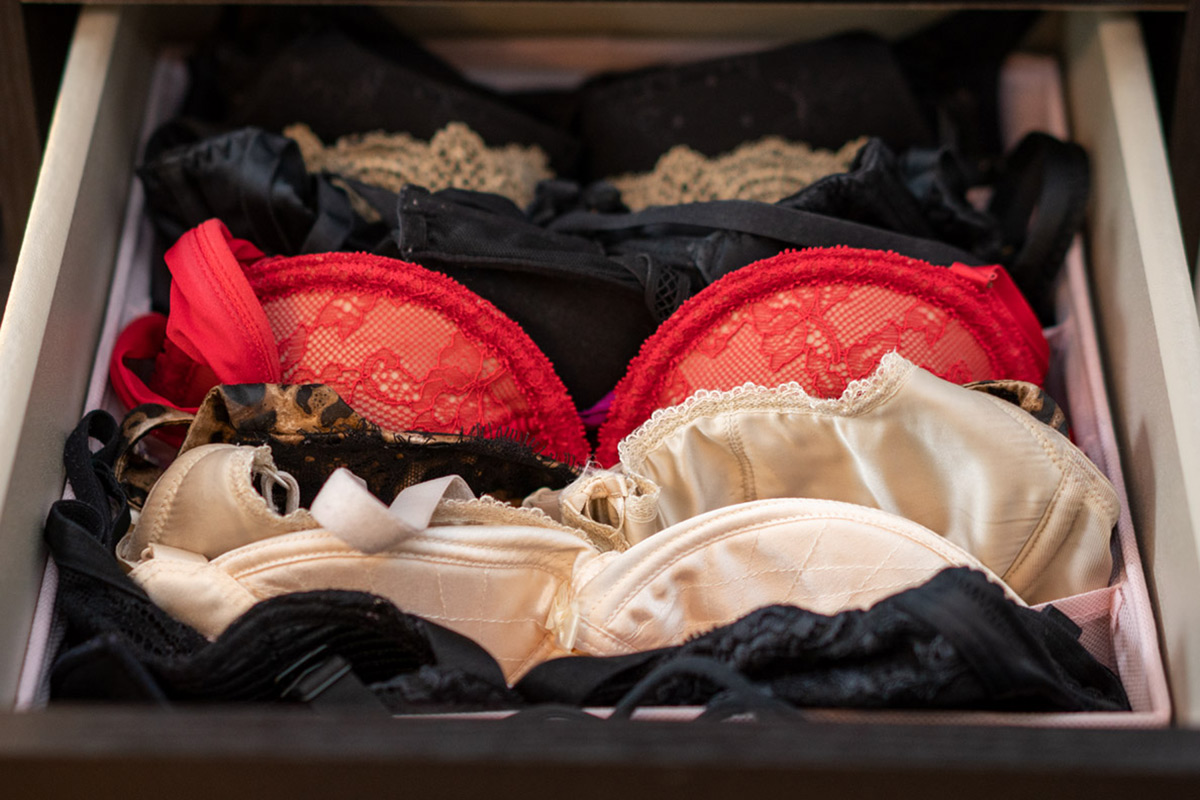 This blog contains affiliate links (marked with *). If you shop products via those links, I may get a small provision which helps me to maintain my blog. Of course the price doesn't change. Items marked with c/o were given to me as free test samples.
How to organise Underwear
As a lingerie lover, I've been dreaming of having an own dresser for my lingerie as long as I can think. By now, I luckily was able to fulfill my dream. Well, at least partly. One day, I want a very special dresser, but until then, my Malm dresser by Ikea* is good enough. In the following, I am going to tell you how I organise my underwear.
Helpful Tools: Storage Boxes
The Malm dresser actually is a quite good place for lingerie. At the very top, there is a shelf with a mirror, two smaller drawers and then four bigger drawers are following. I am able to use one drawer for one category of underwear. To make sure that in the end, everything looks very organised and I am able to find what I am searching for, I use storage boxes. I bought some from Amazon*, but made a small mistake: I didn't measure the drawers, so in the end, the boxes are a teeny tiny bit too big. But I somehow made it to fit them in. 🙂
All in all, I absolutely like the storage boxes. They really help to organise my lingerie and make sure that everything stays in place.
Affiliate links

---
How to organise Underwear
In the following, I am going to open every drawer of my lingerie dresser for you and show you what and how I store my underwear in them. PS: I put a lavender bag in every drawer, as I really love the smell whenever I open them. Furthermore, I tried to link my lingerie pieces for you, so you are able to shop them, if you like.
Before we start, a small hint: I show every drawer from the front and the top.
Affiliate links

---
How to organise Underwear: Corsets and other Lingerie
In the bottom drawer, I store my corsets and special lingerie pieces. And as I love the Agent Provocateur packages, I decided to keep some of them to store my lingerie inside.
Affiliate links

---
How to store Nylons and Stockings
I already wrote a full blogpost on how I organise my stockings and tights, so I only want to say a few words, now. I roll my stockings and store them in small storage boxes.
By the way: I own so many stockings and tights, I am not able to fit everything in one drawer. So I have another huge drawer in my closet only for my tights. If you are curious, check out this blogpost to see the tights drawer. 😉
Affiliate links

---
How to store Bras
It actually is not very complicated to store bras. Just make sure to not fold your push-ups or bras with padded cups to make sure they keep their shape. And very important: Don't put your worn bras back into the drawer! If I don't want to wash my bra after I have worn it once, I hang it on a hanger at my bedroom door. PS: Don't forget to wash your bras regularly. 😉
At the front of the drawer, I store my bullet bras and bras without pads and wires. Then, my other bras "stand" in the storage box. At the front after the bullet bras, I store my most worn bras, and then the ones I do not wear that often. I also tried to organise them by colour.
Affiliate links

---
How to organise Underwear: Hold-ups and Panties
I don't own that my hold-ups, so I decided to store them together with my panties. I buy a matching panty for every bra, but also own some classy black ones that go well with a lot of different styles.
Affiliate links

---
How to organise Underwear: Shapewear
In one of the smaller drawers, I keep my shapewear and waspies by Agent Provocateur*. As I do not own that much shapewear, this drawer is definitely big enough.
Affiliate links

---
How to store Underwear: Garter Belts
In the upper drawer, I store my garter belts. To be honest, I am not completely happy with that, as it looks a little bit chaotic. But all in all, this solution is okay for me. As there are only garter belts inside this drawer, I usually still find what I am searching for quickly.
PS: In this blogpost, I tell you how to find the perfect garter belt for yourself.
Affiliate links

---
My Lingerie Drawer: The upper Part
To be honest, I wasn't really sure what to do with the upper "mirror shelf". But then, I saw a wonderful showcase at Agent Provocateur and got inspired to decorate it in a similar way. So by now, a lot of "chi chi" is inside there. 😉
Affiliate links

---