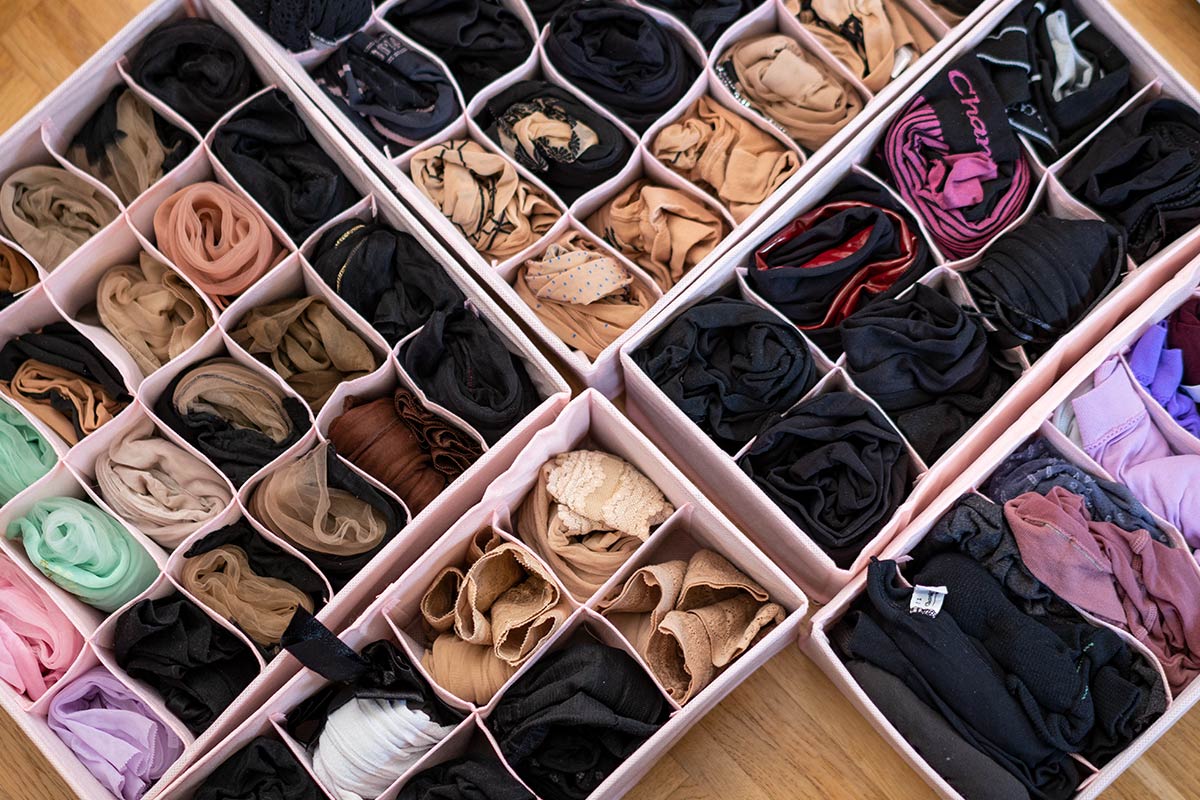 This blogpost contains affiliate links (marked with *). If you shop products via those links, I may get a small provision which helps me to maintain my blog. Of course the price doesn't change for you.
How to store and organise tights
I own two drawers full of hosiery! To be honest: These two drawers were a complete mess. Everytime I wanted to wear a special pair of stockings or tights, I had to rummage through countless pieces of hosiery. This not only costs a lot of time, it is also not very good for your hosiery to pull them out and stuff them back into the drawer that often. So it was definitely time to change something. With some new storage boxes, I finally was able to tidy up my hosiery drawers and really enjoy looking for tights now. In the following, I am going to tell you step by step how I did this.
Step 1: The Inventory
Before I started with organising my hosiery, I made an inventory. I own a lot of nylons, stockings and tights, so I started with thinking of how many space I will need for them in my closet. So before tidying up, make sure to check what you have. This will also help you when choosing storage boxes.
---
Step 2: The big Clean out
After the inventory, I put out all my hosiery pieces and placed them on a stack. This is also a perfect reason to clean out your tights, by the way. Just as with a proper wardrobe clean out, I recommend to hold every pair of tights or nylons in your hands and check if they have any flaws or ladders. Put the damaged hosiery pieces on an extra stack, but don't throw them away – I am going to tell you what you can do with them in an extra blogpost!
I also already started with organising my hosiery at this point. I made different stacks and put all my sheer tights on one, my opaque and thermal tights on another one. There are also stacks for my fancy patterned tights, fishnet tights, true fully fashioned nylons and hold-ups.
---
How to organise Tights – Step 3: Some helpful Tools
To make sure the chaos won't return to my drawers anytime soon, I invested into some storage boxes for lingerie. I bought two sets of pink boxes* in different sizes, and actually needed all of them. 😉
Depending on how many tights you own, there are many different storage boxes in different sizes available. PS: Make sure to measure your drawer before buying some boxes.
If you don't have enough space for storage boxes in your closet, there are also some hangers with pockets available.
*Affiliate links

---
How to store Tights – Step 4: The Organising
And now comes the fun part! It is time to put your hosiery into the storage boxes! As I already have different stacks with different kinds of hosiery by now, this part is really easy and quite quick. I put the opaque, warm tights into the boxes with bigger shelves, and the more delicate nylons and sheer tights into the boxes with smaller shelves.
After trying some different techniques, I decided to roll most of my nylons and tights. I also tried to make sure that I can immediately see which pair of nylons or tights are in which box.
---
How to organise Tights – Step 5: Put everything back into the Drawer
Now the only thing you have to do is to put your storage boxes back into your drawer or closet. I had to keep my two drawers system, by the way. No matter how well I organise my hosiery, I simply have too many pieces for only one drawer. So I still have one smaller drawer for all my nylon stockings as well as hold-ups.
In the bigger drawer, I store all my different kinds of tights. I usually do not keep the packages of my hosiery, by the way. They simply need too much space. But I always have some back-up pairs of stockings and tights which I have never worn. I do store them in their original packages until I wear them for the first time.
I also put a small lavender bag into my drawers. They smell gorgeous and are also said to keep moths and bugs away from your clothes. 😉
---
My Hosiery Drawers: Before and After
I really enjoy searching for stockings and tights now, Everything looks so organised and tidy and I always find what I am searching for. So here are some before and after pictures for you.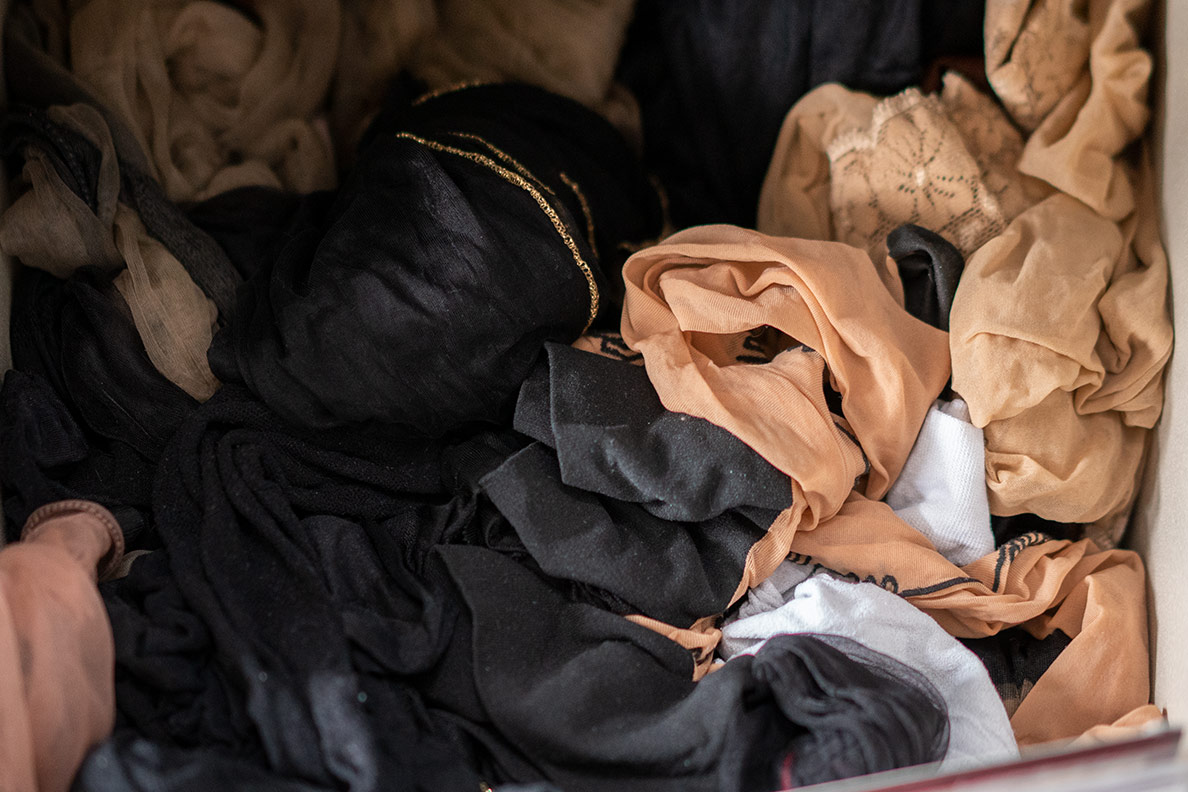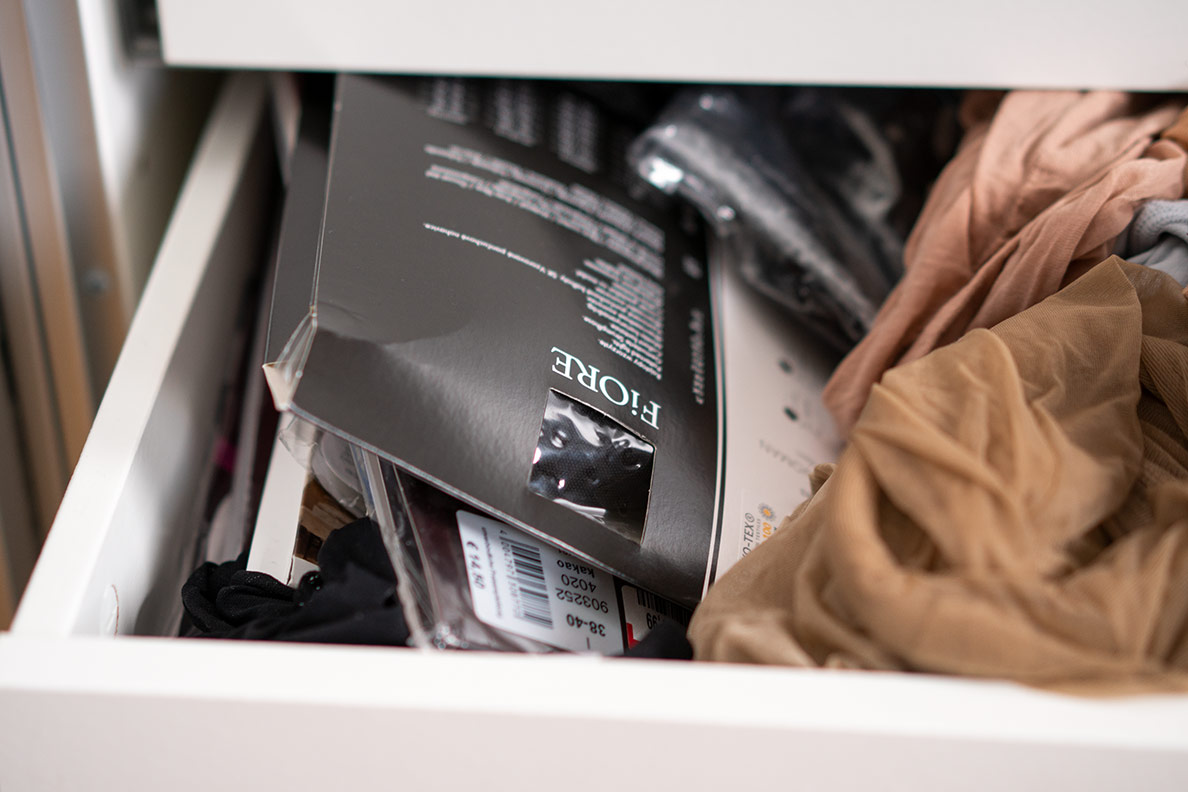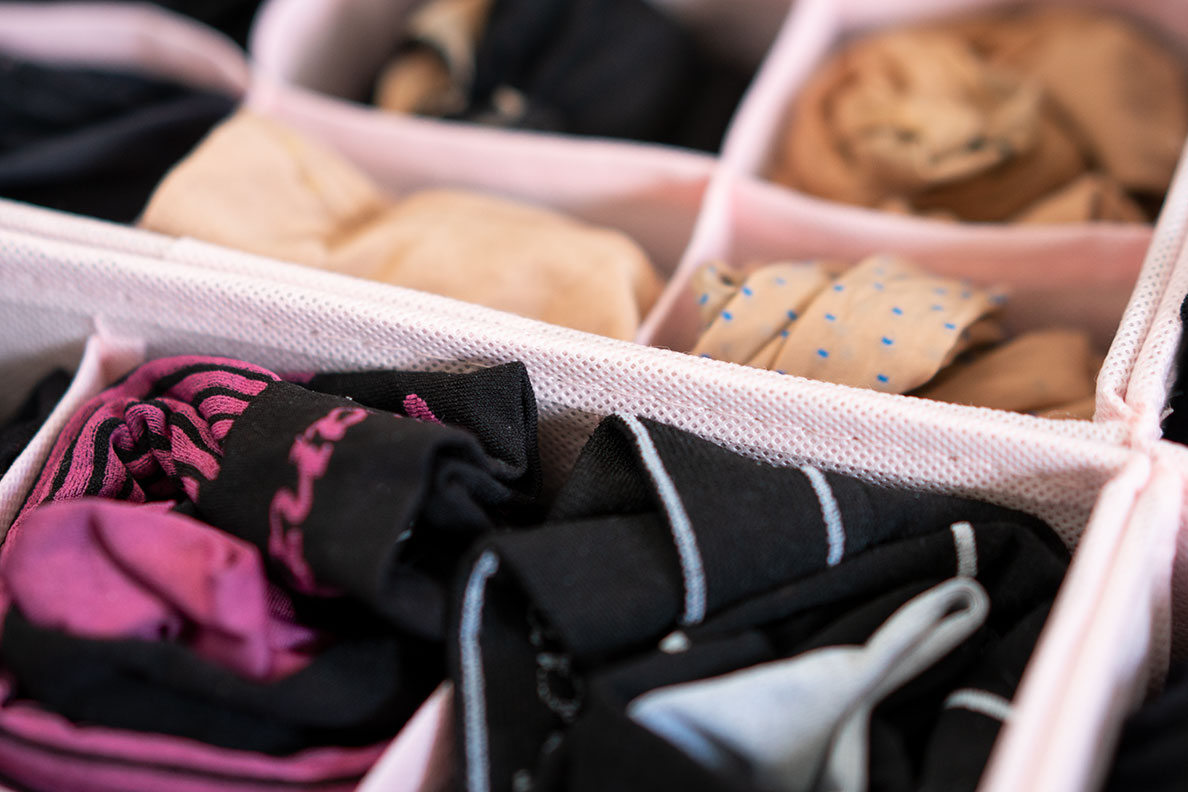 ---
This might be also interesting for you:
---