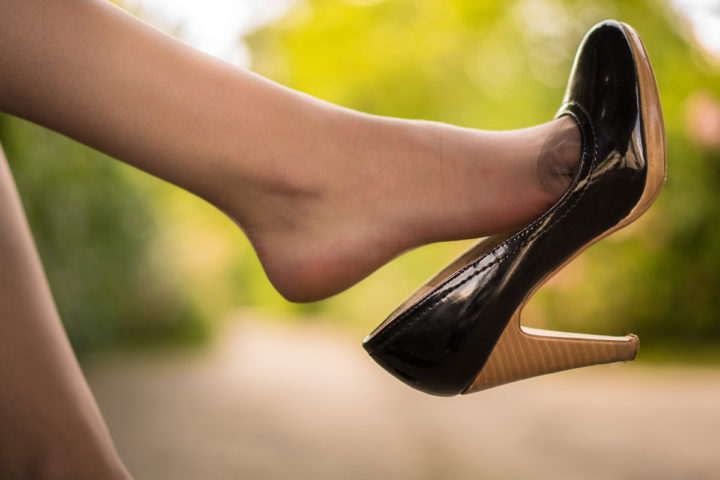 How to take care of your stockings: wearing, washing, storage
This blogpost contains affiliate links
Let's be honest: delicate nylon stockings don't really have a long life. There are some tips, though, that help to prevent them from getting ladders or being destroyed ways too early and help to give them a longer life. Depending on their quality, they can even survive several times of washing before they have to be replaced. In the following, I'm going to tell you everything I know on how to take care of your delicate nylon stockings to give them a longer life.
PS: Check out my blogpost Stockings from A to Z to learn more about stockings and nylon specific terms!
How to take care of your Stockings: Preparations
Taking care of your stockings actually starts long before washing them. This part is all about what to keep in mind before and while putting on your stockings.
Skin & Nail Care
Before taking your stockings out of their packaging, make sure you don't have any dry skin on your hands and don't have chipped or very pointy nails. Even the slightest unevenness may damage your nylons. If your skin on the hands is very dry (mine often is, especially during winter), or your nails are very pointy, I recommend to wear thin gloves to put on the stockings. This prevents your nylons from pulling threads or even getting a ladder.
Your legs should be nourished as well, before you put on your stockings. I recommend scrubbing your skin, especially on the legs, on a regular base. This makes your skin very smooth, which not only looks beautiful, but also helps while putting on your nylons. Also make sure you don't have any callus at your feet. Furthermore, it makes sense to shave your legs and put on some lotion a while before putting on your stockings. If you want to wear thigh highs with silicone elastics, though, make sure there is no lotion left on your legs, because otherwise, they may slip down.
---
How to put on your Stockings
As soon as your skin is well nourished, we are going to put on those stockings! First of all: take some time for this process! Ladders occur when stockings get overstretched. So if we are in a rush and pull too strongly on our stockings, it is very likely they get damaged!
This is how to do it the right way: Roll your stocking together so you can slip in with your foot easily. Then, grab your stocking at the welt (the reinforced, upper part of the stocking) and carefully slip in with your full leg. Now, the only thing you have to do is to secure your stockings with the garters. That's it!
---
How to take care of your Stockings while wearing them
Putting on the stockings without damaging them? Done! But an even bigger source of danger is actually the process of wearing your stockings. Not every mishap can be prevented. However, there definitely are some precautions you can keep in mind.
When crossing your legs, make sure the heel of your shoe doesn't get too close to your stockings! Otherwise, this can lead to holes in your stockings.
If you sitting on a wooden chair or bank, make sure there aren't any splinters of wood that may damage your nylons. An ale-bench is especially dangerous, by the way. If there is no other seat, though, be very careful. Especially when sitting down, and standing up.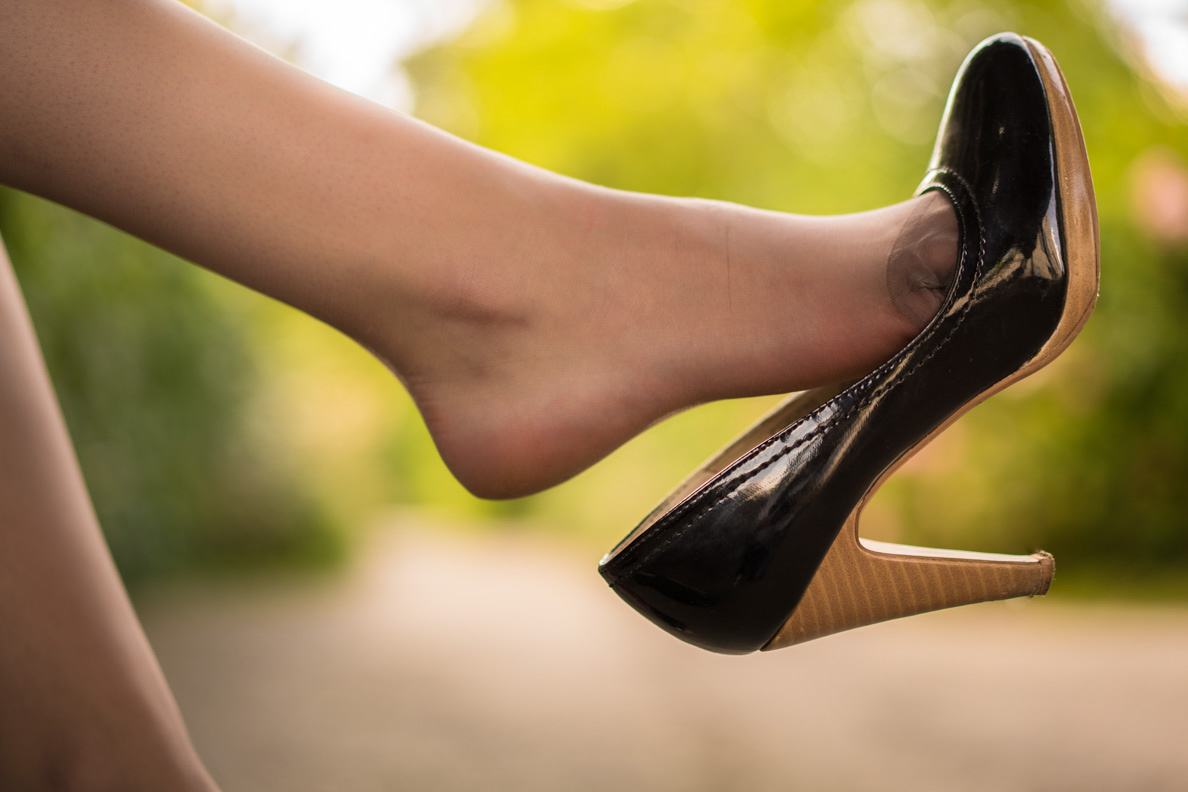 ---
First Aid for Ladders (Runs):
You can't always prevent your stockings from ladders. So if you see one and are not able to change stockings, you can use hairspray or sheer nail polish to stick the ends of the ladder. This won't make the ladder unseen, but at least it helps to prevent it from getting even bigger.
---
How to take care of your Stockings: Other Clothes
Even if we are very careful while putting on and wearing our nylons, our stockings maybe won't look as good as in the morning when putting them off. This might be due to some other clothes. There are several pieces of fashion that might damage stockings, so try to keep this in mind:
Team your stockings only with high-quality and well processed shoes. Cheap buckles may not only rub your feet until you get blisters, they can also damage stockings! So wear your nylons with classy pumps or shoes that are of good quality! Stand-away yarns can be dangerous as well. And keep in mind: the more straps your shoes have, the higher the risk that one has a stand-away yarn which might damage your nylons!
Cheap petticoats made of stiff tulle aren't perfect either. While walking or sitting, they might damage you stockings especially at the upper part. You most definitely won't get ladders from that, but your stockings may look a bit rough and not so beautiful anymore. So if you are wearing nylons, I recommend choosing a high-quality petticoat which is lined with satin or silk. True vintage petticoats are often a bit softer and therefore a good choice as well.
---
How to take care of your Stockings: Washing
If your stockings survived the day, they are facing their biggest challenge: The washing. I recommend to always wash your stockings by hand. Here is my best advice:
How to hand wash your Stockings:
Of course you can wash your stockings together with other lingerie. But make sure to sort them by colour! Dye can seep out of fabrics and therefore can also stain your stockings. So dark or bright colours will need to be washed with other dark or colourful pieces. And light coloured lingerie/stockings will need to be washed with other light coloured items.
Always use lukewarm(!) water and fill it into a clean basin, tub, or plastic bucket, whatever you have.
Use a special lingerie or delicates wash. You can also use baby shampoo, for example, if you don't have a special detergent. It is just very important that you don't use harsh detergents or soaps, as the added chemicals could possibly ruin your stockings. And don't use too much product! Less is more, in this case.
Now, carfully submerge your stockings into the water and lightly agitate the water with your hands. As stockings usually never get really dirty, you don't have to knead your nylons very hard. Then, leave your stockings to soak for like fifteen minutes.
Afterwards, rinse your lingerie until there is no cleanser left.
Carefully squeeze any excess water out of your stockings. But please don't wring, don't twist, and don't ball them up! Now, the only thing you have to do is to let your nylons air dry. You can hang your stockings, but don't use clothespins and don't hang them over a heater. You can also lay your nylons flat on a clean towel.
I know that this sounds like it is a lot of work. But you can use this time to do something for yourself: I recommend to turn on your favourite playlist, make yourself a cup of tea or coffee, and put on a face or hair mask. If you want to go out afterwards, you can also put your hair into heat rollers, so they can cool down while you are washing your stockings.
---
How to machine wash your Stockings: 
Of course, hand washing your stockings is best. We all know, though, how busy life can be and sometimes, there is simply no time to hand wash. If you need to clean your stockings yet, you can use your machine once in a while. I also sometimes washed my stockings in the machine, and if you keep a few things in mind, I'm sure they will survive a few trips in the washing machine.
First of all, you should also start with sorting your stockings by colour. Wash light colours with light colours and dark or bright colours with other dark or bright colours.
Only wash your stockings with other stockings or lingerie. Especially don't wash your nylons with heavy garments or things like blankes, towels, and so on. Also, make sure the other (lingerie) pieces in the washing machine don't have any rhinestone applications, hooks, zippers, or something like this. Furthermore, make sure the machine is only about a quarter full.
Use a lingerie wash bag for your stockings, and don't hesitate to use several lingerie bags if necessary.
Choose the cold water and delicate cycles on the machine, and, as with hand hand washing, use a specialty lingerie wash.
After washing them, never ever put your stockings in the dryer!
When it comes on how to let your stockings dry, please have a look at the last point of "how to hand wash your stockings".
---
How to take care of your Stockings: Storage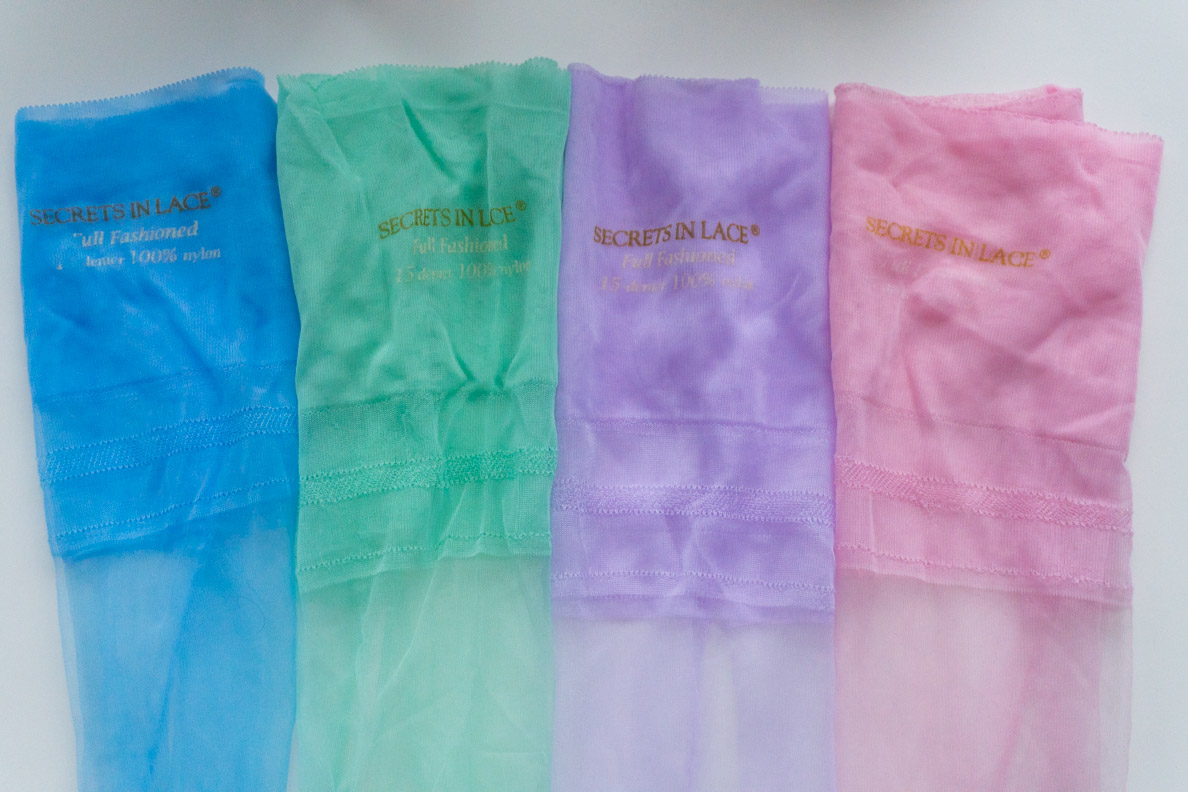 Last but not least: Let's talk about the storage of nylons!
Make sure that your stockings are far far away from hook and loop fasteners! These are very very very dangerous for stockings. Believe me!
It's best to reserve a drawer only for your stockings. I also sort my stockings by how delicate they are and store them in small boxes in a drawer. So my opaque tights, for example, are in one box. My sheer tights and stockings are in another one.
My very delicate and expensive nylons even get a special treatment. I store them in small nylon bags or hosierey pouches which I pack in little (open) boxes in my drawer. This makes sure they don't get directly in contact with clothes or other things that might damage them. This is also great for travelling! You will find cheap nylon bags on Amazon, for example. A very pretty hosiery pouch is available at Secrets in Lace, just click here.
I also like to put a little lavender sachet into my stockings drawer for a light, pleasent scent.
---
I know that this all is quite complex and time-consuming. BUT: I simply love to take some time for me, to put on my stockings, wash them, and take care of them. This all gives me a feeling of old Hollywood glamour. And isn't it a good idea to bring yourself down every now and then? For me, washing my stockings, for example, can be quite medidative, and everyday life is busy enough, isn't it? So take this time! (Your stockings will thank you! ;-))
---
This might be also interesting for you: