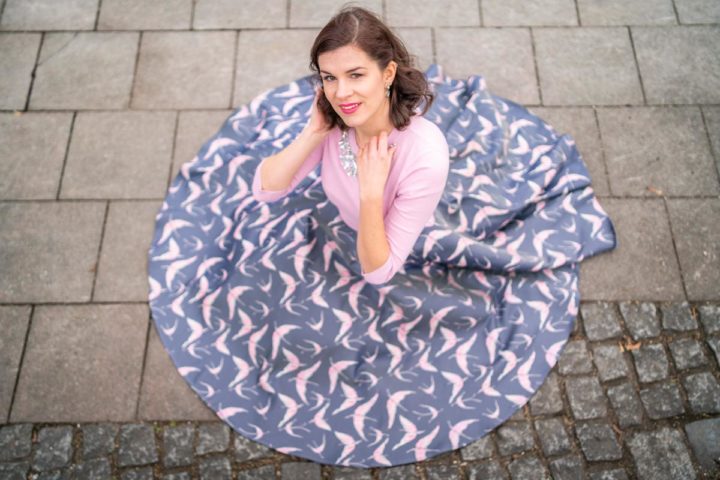 The story of the circle skirt & styling tips
This blogpost contains affiliate links and pr samples (marked with c/o or *)
It is so stormy outside! The wind twirls the last leaves from autumn around and the tree in front of my balcony even lost a branch. Sometimes, the wind is icy cold, and then, it is warm. So it is this typical spring storm we usually have in April. Unfortunately, though, it is only March and the trees still don't have leaves, and the grass looks brown instead of green. I long for colours, sunrays, and the buzz of bees. Nevertheless, there is a hint of spring in the air! The twittering of the birds awakes me every morning, some of the trees get their first buds, and flowers like crocuses are already in full bloom.
To get in the right mood until everything awakes to life again, I like to wear light colours like pink and fun outfits. One of my favourite pieces of fashion for this time of the year is the circle skirt. And in this blogpost, I'm going to tell you its story.
The Story of the Circle Skirt
Until the 1960s, women in the western world usually wore dresses and skirts. Women in trousers were rare and hardly accepted. I tell you more about this topic in this blogpost, by the way.
As women mainly wore dresses or skirts, it is no wonder that the form, length, and designs of those garments were strongly influenced by fashion. A classic of the 1950s is definitely the circle skirt. But what makes this kind of skirt so special? What is its story? And how can one wear this piece of fashion even today? This is what I'm going to answer in the following.
What is a Circle Skirt?
The circle skirt got its name from its characteristic design: Laid flat, the skirt looks like a circle with a hole for the waist. Although the skirt is very full, it hangs smoothly from the waist without any darts, pleats, or gathers. Sometimes, the skirt is made of only one circular piece of fabric.
Due to its shape, the circle skirts swings amazingly and while dancing, can even fly very high. So make sure to wear pretty panties underneath your skirt, if you want to twirl in it. 😉
Originally, the circle skirt had a midi length. Which means it ended somewhere between the knees and ankles. As years went by, though, the hemline wandered higher and sometimes even endet above the knee.
---
Shop Circle Skirts:

---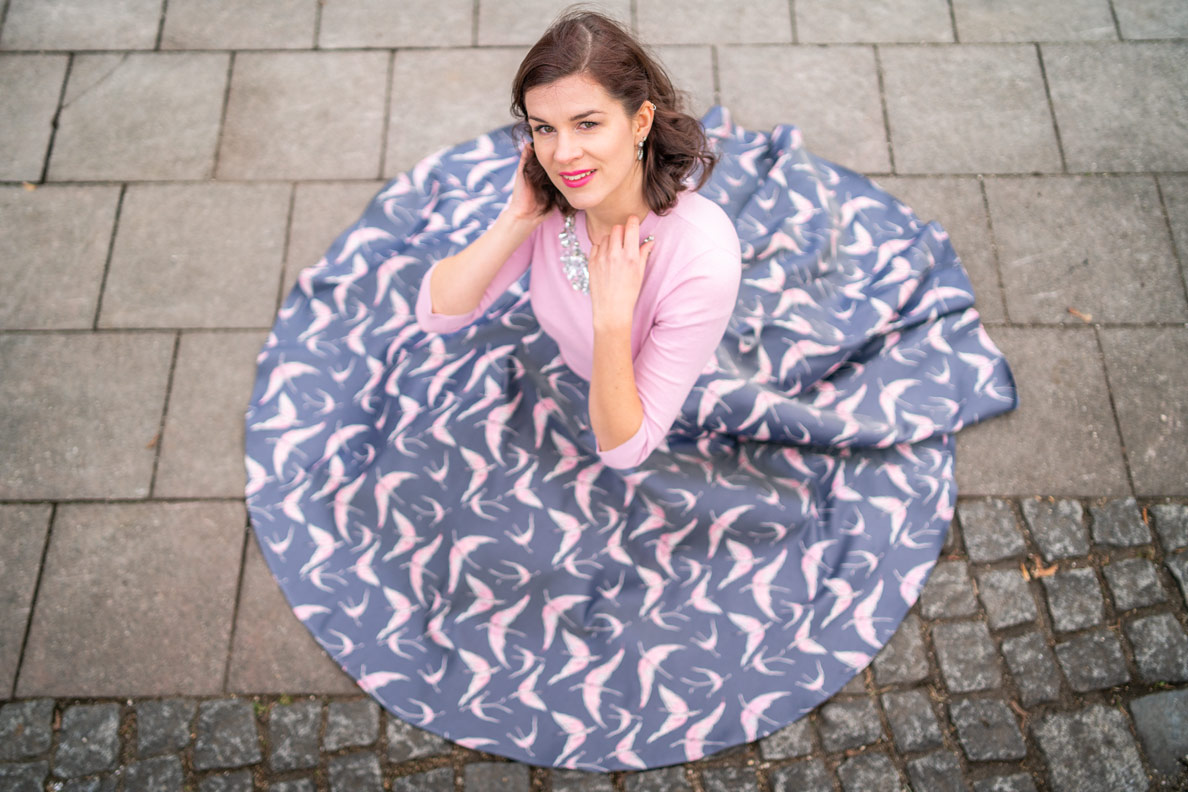 ---
The Circle Skirt Story
By now, it is hard to tell the specific date the circle skirt occured for the first time. In the 1890s, for example, a circular skirt was in fashion. Back then, however, skirts were floor-length. In the 1920s, hemlines got shorter. What we can tell, though, is that the circle skirt got very popular in the middle of the 20th century. Christian Dior showed a new, very feminine fashion in 1947, also called New Look. Beside the pencil skirt and the houndstooth pattern ins womenswear, his most famous design definitely was the circle skirt.
Dior, Audrey Hepburn & the Circle Skirt
While during World War II in the first half of the 1940s, skirts (and other garments) were usually made of as less fabric as possible due to a lack of resources and regulation, Monsieur Dior used extravagant huge amouts of fabric for his collection in 1947. Women dressed themselves very feminine again. Figure-hugging cuts with a tiny waist came back in fashion. And when Audrey Hepburn wore a swinging circle skirt together with a simple blouse in the movie "Roman Holiday", this kind of skirt got even more popular. Sophia Loren and Grace Kelly dressed themselves in circle skirts as well.
The Circle Skirt from the 50s until now
Another thing that made the circle skirt so popular during the 50s is for sure the fact that this skirt is perfect to dance the rock 'n' roll. Due to the twist movement, the circle skirt was worn until the 1960s. When the mini skirt came into fashion, however, the circle skirt got outmoded for a while. Nevertheless, (modified) circle skirts came back into fashion in the 1990s, and in 2010 for example, Fendi and Chloé showed circle skirts made of leather. Nowadays, we still see some kinds of circle skirts every now and then made by the big fashion houses like Dior, for example. Usually without a petticoat, though, and sometimes made of fancy materials.
How to wear a Circle Skirt
A circle skirt was classically worn with a petticoat underneath. A petticoat not only adds more volume, but also prevents the skirt from "sticking" to the legs. Furthermore, if you are dancing it makes your skirt twirling even more. Nowadays, petticoats aren't really fashionable anymore. I don't care, though. 😉
A waist belt helps to enhance the hourglass silhouette even more, but aren't neccessary for a pretty look. If you want to wear one, though, I recommend wider ones instead of small belts.
Otherwise, circle skirts look best in combination with short, fitted tops. Teamed with a top or sweater like this, the circle skirt is as flattering as a the classy A line!
If you want to wear a circle skirt in the office, I would go for plain ones in combination with an elegant blouse and chic pumps.
---
This goes very well with a Circle Skirt:

---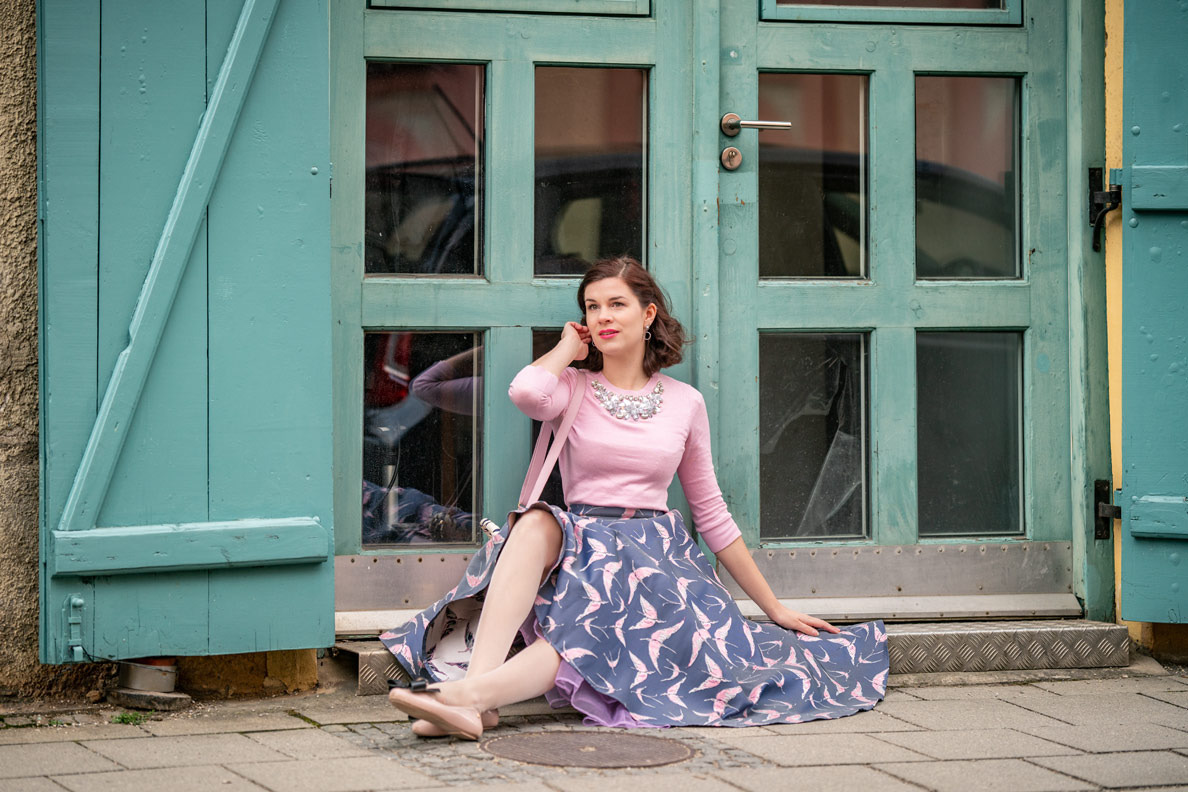 Those Shoes look great with Circle Skirts
Who had thought that a circle skirt looks great with lots of different shoe types? If you like it classy a la Audrey Hepburn, wear ballet flats. For the rock 'n' roll dancers, I recommend sneakers or Chucks.
Due to its midi length, the circle skirt can make your legs look a bit short. So high heels or classy pumps are a great alternative, if this is something that bothers your. And if you want a modern look, wear the circle skirt with boots or ankle boots! As you can see, it definitely makes sense to experiment with shoes. Just try different styles to figure out what suits you and your style best.
---
These Shoes go well with Circle Skirts:

---
Circle Skirt, Petticoat, Sweater & Ballet Flats: My Outfit
As I mentioned at the beginning of the blogpost, I can't wait for spring anymore and love to wear a light pink at the moment. So it is no wonder that I chose the Circle Skirt Jacquard Bird by Vivien of Holloway*, which I already showed you in this blogpost, as a base for my outfit.
Vivien of Holloway makes one of the best circle skirts, in my opinion. They have the perfect midi length, are made of great fabrics, and always look amazing. (Here, I show you another circle skirt by Vivien of Holloway, by the way.)
Although the skirt looks great even without a petticoat, I decided to wear one. I bought my lilac vintage petticoat in a vintage store in Munich. As it is still a bit chilly outside, I decided to wear a sweater instead of a top. And for a classy, girly look, I teamed the outfit with ballet flats. Since, in my opinion, seamed stockings look best with pumps or high heels, I went for seamless nylons by Secrest in Lace* this time (read more about them here). Small earrings, a pink handbag, as well as a colour-matching lipstick finish this retro outfit for early spring days.
---
Makeup Details:

---
---
Outfit Details:
Circle Skirt: c/o Vivien of Holloway
Petticoat: Vintage via Vintage Love, similar here
Sweater: Ted Baker, similar here
Stockings: c/o Secrets in Lace – Europe
Garter belt: c/o Secrets in Lace – Europe
Handbag: Furla
Earrings: similar here
Ballet flats: Melissa, very similar here and here
---
If you want to learn more about fashion and the story of fashion classics, make sure to check out my page Fashion Know-how (click)!