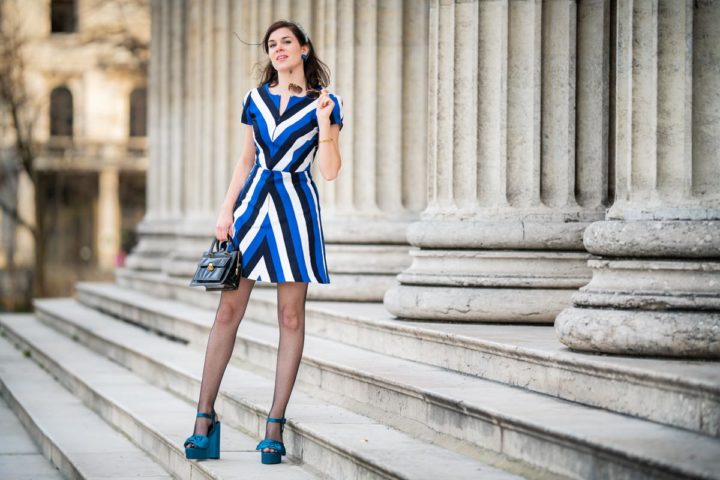 Seductive, rebellious, thrilling: Fishnet tights (and how to wear them)
This blogpost contains affiliate links & pr samples (marked with c/o or *)
They were not made to keep you warm, originally, the only purpose they had was to seduce and to cause stir. Fishnet tights not only have a fascinating story, they are also coming back into fashion, currently. So it's time to have a deeper look at the story of fishnets, how to wear them, and what to keep in mind.
The Story of the Fishnet Tights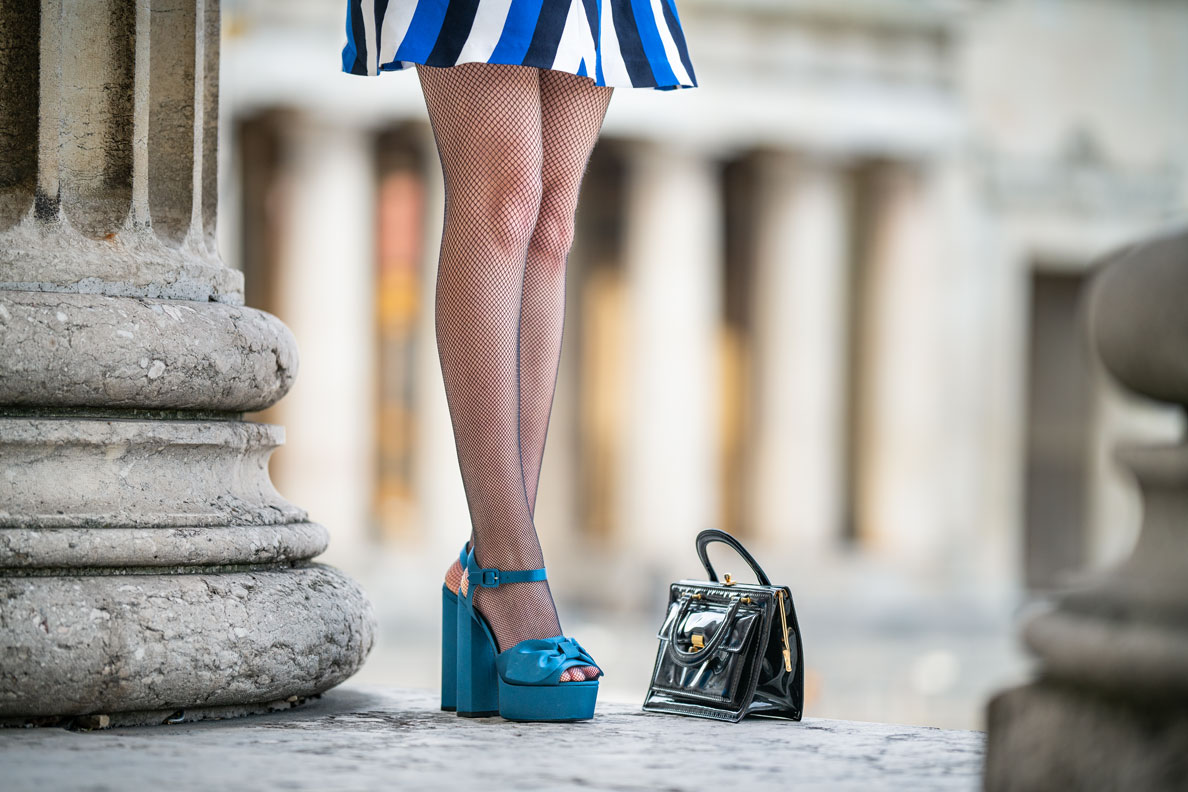 In the field of textiles, fishnet tights, or fishnets are are hosiery with an open, diamond-shaped knit. Originally, fishnets were stockings and worn with garters. Nowadays, fishnets are usually tights and made with the help of machines. In contrast to nylons, which are made of very delicate microfibers, fishnet tights usually consist of strong elasthan fibers or sometimes of natural fibers like silk, cotton, or wool. By now, they are available in all different forms and colours: sparkly fishnet socks, thigh highs, stockings, or tights. Some even have a decorative seam.
There are some practical fishnet textiles in high performance next-to-skin apparel available. However, the traditional fishnets don't have any practical, but only decorative purpose.
---
The Birth of the Fishnet Tights
It is not 100 percent sure were fishnet tights originally come from. What we do know, though, is that they were invented around 1890 in France and got very popular during this time thanks to the cancan. From Paris, they took over Europe and even North America.
Since fishnet tights not only were worn by cancan dancers, but also by prostitutes, they had a quite seedy reputation. Reputable women would have never worn fishnets back then!
---
Fishnets: From Brothel onto the Screen
When Marlene Dietrich, who also made trousers for women popular, wore fishnet tights in the 1930s in several movies, they got even more popular. In the 1950s, even Marilyn Monroe and other Hollywood Divas wore fishnets, which gave them a slightly more glamorous image.
---
Fishnet Tights from the 1960s to now
In the 1960s, tights got invented and became more popular than stockings, as I already told you in this blogpost. During this time, fishnets were available in many different colours. The most popular wearers during this time were definitely Twiggy and yes, also Barbie. This was also the time, when fishnets got a bit more accepted by society and were a popular fashion accessory for young women in the fashion metropoles.
In the 1970s, Viven Westwood was the one who made sure fishnet tights didn't got forgotten. Fishnets were a fashion statement piece in the London punk era and were sometimes destroyed willingly to make their appearance even more shocking.
From the punk and wave fashion of the late 1970s and 80, fishnet tights also found their way into the goth scene. Even until now, fishnets have been an important accessory in goth fashion.
During the 1990s, fishnets got a more glamorous image, again. Madonna wore them quite often on stage and in the popular poster for "In Bed with Madonna", where she reminds of Marilyn Monroe with her blonde hair, and seductive pose.
In 2001, the movie "Moulin Rouge" with Nicole Kidman as the main character came into the cinemas. Of course she wore fishnets and therefore brought them into fashion, again.
In the last few years, fishnet tights became quite popular once more. These days, they were often worn underneath destroyed jeans, for example.
---
Fishnets and the Show Biz
Since the very beginning, fishnet tights were a must-have at cabaret shows or varietés. Beside glitter, feathers, long gloves, high heels, garters, and robes, fishnets are a basic equipment for every show girl in this genre.
---
How to wear Fishnet Tights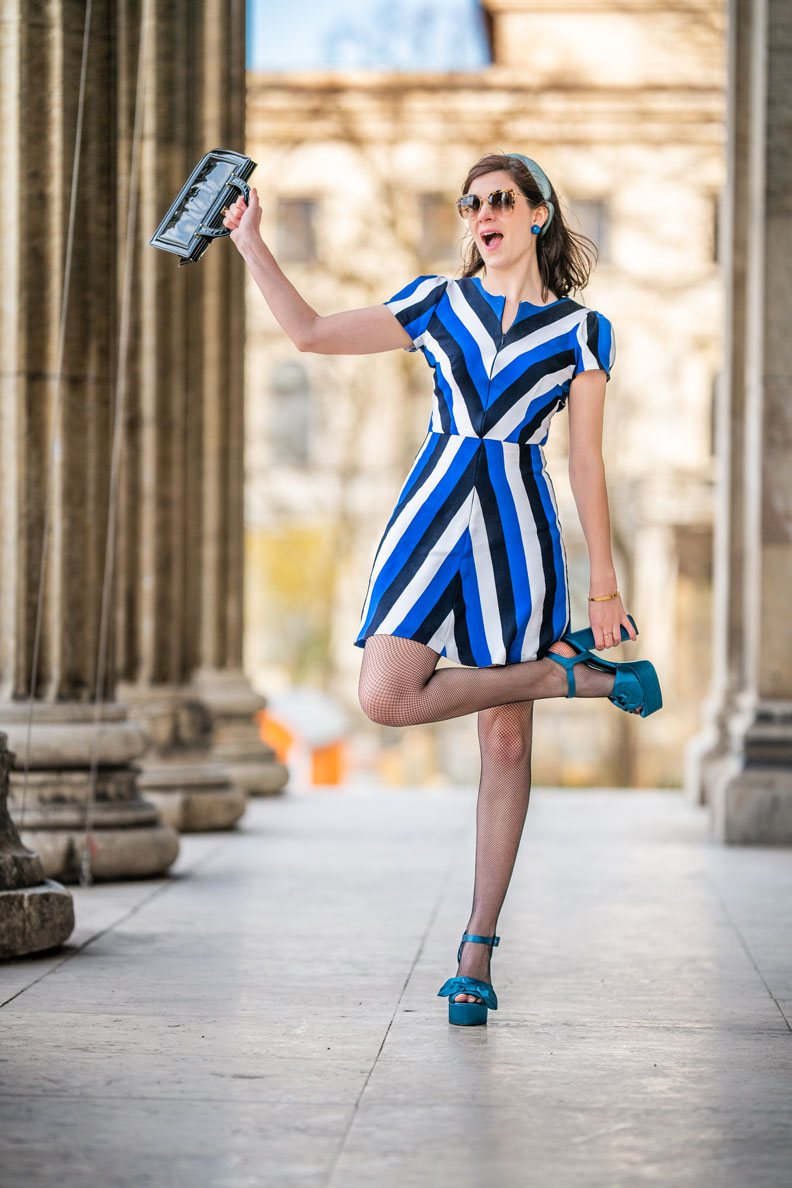 Fishnet tights are a great fashion accessory and are even able to make very plain looks more thrilling. If you don't want your look appearing cheap, always make sure the rest of your outfit looks valuable. As always, experimenting makes sense. Here are some tips and ideas:
Team (colourful) fishnets with cheeky 60s (inspired) mini dresses
A very small fishnet pattern looks more glamorous and goes very well with the little black dress.
What about fishnet socks in high heel sandals?
Fishnet tights make a midi skirt/pencil skirt and top combination immediately more fashionable.
Beige or very light coloured fishnets look classier and are great for everyday life
On colder days, you can simply wear your fishnets over other (colourful) tights. Looks great and keeps you warm!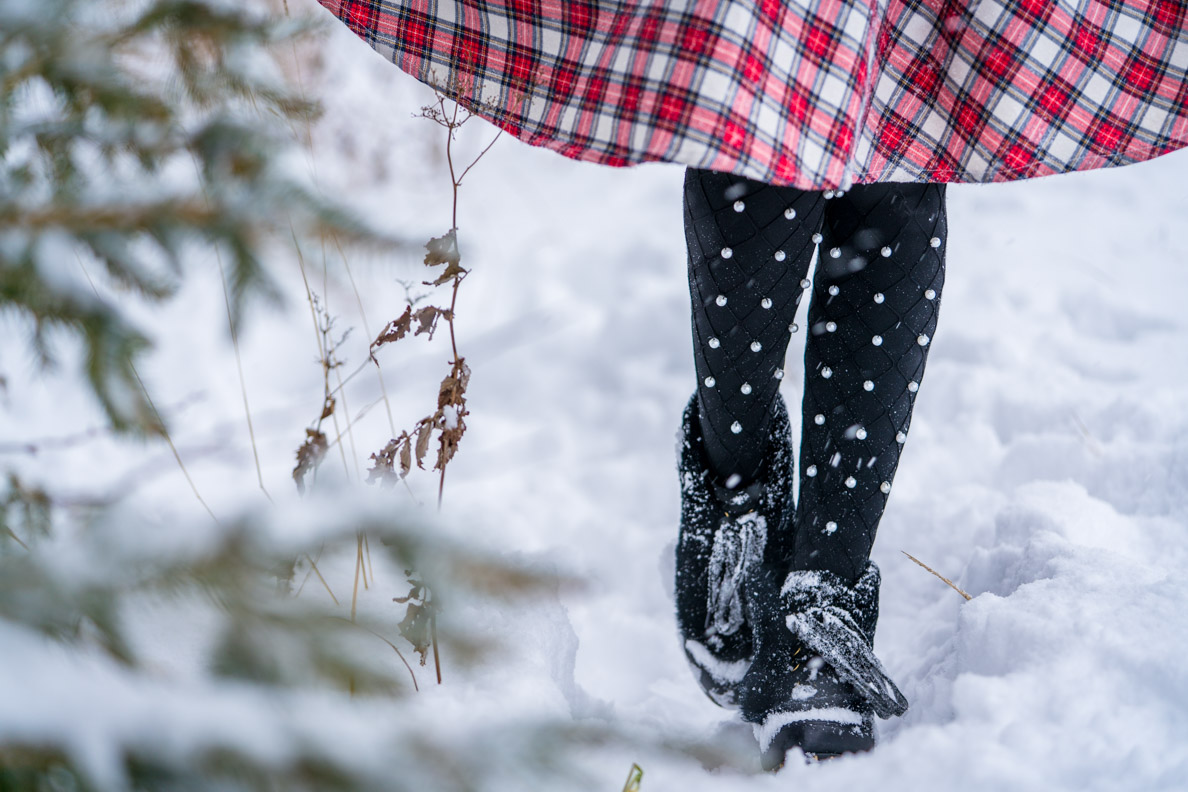 ---
Mini Dress & Fishnet Tights: My 60s Outfit with Grünten Mode & Secrets in Lace
For my look this time, I got inspired by the 1960s.
The Blue V Dress by Grünten Mode
The base of my outfit is the Blue V Dress by Grünten Mode, which was made to honour the work of one of the Op art leaders: Victor Vasarely. Especially the chevrons and upside down chevrons look spectacular and really enhance the hourglass silhouette in a very contemporary way. Another highlight is the fact that the zipper of the dress is in front, while a gorgeous V neckline complements the back. The little flared skirt as well as the short sleeves finish the 60s look of this dress in a gorgeous way.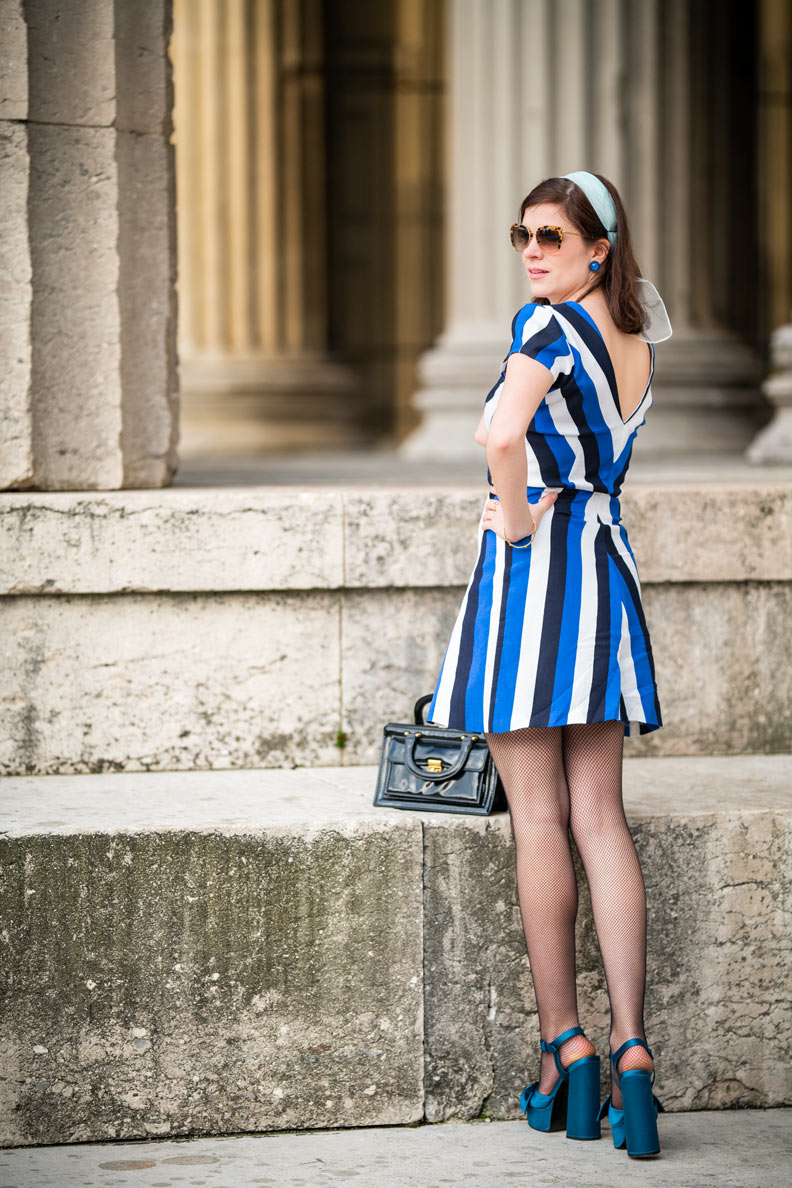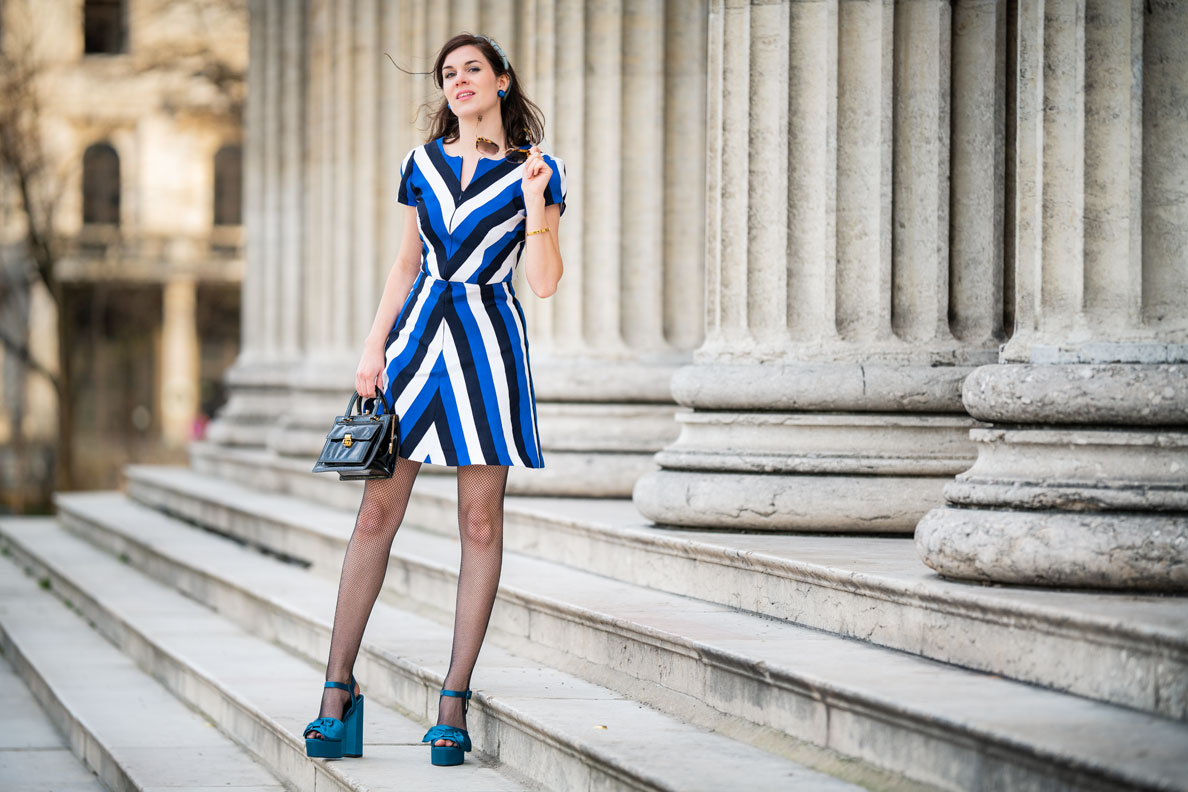 ---
Fishnet Pantyhose by Secrets in Lace
I teamed the mini dress with super soft fishnet tights by Secrets in Lace*. The fishnets are made of fine mesh, which let them appear very fashionable, but still elegant. Since the fishnets neither have reinforced toes nor heels, they also look great in open shoes.
I went for very high platform sandals this time. To be honest, they are not very practical, but simply look amazing in combination with the V dress, don't they?
---
More Platform Shoes:

---
Blue earrings by Glitter Paradise, a vintage handbag from the 60s, big sunglasses by Miu Miu, as well as a hairband finish this 1960s inspired retro outfit.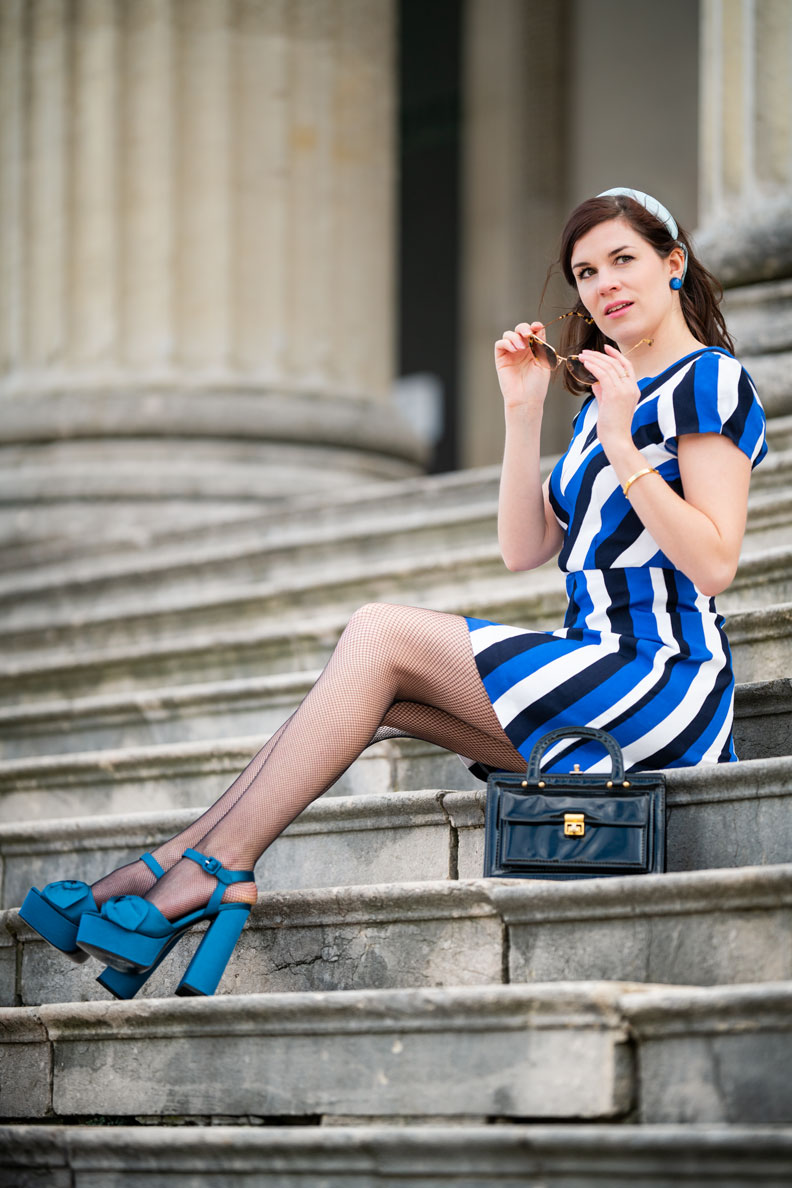 ---
Outfit Details:
"Blue V Dress": Grünten Mode
Fishnet Pantyhose: c/o Secrets in Lace – Europe
Shoes: via Asos
Earrings: Glitter Paradise
Hairband: similar here
Handbag: Vintage via Vintage Love
Sunglasses: Miu Miu, very similar here
---
If you want to learn more about fashion and the story of fashion classics, make sure to check out my page Fashion Know-how (click)!
---
This might be also interesting for you: