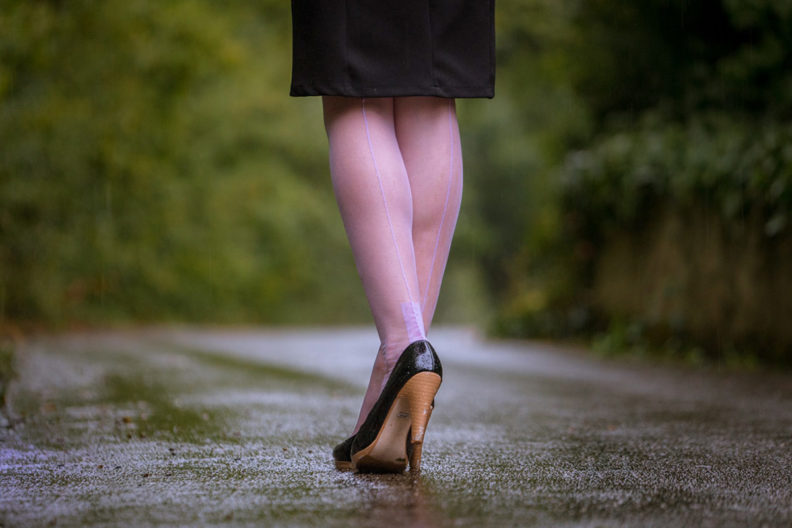 How to wash nylons, stockings, and tights
Everyone who wears nylons and sheer tights in everyday life, knows how delicate they are. But nevertheless, we have to wash them regularly. The problem: Washing is also a big threat for hosiery and often leads to ladders and the tights will wear out. If we keep a few things in mind, though, hosiery definitely can survive several washing cycles without being damaged. So in the following, I'm going to share my best advice on how to wash nylons, stockings and tights.
*This blogpost contains affiliate links (marked with *)
How often should we wash Hosiery?
We actually should wash our hosiery as often as underwear and socks. Especially on warm days, when we sweat a lot, I definitely recommend to wash your tights or stockings everytime you wore them. If you went out with your nylons only for a few hours in the evening, of course it is up to you if you want to wear them again without washing them, or if you rather wash them immediately. If you wear thigh highs, you should definitely wash them everytime you wore them, as skin scales tend to stick on the silicon strap that should keep them in place.
And now, let's have a look at my best advice on how to wash your hosiery – with hand and with the washing machine.
How to wash Nylons, Stockings and Tights: Hand Wash or Machine Wash?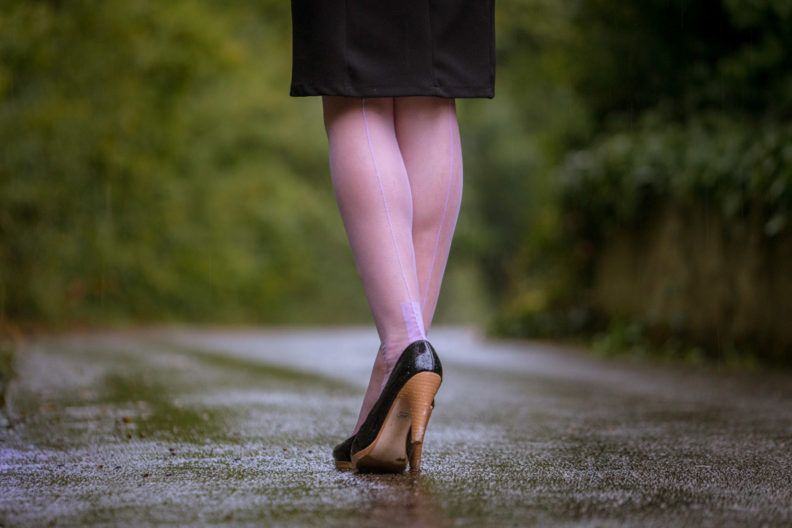 I always recommend to hand wash nylons, stockings, and tights. But of course, we all know life can be busy and we simply don't always have time to hand wash our stuff. In this case, it is absolutely okay to use the washing machine every now and then.
I especially put my opaque tights, and also the not so expensive sheer tights into the washing machine. When it comes to my expensive, very delicate hosiery and true nylons, though, I must say I usally always hand wash them.
How to hand wash Nylons and Tights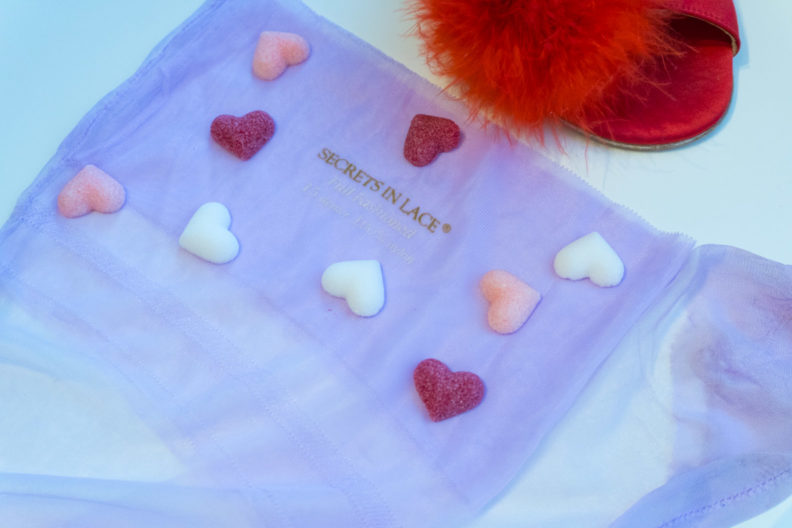 Of course you can wash your hosiery together with other lingerie. But make sure to sort everything by colour! Dye can seep out of fabrics and therefore can also stain your stockings. So dark or bright colours will need to be washed with other dark or colourful pieces. And light coloured lingerie/stockings will need to be washed with other light coloured items.
Be careful with other lingerie that has hooks, rhinestones, or other decorations that can damage your nylon stockings. If you wash your lingerie, it is best to wash your hosiery seperately from bras and garter belts.
Always use lukewarm(!) water and fill it into a clean basin, tub, or plastic bucket, whatever you have.
Use a special lingerie or delicates wash. You can also use baby shampoo, for example, if you don't have a special detergent. It is just very important that you don't use harsh detergents or soaps, as the added chemicals could possibly ruin your stockings. And don't use too much product! Less is more, in this case.
Now, carfully submerge your stockings into the water and lightly agitate the water with your hands. As stockings usually never get really dirty, you don't have to knead your nylons very hard. Then, leave your stockings to soak for like fifteen minutes.
Afterwards, rinse your lingerie until there is no cleanser left.
Carefully squeeze any excess water out of your stockings. But please don't wring, don't twist, and don't ball them up! Now, the only thing you have to do is to let your hosiery air dry. You can hang your stockings, but please don't use clothespins. You can also lay your hosiery flat on a clean towel.
Never let your stockings dry on a heater or in direct sunlight, as this can ruin the colour of your hosiery!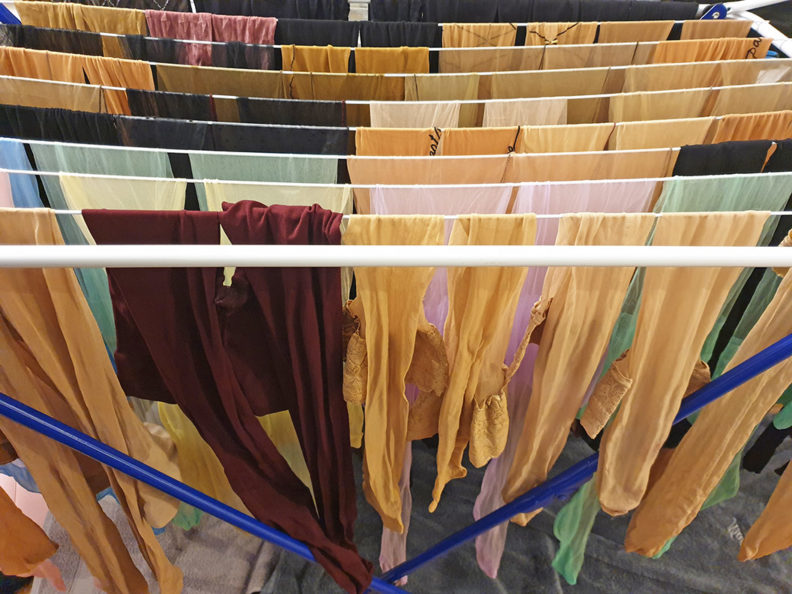 How to make hand wash your Hosiery more fun:
I know that this sounds like a lot of work. But you can use this time to do something fun for yourself: I recommend to wait for a rainy day, turn on your favourite playlist, make yourself a cup of tea or coffee, and put on a face or hair mask. If you want to go out afterwards, you can also put your hair into heat rollers, so they can cool down while you are washing your stockings. 😉
*Affiliate links

---
How to wash your Hosiery in the Washing Machine
Of course, hand washing your stockings is best. And if you keep a few things in mind, I'm sure they will survive a few trips in the washing machine.
First of all, you should also start with sorting your stockings by colour. Wash light colours with light colours and dark or bright colours with other dark or bright colours.
Use a special liquid lingerie or delicates wash, but skip the fabric softener, as this can damage the elastane fibres.
Use a lingerie wash bag for your stockings, and don't hesitate to use several lingerie bags if necessary. If you don't have a lingerie wash bag, you can also use a thin pillowcase as a wash bag. A wash bag will help to protect your hosiery from getting damaged or entangled.
Only wash your stockings with other stockings or lingerie. Especially don't wash your nylons with heavy garments or things like blankets, towels, and so on. Also, make sure the other (lingerie) pieces in the washing machine don't have any rhinestone applications, hooks, zippers, or something like this. Furthermore, make sure the machine is only about a quarter full.
Choose the cold water and delicate cycles on the washing machine. Never ever wash you hosiery with more than 40 °C. I usually wash my hosiery with 30 °C or even less.
After washing them, never ever put your hosiery in the dryer!
When it comes to letting your stockings dry, please have a look at the last point of "how to hand wash Nylons and Tights".
*Affiliate links

---
PS: In this blogpost, I tell you how to take care of your nylon stockings.
---
This might be also interesting for you: