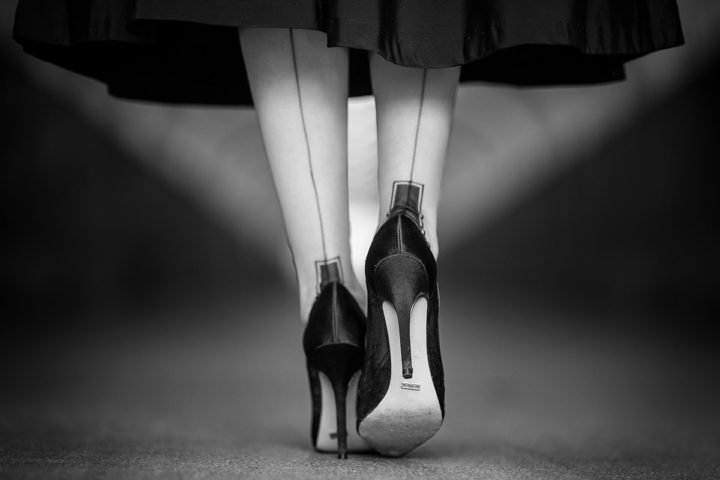 The fascinating story of nylons
From a successful innovation, to rarity, to a must-have, and a fetish object – the development of the nylon stockings definitely is fascinating and worth a closer look. In the following blogpost, I'm going to tell you the story of the nylons, and where you can still buy authentic vintage style stockings. But let's start with a short excursion to the backgrounds of stockings, which actually have their roots in men's fashion.
*This blogpost contains affiliate links (marked with *)
The fascinating Story of Nylon Stockings: Background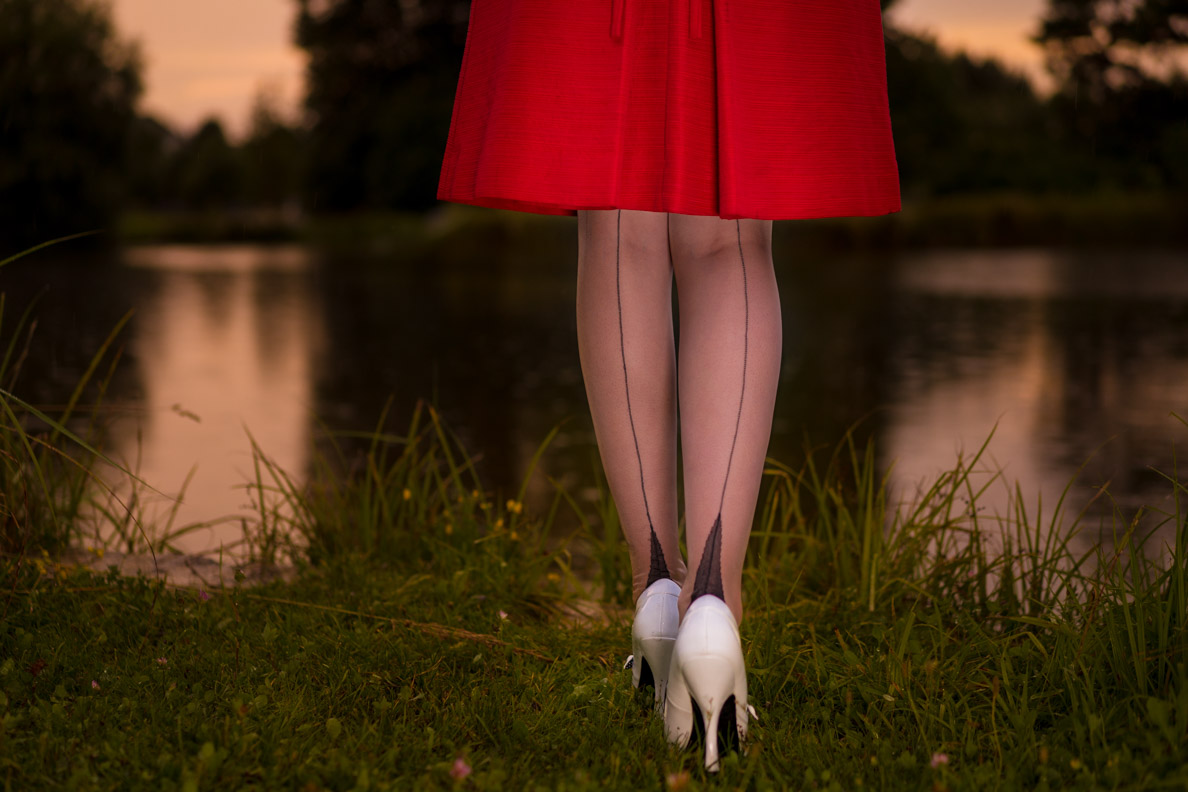 Stockings, or rather hoses are not an invention of the 20th century. Some kinds of socks were already known in pre-Christian times in the Mediterranean region. From about the 11th century on, lords, kings, and holy order carriers started to wear wool and silk hoses – attached to belts. In the 15th century, hoses became longer, and in the 16th century, farmhands fighting in peasant wars started to wear combinations of knickerbockers and long socks. This kind of combination of knickerbockers and hoses dominated men's fashion for quite a long time.
A real revolution in men's fashion actually was the French Revolution in 1789. Many revolutionaries wore, in contrast to the knickerbockers – the "culottes" – of the aristocracy, long trousers. The long trousers became fashionable for men and made long hoses unnecessary. Some men wore knickerbockers in combination with long socks in the beginning of the 20th century as leisurewear, but they never found their way back into elegant men's fashion again. Nowadays, long wool socks are part of the Bavarian costume and are worn in combination with the Lederhose, but well, that's actually the only occasion long hoses in combination with knickerbockers are acceptable, isn't it?
---
Women in Stockings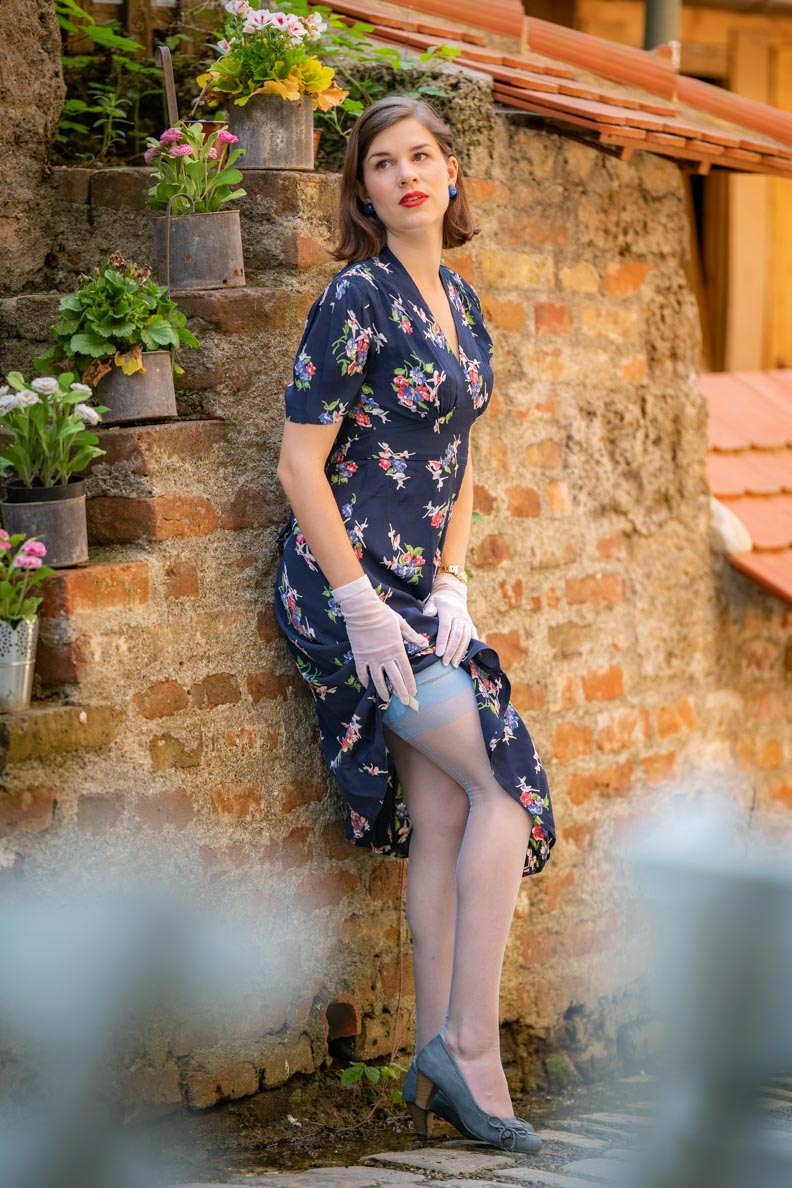 What mainly was an accessory for men, became more and more an essential accessory for women. While the era of hoses in men's fashion came to an end in the 18th century, stockings became more popular among women. In the 19th century, women's skirt became shorter – well, at least a little bit, so that one could see the ankles. Therefore, matching stockings were a must. The ones who could afford them, wore silk stockings, the rest had to wear cotton or wool stockings.
---
The Predecessor of Nylons: Delicate Silk Stockings
In the 1920s, skirts became shorter again (and this time, I mean about knee-length), so stockings got even more important, and should look good, of course. Made of silk or rayon, they looked quite pretty and already were available in different colours to match the skin colour, or even the colour of the handbag or lipstick!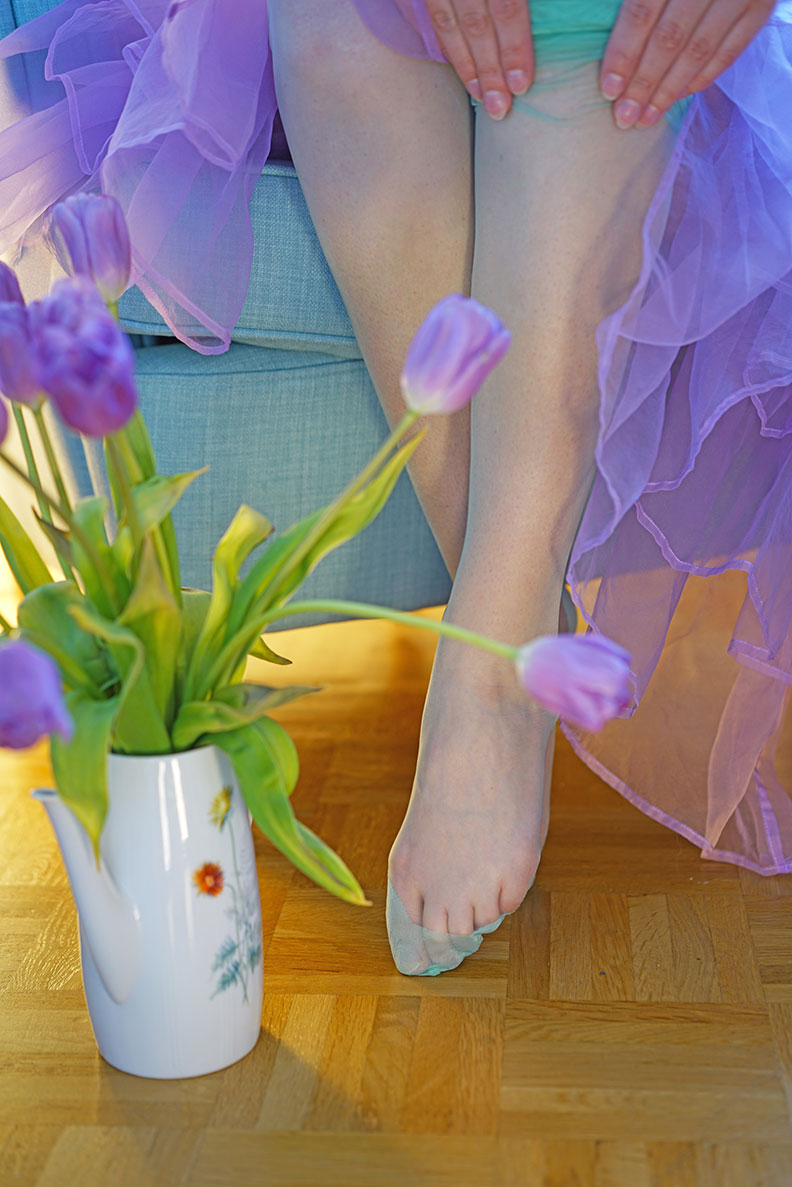 Back then, it was not possible to mechanically produce tights. Therefore, stockings were attached to garters. Some artists, though, especially dancers and actresses, sewed their stockings on their panties, so they already had some kind of tights. Nevertheless, the majority of women still wore stockings with garters.
By then, hoses were definitely no longer part of men's fashion, but they quite admired them on women's legs. In the movie "The Blue Angel" Marlene Dietrich seduced the audience in stunning stockings, for example.
Although silk stockings might have been much more elegant than the previous cotton or wool stockings, they still had some downsides: True silk stockings were quite expensive and super delicate, while rayon stockings were more affordable, but lost their shape quite quickly after wearing and washing them a few times, so something new was needed.
---
Nylon Stockings: A successful Invention
The revolution was a synthetic fibre. Wallace Hume Carothers experimented for many years until the first example of nylon was produced on February 28, 1935, at DuPont's research facility. Until stockings finally were made of nylon, it took a few more years, though.
Nevertheless, the advantages of nylon are obvious: Nylon fibres are stretchy, durable, washable, dryable, keep their shape, and are quite tear-resistant – so this synthetic fibre is definitely much more practical for stockings than silk or rayon used to be.
In Germany, women had the same problems as the ladies from the US. So German chemists searched for a new fibre as well. Chemist Paul Schlack developed a quite similar fibre like nylon in 1938: Perlon. But if you now expect a kind of stocking war, I have to disappoint you. Both competitors agreed on an arrangement: DuPont supplied nylon stockings to the countries west of Germany, IG Farben (the German counterpart to DuPont) supplied perlon stockings to countries east of Germany. Nowadays, by the way, Germans rather use the word "nylons" instead of "perlons", which might have something to do with the following history. But we will come back to this later on.
---
The Story of Nylon Stockings: The N-Day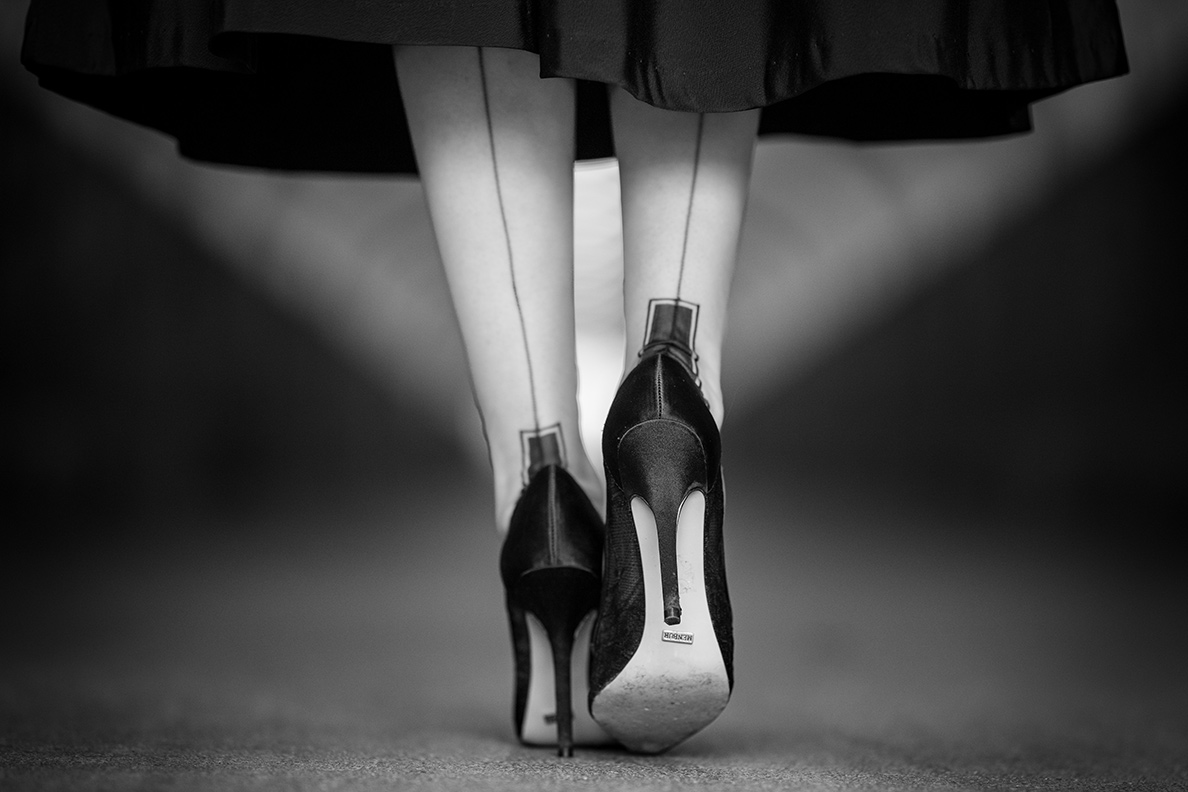 In 1939, DuPont sold about 4,000 nylon stockings from an experimental plant in only a few hours. Many interested women didn't get their hands on a pair, though. After this huge success, on May 15, 1940 nylon stockings were first sold commercially in the USA. This day is also known as "N-Day" or "Nylon Day". DuPont offered the first 5 million pairs of nylon stockings for affordable prices in selected stores in the US. The problem: The demand for nylons was immense, and could not be covered. The consequence: tumultuous conditions in and in front of the stores.
During their first year on the market, a lot more than 50 million(!) pairs of nylon stockings were sold! Back then, nylons usually had between 40 den and 70 den. This maybe wasn't super delicate, but compared to the cotton and wool stockings from earlier days, it still was a big revolution.
---
Nylons – what is their Secret of Success?
There are, for sure, quite different reasons nylon stockings were so successful. But nonetheless one thing is clear: Stockings show the illusion of bare skin, but actually cover the legs. Every woman was able to at least feel a little bit like a Hollywood diva when wearing them. Nylon stockings are glamorous, tempting, ladylike, and reputable at the same time – is there any other piece of clothing with similar characteristics?
---
Where does the Seam come from?
Back in the 1930s and 40s, it wasn't possible to knit hoses, so stockings were first knit flat and then sewn up the back in the shape of a leg. Hence, they have some special features: Often darker toes and heels, a seam at the back, and a keyhole. To hold them up, they were worn in combination with a garter. Read more interesting facts about stockings in this blogpost.
In the middle of the 1950s, machines that were able to knit hoses were invented, so until about 1965 seamless stockings got quite popular. But for now, let's come back to the 1940s.
---
The fascinating Story of Nylon Stockings: War Time
Unfortunately, the pleasure of having access to affordable, pretty nylon or perlon stockings did not last for long. After the beginning of World War II in 1939, perlon was no longer used for the production of stockings in Germany, as it was needed to produce goods vital to the war. When the United States entered into World War II in 1941, nylon suffered the same fate and was needed for the manufactoring of war essentials like parachutes, tents and so on. Many patriotic women even donated their nylon stockings for this causes. During war time, nylons were only available for very high prices on the black market. However, there were instructions available for all the women who didn't got their hands on nylons on how to "paint them" on the legs with the help of special makeup and a kohl.
Maybe nylons were so sought-after as they were that scarce. I read that, at the end of the war, women were asked what they missed most. About 35 percent of the young American ladies supposedly said "men" – the rest of them wanted "nylons".
---
The golden Years of Nylon Stockings
After the end of the war in September 1945, nylon stockings were produced again. However, there weren't enough nylons to cover the full range of demand. Thousands of women queued up an tried to get hands on pair of nylons. According to reports, some women even fighted over nylon stockings! In Germany, the situation was different. Nylon and perlon stockings were still only available at the black market and at least as sought-after as cigarettes. Therefore, some women still painted their "stockings" on their legs, with the help of makeup, or even coffee grounds.
Beside the black market, American GIs were another reliable source for nylons in Germany. It is said that soldiers from the US could get almost everything from young German women in exchange for a pair of nylons.
But even in the US, the demand for nylons met the need only in March 1946. From then on, nylon was the most sought-after material for stockings. Over the years, they also got finer, and in the early 1950s, delicate 10 den were reached.
---
Stockings in Germany
In Germany, affordable nylons that always spread a kind of Hollywood glamour, remained a dream for a long time. Despite the currency reform in Western Germany in 1948, modern, affordable hosiery was still not available, but rather an expensive luxury. So every woman who owned a pair of nylons, took good care of them, and a run was a real drama. There were even stores, where women could bring their stockings for repair work!
In the beginning of the 1950s, though, things got better for German women. Stocking manufacturers crowded onto the German market again and sold millions of pairs in the first few years.
For some years, nylon stockings have been a must-have for mannequins and movie stars. Popular movie stars advertised nylons and made them even more desirable. And even back then, nylons seemed to make men's hearts beat faster, as they appeared in different fetish magazines. One of the most popular fetish models wearing nylons regularly was definitely Bettie Page. So it seems like nylons were a dream come true for both, women and men. 😉
---
Seamless Stockings & the tragic End of Nylons
Until the middle of the 1950s, seamed nylon stockings were seen on fashionable women. But then, in about 1955, machines that were able to knit hoses were invented, so until about 1965 seamless stockings got quite popular and seams, on the other side, old-fashioned.
When at the end of the 1960 the mini skirt enterd the fashion world, stockings became impractical, as they could be seen underneath the hemline. Something new was needed and progressing technology paved the way for tights and pantyhoses. Until today, most women choose tights over stockings, and the classy nylons mainly got displaced.
Furthermore, nowadays stockings and tights are usually no longer made of 100 % nylon, but often consist of a kind of polyamide-elastane fabric. This kind of material clinges better to the legs and doesn't wrinkle when wearing them, like true nylons sometimes do.
---
Nylon Stockings nowadays
You usually almost never see real nylon stockings with seams on women nowadays, at least not outside of the bedroom. What a pity! There is no other piece of clothing in my closet that gets as much attention and compliments as my seamed nylons – from both, men and women, by the way. Furthermore, a thin seam at the back of your stockings will optically make your legs look slimmer and is definitely an elegant eye-catcher. And as I get so many question on topics like practicability of nylon stockings, I wrote a full blogpost on how to enjoy wearing nylon stockings in everyday life.
Although tights are definitely more popular than real nylon stockings nowadays, there are still some passionate wearers. One of the most popular of them might be burlesque queen Dita von Teese. But I also follow some wonderful Instagram accounts and blogs that show nylon stockings:
Wearing nylons or pantyhose is no longer a must, and bare legs found social acceptance which is a good thing! Nevertheless, I personally still love the hosiery department of department stores most. As you might know, I love wearing true fully fashioned nylons, but also like modern hosiery, and love to experiment with different styles. Nevertheless, there is nothing else that gives me those wonderful old Hollywood vibes like true nylon stockings. I love the glamorous feeling of putting them on, and the rustling sound of them when crossing my legs. And if you now would like to try authentic nylon stockings as well, I recommend to have a look at the following brands.
---
Where to buy authentic Fully Fashioned Nylon Stockings
Authentic, so called fully fashioned nylon stockings are sometimes quite hard to find nowadays. As mentioned before, modern pantyhose and tights are definitely more popular and by far not all hosiery stores offer true nylons. Nevertheless, there are a few brands that still sell them. Here are some examples:
PS: If you would like to know how to identify true fully fashioned nylons, make sure have a look at my stockings ABC.
---
This might be also interesting for you: