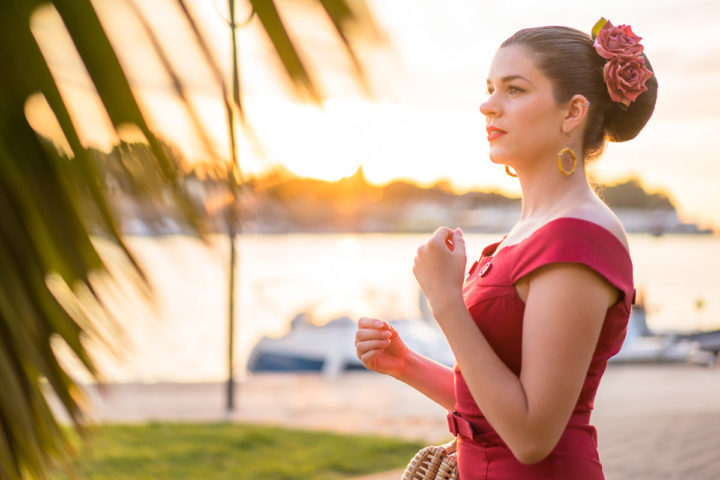 5 super easy vintage inspired summer hairstyles for different occasions
Warm evenings, a jump into the lake or sea, lots of ice cream, and dreamy dresses – yes, summer can be amazing! The latest heat wave, though, gives me a hard fight. While the only thing I actually want do right now is hiding in the cellar, I somehow have to cope with everyday life, just as anyone else. Light summer outfits and a long-lasting makeup definitely help, but what on earth should we do with our hair? A sweaty neck is the main enemy of pretty vintage curls, at the moment, so this hairstyle isn't an option currently. There are some pretty good alternatives, though. So here are five super easy and chic vintage inspired summer hairstyles that don't take longer than five minutes, because who wants to spend more time in front of the mirror during this heat?
This blogpost contains affiliate links (marked with *)
Easy vintage inspired Summer Hairstyles: A big Bun
A huge bun is actually one of my favourite hairstyles ever. No wonder, as it is super easy, and always looks amazing. I even get questions from strangers sometimes, asking me how long I need for this elegant hairstyle. The answer is simple: not longer than five minutes.
And this is how it works: Start with a ponytail that is placed either low or high – depending on your preferences – on the back of your head. Afterwards, put a so called hair donut over your ponytail and place your hair around it. Pin everything and put on a hairnet around the donut to fix the hairstyle. Now, you only need some lovely hairflowers or a stylish hairband and your wow-look is finished.
By the way: hair donuts are availble in a lot of different sizes and colours. The bigger the bun, the more exciting the hairstyle. Also, make sure to use a donut close to your haircolour.
A huge bun looks amazing with elegant summer dresses and deep back-necklines, by the way. 😉
Affiliate links

---
Easy retro Summer Hairstyles: A simple Chignon
A chignon is my "hairstyle to go" for many different occasions. I start with putting my hair into a low ponytail. Then, I use a snood over the ponytail and pin the hair in the snood around the hair tie – that's it. This hairstyle goes with almost every look and looks good on any occasion, as it is chic, elegant, and never over the top. You can even wear the chignon together with a hat or fascinator.
Affiliate links

---
Easy retro Summer Hairstyles: A casual Updo
If I'm in a hurry or prefer a more casual look, I just pin up my hair with some bobby pins. It doesn't matter if the updo isn't perfect, I actually like this undone look. A hat or hairflowers* on top make the look more interesting and stylish and look amazing in combination with romantic lace blouses or cheerful maxi dresses.
Affiliate links

---
Easy retro Summer Hairstyles: The Gibson Roll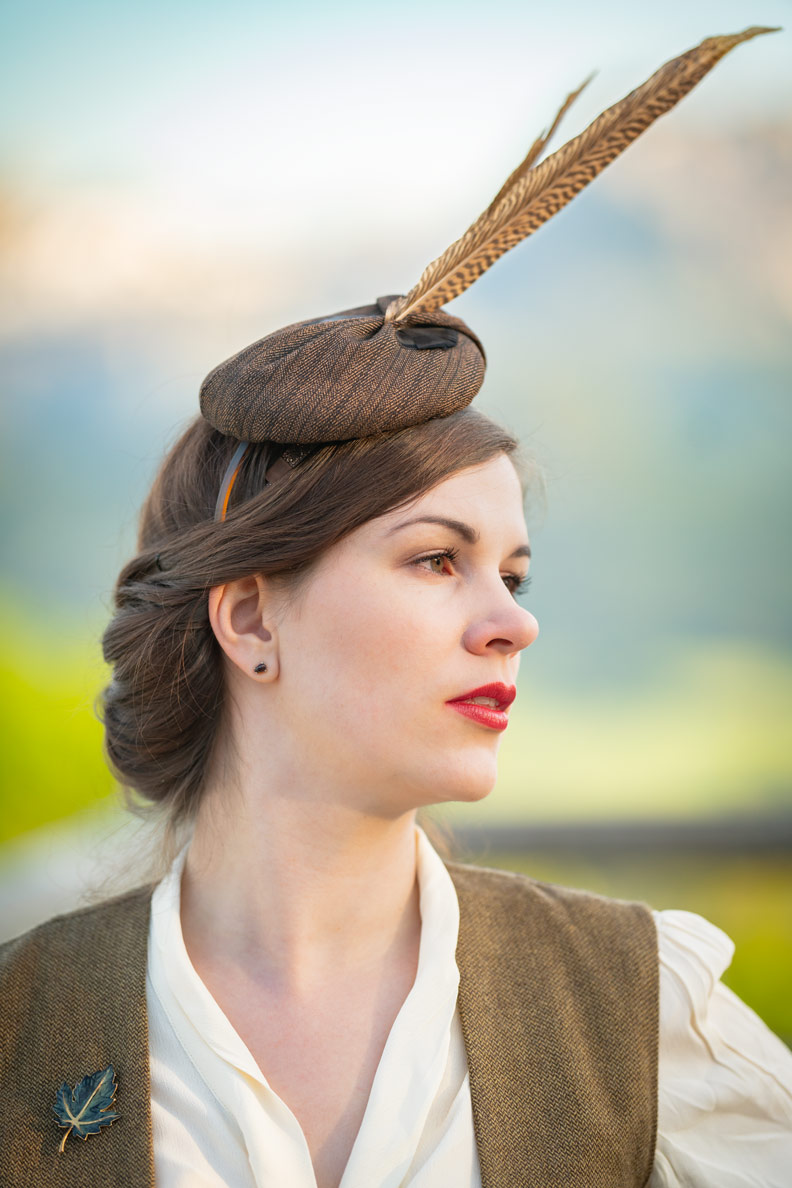 The Gibson Roll has its roots in the Edwardian era and came back into fashion in the early 1940s. Which acutally is no surprise, as the hairstyle is practical, looks beautiful, and keeps the hair out of the face – perfect for the working women during war time.
And this is how it works: As my hair is quite short, I love to use a little gadget that makes it look more voluminous: A hairband with a little roll*. So the only thing I have to do is rolling my hair around this hairband-roll and pin it with some hairpins. For an even more romantic look, you can also add a beautiful hairflower* or fascinator. A perfect hairstyle for 1940s inspired outfits and romantic looks.
Affiliate links

---
Easy retro Summer Hairstyles: The Ponytail
Last but not least: Maybe the easiest and most youthful looking summer hairstyle – a ponytail. You can either wear it very severe-looking and straight (perfect for the office, by the way) or a bit "undone". For a retro touch, simply add a bandana, hair scarf, or hairband.
Affiliate links

---
Do you have a favourite summer hairstyle?