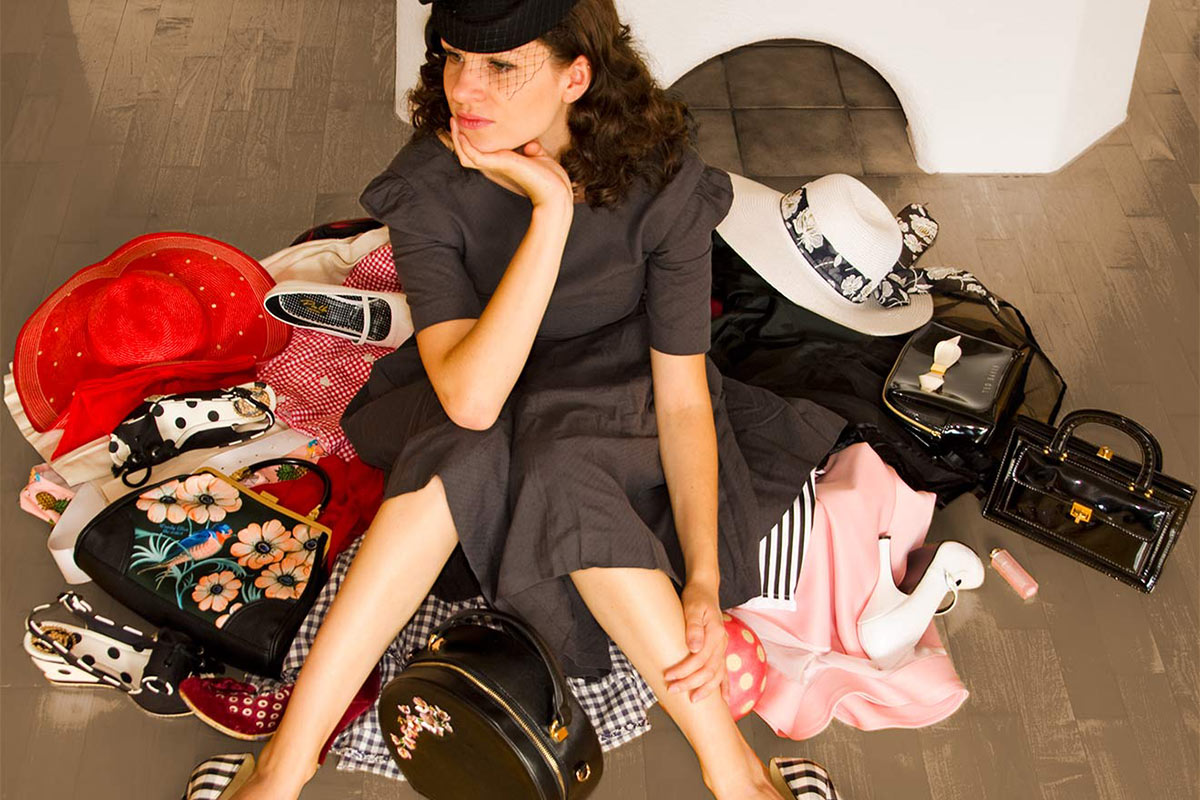 Wardrobe cleanout: My best tips
I know that there are already many guides with more or less helpful tips on how to find your very own personal style. However, finding your style isn't always that easy and more of a process, I think. Our personal style changes, adjusts, or stays almost they same over many years. And sometimes, our life changes and our style therefore doesn't fit our lifes anymore. Nevertheless, it definitely makes sense to know what fits you and your life best. To have a kind of personal style also makes shopping easier. It avoids mispurchases and helps whenever we ask ourselves: What to wear today?
As I get quite often questions on how I found my personal style and how to create a vintage style wardrobe, I decided to start a new blog series. I will tell you step by step how I changed from a "normal" wardrobe to a vintage style wardrobe and how you can definine your personal style as well. So let's start at the very beginning.
Wardrobe Cleanout: The first Step to your personal Style
In many style guides, I read one should start with a moodboard. However, I personally believe this is the wrong order. I would always start with getting an overview over what we have and especially what kind of clothing we enjoy to wear. And to find out these things, I recommend to start with a huge wardrobe cleanout.
Wardrobe Cleanout: How to start
A huge wardrobe cleanout needs some time. Therefore, I recommend to plan at least one, better two full days for your cleanout. Make sure the floor is clean on this day, as most likely, some garments are going to land on there.
As soon as the huge cleanout day is here, put everything from your closet on a stack. Well, not everyhting, of course, you should hang your more delicate garments on a clothes hanger. 😉
As the closet is completely empty now, I recommend to take advantage of this and clean it. So while we are going through our garments, everything can dry and we can put our "keep" stuff in, afterwards.
What to take and what to toss?
Now, when our closet is empty and we have the huge stack in front of us, it is time to decide what to take and what to toss. I always use three different smaller stacks for this:
First Stack: What to take
The first stack is a no brainer: Take everything you definitely want to keep on this one. So afterwards, this stack will be full of garments you wear on a very regular base, you absolutely love, or have a special meaning to you, like a wedding dress or something like this.
Second Stack: What to toss
The second stack usually is quite easy to fill as well. Put everything you defintiely want to sort out on this one. These can be things that are no longer in good condition, garments you have never worn and most likely won't wear in the near future and things that don't fit anymore.
Third Stack: What to maybe keep
In the end, there are usually a few garments we kind of want to keep but are also not sure if we are really going to wear them. If you are already fed up for today, I recommend to finish your wardrobe cleanout for today and start again on another day with this stack. When you are ready to have a second look on the pieces on this stack, I recommend to ask yourself the following questions:
How often have I worn this garment in the last few months or years? If you can't even remember, sort it out.
Is there an occasion anytime soon on which I want to wear exactly this garment? No? Sort it out.
Does this garment fit your life? (I mean, most of us don't really need five different ball gowns, for example…)
Would I buy this again?
If you still can't decide if you want to keep the garment, put it on. Have a look in the mirror. If you feel great in the garment, keep it. If you don't feel absolutely comfortable in it, sort it out.
By now, the last stack most likely got much smaller. If there are still things you can't decide wether to keep or toss, I recommend to put them in a special drawer or box. After I have done this, I always wait a few month and then have look in my drawer or box, again. If I still haven't worn anything from in there, I sort the things out.
How often should we clean out our Wardrobe?
I personally try to clean out my closet once or twice a year, so I can be sure there are only garments in my wardrobe I actually like and wear. But of course, there is no rule. You definitely should clean out your wardrobe when there is no more space in it, though. 🙂
---
Such a cleaned out wardrobe is the perfect base to find your personal style. I am sure, by now, you can already see a kind of style, as we often tend to wear the same few cuts and colours. And this is something we can definitely work with.
But before we are going to continue with finding the personal style, I will answer the following question in the next blogpost: What to do with the sorted out garments?