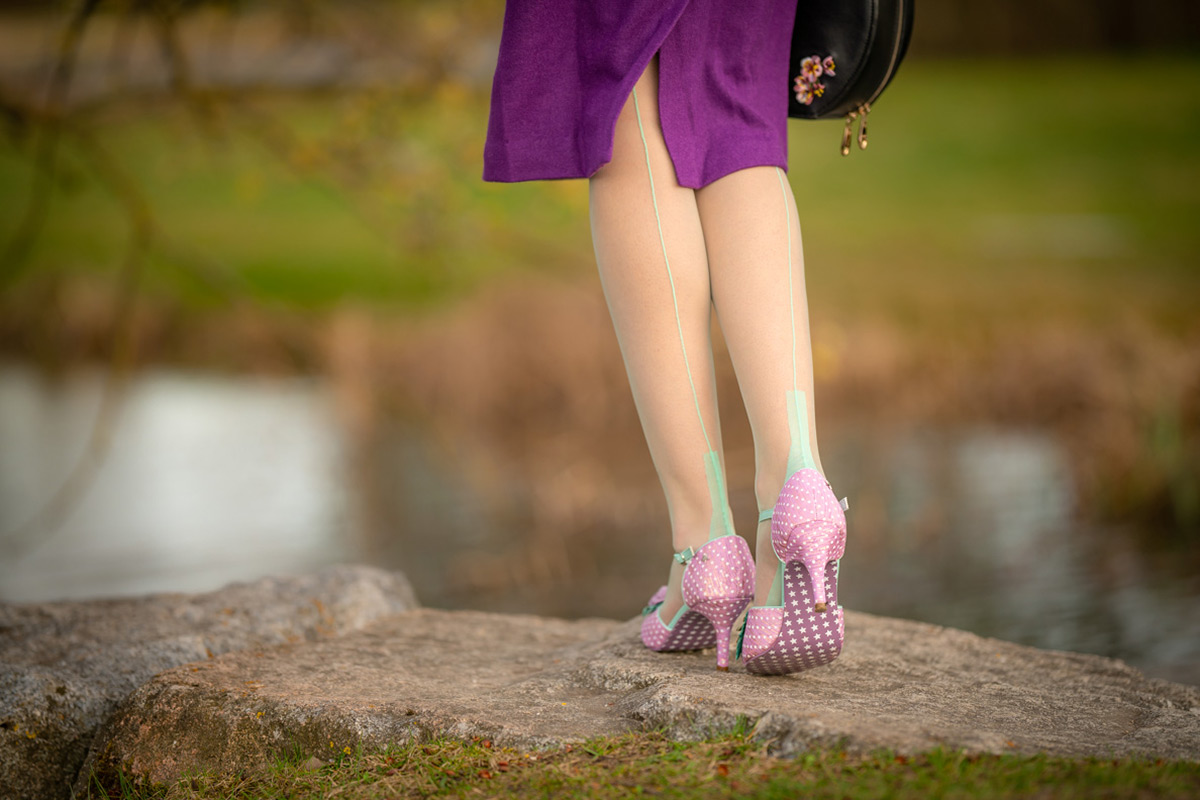 This blogpost contains affiliate links (marked with *). If you shop products via those links, I may get a small provision which helps me to maintain my blog. Of course the price doesn't change for you.
Colourful tights and nylons
Even though I absolutely adore elegant black and white outfits, in spring, I also absolutely can't resist more colourful and fun looks. Between all those colourful flower dresses, tops and skirts, we often forget one category, though: Hosiery! So in this blogpost, I am going to show you a lot of gorgeous colourful nylons and tights for spring!
Colourful opaque Hosiery for Spring
During the first few spring days, when it is still a bit chilly, I personally prefer opaque tights over delicate nylons. Those, by the way, look absolutely amazing in combination with skirts and mini dresses inspired by the 1960s!
TopVintage*, for example, offers some really lovely colourful hosiery.
*Affiliate links

---
Colourful Tights with Patterns
If you want to attract all the attention to your legs, I recommend colourful hosiery with lace or other patterns. Another cool alternative are colourful fishnet tights.
TopVintage, for example, offers fancy colourful hosiery with patterns*. If you prefer something a bit more subtle, I recommend these black tights with a colourful flower pattern*. But also shops like ArsVivendi* or Wolford* offer some great colourful hosiery with patterns.
*Affiliate links

---
Tights and Stockings with a colourful Seam
A relatively subtle and elegant way to add some colour to your legs is to choose sheer stockings or tights with only a colourful seam. What Katie Did is known for their wide range of contrast seamed stockings. But also shops like ArsVivendi* or TopVintage* offer some great hosiery with colourful seams.
*Affiliate links

---
Sheer, colourful Tights and Nylons for Spring
A little bit more fancy than the previous ones, but still elegant and relatively subtle are sheer colourful hosiery – with or without a seam. As they are simply more sheer than opaque tights, they don't look as bright as opaque ones on your legs, but still add a little bit of colour. For everyone who prefers a very subtle look, I recommend colours like a light pink, for example.
Secrets in Lace offers some amazing seamed nylons in different pastel colours. But also at ArsVivendi*, you will find some great colourful, sheer hosiery.
*Affiliate links

---
This might be also interesting for you: