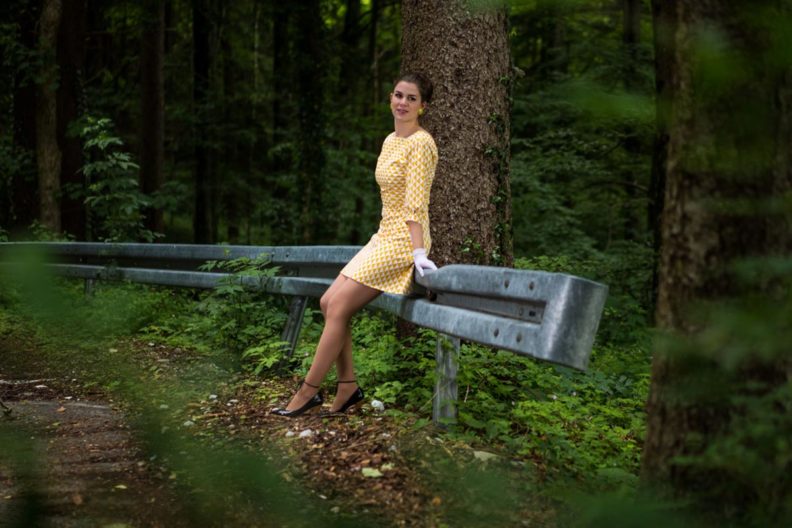 60s inspired mini dresses and how to style them
To be honest: I usually prefer dresses and skirts in midi length, so hemlines that end below the knees. However, every now and then I like a bit of variation. This is when I wear my cheeky 60s inspired mini dresses. They remind me of the swinging sixites and days full of love and fun. In the following, I'm going to introduce my favourite mini dresses and tell you how to style them.
*This blogpost contains affiliate links (marked with *)
When to wear Mini Dresses
It actually should be very easy to answer the question when to wear mini dresses: Whenever you want! However, as we all know, things are not always that easy… So here is when I personally wear mini dresses: I choose those short dresses mainly for my freetime or parties (although, of course, I haven't been at a party for months…). When styled the right way, mini dresses not only look cheeky, but can also appear very stylish.
I don't wear mini dresses in the office or on formal events, though.
---
How to style Mini Dresses in Spring and Summer
Mini dresses are simply perfect for warm summer days and nights. No matter if during summer vacation, on a day out in the city, or even in nature – short dresses made of light fabrics are super easy to style during warm season.
When it comes to shoes, I usually go for summery sandals, elegants heels, or even fancy platform heels during summer – this completely depends on the occasion for my outfit, of course.
If you like, you can wear a hat with your mini dress. Hairflowers or handbands look good as well and add a lovely 60s touch to your outfit.
*Affiliate links

---
How to style Mini Dresses in Autumn and Winter
Of course you not only can wear short dresses during warm season, but also in autumn and winter. You just need a few things to make a mini dress appropriate for cold weather.
1960s inspired short dresses look wonderful in combination with tights. If you like it classy, I recommend black (opaque) tights. However, colourful or even white tights will look good together with short dresses as well. And if you like, you can even wear fishnets or overknee tights with mini dresses. I usually always choose tights over stockings, by the way, when I wear short hemlines.
My choice of shoes always depends on the weather. As long as it is not too cold and wet outside, I wear heels or even sandals with tights. When it's getting colder, though, I choose ankle boots*, or boots*.
*Affiliate links

---
Where to buy lovely Mini Dresses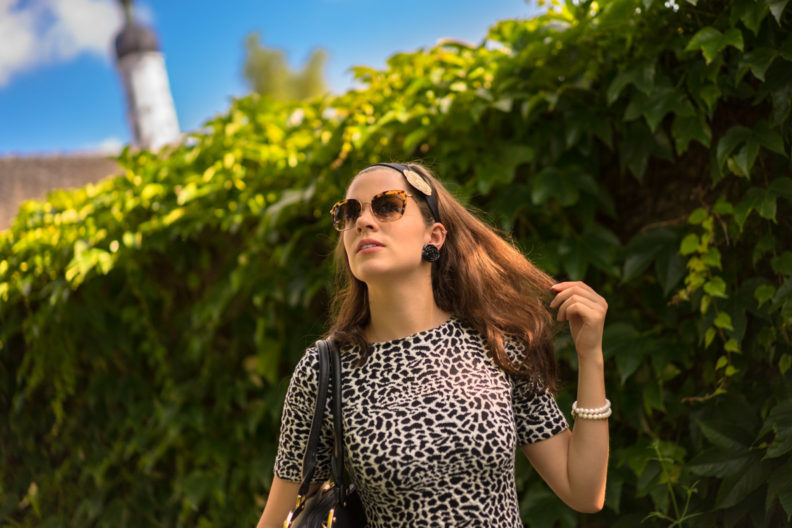 You will find very authentic and absolutely beautiful 1960s inspired dresses at Grünten Mode, for example. TopVintage* also offers some lovely short retro dresses. You can also invest in modern mini dresses with a retro flair. I usually look at Boden*, & Other Stories* or Asos* for such dresses. At MyTheresa*, on the other side, you will find gorgeous designer mini dresses.
But now, let's finally have a look at some outfits with short dresses.
---
A summery Gingham Dress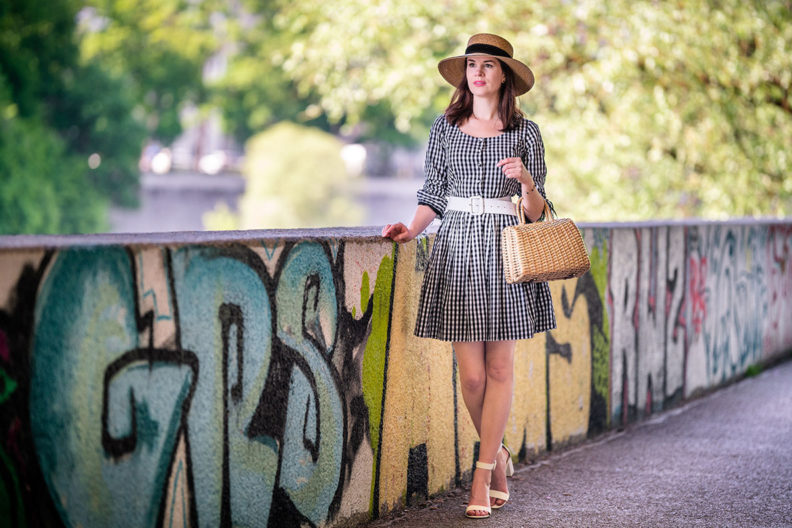 This lovely gingham dress is by L'école Des Femmes and one of my favourites for summer! I especially like all the lovely details such as the sleeves, and the pleated skirt. Furthermore, the dress is absolutely timeless and easy to combine. I wear it together with a straw hat, white sandals, as well as a vintage basket bag.
More lovely Gingham Dresses:
*Affiliate links

---
A cheeky Mini Dress with Animal Print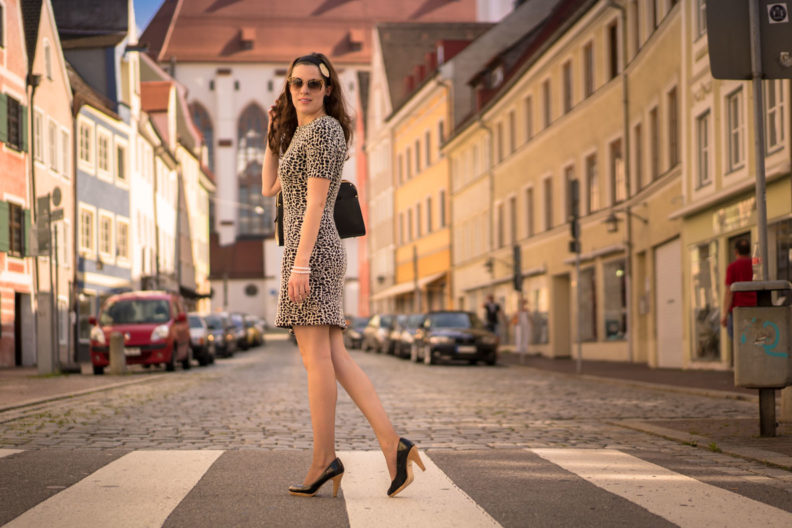 Mini dresses with animal prints can be a bit tricky, as they might look cheap in some cases. However, if you choose a high-quality dress and team it with elegant, classy accessories like cat-eye sunglasses, elegant pumps, and lovely tights, such a dress can definitely look stylish.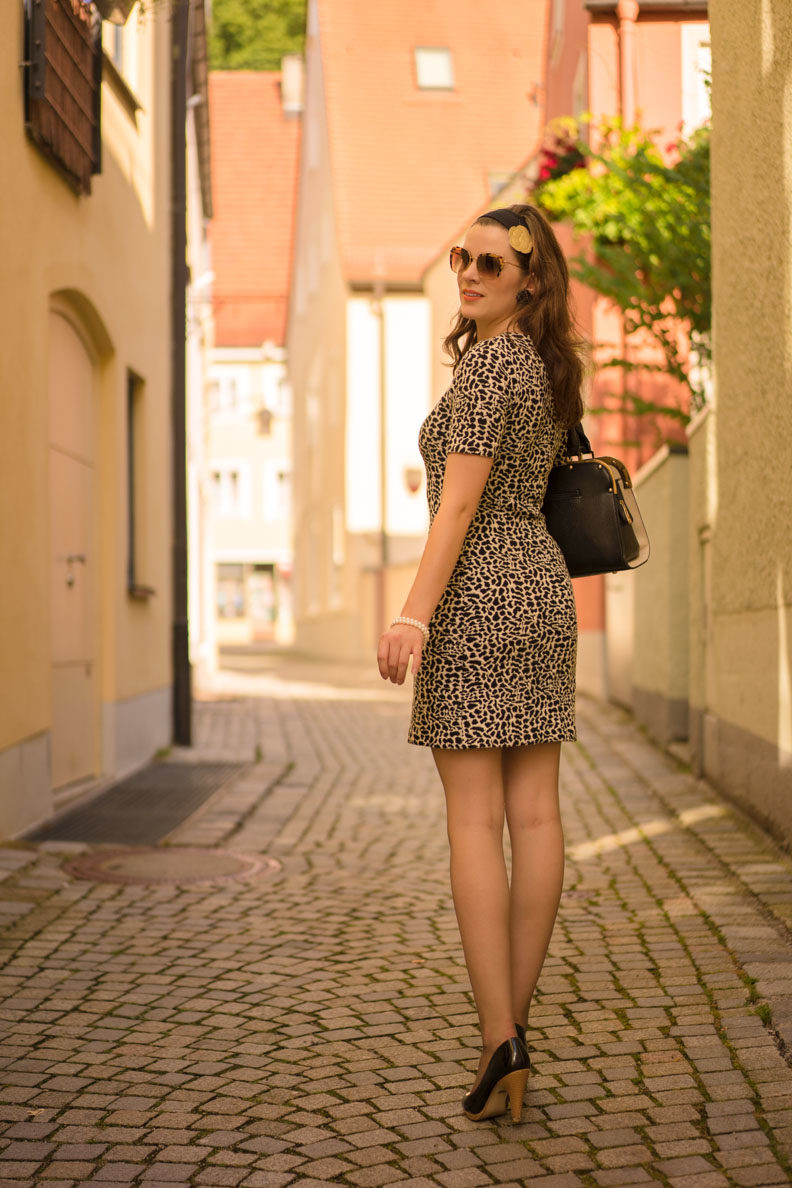 More cheeky Mini Dresses:
*Affiliate links

---
Perfect for Summer: A yellow Mini Dress
Graphic prints are typical for the 60s and look super stylish on short dresses. The lovely Sunshine Girl Dress by Grünten Mode is a wonderful example for such a garment. White gloves, patent leather pumps, and colour-matching earrings finish this fun and summery 1960s inspired outfit. A perfect look for birthday parties outside, festivals, and other leisure time activities.
Outfit Details:
Dress: Grünten Mode, similar here*
Earrings: Glitter Paradise*
Gloves: similar here*
Pumps: similar here*
Handbag: Vintage, similar here*
*Affiliate links


More summery Mini Dresses with retro Patterns:
*Affiliate links

---
A blue Mini Dress for cold and warm Days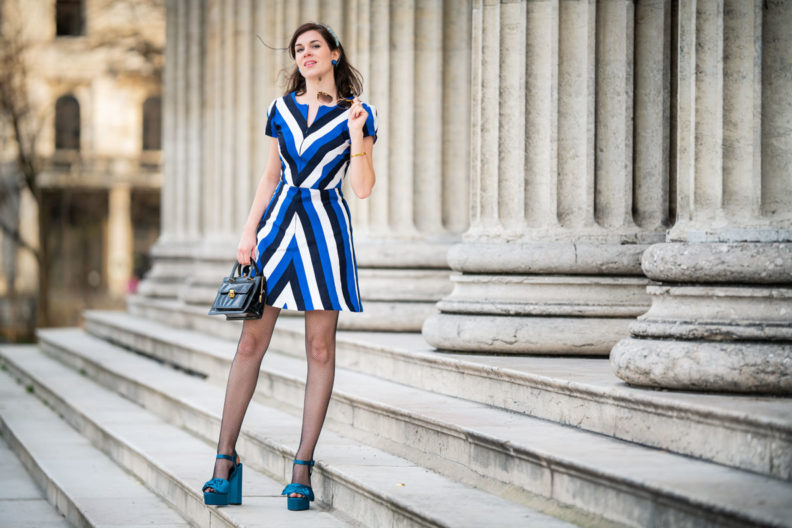 The lovely Blue V Dress by Grünten Mode is perfect for both, warm and colder days. During warm season, I wear it with sandals, a headband, and maybe fishnet tights. As soon as it's getting colder, though, I team the dress with opaque tights, boots, and a stylish jacket.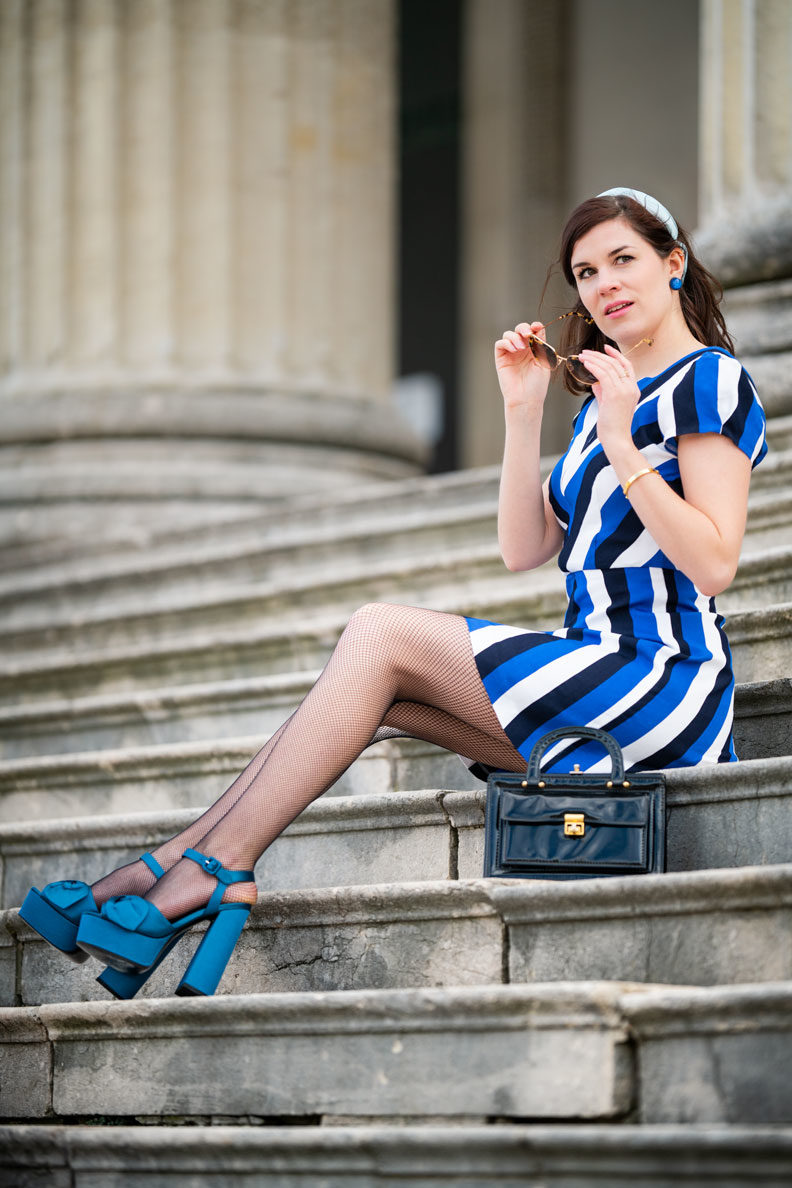 Outfit Details:
Blue V Dress: Grünten Mode
Fishnet tights: c/o Secrets in Lace – Europe
Shoes: via Asos*
Earrings: Glitter Paradise*
Headband: similar here*
Handbag: Vintage via Vintage Love
Sunglasses: Miu Miu, very similar here*
*Affiliate links


More beautiful Mini Dresses for cold and warm Days:
*Affiliate links

---
A spectacular Mini Dresses for fun Party Nights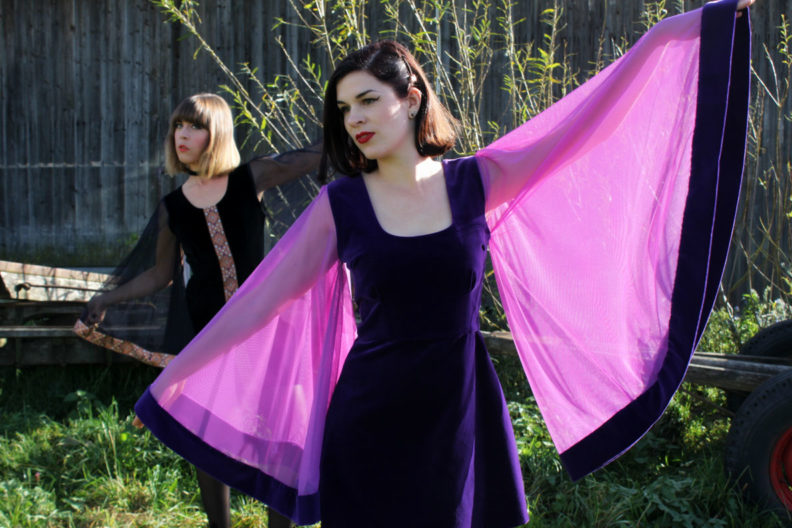 Cheeky mini dresses are a wonderful choice for exciting party nights, of course! Just make sure to choose a dress made of luxurious fabrics and with some fancy details. Mine is by Grünten Mode, by the way, and a real head-turner due to its wide sleeves. Now, you only need some tights as well as cool shoes, and your 1960s party outfit is finished.
Outfit Details:
Dress: Grünten Mode
Tights: similar here*
Boots: Miss L-Fire, similar here*
*Affiliate links


More Mini Dresses for Parties:
*Affiliate links

---