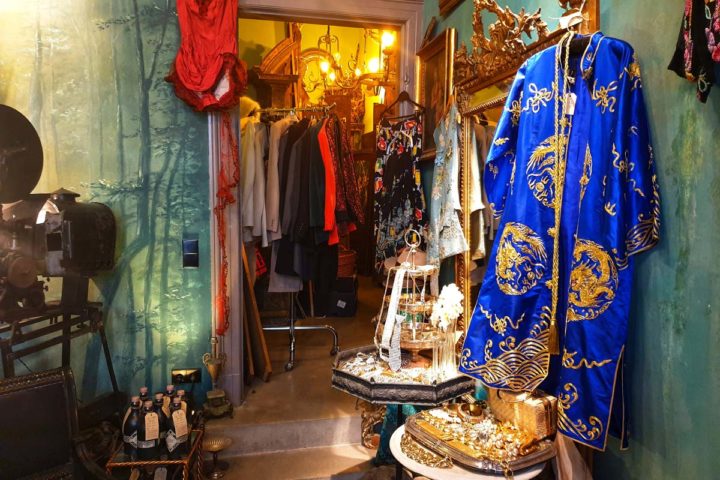 Visiting the best vintage stores in Munich
You don't have a shopping list when you visit vintage stores. You visit them to get inspired and enchanted, to search for new favourites and to find some real treasures! I found some of my favourite clothes and accessories in Munich's vintage stores, most of the time for great prices! Furthermore, I love to give old garments a new life. In this blogpost, I'm going to show the, in my opinion, best vintage shops in Munich. And you know what: You can go from shop to shop on foot, as they are located quite close to each other!
PS: I only show real vintage stores (shops who really have old items) and not shops that only sell second hand (designer) pieces.
The best Vintage Shops in Munich: Alexa's
Alexa's vintage shop is one of my favourites! You will definitely need some time to browse through the store, and make sure to listen to the owner Alexa, she always has some good recommendations. But then, I'm sure, you will find some real treasures! I, at least, never left this shop withouth a new old piece. My favourite things I found there are this black vintage dress, the brown hat and bag I wear in this blogpost, as well as my blue 50s skirt from this article. Furthermore, I bought many of my true vintage gloves, hats, and handbags at Alexa's.
Beside true vintage pieces from the 30s to 80s, you will also find some reproductions at Alexa's from brands like Hell Bunny or The Seamstress of Bloomsbury, for example. And especially during Oktoberfest time, Alexa offers a wide range of vintage Dirndl for fair prices.
Alexa's Adress & Opening Hours
Utzschneiderstr. 10
80469 Munich
Open: Wednesday – Friday 1 pm – 7 pm, Saturday 11 am – 6 pm
Website: www.alexas.de
---
The best Vintage Shops in Munich: Vintage Love
Vintage Love is definitely one of the top addresses in Munich, if you are searching for high quality true vintage fashion. Even the best fashion magazines in Germany get the accessories for their editorials here, sometimes. To be honest, you won't really find bargains at Vintage Love, but instead, they offer amazing (designer) vintage fashion from cocktail dresses to amazing jewellery and accessories. During Oktoberfest, you will also find Dirndl and Trachten, there.
I personally like to search for hats, handbags, and other accessories at Vintage Love. But I also found amazing true vintage petticoats as well as a 50s skirt there.
Vintage Love's Address & Opening Hours
Frauenstr. 22
80469 Munich
Open: Monday – Friday 1 pm – 7 pm, Saturday 1 pm – 6 pm
Website: www.vintagelove.de
---
The best Vintage Shops in Munich: Tricia Leonard Vintage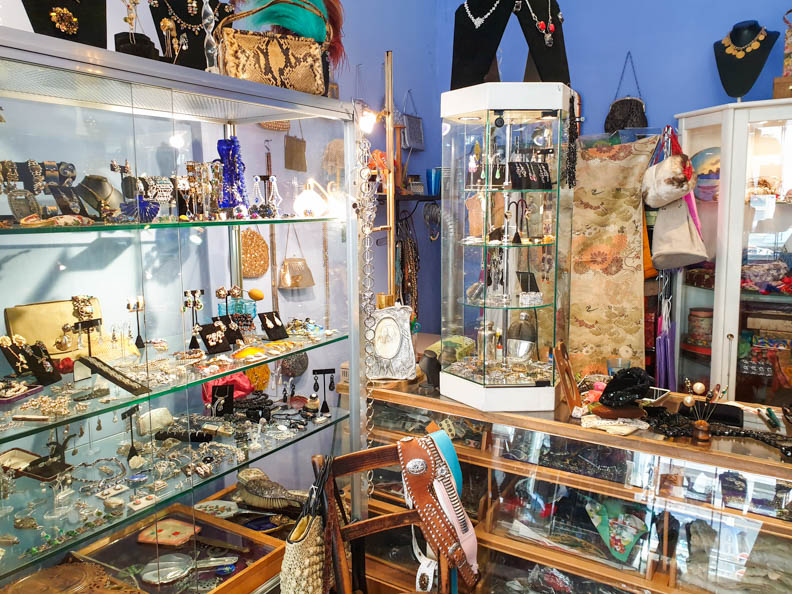 At Tricia Leonard Vintage, you will find a wide range of extraordinary beautiful vintage accessories and jewellery from great cities like London, inter alia. I found the hat from this blogpost there, for example. However, Tricia also has some lovely garments. A while ago, I bought this lovely blue 50s vintage dress at her shop.
Tricia Leonard Vintage's Address & Opening Hours
Baaderstr. 53
80469 Munich
Open: Friday, Saturday, Monday 1 pm – 6 pm
Facebook: www.facebook.com/TriciaLeonardVintage/
---
The best Vintage Shops in Munich: Cat with a Hat
Directly beside Tricia Leonard Vintage, the vintage shop Cat with a Hat is located. This store offers a lot of vintage garments as well as gorgeous accessories and extraordinary great jewellery from the 40s to 80s. However, they also have some Dirndls (mainly during Oktoberfest time, of course), repro dresses from brand like Lindy Bop, for example, and clothing for men in stock.
Cat with a Hat's Address & Opening Hours
Baaderstr. 53
80469 Munich
Open: Monday – Friday 11 am – 7 pm, Saturday 11 am – 6 pm
Website: www.catwithahat.de
---
The best Vintage Shops in Munich: Alva-Morgaine
Alva-Morgaine calls herself a cabinet of curiosities for vintage pieces, unique items, and treasures, and she definitely stays true to her motto! I just discovered this vintage shop recently, and am absolutely in love! You will find tons of amazing true vintage pieces (even wedding dresses!) from 1880 to 1970 there. And Alva-Morgaine not only offers true vintage dresses and accessories, furthermore, they also have decorative items and other rarities in stock. Moreover, the owner is absolutely lovely! So this shop is definitely a must for every vintage lover in Munich!
PS: In this vintage shop, you can only pay cash, so make sure to have enough money with you, ladies (and gentlemen)!
Alva-Morgaine's Address & Opening Hours
Hans-Sachs-Str. 9
80469 Munich
Open: Tuesday – Friday 11 am – 6.30 pm, Saturday 11 am – 4 pm
Website: www.alva-morgaine.de
---
And since shopping makes thirsty, I show you the most beautiful and best cafés in Munich in this blogpost.
You won't come to Munich in the near future? Then you will find my favourite online shops and stores from all over Europe in my shopping tips (click). And now, I wish you a happy shopping!