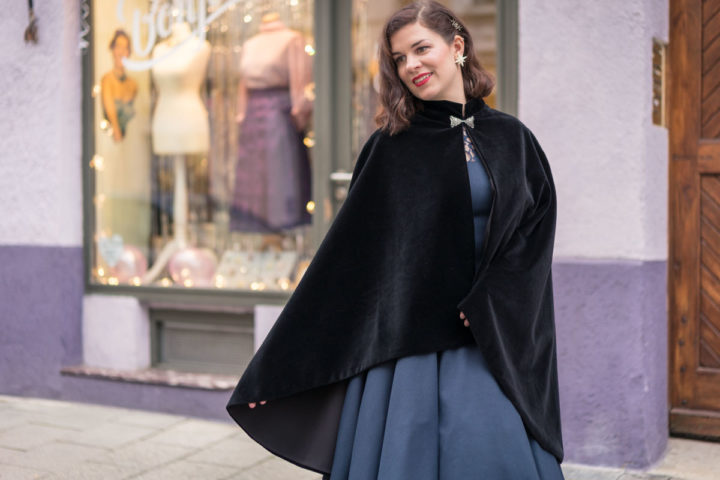 A cape is the coat's glamorous sister: Timeless, elegant, warm, yet a bit more dramatic than a coat. And it's getting even more fancy when the cape is made of high-quality velvet, just like the red Drama Cape by Grünten Mode which I already introduced here. At the Maison Chi Chi meets Grünten Mode Event, designer Sara launched the same model in black. Of course I couldn't resist and had to put in on to take some outfit photos!
A cosy pre-Christmas Season with the black Velvet Cape by Grünten Mode
A cape is not only stylish, but also practical. You just throw it on and it even fits when you are wearing very flared, thick dresses. If it's cold, it's also the perfect piece to cuddle up. But moreover, a velvet cape is such a head-turner!
I especially like to wear capes during the glamorous pre-Christmas season. And the black one matches almost everything. This time, I'm wearing it in combination with the navy blue Petticoat Dress by Belle Couture, which I already introduced in this outfitpost.
Such a striking look doesn't require a lot of accessories. I chose pretty starlite earrings by Glitter Paradise, a silver bracelet by Swarovski as well as sparkly fish-net tights by Calzedonia. By the way, I wear the fish-nets on top of warm thermal tights as it's ways too cold for bare legs right now. 😉
Boots by Miss L-Fire keep my feet warm and finish the glamorous retro outfit for winter.
---
By the way: Have you noticed that I have my very own blog shop here on RetroCat.de, now? You will find all my favourite pieces, and items I would love to own over there! So have a look. 😉
A glamorous retro Outfit for Winter – the Details:
Black Velvet Cape: Grünten Mode via Maison Chi Chi
Petticoat Dress: c/o Belle Couture
Petticoat: c/o Belle Couture
Thermal tights: Calzedonia
Sparkly tights: Calzedonia
boots: Miss L-Fire via Maison Chi Chi
Earrings: Glitter Paradise
Bracelet: Swarovski