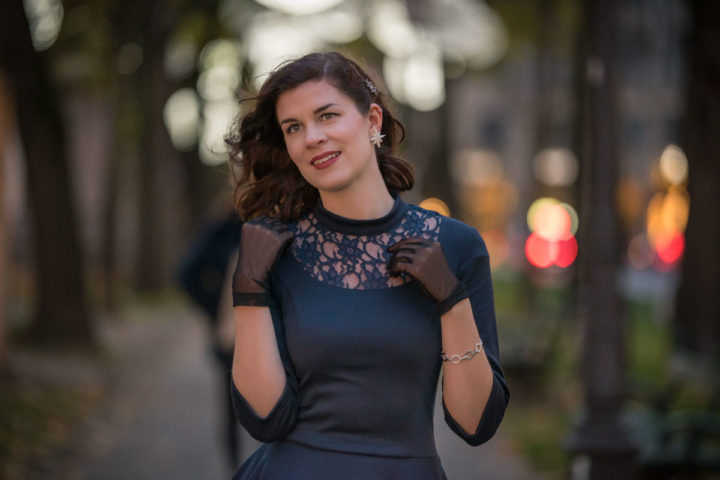 The Christmastree is already placed, the shop windows are beautifully decorated, and slowly but solely, more and more Christmas lights are lit – Munich is never as charming and sparkly as it is during pre-Christmas season. While most of the people go shopping and buy presents at the moment, I rather enjoy walking along the Promenadenplatz while looking at all the wonderful lights. However, it's pretty cold outside by now, and therefore, warm clothes are a must. But of course, I still want a beautiful outfit. Therefore, the base of my look this time is the blue Petticoatkleid by Belle Couture.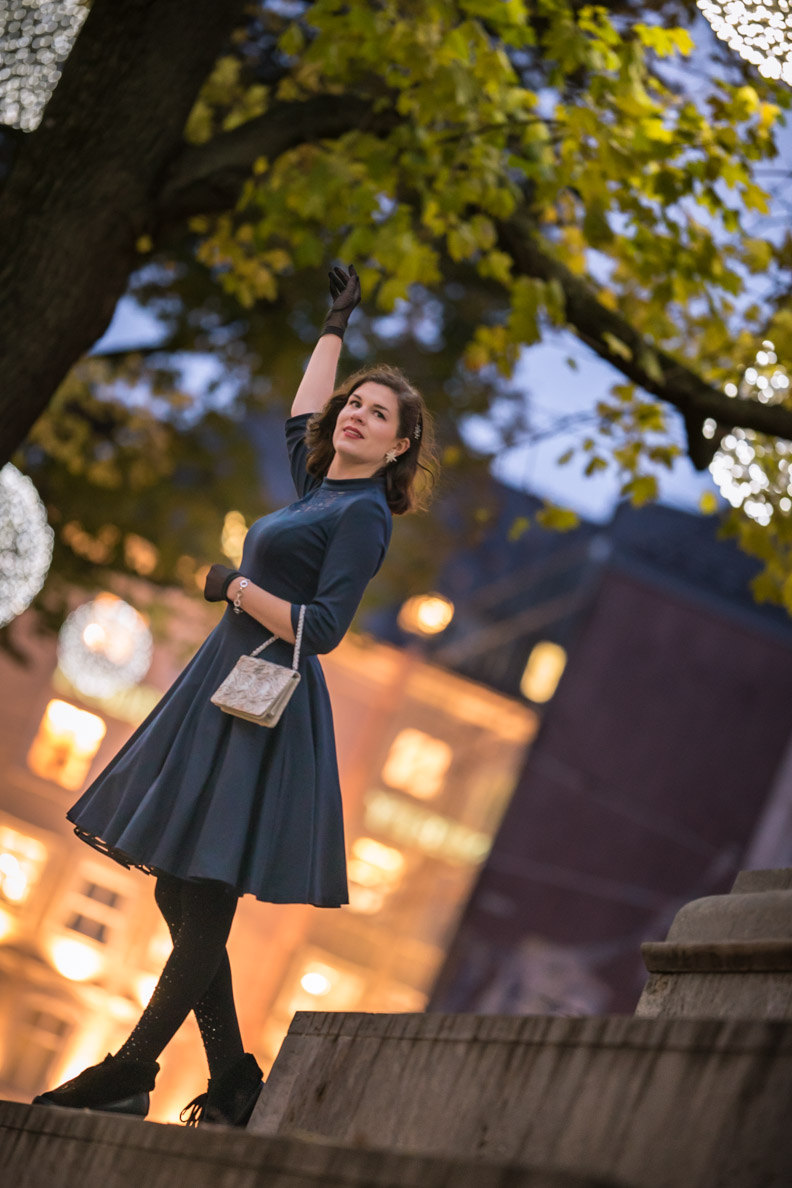 An Evening in Munich with the Petticoat Dress by Belle Couture
As I already told you in this blogpost, Belle Couture offers gorgeous custom-tailored dresses. So everything fits amazingly and it's even possible to choose the length of the skirt – couture fashion at a fair price. This time, I'm wearing a blue dress with three-quarter sleeves and lovely lace details at the neckline. The jersey fabric keeps you warm even when temperatures are very low, while the skirt swings amazingly with every movement. To enhance it even more, I wear a matching petticoat underneath.
Thermal tights are warm, however, they look a bit boring in my opinion. So I  decided to wear on top of my opaque ones sparkly fishnet tights by Calzedonia. Warm boots by Miss L-Fire as well as a cosy fake-fur jacket, which I already showed you here, and I'm ready for winter.
To add that extra portion of glamour, I teamed the Petticoat Dress with the starlite earrings by Glitter Paradise and a lovely bracelet by Swarovski. Black nylon gloves by Secrets in Lace as well as a silver vintage handbag from the 50s finish the festive vintage inspired outfit.
Isn't this a perfect look for all those upcoming Christmas parties?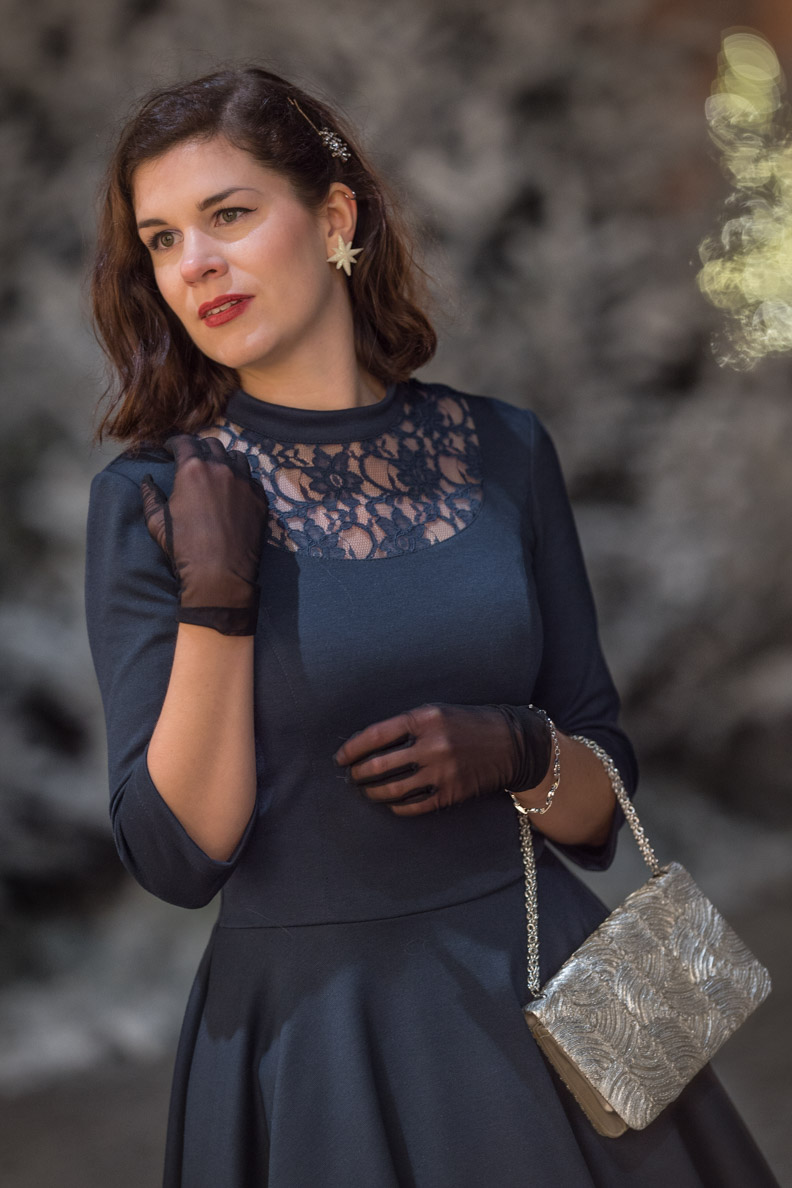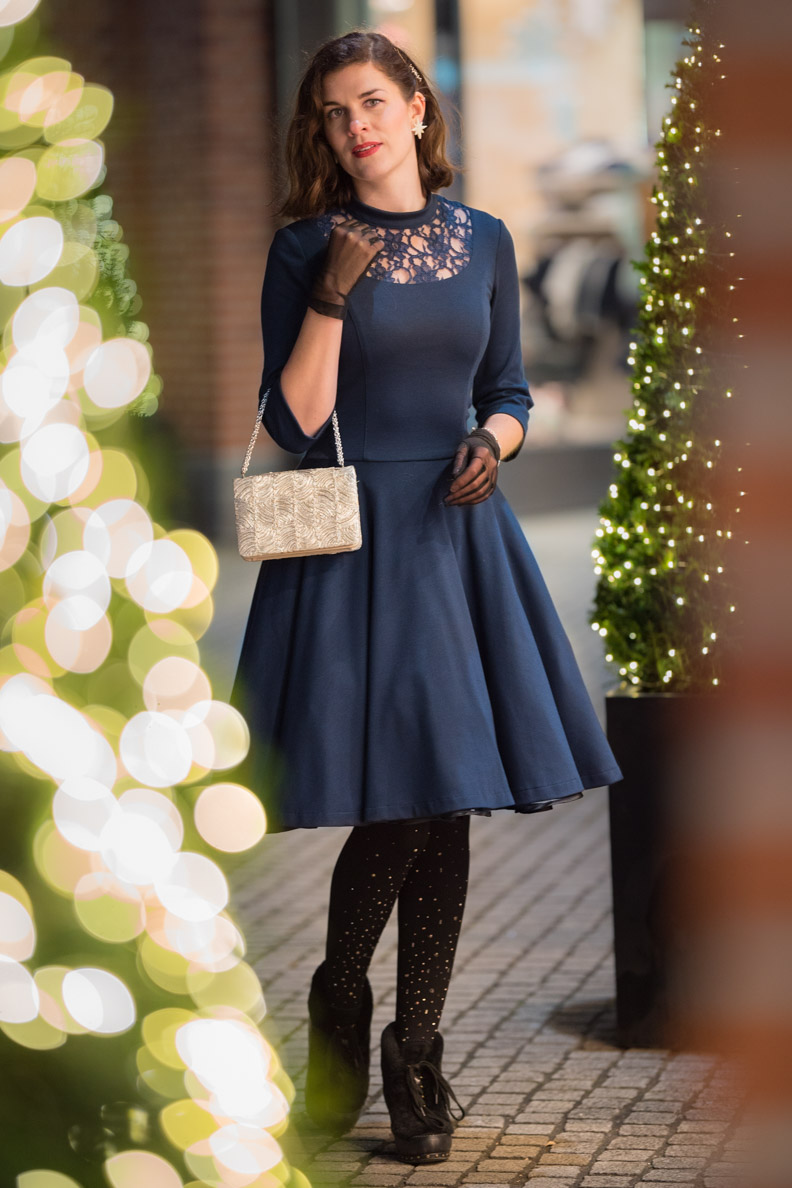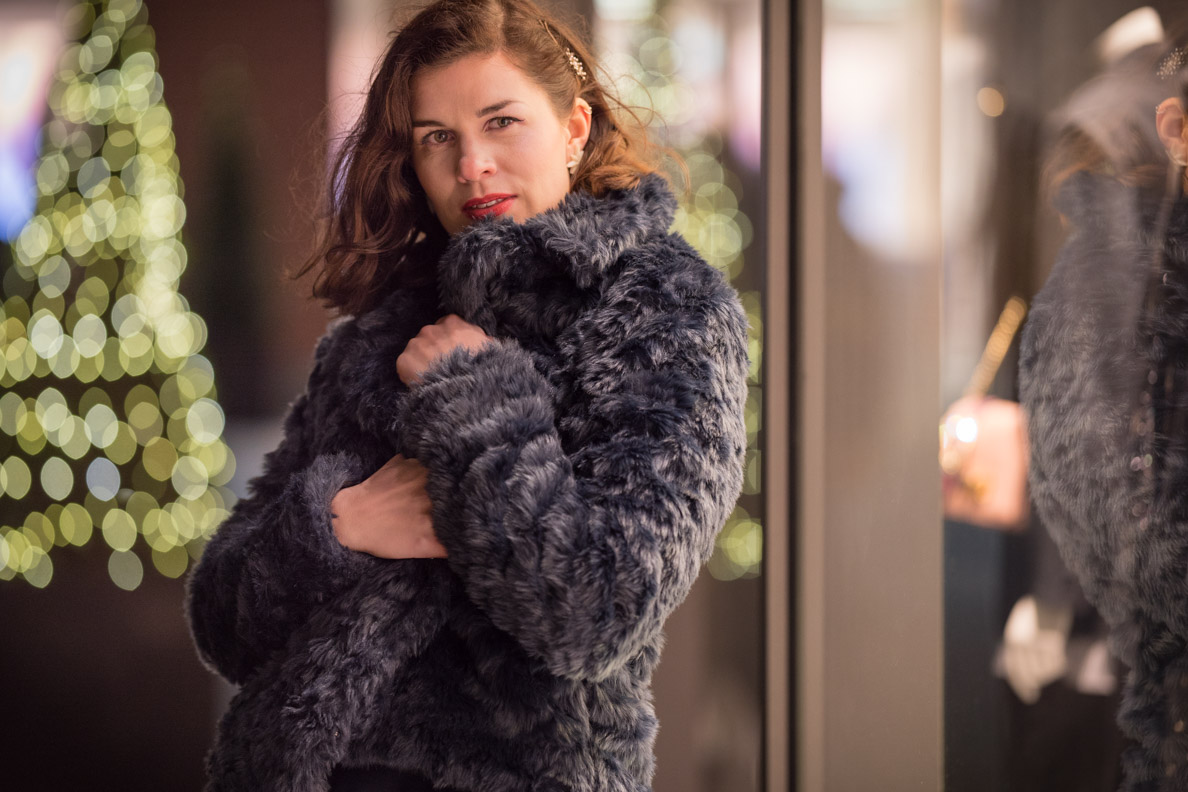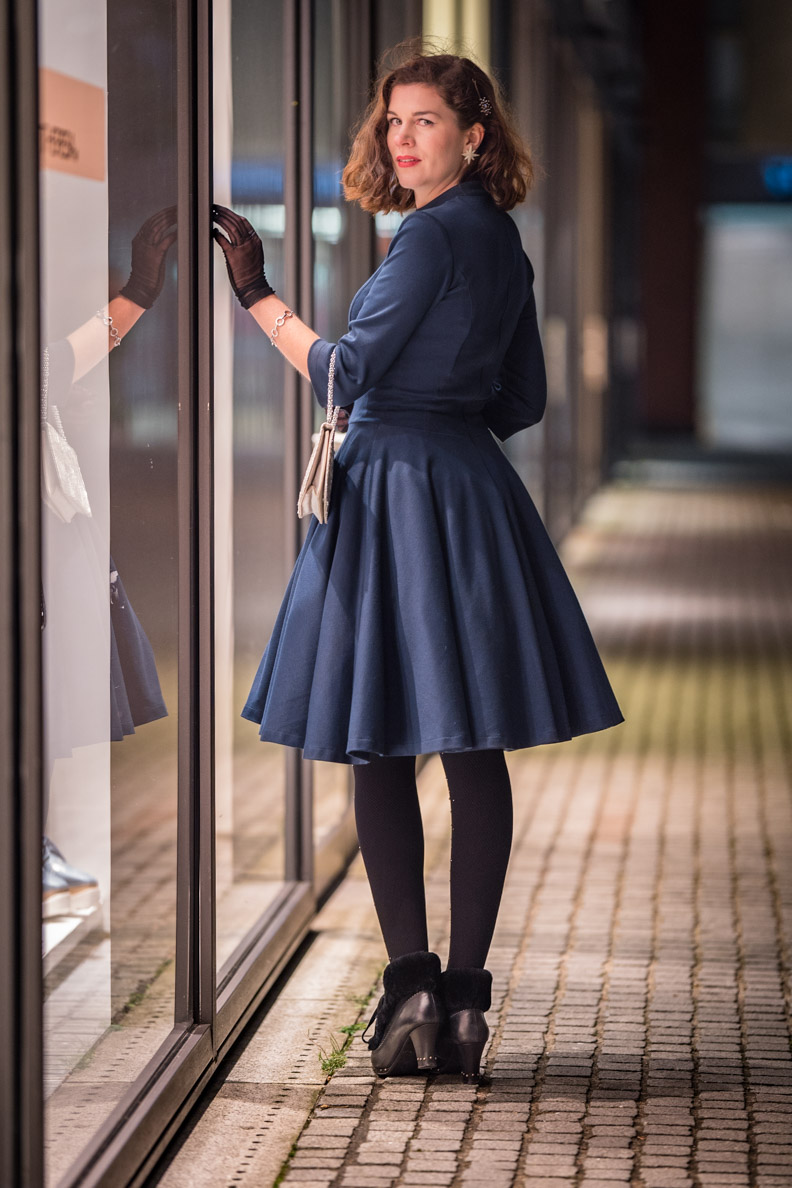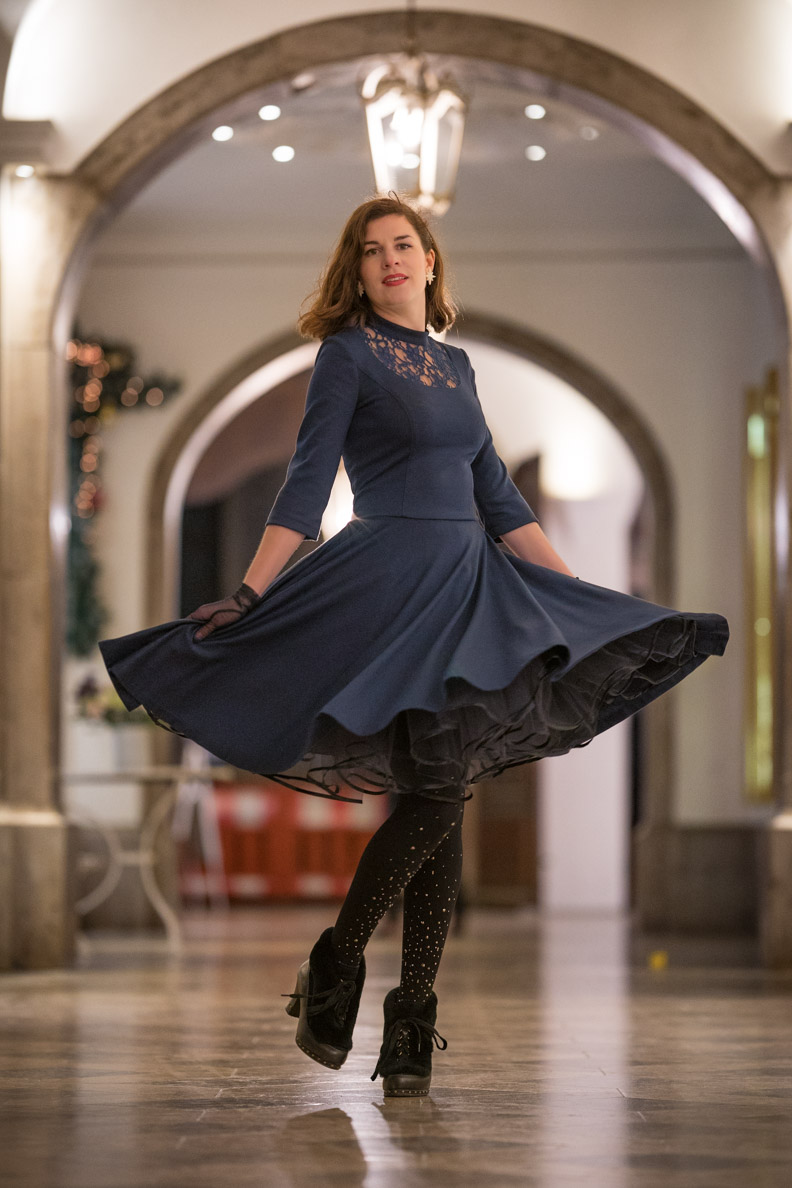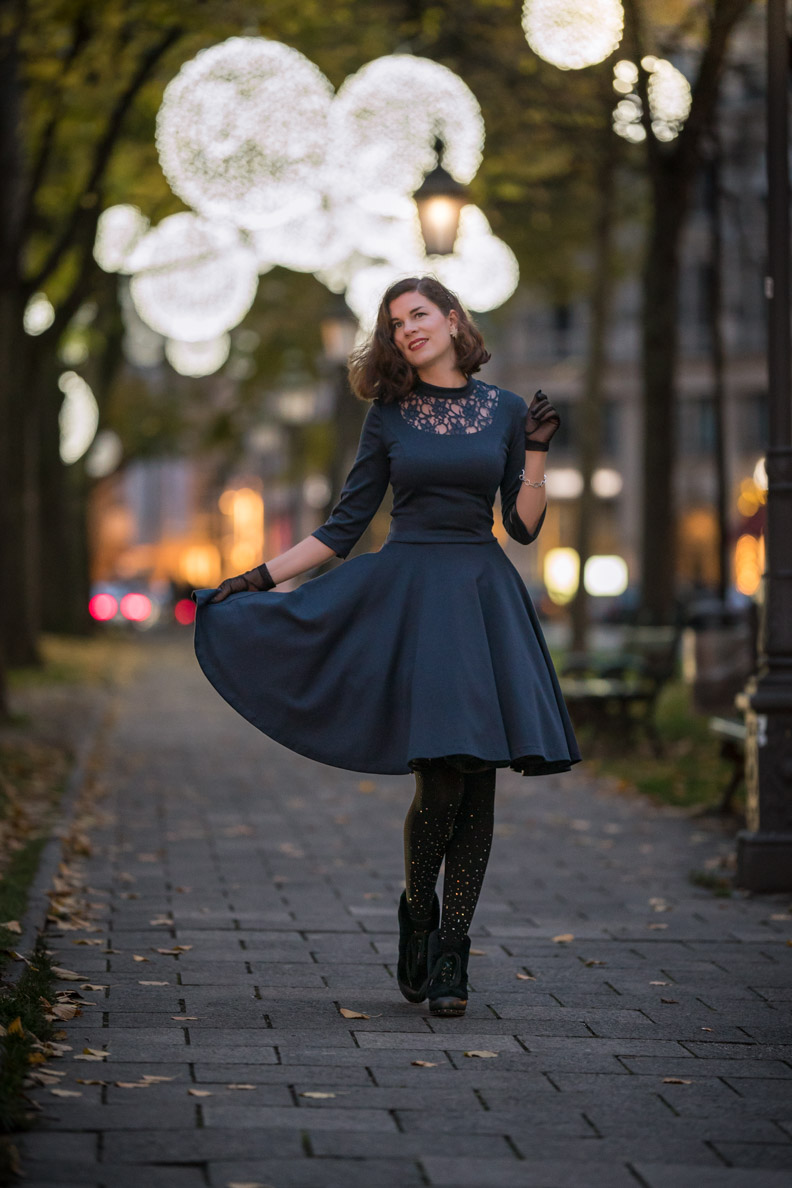 ---
A glamorous retro Outfit for pre-Christmas Season – the Details:
Petticoat Dress in navy: c/o Belle Couture
Petticoat: c/o Belle Couture
Gloves: Secrets in Lace – Europe
Jacket: similar here
Thermal tights: Calzedonia
Sparkly fishnet tights: Calzedonia
Boots: Miss L-Fire via Maison Chi Chi
Earrings: Glitter Paradise
Bracelet: Swarovski