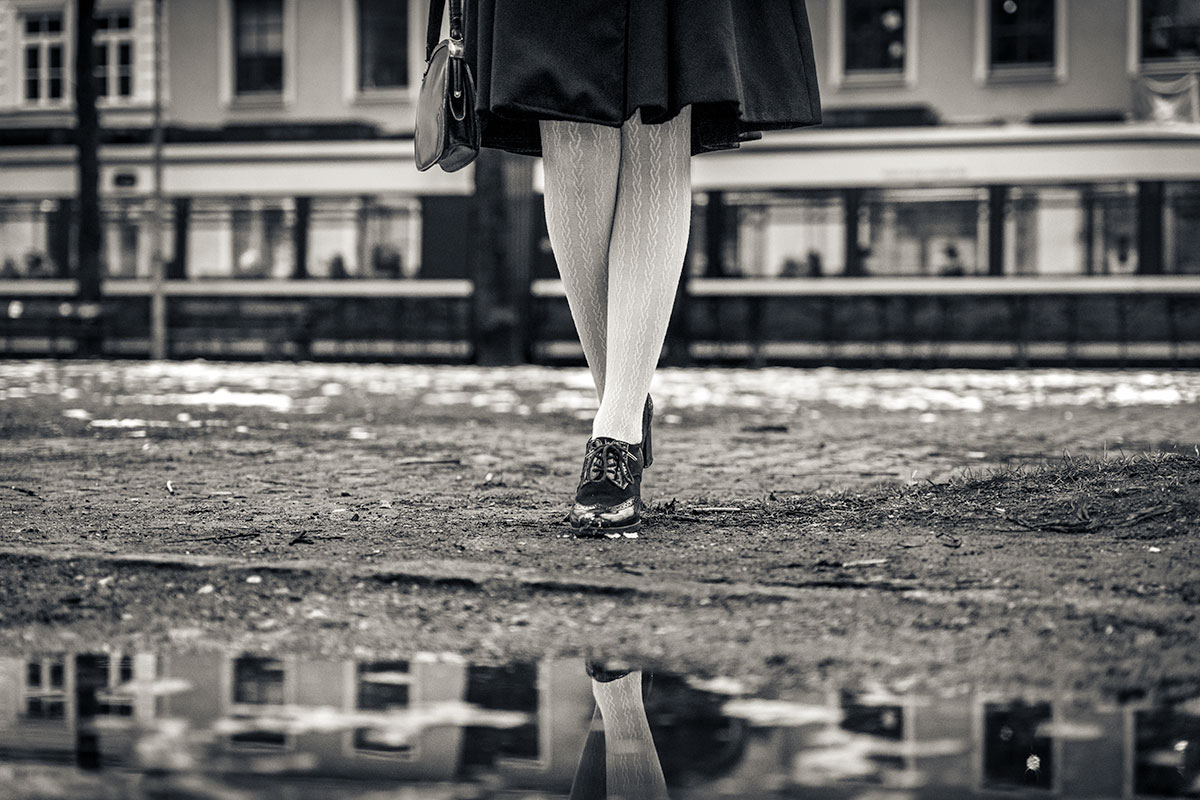 This blog contains affiliate links (marked with *). If you shop products via those links, I may get a small provision which helps me to maintain my blog. Of course the price doesn't change. Items marked with c/o were given to me as free test samples.
Stylish and warm tights for winter
Everyone who likes to wear skirts and dresses during cold season needs warm hosiery – that's for sure. My favourites for winter are thermal tights, as they keep me warm even when it's freezing cold outside. However, they can be a bit boring. This is why I am going to show you five alternatives that keep you warm as well but add some variety to your wardrobe.
White Tights for cold Days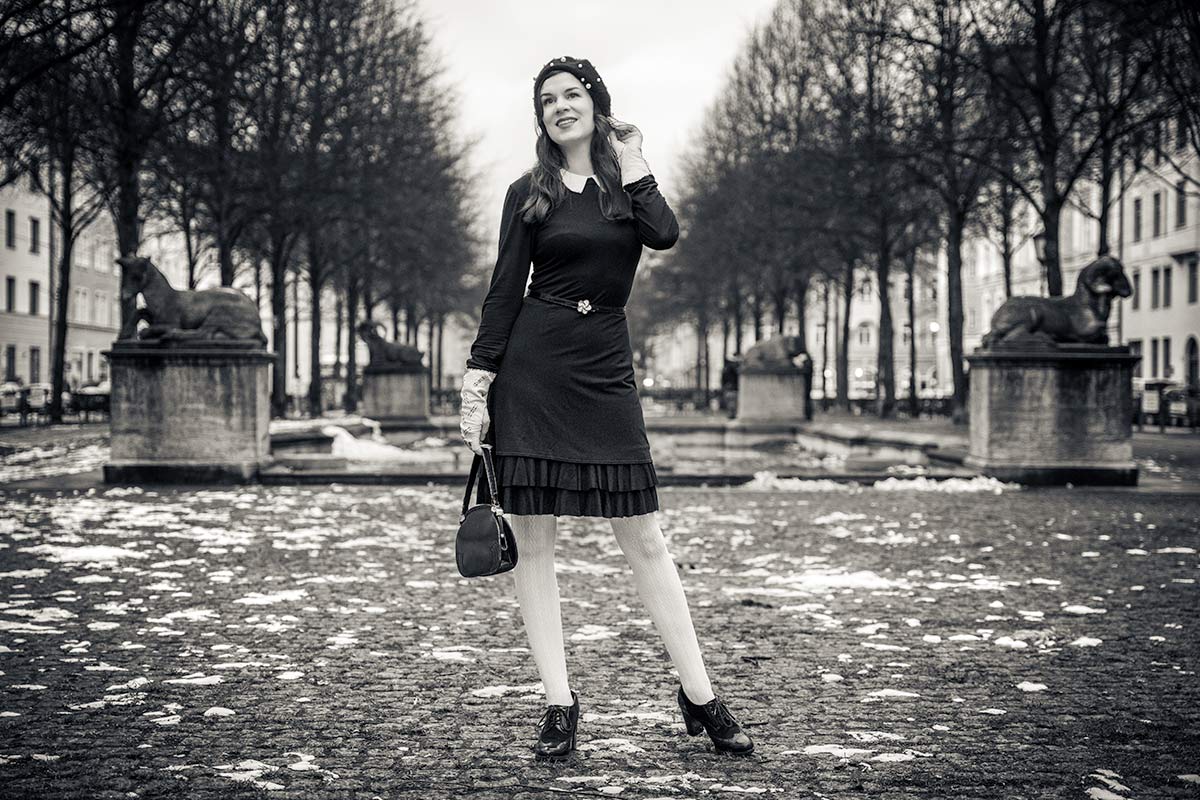 White tights* might look a bit girly. I still like them, tough, especially when you wish for some variety. White knitted tights look especially warm and wintry, by the way.
How to style white tights: I like to team mini dresses or at least a bit shorter, 60s inspired dresses with white tights. Some cool accessories like a a beret and matching gloves, for example, finish the winter outfit.
*Affiliate links

---
Colourful Tights for gloomy Winter Days
Winter days are often enough grey and gloomy. So colourful tights can really make a difference! While I like to wear pastel-coloured nylons during spring and summer, I choose warm and opaque tights in bright colours for winter.
How to style colourful tights: Colourful tights are definitely a head-turner. I like to wear them with a gorgeous 60s inspired skirts and dresses that are either black, white or have a colour/colour-details that are the same colour as my tights.
*Affiliate links

---
Cheeky Over-the-Knee Tights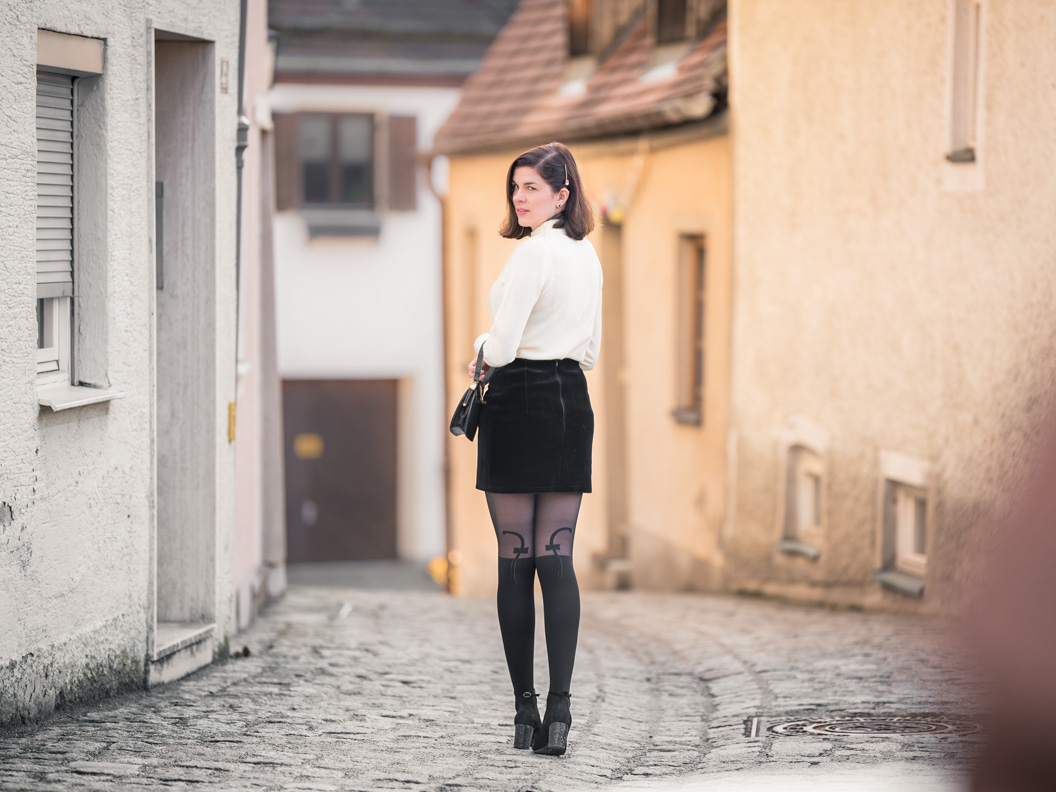 Over-the-knee tights are a super cool and stylish option, if you want to make your outfit look more interesting. And the best: Over-the-knee tights even keep your butt warm. There are some more subtle options available, as well as fancy styles like a cat design* or lace-up details*, for example.
How to wear cheeky over-the-knee tights: Over-the-knee tights look best in combination with mini dresses or skirts. If you like to have a little seductive secret, they also go well with midi-skirts/dresses. Read more in this blogpost.
*Affiliate links

---
Sparkly Fishnet Tights to wear on top
On very cold days, there is no alternative to cosy thermal tights. To make these look a bit more special, I like to wear a pair of sparkly fishnet tights* on top.
How to wear sparkly fishnet tights in winter: Sparkly fishnet tights on top of thermal tights look great with almost every outfit. I especially like to wear them with my more elegant dresses, by the way.
*Affiliate links

---
Warm Tights: Fake Seams for a cool Winter Look
When it is too cold for real seamed nylon stockings, I like to wear warm tights with a decorative seam. These still look stylish and some kind of thrilling, but keep you warm.
How to style tights with a fake seam: This kind of tights go well with almost all of my retro skirts and dresses. Pro tip: Match the colour of the seam with the colour of your dress/skirt.
*Affiliate links

---
This might be also interesting for you: