Despide the fact that I think snow looks really beautiful, winter makes our lives pretty hard sometimes: freezing cold temperatures, slippery roads and an icy wind. If you go outside those days, you should wear really warm clothes. Tights are definitely not enough, so I decided to choose pants this time. And instead of a thin coat I love to wear a cosy fake-fur jacket on those icy days.
Warm retro Fashion for Winter: Pants and a Fake-Fur Jacket
I actually found the dark brown wool pants in my own closet a few days ago, I didn't even know I own them. So a late but good new year resolution is to go through my wardrobe and only keep things I still love. Maybe I will find another pretty cool piece. 😉
Since it was so cold, I wore thermal tights underneath the trousers. The turtle neck sweater by Lena Hoschek is another pretty warm while stylish piece. Instead of pumps, I chose sneakers for once. The Converses are lined and therefore perfect for a walk.
But the most special piece of this retro outfit is the white fake-fur jacket, as this is the one my mother got married in. I think, the jacket is simply too beautiful to just hang in the closet. Moreover, this special piece is super warm and cosy and goes so well with my vintage inspired outfits.
Beige vintage leather gloves as well as a handbag finish this 50s look.
Faux Bangs
A ponytail is super easy and therefore perfect for an everyday look. But also a bit boring in my opinion. For a more retro inspired look I decided to wear faux bangs in the style of Bettie Page. They are a super easy hairstyle: I just roll up the front part of my hair over a sleep in roller which you can shop here. Pin the bangs with bobby pins and use a lot of hairspray to make sure everything stays in place. By the ways: The faux bangs also look great with the hair down, as you can see here.
We took the photos during a walk through our hometown Munich. At Odeonsplatz we decided to have a look inside the Mercedes Benz Gallery. Since it had about -10°C outside this was a great place to warm up, but there are also always great cars to have a look at. This time, there was a Mercedes 300 SL – such a wonderful oldtimer. PS: If you are in Munich, you shouldn't forget to caress the lions at the Residenz, they are said to bring luck. 😉
---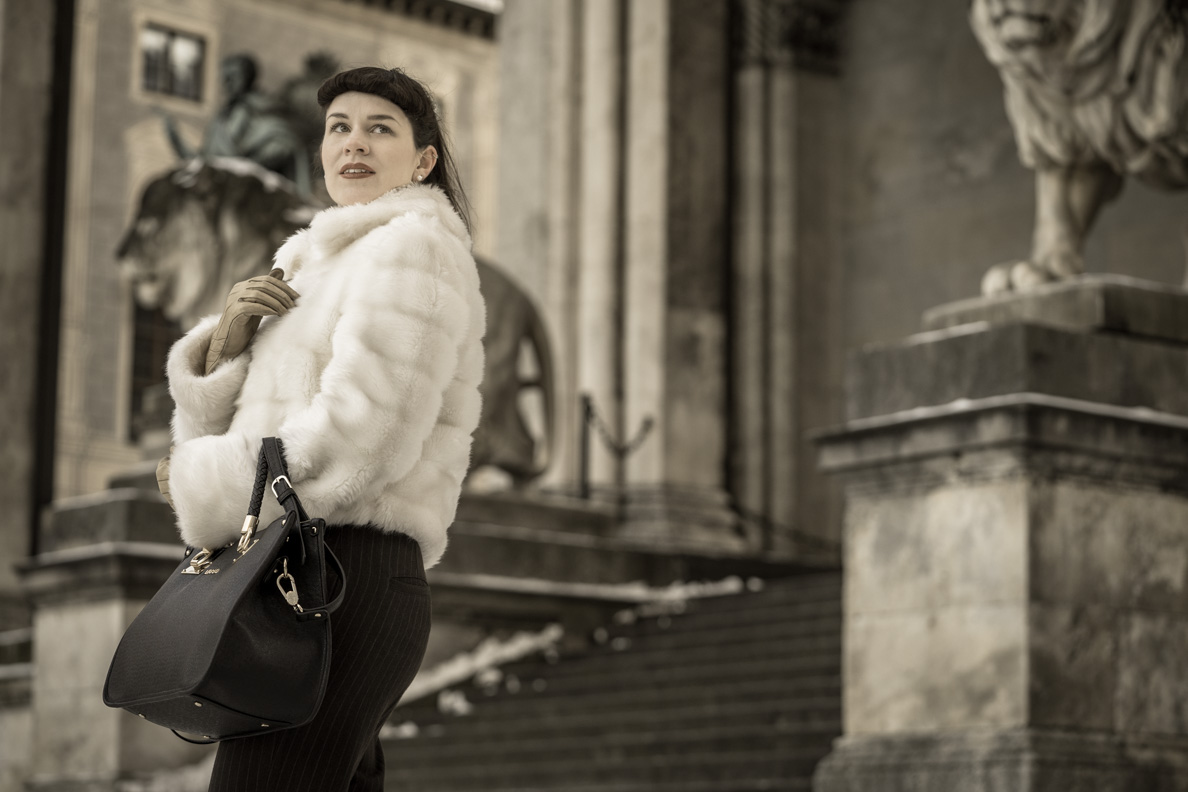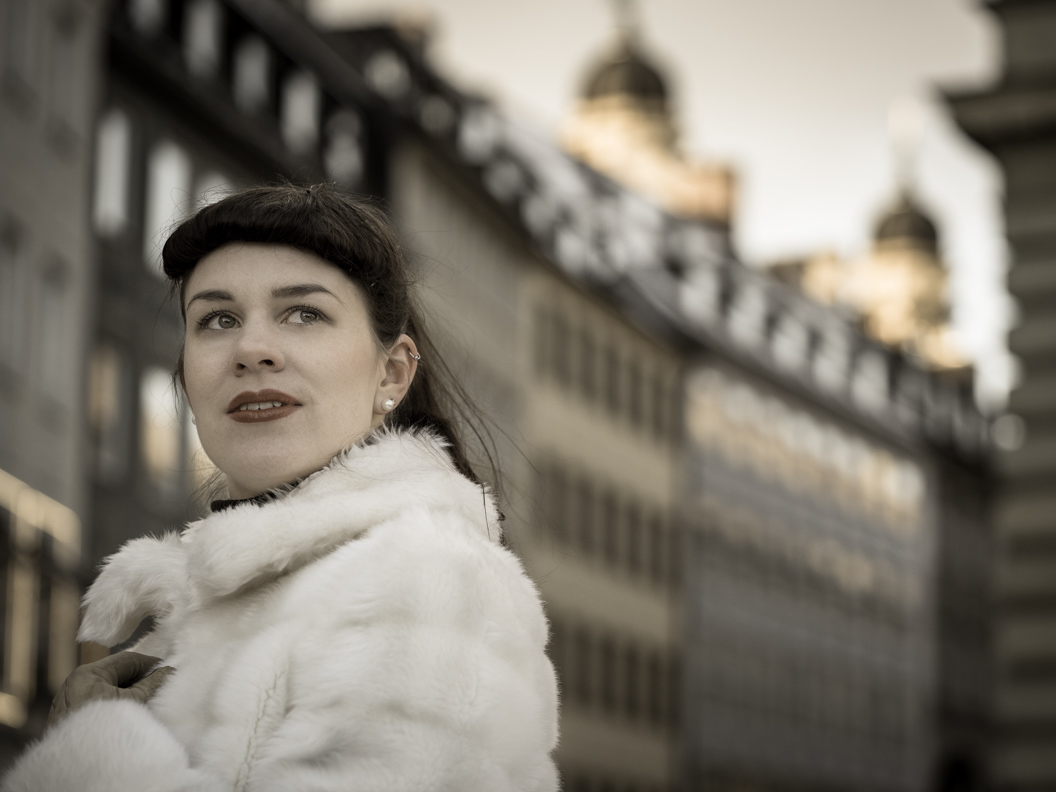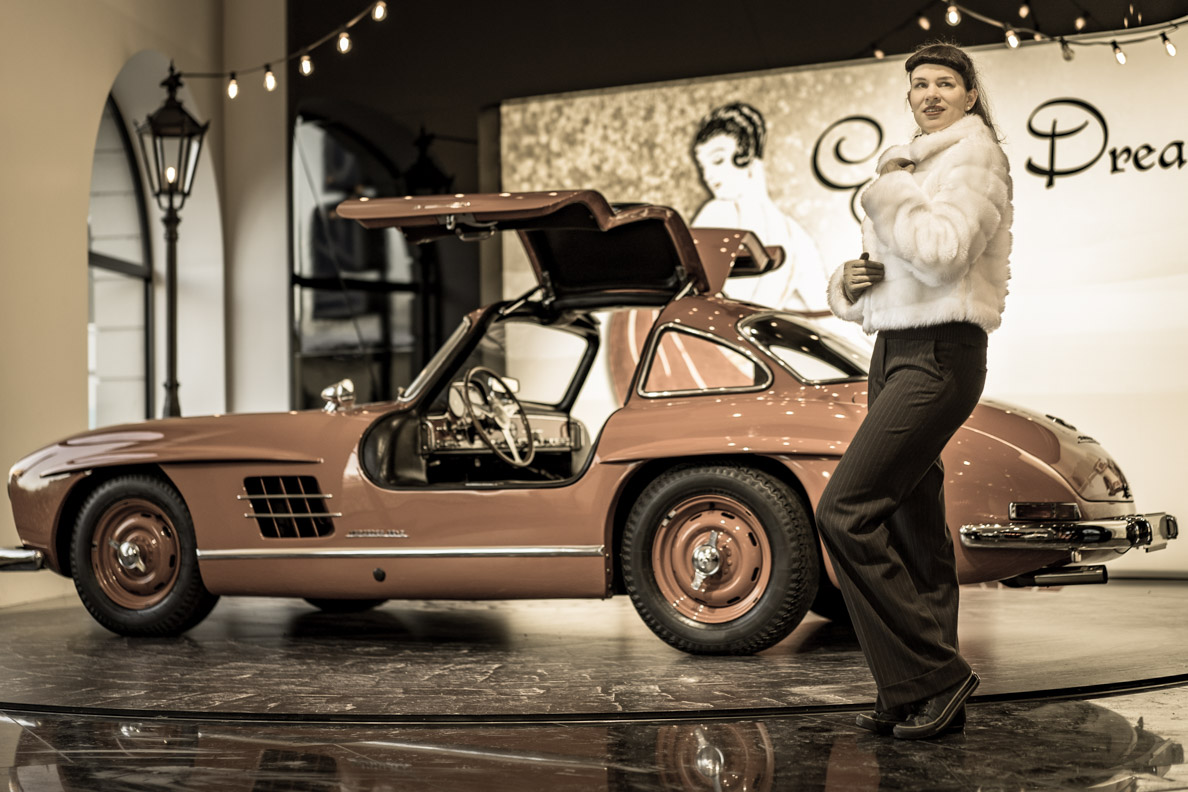 ---
A warm retro Outfit for Winter: the Details
Fake-fur jacket: Vintage (find a similar jacket in light pink here)
Sweater: Lena Hoschek
Pants: Old but similar here
Leather gloves: Vintage (similar here
)
Handbag: Liu Jo
Sneakers: Converse (similar here
)